Acadian New Brunswick is located in the northeastern corner of the province, beginning in Grand-Anse if you're coming from the west or Neguac if you're driving in from the south. It includes the entire peninsula all the way to the tip of pretty Miscou Island. On an Acadian New Brunswick road trip plan to spend a minimum of two days exploring this part of the province or more if time allows.
To discover the rich Acadian culture in New Brunswick travel up the picturesque eastern coast starting in Moncton and finish three to four days later at the lighthouse on Miscou Island.
This post includes some affiliate links. If you make a qualifying purchase through one of these links, I will receive a small percentage of the sale at no extra cost to you. Thank you very much for your support.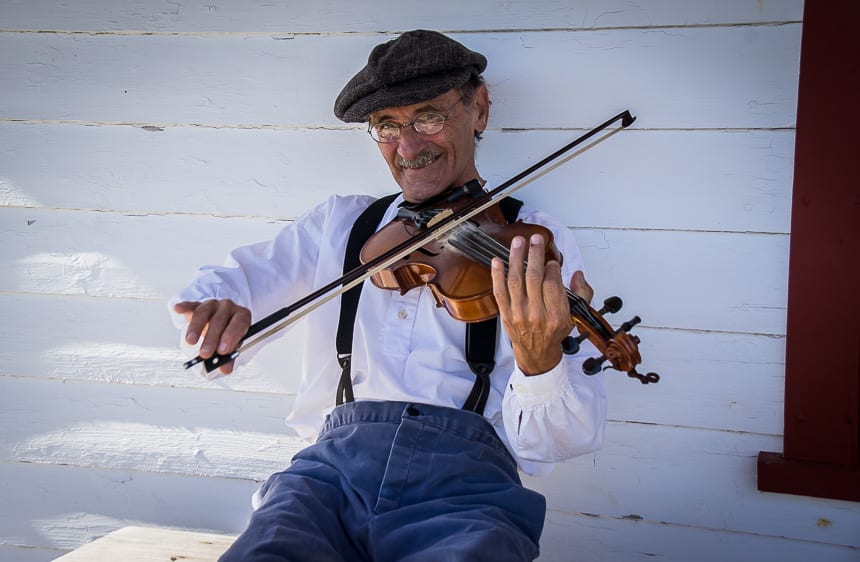 12 stops for a memorable road trip in Acadian New Brunswick
Monument-Lefebvre National Historic Site
To start your road trip in Acadian New Brunswick it's a good idea to first learn something about what it means to be an Acadian. That part of Canadian history was certainly missing when I was in school.
The best way to do this is to visit Monument-Lefebvre National Historic Site in the Village of Memramcook, just outside of Moncton. A video along with thoughtful exhibits will leave you shocked to discover that from 1755 – 1763 nearly two thirds of the Acadian population (they were the first French settlers in North America) were deported to France, Great Britain, and along the east coast of North America.
Spend an hour studying their history and you'll leave in awe at the Acadian spirit to keep their culture alive in the face of astonishing hardship. Another surprising fact – at least to me – is that most Acadians are descendants of just 50 families who settled in Acadie between 1636 and 1650!
Location map of the stops on a road trip in Acadian New Brunswick
Visit Shediac, New Brunswick – the Lobster Capital of the World
One of my favourite meals on the planet is a simple lobster roll and a glass of really good white wine so I was in heaven in Shediac, knowing I could find lobster on the menu.
I visited Shediac, New Brunswick in October but the time to come is in early July when the annual Shediac Lobster Festival takes place. Can you imagine what a 106-foot long lobster roll looks like served on a table measuring over 1,000 feet? And of course stop and get your picture taken beside the world's largest lobster.
If you're not around for the lobster festival in July, eat at Chez Gabriel.
And for an upscale place to stay check I highly recommend Hotel Shediac.
Other great options include Le Griffon, an elegant Victorian B&B and the Hotel du Vieux Port.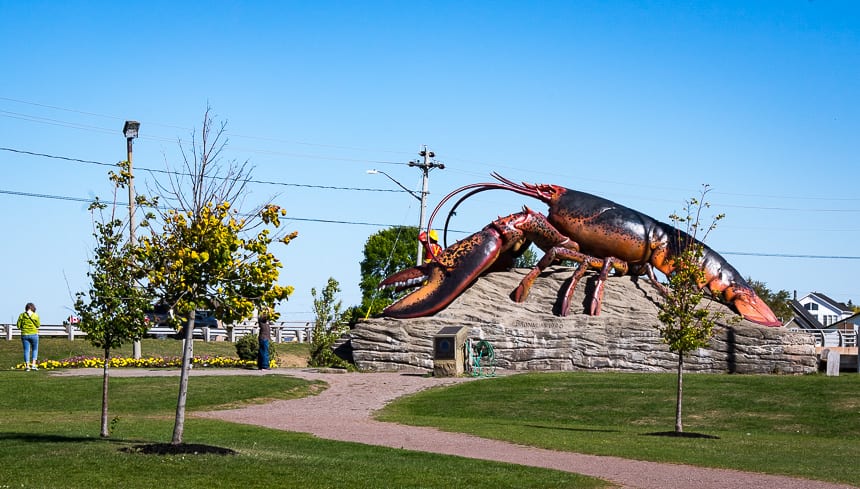 Stop for a tasting at Adorable Chocolat in Shediac
On a tour of Adorable Chocolat located in Shediac, owners Ginette Ahier and Frédéric Desclos proudly point to the fact they are the only artisan chocolate shop in all of New Brunswick.
I guarantee you will not leave their store empty-handed after one taste of their mouthwatering chocolate. Their coffee is also awesome as is the aesthetic of the café. This is a great refueling stop on your road trip in Acadian New Brunswick.
Go to Wildabout Wampum – one of the unusual stops on a road trip in Acadian New Brunswick
Even if you've heard of quahogs (a great scrabble word!) I bet you didn't know they could be transformed into wearable pieces of art – at least if you're Marcia Poirier.
As an unremarkable hard clam found on the shores of the Atlantic Ocean, they're actually super interesting as Marcia discovered one Christmas when she was given a shell and a grinding tool that would ultimately change the direction of her life.
Quahogs, the oldest living animals on the planet, are the only clams with colour, growing the purple stripes every summer. While quahogs are routinely eaten and the basis of most canned clam chowder, Marcia takes between 3,000 and 5,000 shells each year and turns them into jewelry. She states that she "dreams in purple and white". She also says that "in opening 20,000 clam shells she has found only four pearls".
To make the jewelry Marcia explains that you must first grind off the outer layer of the shell. Hence the heavy duty mask she was wearing when we first met her.
Then you draw on a design, using the patterns in purple to guide you. Next the shell is cut, ground and carved before it is ultimately polished. Her pieces are stocked in her shop – Wildabout Wampum near Shediac and in stores from New Brunswick to Key West.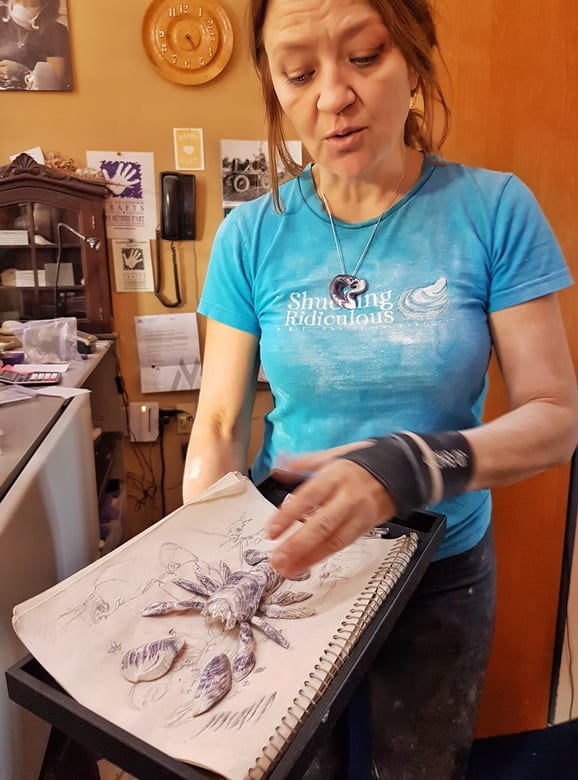 Visit Le Pays de la Sangouine – a fun stop on a
Acadian road trip in New Brunswick
For a genuine look at Acadian culture visit Le Pays de la Sanguine, a fishing village constructed from the ground up, inspired by the novels of Antonine Maillet.
As you move from building to building you're introduced to comedy, dance, music (learn how to play the spoons), food and real life scenes based on la Sagouine, an uneducated washerwoman who wasn't afraid to speak the truth. Plan to spend several hours here.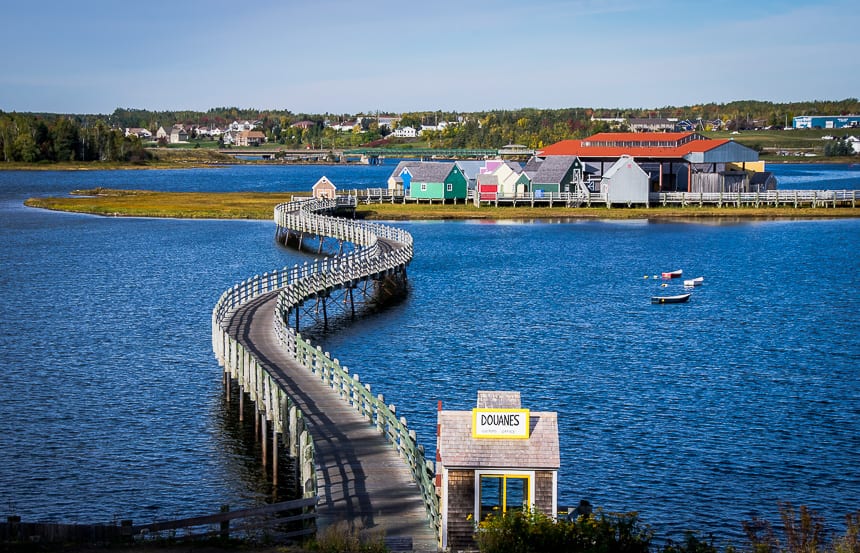 Enjoy a walk in Kouchibouguac National Park
It's only a 30 minute drive to reach Kouchibouguac National Park from Le Pays de la Sagouine and its well worth a stop. In fact you could easily spend a full day here as I did a few years ago cycling the roads and trails throughout the park.
Not to be missed is the walk out along the boardwalk to Kelly's Beach. In summer the waters are warm enough that you can comfortably swim.
Stay the night in Miramichi – the largest city in northern New Brunswick
From the park it's only a 40 minute drive to reach Miramichi, a pretty town on the Miramichi River.
Stay at the Rodd Miramichi for its proximity to the waterfront trails and the historic Water Street business district. Its restaurant boasts one of the best locations in town, especially as the sun is setting.
Spend a day at the Acadian Historic Village
In what has been called one of the "most authentic historical sites in North America", the Acadian Historic Village does a great job of showcasing what the lives of Acadians looked like between 1770 and 1949.
As you wander down country lanes you can pop into one of the 40 plus historical buildings, staffed with interpreters – stopping perhaps to watch the ladies spin flax into linen or the men split wood into roof shingles. Enjoy a traditional lunch and even spend the night in the historic hotel on the property.
The Hôtel Château Albert on the property would be a delightful place to spend the night.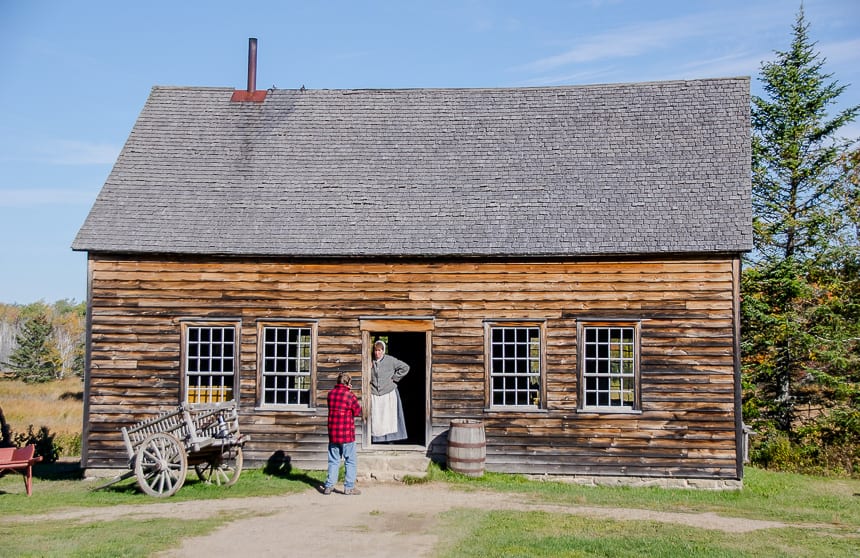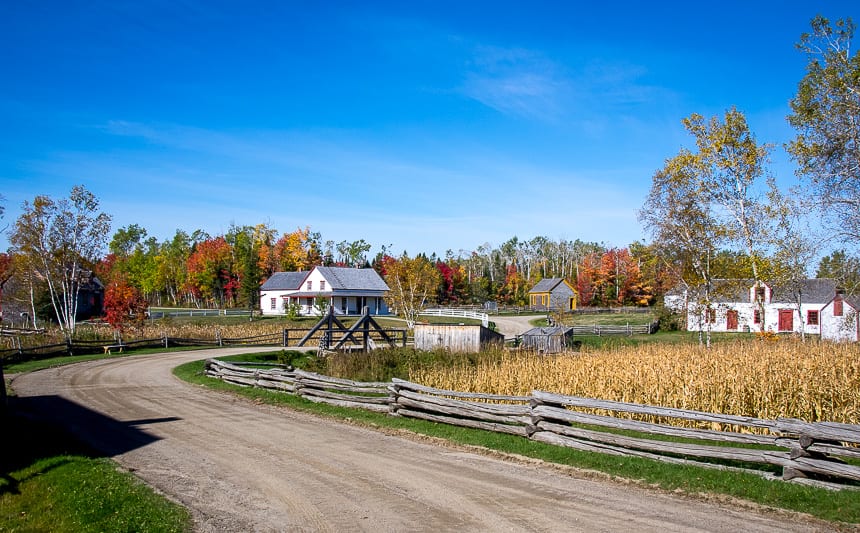 Visit the New Brunswick Aquarium and Marine Centre
One of the big reasons to visit the New Brunswick Aquarium Marine and Aquarium Centre is to see lobsters. These aren't just any old lobsters but rare, hard to believe what you're seeing kind of lobsters.
Blue lobsters are pretty rare as in one in two million lobsters; the half and half lobsters are rarer still – one in 50 million lobsters while the albino lobster is impossibly rare at one in 100 million lobsters. To see all three together is actually pretty darned cool.
Of course the rest of the exhibits are interesting too with lots of fish and invertebrates from the waters of the Gulf of St. Lawrence, and the lakes and rivers of Atlantic Canada. But for me it was all about the lobster. This is such a fun stop to make on the road trip in Acadian New Brunswick.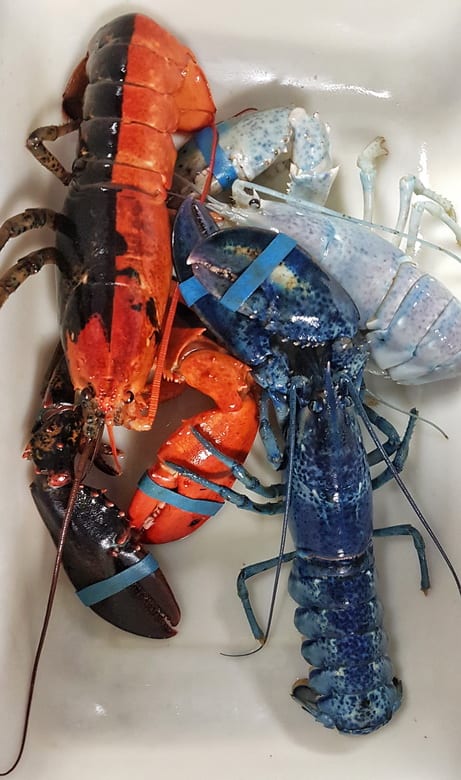 Recharge at Boulangerie Grains de Folie in Caraquet
When I'm on the road I'm always on the lookout for a great caffeine fix. You'll find that at Boulangerie Grains de Folie in Caraquet along with a nice outdoor sitting area, plenty of baked goods including freshly baked bread and local delicacies. And who doesn't like a lobster on their latte?
Admire Church (Eglise) Ste. Cecile in Petite-Riviere-de-I'lle, New Brunswick
You only need five minutes to see the inside of this church and its definitely time well spent. The outside of Eglise Ste. Cecile is painted a traditional white while the inside is a masterpiece of brilliant colour painted by a priest and two students over a six week time frame.
With its perfect acoustics the church also plays host every summer to a well-attended International Baroque Music Festival.
Explore Miscou Island – a gorgeous fall stop on an Acadian road trip in New Brunswick
Known for its spectacular beaches in summer and brilliant red peat bogs in fall, Miscou Island located at the northeastern tip of New Brunswick is in the must visit category. Take at least an hour to wander the boardwalks, more if you love photography. It's one of the best fall displays of colour I've seen in Canada.
Be sure to climb to the top of the Miscou Island Lighthouse, the oldest wooden lighthouse operating in New Brunswick.
Read: Destination Miscou Island for Fall Colours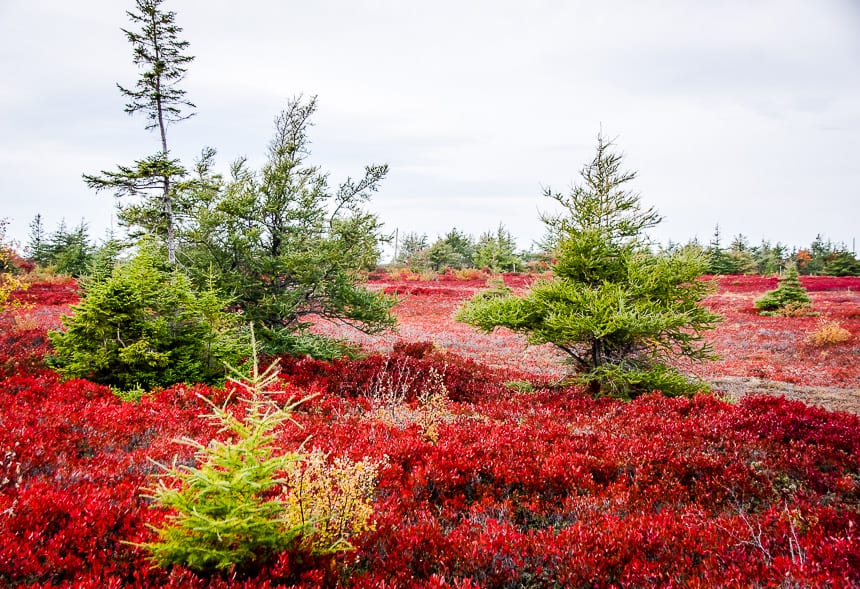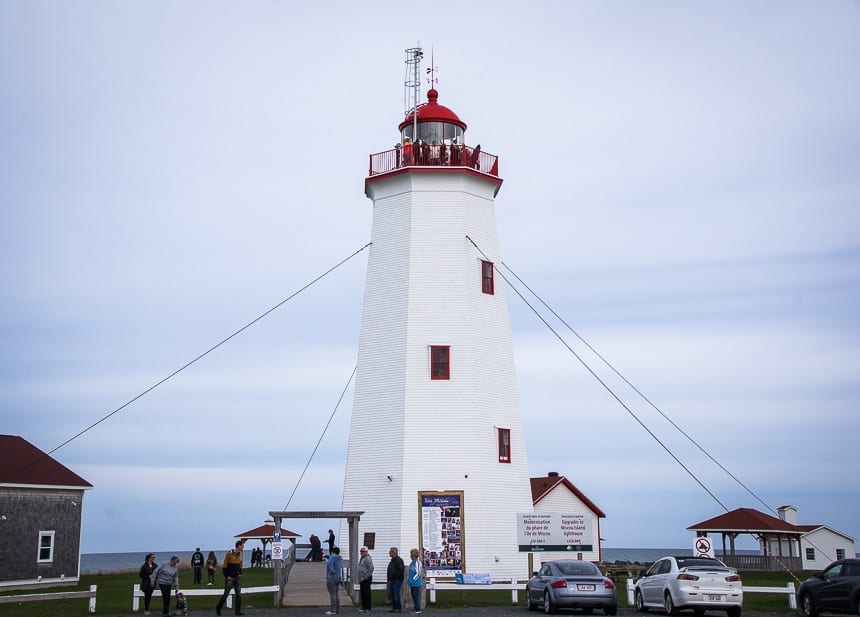 Related: For a great itinerary that will take you to another part of New Brunswick read: 5 Amazing Places to Visit on a Southern New Brunswick Road Trip
Further reading on things to do in New Brunswick
Thank you to Tourism New Brunswick for hosting my visit. This is truly a fantastic part of the province to explore.
Click on the photo to bookmark to your Pinterest boards.