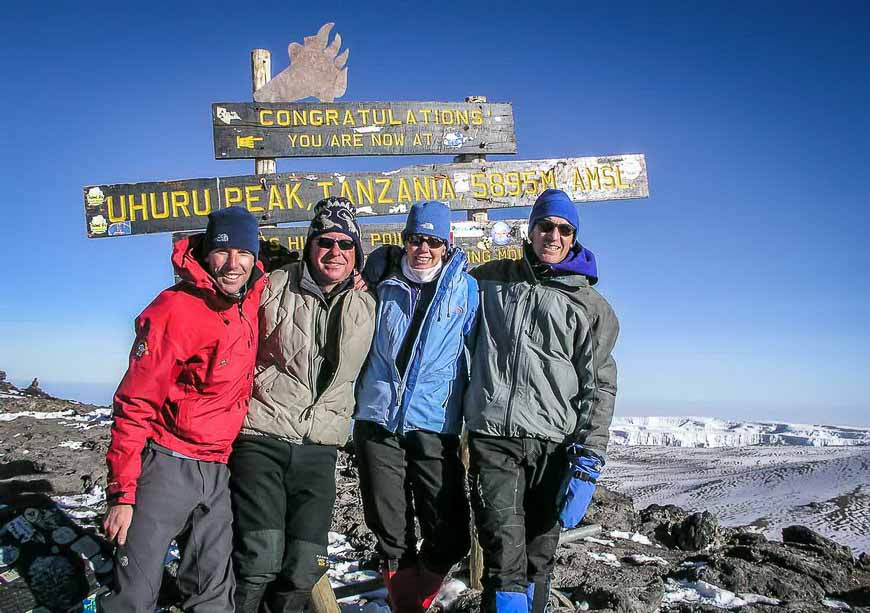 Tips for Picking Routes on Kilimanjaro
Climbing Kilimanjaro, a dormant volcano – and the highest free-standing mountain in the world, is on the radar screen of many a peak bagger, and well it should be. The 19,340 foot (5,895 m) peak is technically easy but physically demanding. Over 25,000 people attempt the peak every year but success rates vary greatly from operator to operator.
There are varying degrees of summit success – in large part depending on acclimatization and which of the many routes on Kilimanjaro you choose. Remember the longer you're on the mountain, the more you'll acclimatize. Also be wary of the time of year and the number of days you want to spend on the mountain – all good starting points for planning your climb. Factor in costs, safety and guide credentials and you should be able to choose a tour operator.
Altitude is a big factor on Kilimanjaro
Altitude is one of the biggest concerns on this mountain and it can level even the fittest of hikers. There is 50% less oxygen at the summit than at sea level. Pre-trip conditioning and proper increase your chances of summit success – though with a week or more on the mountain this climb is more about the journey than the peak.
How to pick a tour operator to climb Mount Kilimanjaro
Pick a tour operator based on your chosen route, price, their safety record and the services they offer on the mountain. You cannot climb Kilimanjaro without a guide.
Routes on Kilimanjaro
There are six main routes up Kilimanjaro. Overall the Rongai is easiest but the Shira is the best.
Marangu – also called the Coca-Cola route; this is a lower quality, high traffic route with less interesting scenery. On this route you can use the huts but given their state tent camping may be preferable. Many companies just do and up and back on this route.
Machame – this is a tough trek which is NOW the busiest route on the mountain (as of 2006)
Umbwe– a little used route on the SW face. The route is shorter, steeper and more technical.
Lemosho – approaches the mountain from the west. The first few days are pretty with little traffic. It gets busy when it joins up with the Machame trail, higher on the mountain.
Rongai – high quality, low traffic route which can be climbed over 6 or 7 days. An easier route.
Shira – probably the best 7 night route on the mountain. A variation of this route is the Western Breach which involves some exposure climbing and camping in the crater at 18,800 feet.
Price of climbing Kilimanjaro
You can show up in Moshi, Tanzania in a pair of shorts and book a trek that will leave the next day. In fact you can rent everything you need like down coats, hats and mitts and hit the trail for about $US 1200.
My daughter did just that a few years ago and had a great time on the Machame route – and for the price did just fine.
Or you can choose a company like Wilderness Travel and spend $US 7295 (with park fees included) for an 8 night/9 day climb using the Western Breach Route off the Shira Route.
A trip at this price keeps you on the mountain for a few extra days of acclimatization, provides excellent food and first-class guides well versed in the flora and fauna as well as wilderness first aid.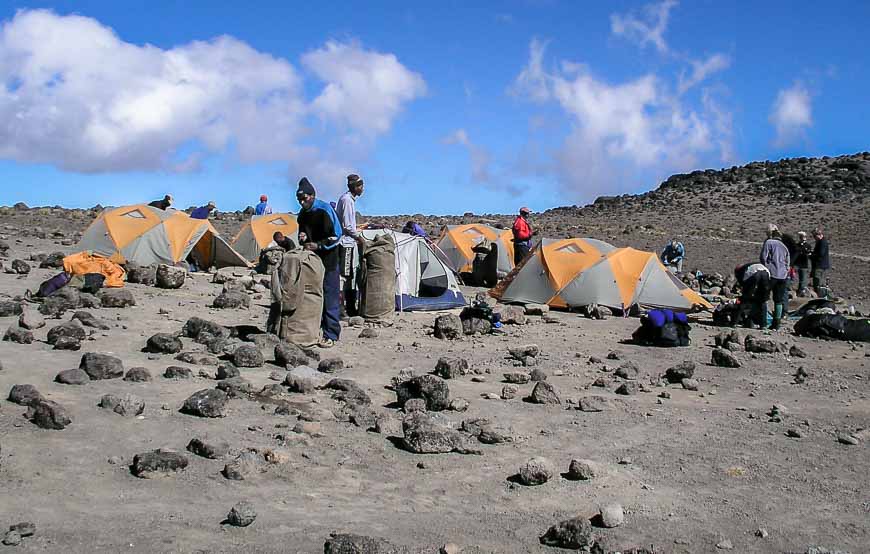 Routes on Kilimanjaro are priced differently – budget the following in 2020-21
The trek itself is all over the map from $US1200 – $US5800. Then you have to add on park fees, tips and incidentals. It's not an inexpensive mountain to climb but at least the park fees go towards conservation. Prices vary too, depending on which of the routes up Kilimanjaro you choose.
Kilimanjaro park fees are not negotiable. There is a daily fee of $US70 per person for conservation. Camping fees are $US50 per night. There is also a rescue fee of $US20.
Tips for your guides: $US20 per day for the main guides, $US12-15 per day for assistant guides, $US 12 – $15 per day for the cook and $US 5-$10.00 per day for porters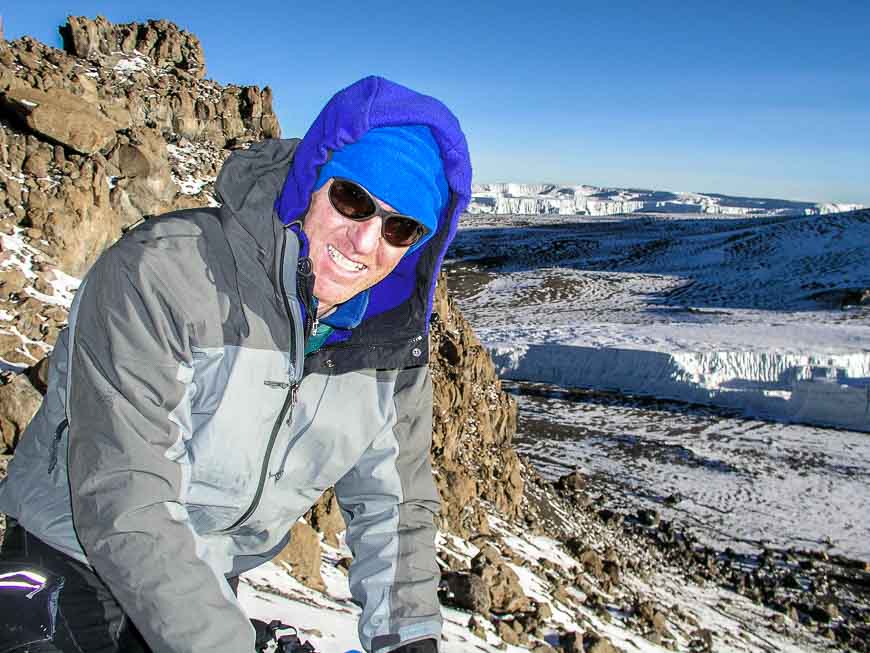 When should you climb Kilimanjaro?
The best climbing months are January, February and September because they are the warmest and the clearest. August and September are the coldest months.
April and May can see heavy rain or snow and poor visibility. November and December can be on the wet side.
March and June are transition months. I climbed in October which is known for little rain and fewer people.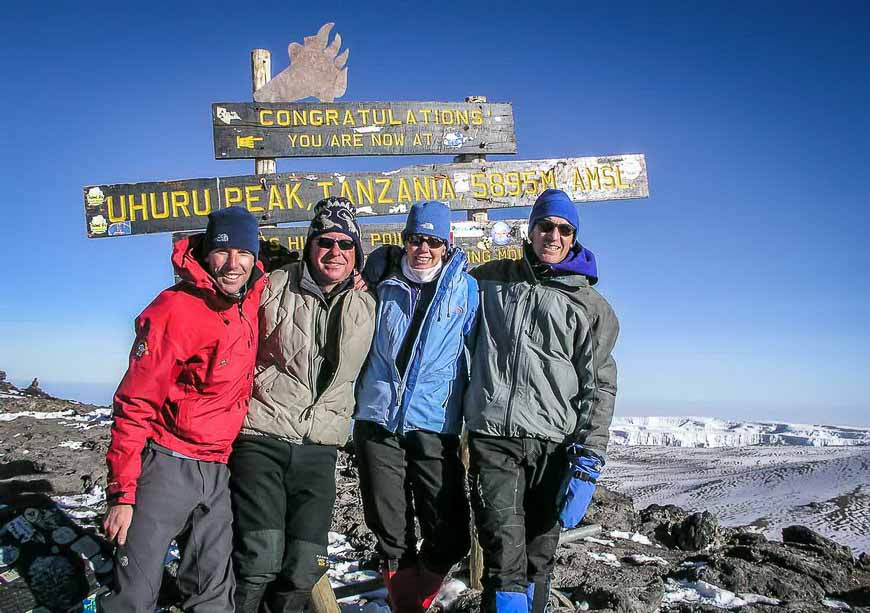 Further reading on great hikes around the world
For more information on Kilimanjaro