Unexpectedly, I ran into my Calgary photography instructor from SAIT while eating breakfast at my B&B in Trinity, Newfoundland. (It's such a small world.) He spoke with passion about a whale watching tour he and his photography group were doing out of Trinity. He'd done it before & told me I absolutely shouldn't miss it. But I tell him I've already got a tour planned and I can't possibly change it.
I spent an afternoon with Bruce Miller – the skipper and owner of Rugged Beauty Boat Tours – and it too turns out to be a tour everyone should do if they're in the Trinity area. While this boat tour includes icebergs, whales and rugged, coastal scenery it also speaks to the history of the resettlement of outlying communities.
Updated April 2021. This post includes some affiliate links. If you make a purchase via one of these links, I may receive a small commission at no extra cost to you.
Icebergs and whales can be part of the Rugged Beauty Boat Tour
Of course, we did get as close as one can safely get to a couple of icebergs – where humpback whales were feeding – and it was a fantastic sight. A few bald eagles and loads of seabirds only added to the visual interest.
We also made a quick pass by the film set for Random Passage. It's based on a wonderful book written by Bernice Morgan.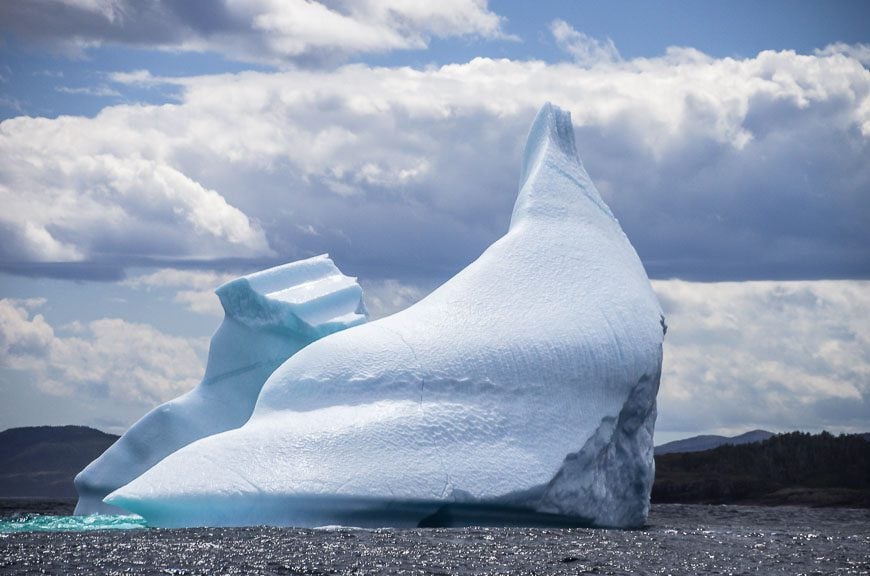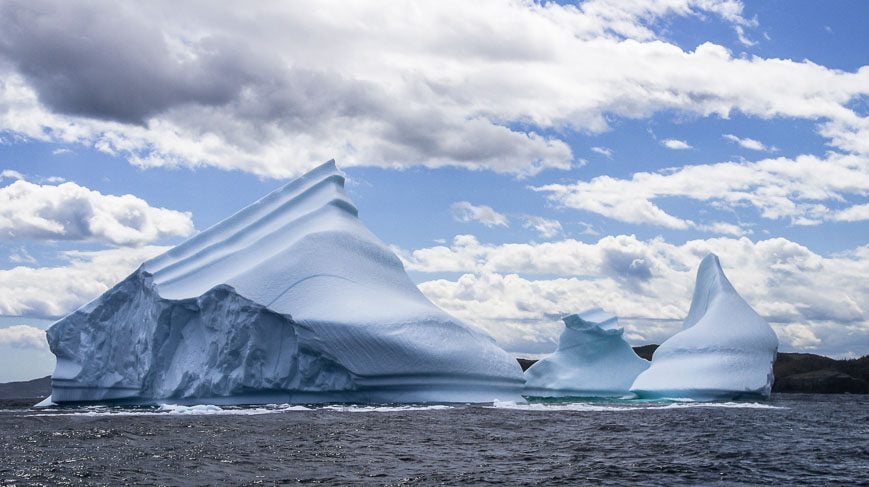 Resettlement stories told by someone who lived it
The highlight for me was hearing the heartfelt stories from a man who had been resettled as a baby in the early 1960's. Not only did we boat into three of the former settlements – Ireland's Eye, British Harbour and Kerley's Cove – where you can see the remains of the odd house – we saw the before photos where 200 plus people once lived in these small but thriving communities.
We heard stories about Joey Smallwood and the love/hate relationship the people he knew of felt for the man. (Many of the women loved the Baby Bonus checks!)
We listened to the fishing stories and what locals think should have been done about the industry. We heard the lament for all the young – and even middle-aged people who have left the province in search of work. But never were his words sour or negative. They were just the facts.
Because so many of Bruce's family had been affected by resettlement, we learn firsthand what Aunt Lizzy and Uncle Jo endured, not to mention his grandfather and countless other aunts and uncles.
We certainly didn't get the whitewashed version. His stories made you think about how resettlement was handled – and how it could have been done better.
Before heading back to Trinity Bay, we stopped for tea and cookies in a cabin Bruce owns – where we saw more photos and listened to the stories that went with them. History comes alive when you experience it through someone who has lived it. All of it – thought provoking.
Three hours passed in a flash. And our experience exceeded our expectations many times over. If you go, dress in layers as the wind whips up once you're out of the harbour. There is a bathroom once you get to the cabin. Rates for the three hour Rugged Beauty Boat tours are $90/adult and $60/child.
Should you be anywhere near Trinity, do this tour. If you want a full whale watching tour, do that too. But this one is unique and it was a fantastic way to learn the local history.
Where to stay in Trinity Newfoundland
The Artisan Inn, housed in six buildings all offer views of either Trinity Harbour or Fisher Cove. Two of the properties are Canadian Heritage Structures. You have a choice of renting a room by the night or a self-catering home.
Fisher's Loft is in the outport of Port Rexton. On my first visit to the area I stayed here for a couple of nights – loved the room and the food was fantastic too.
Eriksen Premises was a gem of a place to stay. My friend and I had a great big room which we loved. There was a comfortable common area and a welcoming dining room. They sent us off with a homemade cookies when we left.
Further reading on things to do in Newfoundland
Visit the Rugged Beauty Boat Tours website here.
Click on the photo to bookmark to your Pinterest boards.
Thank you to Legendary Coasts for making this trip possible. All thoughts as always are my own.