Sweat is pouring off my face. I'm having a hard time breathing. And it's not because I'm in a makeshift tent with three half naked guys late in the evening.
Let me back up a few hours. Around lunchtime I'd boarded a houseboat in Sicamous, BC – the house-boating capital of Canada – with four complete strangers; Mike, the travel writer from Calgary, Kevin our houseboat captain, Robyn from Shuswap Tourism and Howard from Thompson Okanagan Tourism.
The plan was to explore Shuswap Lake by houseboat over the course of three days and nights, with additional side trips and activities scheduled so we could get a real flavour for the area.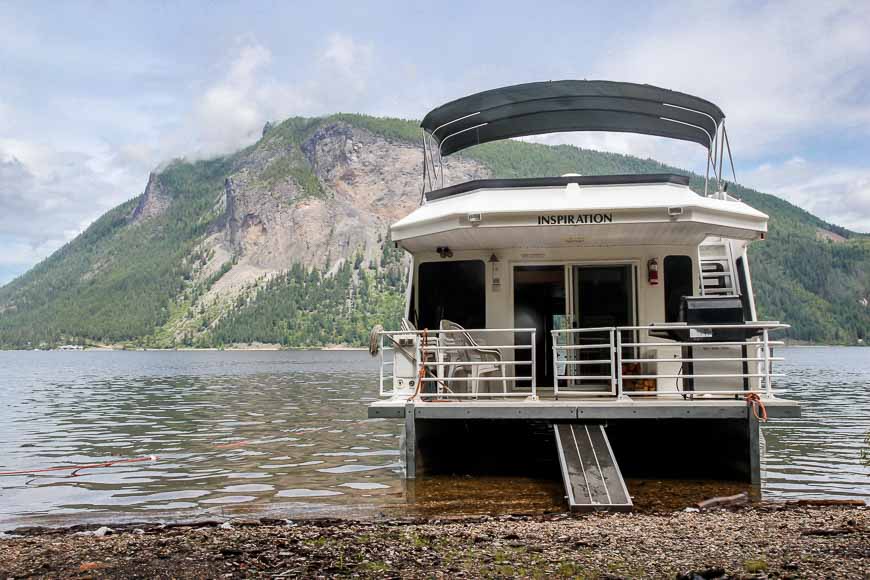 Here's how three days on Shuswap Lake unfolded – using a houseboat as a base
The first day started with a catered lunch followed by a round of golf at Hyde Mountain. Even though I'm not a golfer it was a fun few hours, especially since no one took it seriously. The one real golfer among us, Kevin, who looked after the Banff Springs Hotel golf course for years, was always enthusiastic with his encouragement, even if it was misplaced. And Hyde Mountain is a beautiful golf course.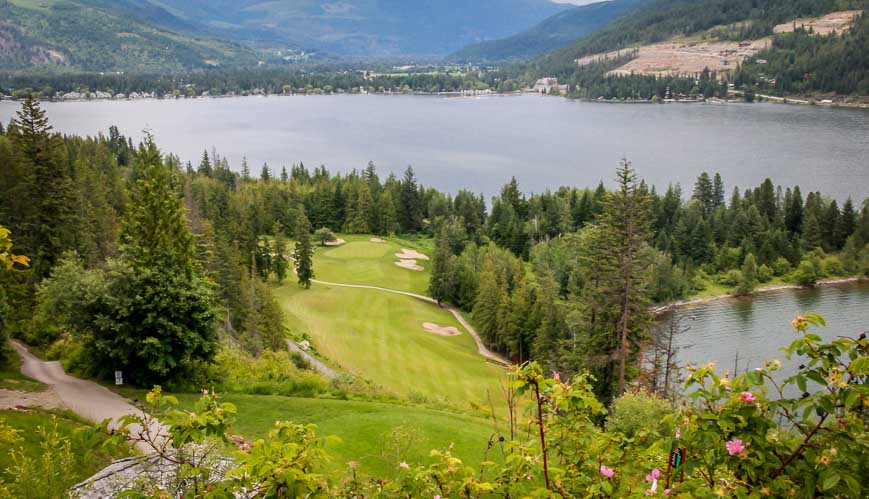 After that the rest of the day was spent motoring over to a beach for the night – and then sipping local wines from some of the most northern wineries on the planet. It seems though that Kevin has a plan he'll reveal as the day turns to night.
Kevin gets to work outside building a fire. I'm not sure any of us appreciated what he was up to initially. We were probably rehashing our golf experience – though I bet Mike was pondering his coin toss loss.
When we first got on board Mike and I had to pick rooms. I won the coin toss and scored the stateroom with the sliding glass door looking out to the back. Twin Anchors boasts on their website that the houseboat has five staterooms.
Although the amenities on board are fantastic (fireplace/washer/dryer/great kitchen/DVD player/BBQ/hot-tub…), I think stateroom is a misnomer. My room was great but the other four staterooms were not exactly what I would describe as a stateroom. In fact Kevin declared that he felt like a rodent crawling up into a nest every night.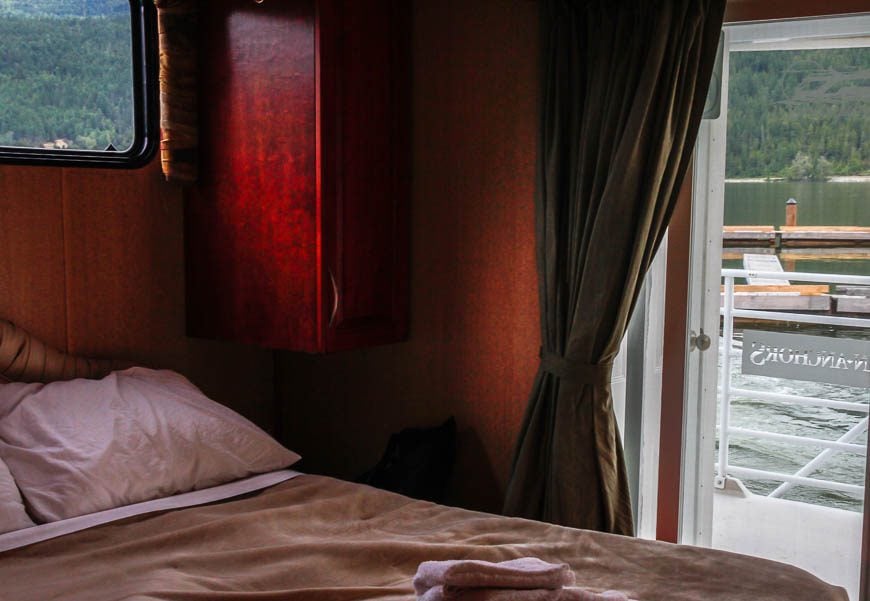 Dinner was another catered affair – barbecued salmon, chicken and beef kebabs, sesame stir fried vegetables and rice. Dessert was a gorgeous chocolate birthday cake for me.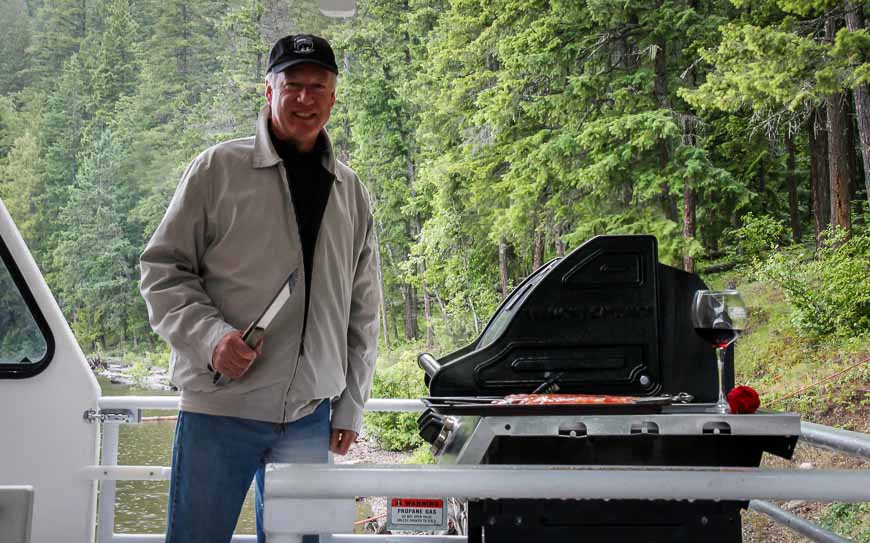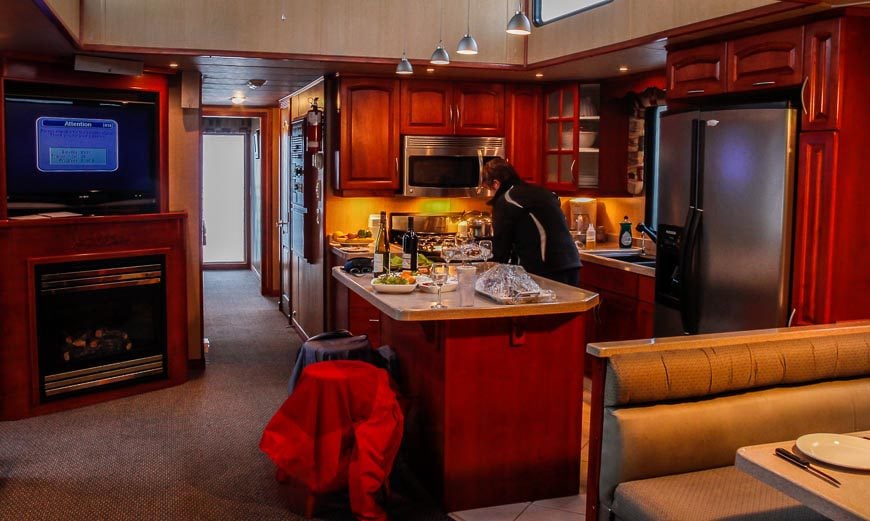 Time for a sweat lodge
It wasn't until after dinner I fully appreciated what Kevin was up to. He wasn't building a fire just for the fun of it, but to heat rocks for at least two hours so they'd be hot enough to provide a sweat lodge experience.
In fact he'd brought on board a duffle bag with all the tools to make a sweat lodge – a couple of tarps, something to fasten them together, work gloves and a shovel for moving the hot rocks.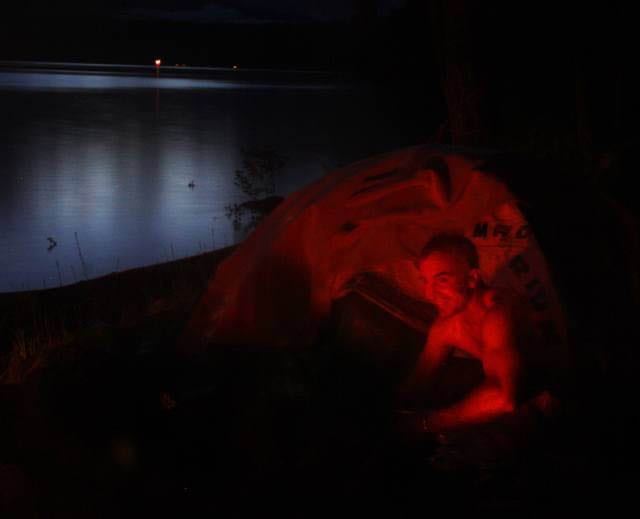 And so about an hour after dinner three of us squeezed under the tarps. One by one Kevin placed red hot rocks into the center of the sweat lodge. We immediately felt the blast of heat. Then came the steam and the full on sauna experience. Sometimes it got so hot I could barely catch my breath. But it left me feeling marvelous and relaxed – so relaxed I slept like a baby.
Surprised by Shuswap Lake after only one day
And so ended my first day on a houseboat. I'd been pleasantly surprised so far. The lake is very beautiful and much bigger than I imagined. You only actually see a small section of the lake from the highway.
And on a weekday in June there was only one other houseboat in sight – so you feel like you've got the lake to yourself. Our gang of five turns out to be very congenial, the food outstanding and the wine delicious. The boat is roomy enough that you have a sense of personal space. The only thing missing is sunshine.
Day 2 on the houseboat
We covered a lot of ground on our second day out houseboating on Shuswap Lake. Not only did we spend time enjoying scenery on the lake itself we explored a lot of the Shuswap area off the boat as well.
I started the day with a nature walk right from the boat. While I didn't go far, it was particularly beautiful in June with loads of wildflowers.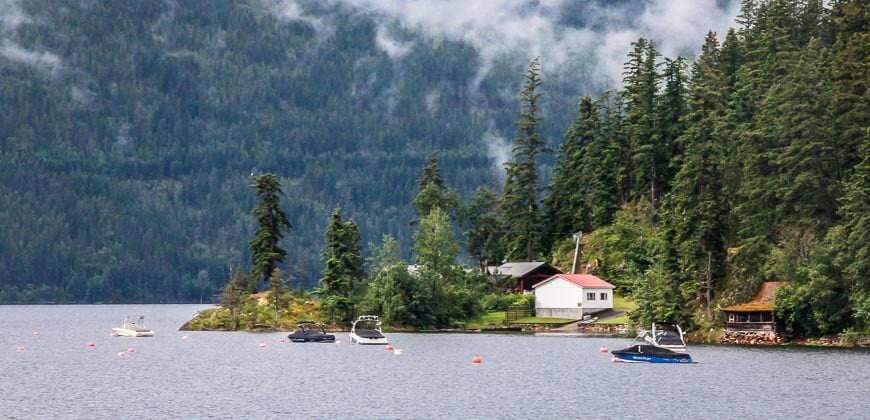 Next up was some mountain biking with a guide from Skookum Cycle & Ski. While great fun, it wasn't long before we were all sucking wind. It was a treat to get back on paved roads where the biking was easier.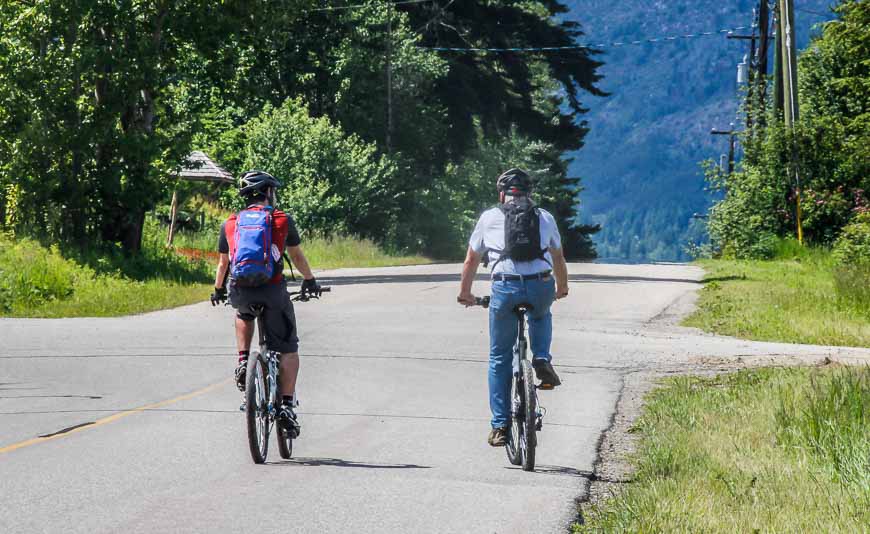 In the afternoon we traded bikes for wine glasses and checked out two of the local wineries – Recline Ridge and Granite Creek – two of the most northern Okanagan wineries.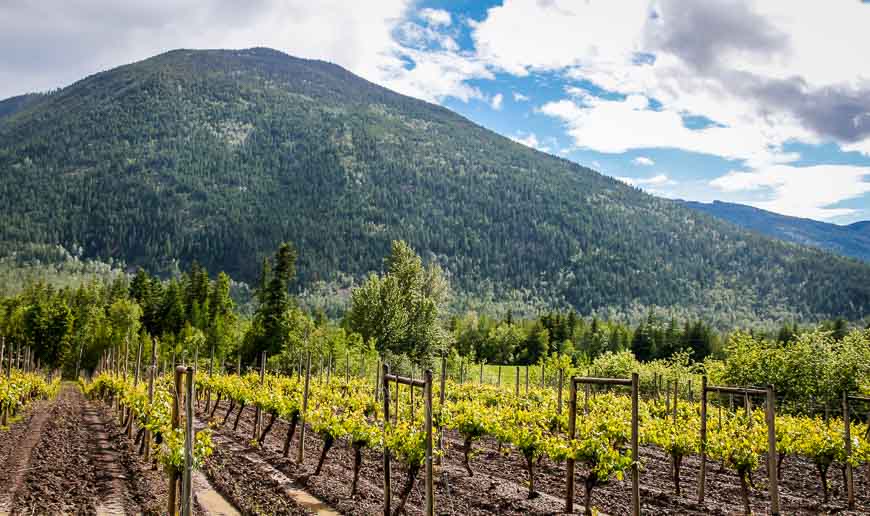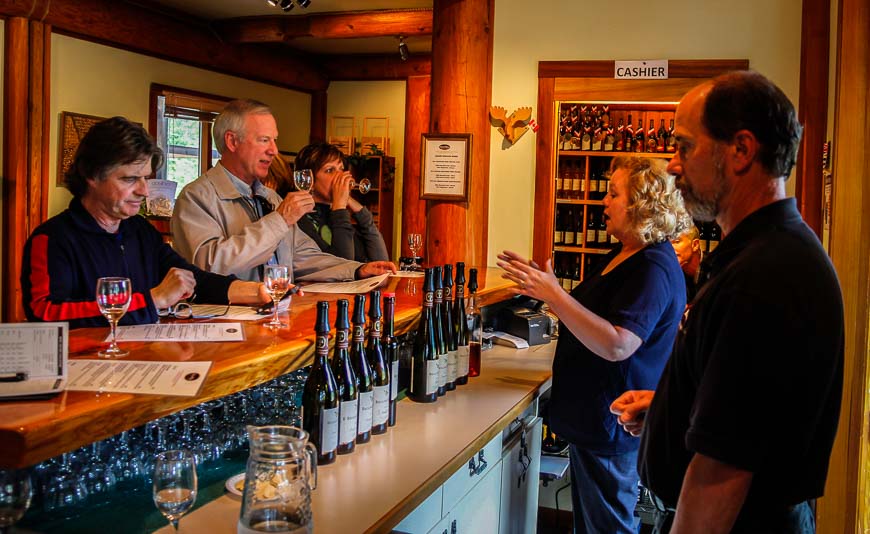 Our day ended with a delicious dinner on Little Shuswap Lake at Quaaout Lodge and Spa. The property enjoys a stunning location with views down the length of the lake.
From there it was a 35 minute drive back to Salmon Arm and our houseboat docked in town for the night.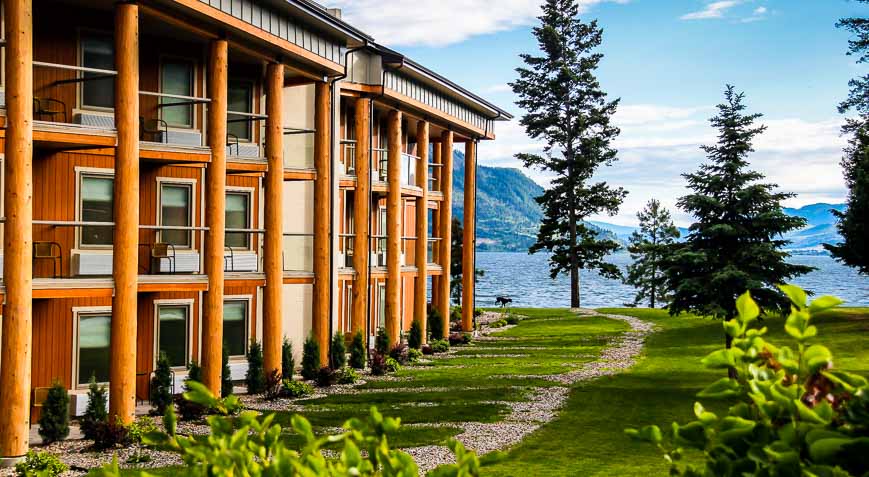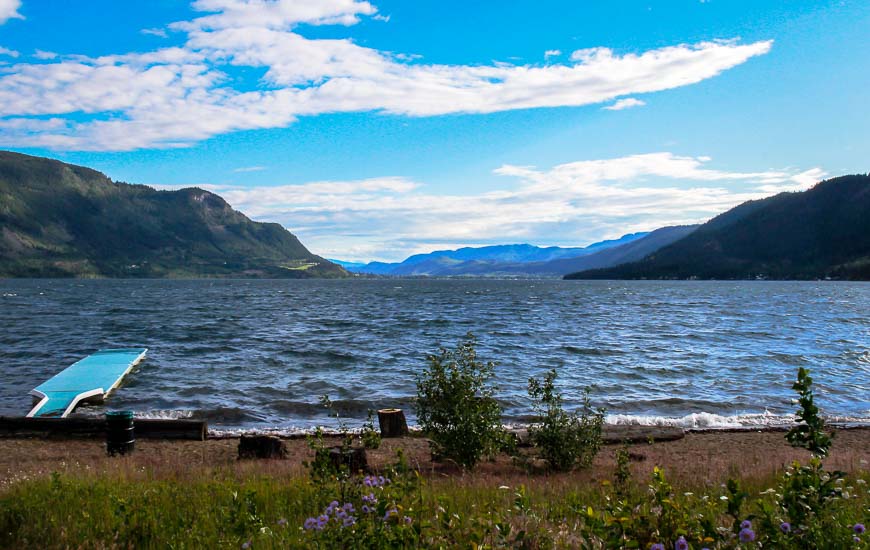 Day 3 on Shuswap Lake
We had docked in Salmon Arm for a night. From the dock it's just a short walk into town to take advantage of restaurants and cafes. I also took advantage of the shoreline walk into the Nature Bay Wildlife Sanctuary first thing in the morning, well before anyone was up.
It was a treat. You simply walk from your houseboat off the dock and then onto a mixture of boardwalk and dirt path with nary a soul in sight.
Birdsong quite literally filled the air, so if you're into birding this is a fantastic place to put the binoculars to work. Blue herons, yellow headed blackbirds, warblers, and a myriad of duck types showed me their faces – though several female mallard ducks did their best to distract me from seeing their young.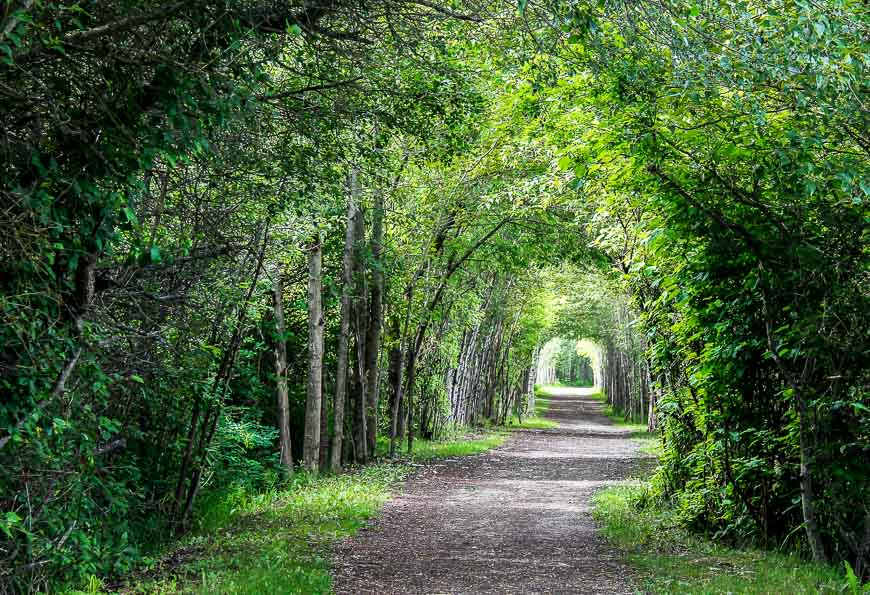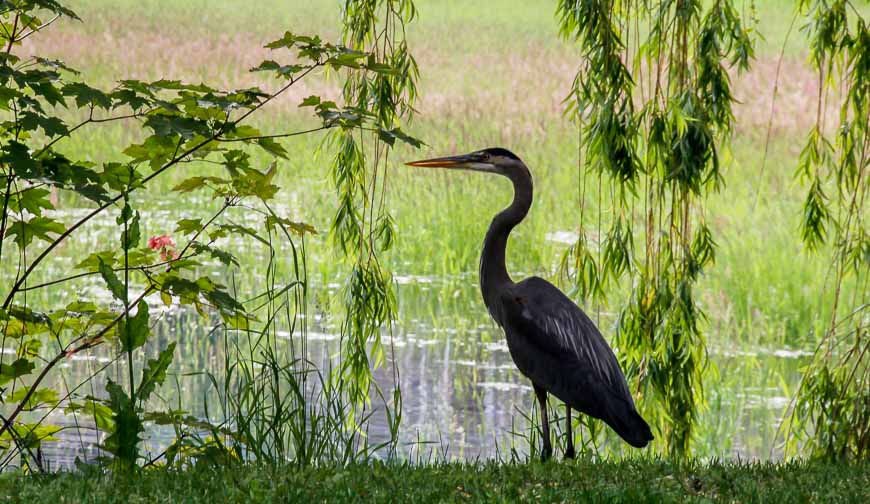 Exploring farm country in the Shuswap region
The plan for the day was centered on a visit to a handful of the local food producers. The Shuswap region is farm country and more and more people have embraced the farm to table concept. Locally made and sourced foods are now readily available.
Our first stop of the day was DeMille's Farm Market. We had the full tour which was great fun – even for adults – as it includes a petting area with farm animals. I now know that it's better to be bitten by a goat than a donkey! The store is a must stop on the Trans-Canada Highway – even if you have only a few minutes. It's impossible to walk away empty handed!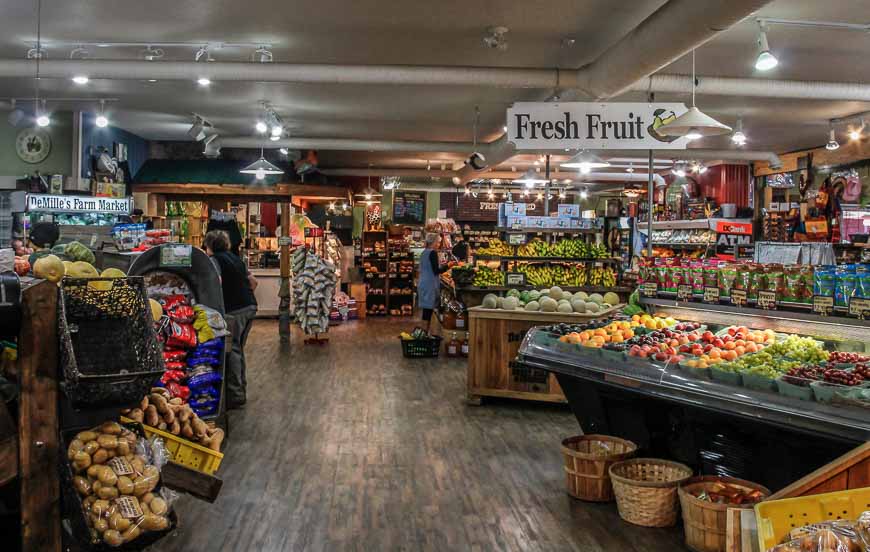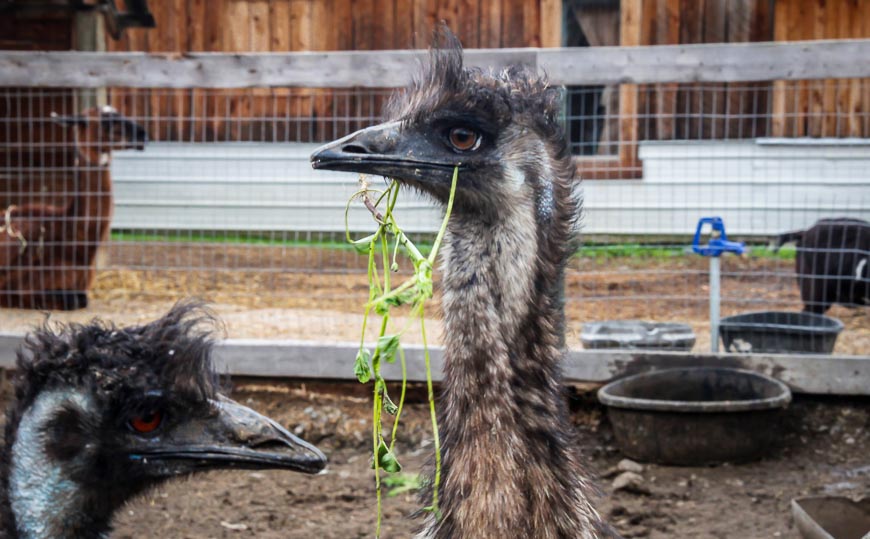 Gort's Gouda was next up (now called Grass Root Dairies). It's a short drive off of the Trans-Canada to get to the farm. The Wikkerinks, owners since 2007, are justifiably proud of their new barn and state of the art organic cheese making facility. They welcome visitors and are happy to provide tastings of their various Gouda cheeses. I particularly liked their jalapeno and spiced gouda cheese.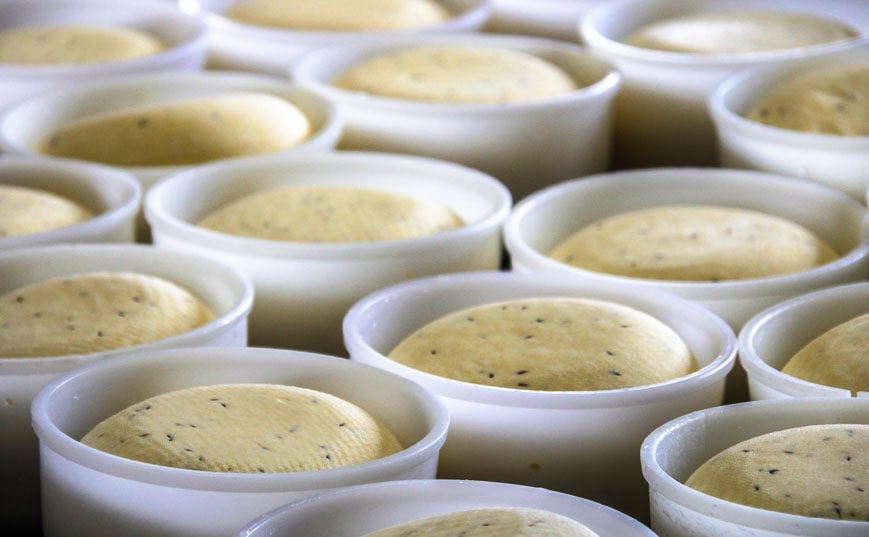 Next up was a quick lunch stop at the Barley Station – located in the middle of town on the Trans-Canada Highway; it's a place where beer drinkers are going to want to linger. All the beers offered are brewed on the premises. Ordering a sampler is a great way to figure out which one is your favourite.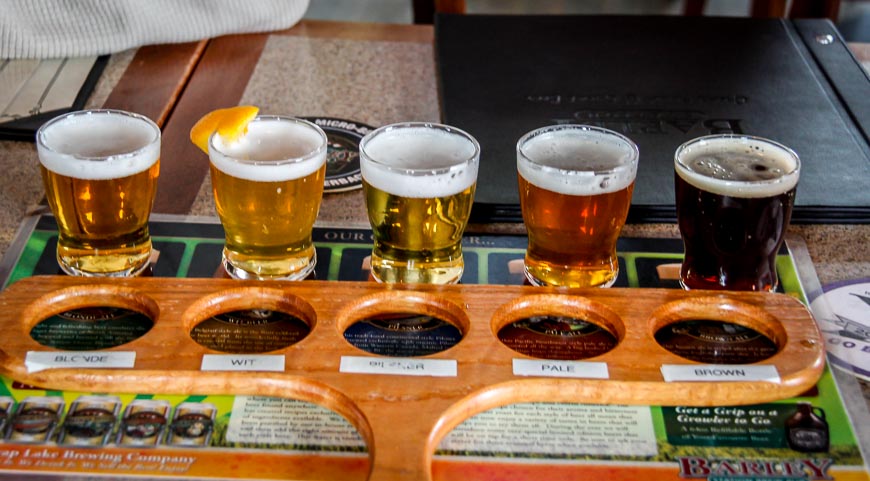 You'd think by now we'd be stuffed – and we were – but that didn't stop us for getting pieces of freshly baked pie to go from the Shuswap Pie Company. And holy Mother of Pie – these are good.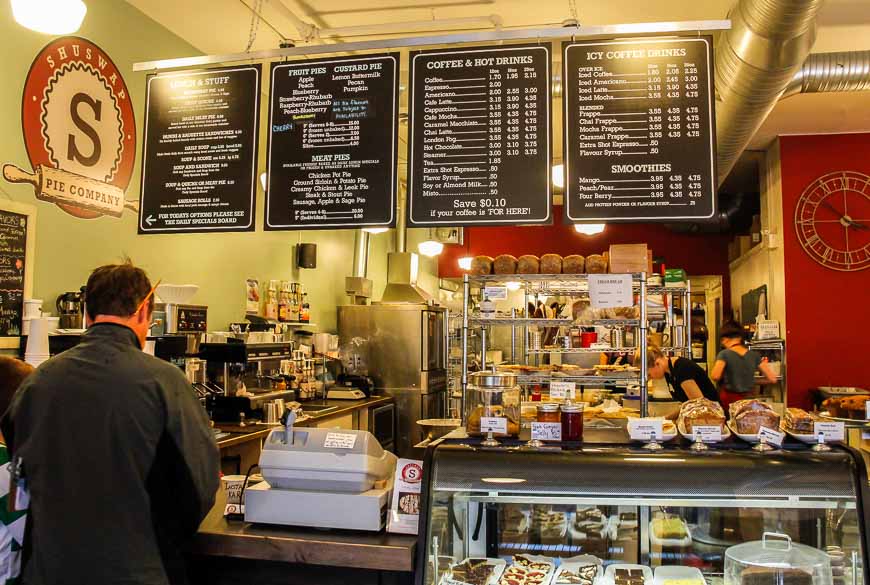 Back on board it was time to motor down the lake and spend the night closer to nature. Unfortunately water levels on the lake were high so we didn't have the privacy you would normally expect to have in the off-season. It was the only glitch in three days and not something anyone could control. In the end it didn't even matter.
We ended the third night with a catered Indian meal. It wasn't as though we needed to eat another bite but it was positively delicious.
And so ended what can only be described as an incredible day in the Shuswap Region. Until I'd stayed on a houseboat, I really hadn't appreciated the depth of what one can experience in the area. Truly, it's a region worth exploring – not only for the houseboating – and I only got a small taste of that – but for the local food, the wine, the golf and most definitely for both road and mountain biking.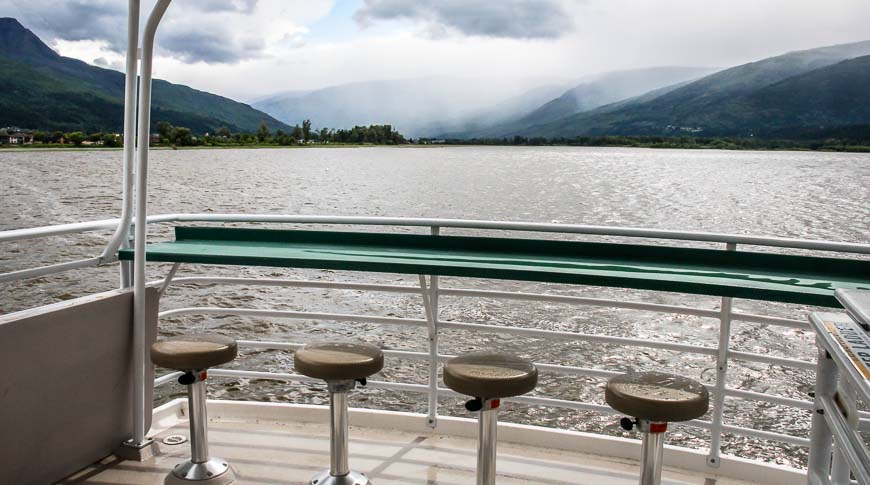 Further reading on things to do in British Columbia in summer
Click on the photo to bookmark to your Pinterest boards.