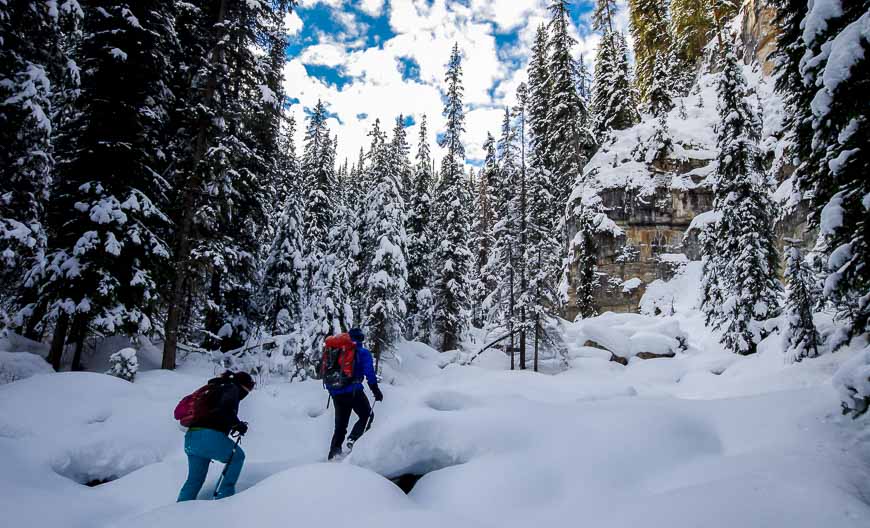 Snowshoeing in Jasper: The Watchtower Canyon Tour
I have succumbed to the charms of winter in Jasper. Apart from the mountain studded blue skies, sunshine and warm temperatures – even in February, it's the sheer number of adventures available within minutes of town that has me hooked. I could live here.
While the snowshoeing in Jasper National Park is divine, there is lots more to do in the area including fabulous downhill skiing at Marmot Basin and the thrill of climbing a 100 foot frozen waterfall in Maligne Canyon.
When it comes to snowshoeing, if you can walk, you can snowshoe. And for snowshoeing with world-class views, you can't beat Jasper National Park. With a size almost twice that of Banff National Park, there's a lot of territory to explore.
The Medicine Lake – Watchtower Canyon snowshoe tour is one of the prettiest you'll find in the Rockies.
Where is Medicine Lake?
Medicine Lake, about a 25 minute drive from the town of Jasper, is one of the popular snowshoeing destinations. Accessible via the plowed Maligne Canyon Road, the area gets loads of snow. Part of the reason is a function of altitude, as it's almost 325 metres higher than the town of Jasper.
Although you can certainly snowshoe without a guide, there are times when they can add a whole lot to the experience. My snowshoeing trip to Medicine Lake is a case in point.
Anybody can drive up Maligne Canyon Road and find the big parking lot at Medicine Lake. And it's pretty darned easy to follow the trail onto Medicine Lake. But, not many people know about Watchtower Canyon.
It's easy to miss and judging from the tracks, no one has visited since Christian, my guide and co-owner of Canadian Skyline Adventures had last been here, about three weeks ago.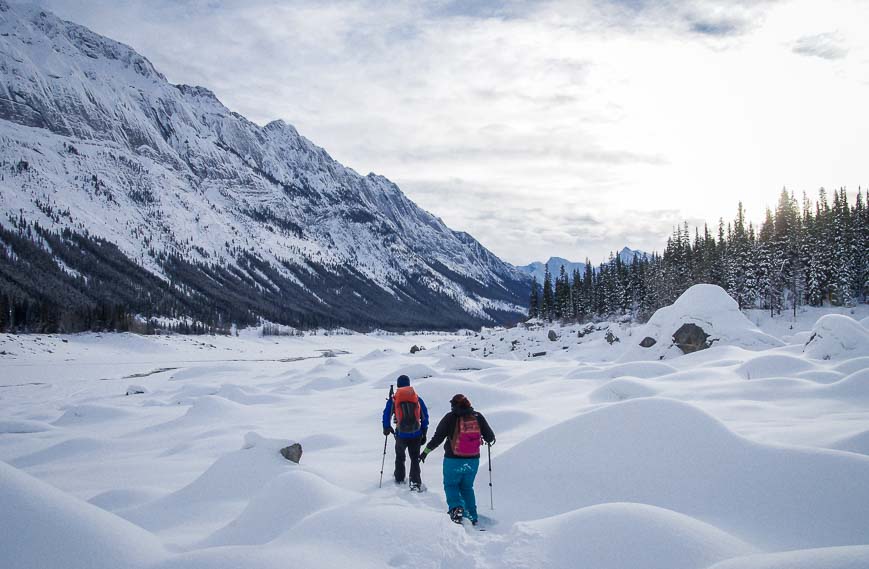 Snowshoeing in Jasper to Medicine Lake & Watchtower Canyon
From the parking lot, we take off through the snow covered boulders. A pole comes in handy for checking for holes – large gaps between the boulders you want to avoid – and for balance.
After a short stretch along the lake, we head for the woods. There is some uphill snowshoeing involved but nothing too strenuous. And the mountains views framed by the trees are worth the effort.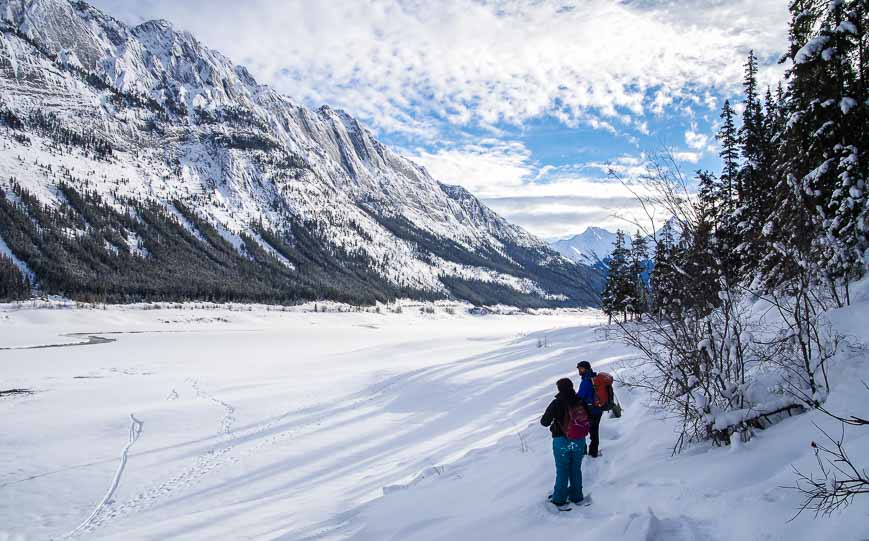 One of the benefits of using a guide is that you learn a thing or two. The black lichen you see hanging from the trees is a major food source of the caribou. I had no idea! There's also bright green lichen you sometimes see as a small clump. Although very pretty and eye catching, it is poison to the caribou.
Snowshoeing in Jasper up Watchtower Canyon
Watchtower Canyon is the highlight of this snowshoeing trip – and it's easy to miss unless you're looking for it. It's got a narrow opening bisected by a stream, located on the west side of Medicine Lake about a kilometre from the parking lot.
As you head into the canyon, listen for the water running in the stream. Although it's not deep, you definitely do not want to be falling in. (Bring an extra pair of socks just in case.) The pole comes in handy for probing the edges of the stream as well.
Basically you follow the stream up for about a kilometre from the lake until you reach the large waterfall. The trail is obvious in most places, even though it hasn't been used for weeks. Look for a slight depression in the snow.
After 20 minutes of gentle climbing, the canyon walls start to close and the unfolding scene is one of great beauty. Colourful, striated rock walls and large boulders scattered helter-skelter transport you to another world. You can't believe you're so close to civilization. But as it turns out, we weren't the only ones there.
The loud pecking of a three-toed woodpecker stopped us in our tracks. It took a while to find him but we did. We were also serenaded by the American dipper, a bird that loves the edges of mountain streams, even in cold Rocky Mountain winters.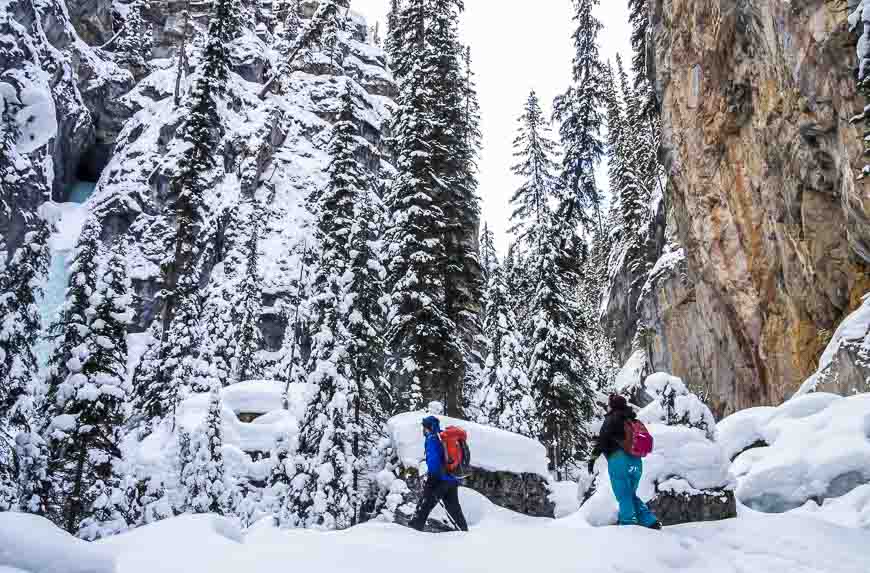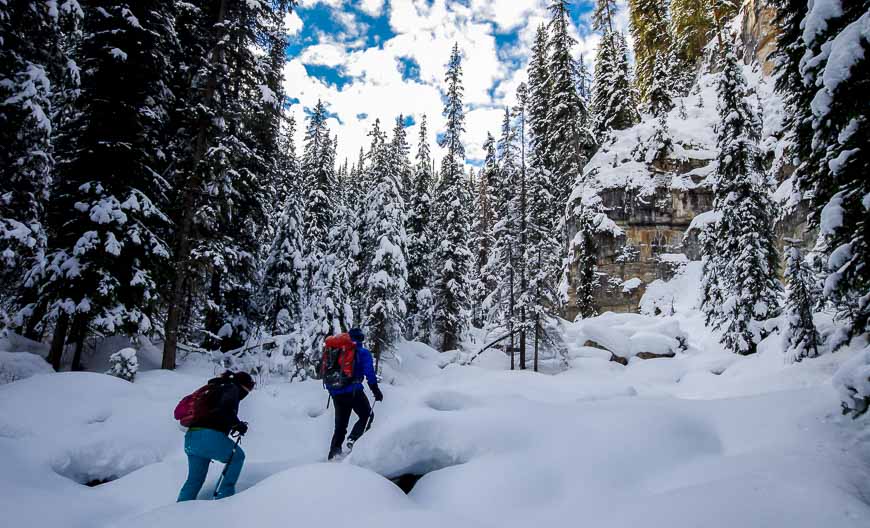 Our turn-around point was at the waterfall pictured below. In summer, climbers make their way here to test their skills on some hair-raising rock faces.
Such beauty and yet so few people ever venture here. From the car, it's only about a two kilometre hike.
The descent is speedy and in no time we're back at Medicine Lake. As we emerge onto the lake at about noon on Sunday, we see two other people bringing the count for the day to four. I ask – where is everybody?
The weather is superb, unseasonably warm with amazing snow and dazzling blue skies. I don't know why the place isn't crawling with people though I do enjoy the silence.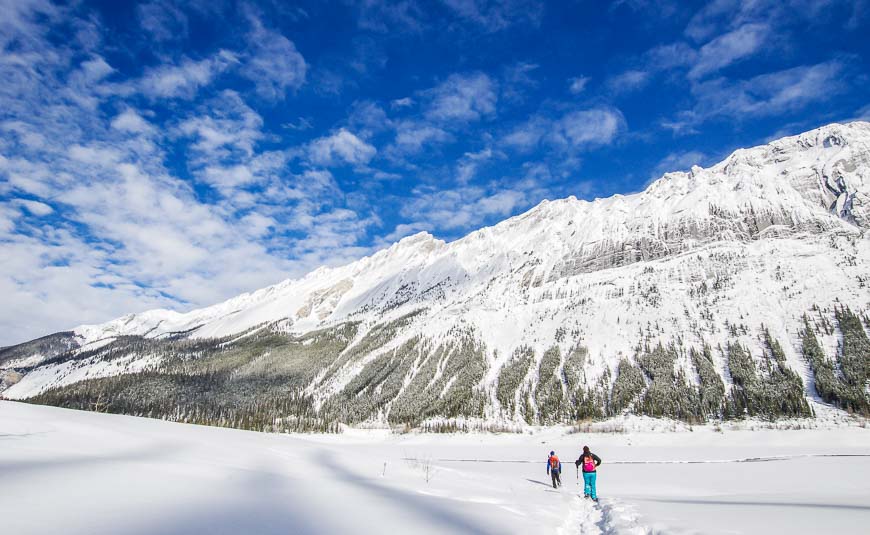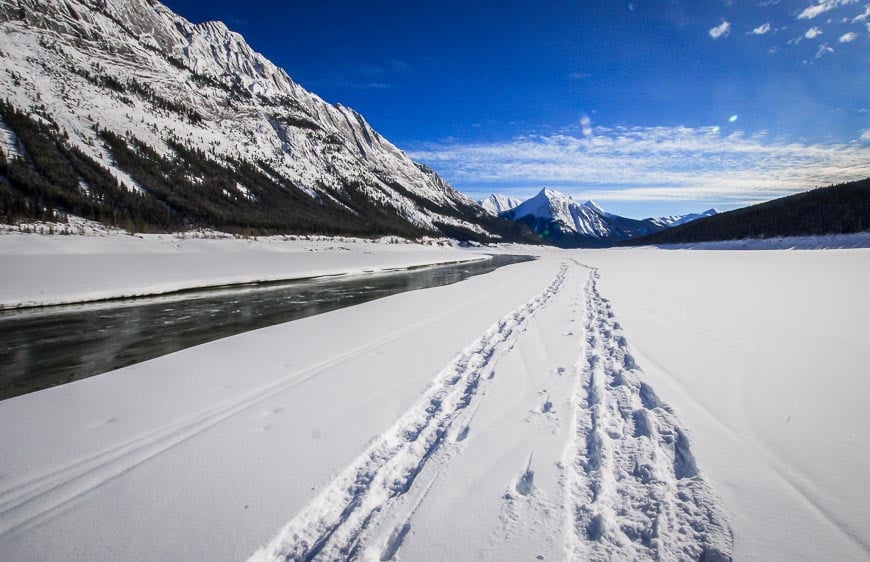 So now you know where you can find Watchtower Canyon. All told it took us three hours at a leisurely pace to explore the area. And don't worry about snowshoeing on Medicine Lake. In the winter, most of the water has drained – like a bathtub – so there's only a ribbon of flowing water that you can't miss. Avoid it.
Further reading about winter in Alberta
Click on the photo to bookmark to your Pinterest boards.
Thank you to Tourism Jasper for hosting my visit but as always all thoughts/opinions are my own. This is definitely a five star snowshoeing trip.