Banff National Park is full of winter trails for cross-country skiing and snowshoeing. Some are well-marked well others take you into the backcountry. Snowshoeing to the Ink Pots near Johnston Canyon is one of the great options. It's 12 km (return) via Moose Meadows. The trail is well-signed and easy to follow. There is another option and that is via Johnston Canyon. If you had two cars you could do a loop, heading up one trail and down the other.
Count on a workout when you go snowshoeing to the Ink Pots. Be sure to dress in layers so you don't sweat – and then cool down in the chill of winter. Allow about four hours to do the return hike.
It's always a good idea to check trail conditions before you go.
Finding the Ink Pots Trailhead for snowshoeing
You'll find the Moose Meadows trailhead a few kilometres east of Castle Junction along the Bow Valley Parkway on the north side of the road. Signage is excellent. Allow 30 minutes from either Banff or Lake Louise – especially if you're driving the slower going Bow Valley Parkway. Keep an eye out for wildlife on the road.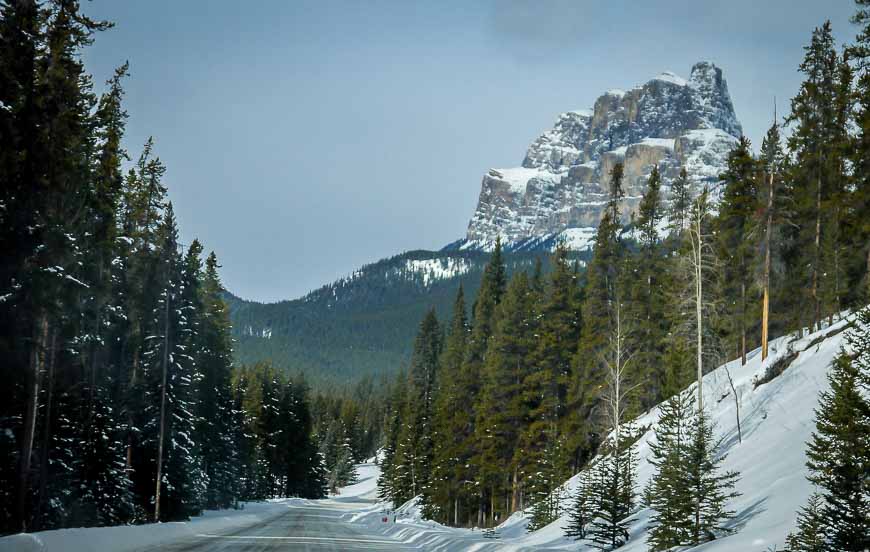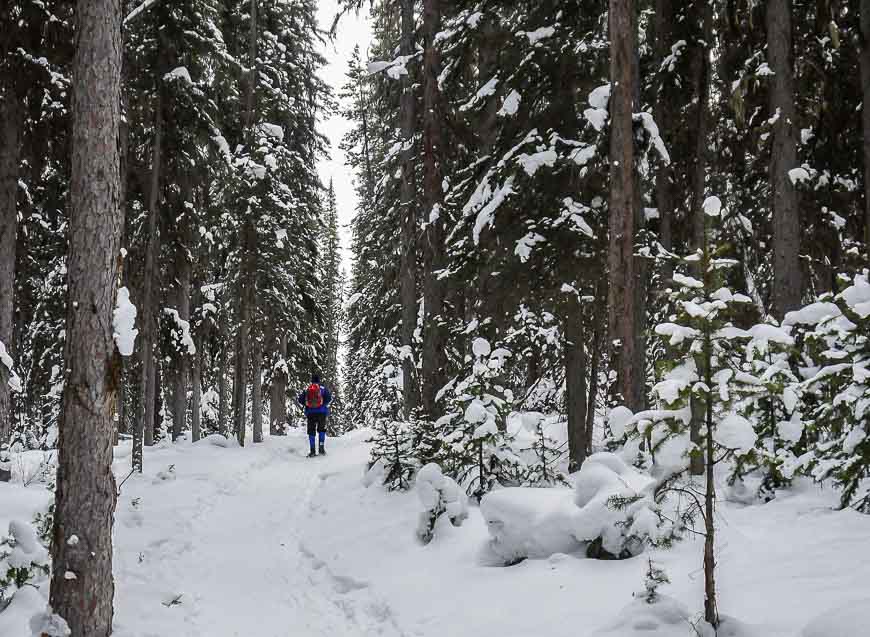 This post includes some affiliate links. If you make a purchase via one of these links, I will receive a small commission at no extra cost to you. Thank you very much!!
The snowshoe trail to the Ink Pots from Moose Meadows Trailhead
The snowshoe trail is well defined the entire way. Begin by heading up through thick forest for 3.2 km until you reach the junction with a trail leading to Johnston Canyon.
Bear left to continue to the Ink Pots and continue for another 2.7 kilometres. This section of the trail sees the bulk of the 330 m elevation gain. The higher you get the better the view.
Eventually you break out into a valley. The Ink Pots stand before you – throwing off a bit of warmth too. In non-winter months they're brilliant coloured mineral hot springs – but in winter they're not so good.
If you're here in the summer months, you can continue hiking up the valley and over Mystic Pass to Luellen Lake, a further 11.8 km away.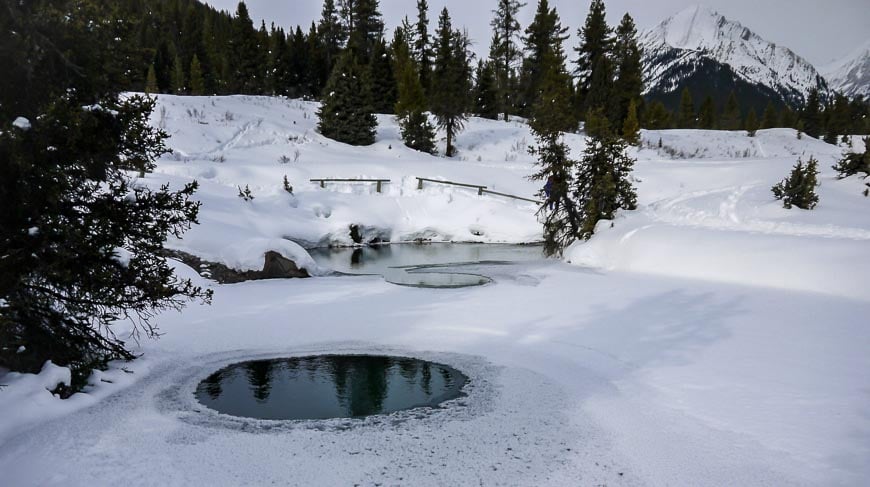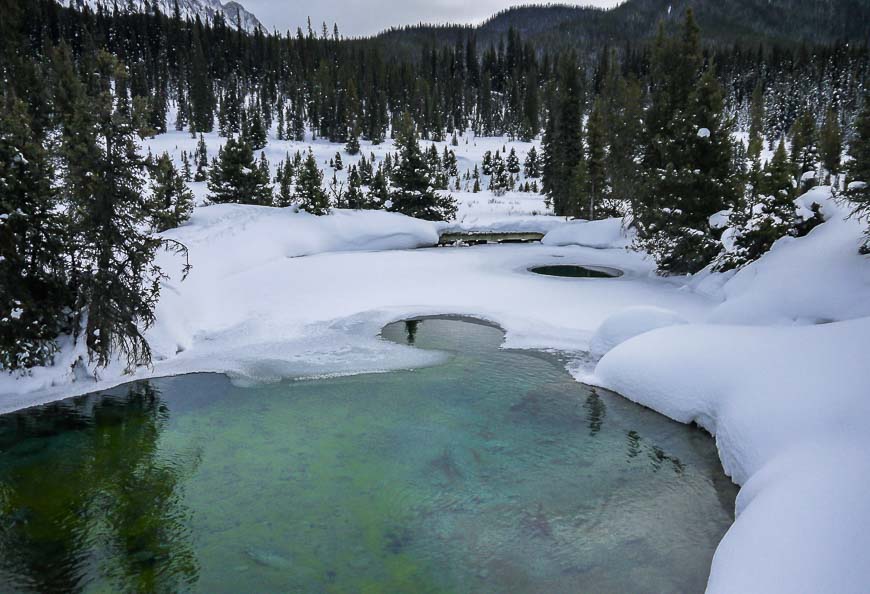 When we got to the Ink Pots the wind picked up and the clouds rolled in. This area is spectacular on a sunny day as you can see below.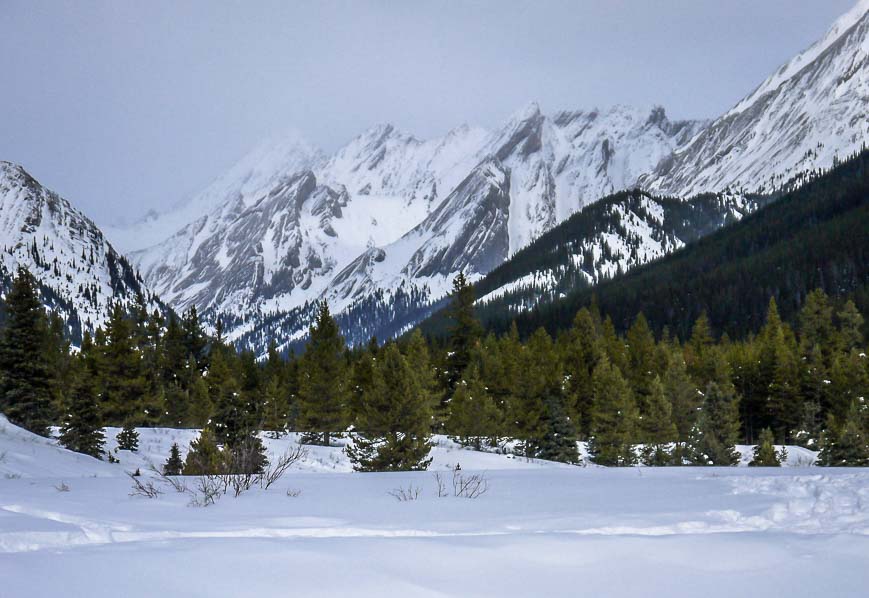 The return trip is fast since it's mostly downhill. All told it took us 3¼ hours including a short lunch break. It's a wonderful way to spend half a day.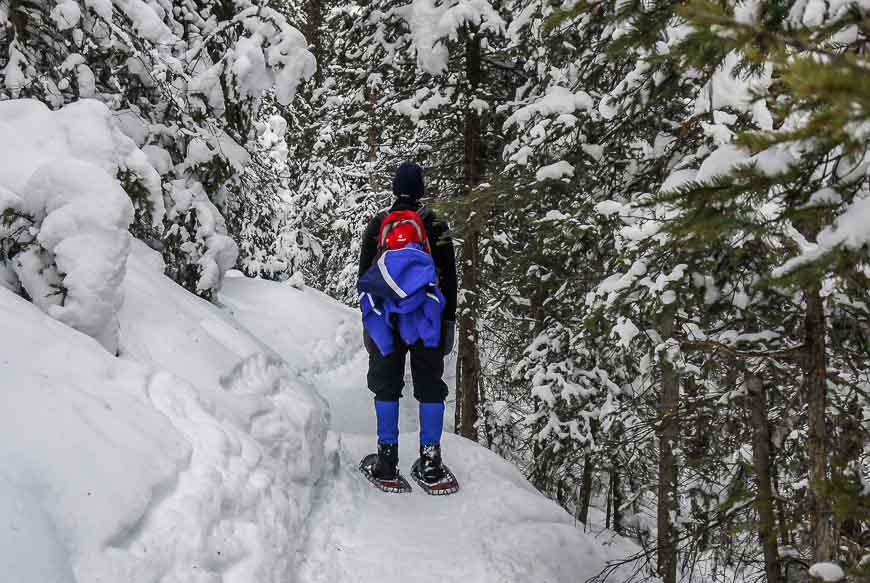 An alternative route to the Ink Pots on snowshoes
Follow the Johnston Canyon trail to the second set of falls. Look for signage pointing to the Ink Pots – of which there is plenty. From the top of the Johnston Canyon trail it is only 0.3 km to meet up with the trail coming up from Moose Meadows. One on that trail its 2.7 km to reach the Ink Pots.
Retrace your steps to return or snowshoe down to the Moose Meadows trailhead to a pre-arranged car shuttle OR walk back along the road to the Johnston Canyon parking lot, a distance of about 1.7 km.
More snowshoeing information for Banff National Park
The Banff Parks Office at 224 Banff Avenue in Banff is staffed with helpful, bilingual rangers who can direct you to a trail that best suits your ability.
Around Banff itself there are lots of easy snowshoe trails if you just want a short burst of exercise and fresh air. Some I'd suggest are the trails in the Cave and Basin area. There are pretty loops and an out and back along the Bow River.
The Spray Valley Loop is a good choice as is the hike or snowshoe to the summit of Tunnel Mountain. Or try the busier alternative to the Ink Pots – a trip to see the frozen waterfalls up Johnston Canyon. If you want a full day snowshoe I'd recommend Sulphur Mountain via Cosmic Ray Road – though in fall-winter 2021-22 it is still closed.
The Lake Louise area also has lots of snowshoe trails. Try the easy one up to Mirror Lake or the trail along the shoreline of Lake Louise.
What to take snowshoeing in Banff National Park
Be smart and go prepared because if anything goes wrong its never pretty. Take extra high energy food, along with lots of hot drinks. You might even want to bring a wide mouth thermos so you can enjoy some hearty soup.
Everyone should have a headlamp. Don't forget matches and fire starter too.
Consider bringing some extra clothes. Layering is always a great idea. I like a lightweight down jacket for instant warmth. Always take an extra pair of dry socks never ever wear cotton or you'll freeze.
If you want to sit down, it's way more comfortable and you won't lose as much heat if you have an insulated sitting pad like this one.
Location map of the Ink Pots
Further reading on winter activities in Alberta
Click on the photo to bookmark to your Pinterest boards.