Canadians have been slow to catch on to the charms of Stokely Creek Lodge, located just 35 minutes by car north of Sault Ste. Marie – especially considering the ease of getting to 'the Soo" from Toronto. You can easily fly on either Porter Airlines or Air Canada.
The American owned Stokely Creek Lodge has been drawing guests primarily from Michigan and Wisconsin since the first cross-country ski trails opened in 1976-77.
Stokely Creek Lodge is better known by Americans than Canadians
The lodge was started by an American, Chuck Petersen and eventually bought by an American couple – Gaylen and Susan Byker and their daughter and son-in-law, several years after his death.
While I appreciate their considerable connections and marketing prowess to an American audience it doesn't answer the question, at least in my mind, why Canadians who love cross-country skiing in a beautiful setting are so under-represented.
Recently, I along with my good friend Jo, had the pleasure of spending a few nights as guests of Stokely Creek Lodge, a destination that has literally been on my wish list for years. The reason – world-class cross-country skiing right outside the front door and awesome snowshoeing trails coming a close second.
What makes Stokely Creek Lodge special?
The 8,000 acres of rugged Canadian Shield that can be accessed with a stay at the lodge (or as a day skier) are blessed with an annual average of 17 feet of lake-affect snow – all because the acreage sits within spitting distance of Lake Superior. But there's more than snow that keep the guests returning literally year after year.
Within minutes of showing up at happy hour we met people who had been coming to the lodge for 8, 18 and 30 years respectively. Repeat guests seem to be the norm with some avid cross-country skiers coming up from Michigan in particular, multiple times every winter. When asked why over a family style dinner, here's what I learned.
Josie, Ron and Carol spoke to the lodge as being a true getaway with no stress. That means no laundry, no meals to be cooked or even wood to be chopped. The only thing you have to do is show up for meals.
Your day is free for your own pleasure and chances are you'll barely see a soul when you're out on the 100 plus kilometres of immaculately groomed and track-set cross-country ski trails. If you want to do nothing that's okay too.
Everyone spoke to the appeal of walking out the front door of your cabin to the trail, not five steps away – and to the camaraderie – with new friends and old. In fact if you book the same week year after year you can't help but run into folks you've met on previous visits.
After just two days at the lodge I loved the simplicity of life; lots of exercise, a dose of solitude, immersion in nature and down time.
The cross-country skiing experience at Stokely Creek Lodge
Sitting in the Algoma Highlands, a region noted for its hardwood forests of yellow birch and maple, big hills, steep valleys, creeks, small lakes and views of Lake Superior, you can be assured of a workout if that's what you're after.
We only had a day for skiing (I would have liked three) but still it didn't take long to figure out we were in hilly country on impeccably groomed trails. Numerous warming huts made all the difference on a cold day and with lots of signage even newbies like us could easily find our way around.
The lodge also hosts a number of special events, just another of the many features that keep people coming back year after year.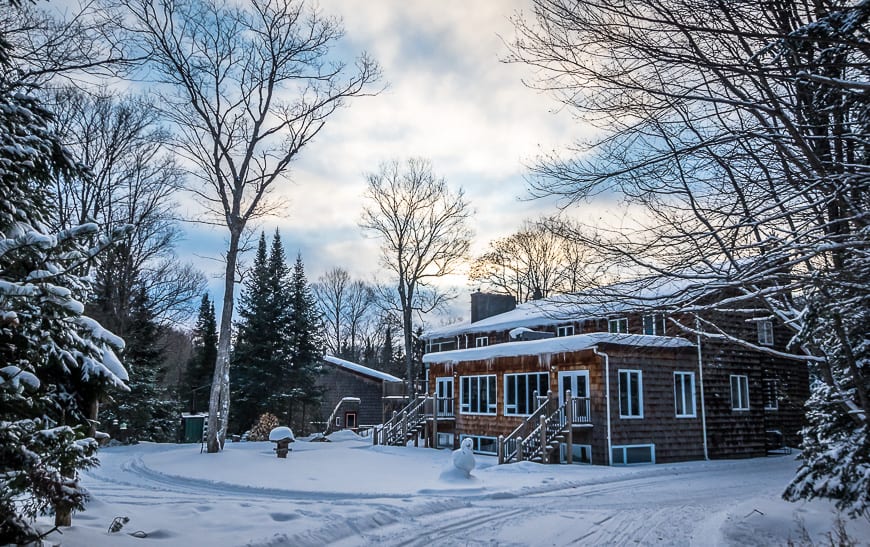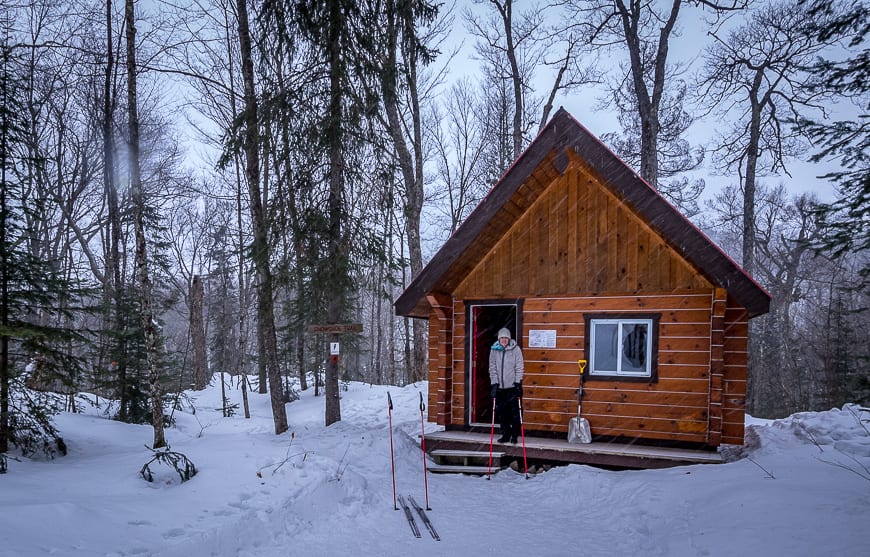 Snowshoeing at Stokely Creek Lodge
Snowshoeing at Stokely became an option about a dozen years ago. While the majority of people come for the skiing, the snowshoeing is also world-class and a great way to break up a multi-day visit.
Gaylen and Susan Byker also say "it's popular with long time guests who now have bad hips and knees as it's a way for them to still get outside."
With all the snowshoe trails chances are that you'll rarely meet another soul and in all probability you'll feel like you have the forest all to yourself.
Our full day of snowshoeing to the summit of King Mountain and beyond has been called the best snowshoe trail within a 1,000 kilometre radius – justifiable praise for a trail that delivers interesting terrain and phenomenal vistas of Lake Superior and the Algoma Highlands.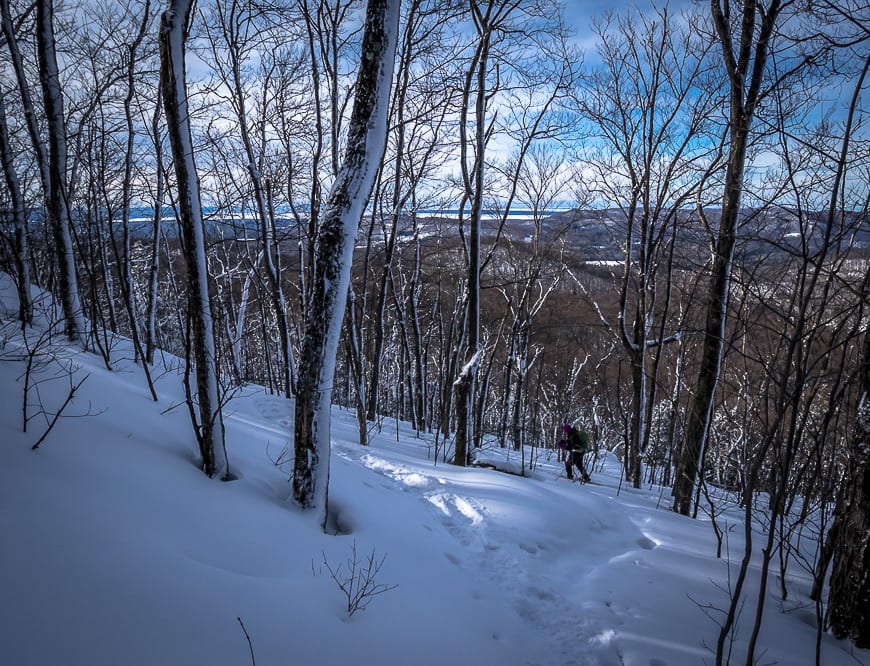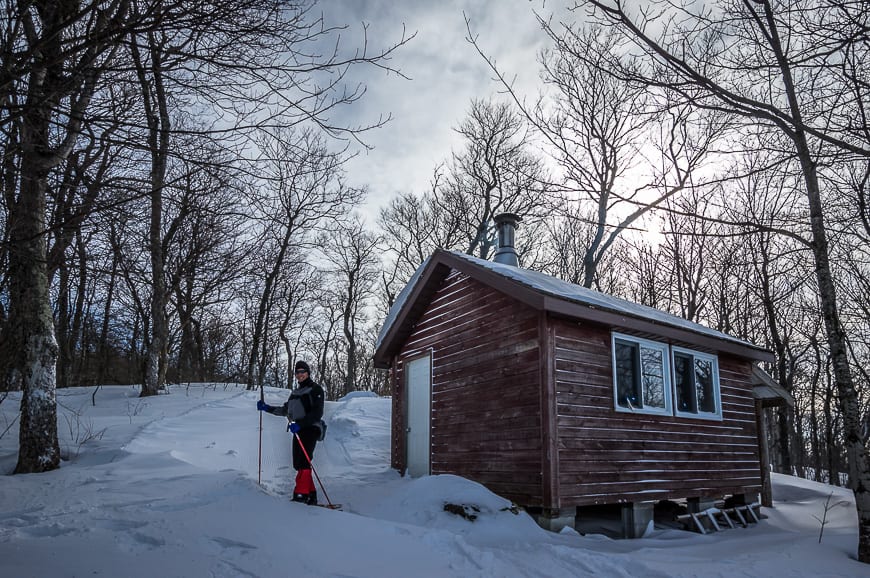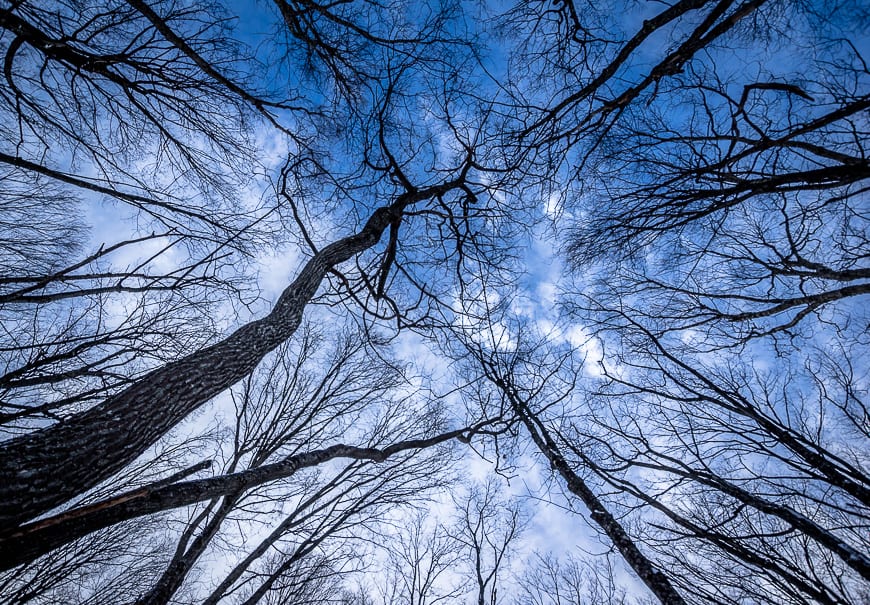 Accommodation at Stokely Creek Lodge
There are a variety of options when it comes to accommodation. If you stay in the lodge it's more dorm style with shared bathroom facilities.
But there are lots of private cabins with various bed configurations. Our cabin – the Cedar Tree (named for the cedar tree trunk and branches used as part of the stairway) contained a king bed downstairs and two twin beds in a loft. It's Scandinavian style – basic but clean, comfy, functional and dead quiet – except for the howling wind in a snowstorm one night.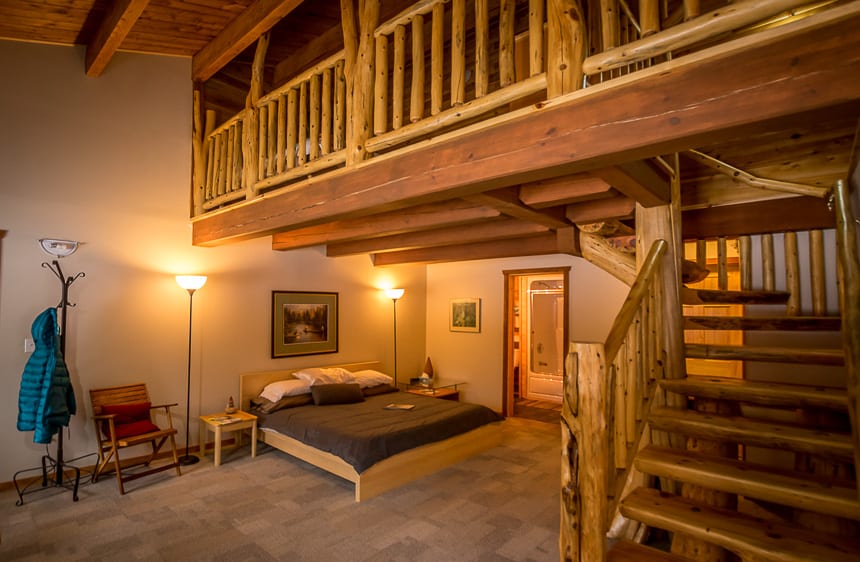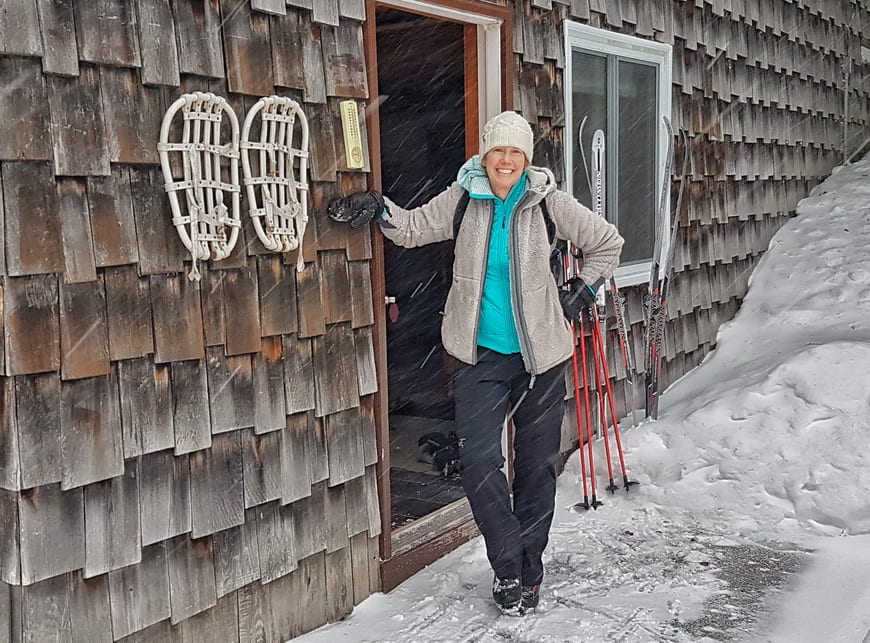 Useful Information for your visit
Call for a snowmobile to pick up your luggage at the parking lot.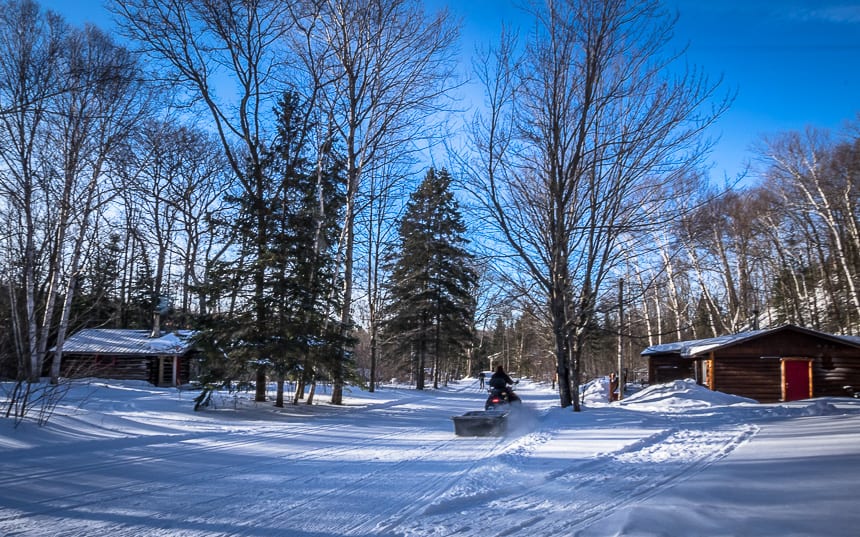 Cross-country skis, boots and pole are available for rent – though skis are the non-waxing variety.
Good quality snowshoes are available for rent.
Every intersection on the trail boasts a sign and a red dot showing your location.
An onsite sauna will relax your tired muscles.
Enjoy a rousing game of table tennis or choose a book from the well-stocked library.
There's a corkage fee for bringing your own wine.
Bring a plastic water bottle and a thermos.
Pack plenty of warm clothes as temperatures can hit -30°C and the winds off Lake Superior can be frigid.
Charge all batteries before you hit the trails and keep extras close to your body. Keep your cell phone in a spare mitt to keep the battery from draining too quickly.
Stokely Creek Lodge is usually open just after Christmas until the third week of March. There are no phones or TV but WiFi works well. For more information visit the lodge website.
In two days I merely got a taste of what the trails at Stokely Creek Lodge offered. I left wanting more – always the sign of a great travel experience.
Location of Stokely Creek Lodge
Further reading on things to do in winter
Click on the photo to bookmark to your Pinterest board.
Thank you to Tourism Sault Ste.Marie and Travel Ontario for arranging and looking after my visit. Thanks also to my dear friend Jo who was a good sport to go skiing after a 30 year hiatus!