A Visit to Alberta's Dinosaur Provincial Park – A World Heritage Site
A visit to Alberta's Dinosaur Provincial Park kills (as the saying goes) two birds with one stone – as its actually a UNESCO world heritage site too. I confess that I am not a great fan of dinosaurs. I don't know my Leptoceratops from my Stegoceras, though I think I could pick out a Triceratops if pushed. But that's about it.
Despite my disinterest in all things dinosaur related, I had been hearing great things about Dinosaur Provincial Park. The camera crew that accompanied us to Abbot Pass Hut back in August raved about the place. My friend's parents said it was one of the highlights of their road trip across Canada. I figured I had to go – and my window of opportunity to visit this year was closing quickly. A guided hike to the quarry is off limits unless you're on a tour – and those end at Thanksgiving and don't restart until the spring. There are lots of other trails to hike – and those are open year round. But if I was going to make the effort to visit I wanted the full tour.
Last week my daughter and I set off from Calgary and 2.5 hours later arrived at the park. We had time before our tour to drive the Public Loop Road, check out the Fossil houses and hike the Badlands Trail.
And were we ever impressed. Dinosaur Provincial Park boasts some of the most impressive Badlands scenery I've ever encountered. It's a photographer's dream – with an assortment of wildly eroded buttes and hills. Throw in altered rock in a variety of colours – reds, blacks, grays, cream, light yellow and you you'll find a lot to admire.
Why is Dinosaur Provincial Park a UNESCO site?
Dinosaur Provincial Park is a UNESCO World Heritage Site because more complete dinosaur skeletons have been discovered here than anywhere else in the world. Over thirty five types of dinosaurs have been found as well as fossils of turtles, fish, lizards and flying reptiles. Once you know what you're looking for it isn't hard to find dinosaur bones. Just don't move them.
We had signed up for the Centrosaurus Quarry hike. It took us into the off limits area and deeper into the park. The actual hike itself was easy though I can't imagine it would be too much fun on a hot day. Our guide, Brian, told me they cancel the hikes when the temperature gets above 34C. And if it rains a lot, the bentonite clay becomes as slick as dinosaur snot – his words – not mine.
It was cool when we were there but mostly sunny. As we hiked towards the quarry, Brian would stop and give us clues as to why there were hundreds of dinosaur skeletons in a relatively small area. It wasn't until we came to the end that we found out the answer – but I'm not going to spoil it for you here.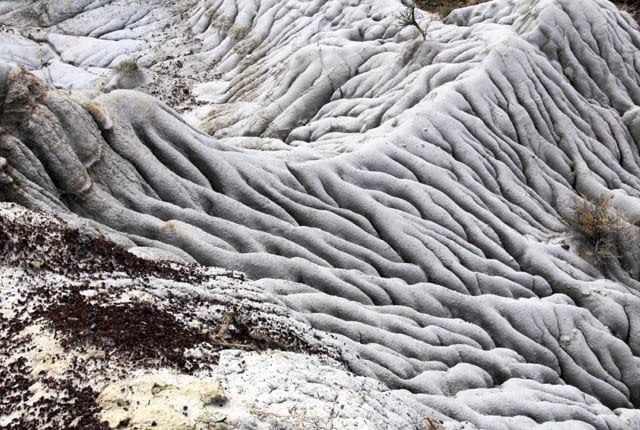 Planning your trip to Dinosaur Provincial Park
Reserve online if you're interested in a tour. There are bus and hiking tours – and some have strict age limits.
We paid $14 for our tour.
Bring lots of water and a picnic lunch. Brooks is the nearest town of any size.
Camping is available in the park, including comfort camping with real beds.
A photographic tour at sunset is offered once a year – or so I'm told. This would be an amazing thing to do.
The Visitor Center is wonderful and worth at least an hour of your time.
In the summer keep an eye out for prairie rattlesnakes. Avoid rock piles and ledges.
Keep your hands away from holes and crevices – home to scorpions and black widow spiders though you probably won't see them.
Pets are allowed in the park on a leash. I'm not so sure they'd be welcome on a tour though.