A visit to Rossland BC has been on my radar for years. While I didn't appreciate what a cute mountain town Rossland is until my summer visit, I did know that the town is a dream destination – albeit an out of the way one – for skiers.
In fact it was at RED Mountain Resort where Nancy Greene, Canada's female athlete of the 20th century, cut her teeth skiing. The ski hill is well-known for its massive dumps of snow in winter and hiking and mountain biking trails in summer. It took less than two days for me to fall in love with Rossland BC.
My fabulous slope-side stay at the new Josie Hotel certainly helped but the town too stole my heart. Rossland (population 3,537) seems to attract passionate, outdoorsy people who live the life they dream of.
The former gold mining town is now an arty one – with galleries, boutique shops, excellent restaurants, coffee roasters and even a mini Whole foods like supermarket – so you don't lack for anything but quick access to large centres!
How do you get to Rossland BC?
Rossland is not the easiest place to get to, especially in a winter snowstorm. And this place gets on average 750 cm of snow, so that can be a problem.
The town is located in British Columbia's West Kootenay region in the Monashee Mountains at an elevation of 1023 metres. It's almost an 8 hour drive from Vancouver and a 7 hour drive from Calgary. The nearest town is Trail though Nelson is only an hour away. Driving access is via Highway 3.
In summer a road-trip that includes Rossland is a great option. But in winter I'd recommend flying into either the Spokane Airport in Washington, a two hour drive away or Castlegar, 35 minutes away. The downside to Castlegar is the frequency of flight cancellations because of poor weather.
The Josie Hotel
As part of a nine day tour of the Kootenay region (other stops included Island Lake Lodge, Valhalla Provincial Park, Revelstoke, Nakusp, Halfway Hot Springs and Glacier National Park) John and I had two days to spend in Rossland with the Josie Hotel as our base. And what a base it was!
Wowsers is how I felt when we walked into the beautifully appointed hotel lobby. High ceilings with giant chandeliers, cozy leather couches, games, books and even a chair lift greeted us. Throw pillows and area rugs in warm tones softened the contemporary theme, inviting you to linger.
The boutique hotel opened at the end of November in 2018. Its location, literally steps from the chairlift and hiking trails, is a game changer for Rossland. It's the most luxurious hotel in town (and only a six minute drive to the town proper) with a great onsite restaurant to boot.
The rooms at the Josie Hotel in Rossland BC
What a treat to walk into an extra-large suite with a view out to the mountains. I loved the aesthetic of our room from the moment I laid eyes on it. (Who is that interior designer?) The dining room area with its round table and chairs, fridge and coffee maker was perfect for working.
The living room which featured couches, bright red Barcelona chairs and beautiful area rugs invited reading and lounging while the outdoor balcony was ideal for sipping wine and watching the world go by.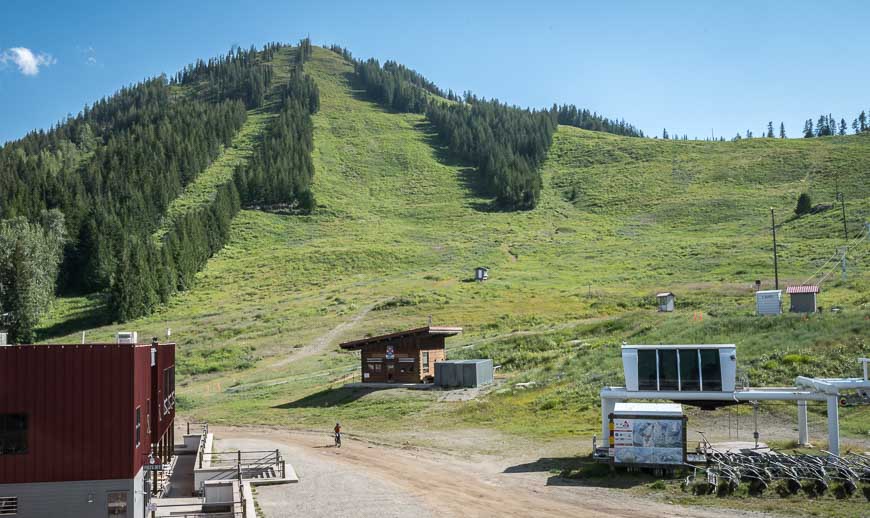 Our bedroom was lovely. It boasted a very comfortable mattress, lots of room to spread out and plenty of places to hang clothes, all with a view from our bed.
The over-sized bathroom ensured there was never a fight over space. We both marveled at the size of the shower and the fact that some of the tiles never even got wet. While we had no time for the soaker tub on this trip, it would be stop number one after a day of skiing.
Note this is a pet-friendly hotel. Wish we'd had our mutt with us but her hiking days were over.
What can you do in Rossland BC?
Go for a hike near Rossland
John and I enjoyed a late afternoon wildflower-filled hike to the top of one of the ski hills. What a treat it was to lace up a pair of runners and minutes later be on a trail. What we hadn't bargained for was the workout we'd get – good training for our hike to Gwillm Lakes in Valhalla Provincial Park. We'd been given directions but really how hard can it be to walk up a ski hill?
Very hard as it turns out. It was a scramble in places as we pulled ourselves up and over massive roots, and tried to gain purchase on vegetation-free slopes. Throw in those nasty ball-bearing sized rocks that can turn an ankle in a heartbeat and there were times I wondered what we were doing.
But the far-reaching views from the summit and walking through waist-high wildflowers, some back lit along with mountains and blue skies, made every difficult step worthwhile. I understand that the ski area is also a hit with trail runners.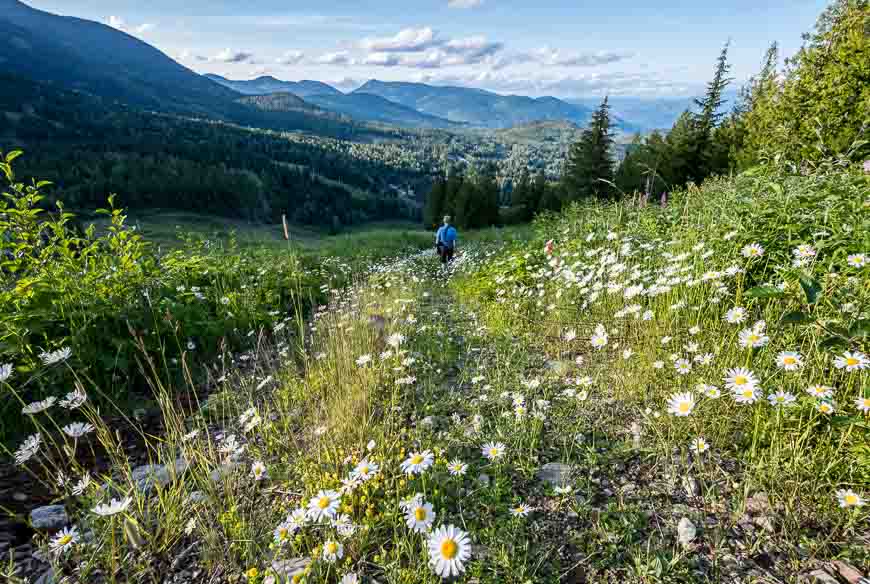 Raft the Lower Slocan River
One afternoon was spent lazily rafting a pretty section of the Lower Slocan River with Endless Adventure out of Crescent Valley. Over a couple of hours beginning from Crescent Valley Beach we rafted through Class II and III waves. It's the ideal rafting trip for families as nothing is overly scary – except for the optional swim through the rapids.
John and I thought the swim sounded like fun so we along with the majority of the guests walked up the river some distance from where we left the rafts. Then with the help of the guide we waded into the river, three at a time, and on cue swam for all we were worth to end up in the middle of the river. The current grabbed us and threw us into the big waves of the rapids in short order. It was all I could do to keep my mouth closed so I wouldn't choke on the water. I'd describe it as a "rush" and the highlight of the afternoon for me!
Explore Rossland
Take a walk down the main street at some point on your visit to Rossland. You'll probably come away surprised by the quality and variety of stores and businesses, the artwork and the nod to its skiing history.
Stop in at Seven Summits Coffee Company if you need some fair-trade locally roasted beans. And if you've got a hankering for chocolate, check out the Mountain Nugget Chocolate Company for their hand-crafted chocolates, ice cream and pastries.
Go mountain biking
John and I ran out of time to give mountain biking a go. But this town is famous for the grueling 35 kilometre long Seven Summits Trail. It's even recognized by the International Mountain Bike Association (IMBA) as an epic trail. Interestingly, a few weeks after this trip, when we were hiking in Switzerland, we met locals who had traveled all the way to to Rossland specifically to bike the Seven Summits. Guess we missed something really good.
Eat at the Josie Hotel
We were lucky to eat twice at the Velvet Restaurant in the hotel – breakfast on one day, dinner on another. Take your appetite (well-earned after all the adventures) as you're in for a treat.
Chef Marc-Andre Choquette, a Vancouver transplant who once worked as a sous chef at Lumiere with Rob Feenie, heads up the restaurant. The menu is a French-influenced seasonal menu. John enjoyed a tender duck breast one night while I swooned over homemade tagliatelle. Breakfast is as beautiful as it is tasty. Check out my bowl of hot steel cut oats in one of the photos below.
And if you're hungry before dinner, I highly recommend that you order a bottle of wine and a charcuterie board for your room. Heaven.
You can book rooms at the Josie Hotel here.
John and I were guests of the Josie Hotel – but they have no influence on my opinion or the article itself. We both truly loved this place and would happily come back in winter.
Click on the photo to bookmark to your Pinterest boards.