Penticton, a town that's perfect for outdoor adventure enthusiasts, beer aficionados, and wine lovers alike, is located in the South Okanagan Valley. Home to about 37,000 full-time residents, it has plenty to offer both locals and visitors on a year-round basis. Even though December through March is a quieter time to visit, there are still lots of things to do in Penticton in winter, as you'll see below. There's an energy to the town with more young people moving in, starting up small businesses and bringing a positive can-do vibe to the town.
From a Canadian perspective, the winter weather in Penticton is pretty darned good. The town gets snow and even the odd very cold snap, but on balance it's far more temperate than most of Canada. The Okanagan has a reputation for being cloudy in winter but of all the places in the Okanagan Valley, Penticton tends to see more sun. You can leave your shorts and bathing suits at home, but so too the winter gear you need to survive -20ºC.
Summary of things to do in Penticton in winter
Penticton is usually dry and temperate in winter so many summer activities like hiking and biking carry through to the winter though make no mistake it can snow but it doesn't stick around for long. The Kettle Valley Railway is particularly fun to explore on a fat bike in winter.
There are lots of wineries that stay open in winter so it's a great time to take advantage of tasting rooms without the crowds.
Score reservations more easily at top restaurants like Elma and the Naramata Inn (though they reopen in March).
Apex Mountain Ski Resort and Nickle Plate Nordic Centre see lots of snow. There's something for any winter enthusiast between these two locations including skiing, snowshoeing, tubing, and skating through the woods on a 1-km loop trail.
Walk the lakefront or hike up Munson Mountain if the weather permits.
Check out Penticton's Ale Trail.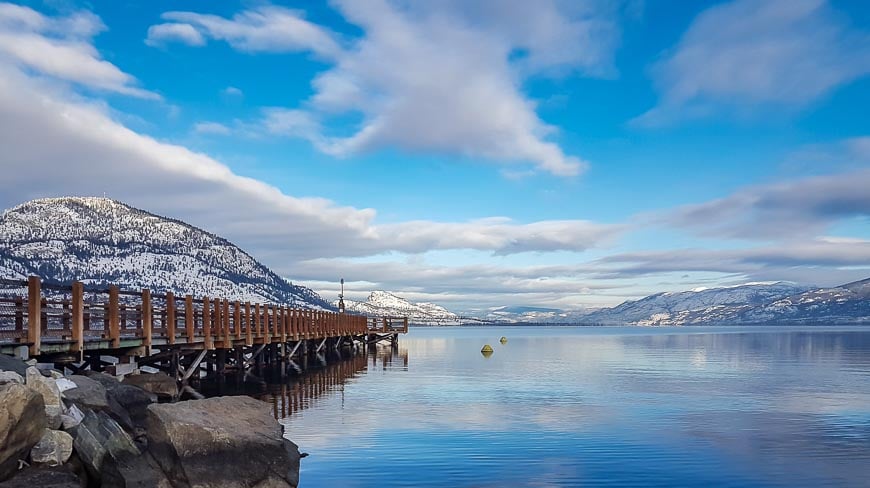 Location map of things to do in Penticton in winter
Ski and play at Apex Mountain Resort
In winter, loads of dry snow ensures a long season of downhill skiing at nearby Apex Mountain Resort. In fact on my early February visit, 140 cm of snow fell over just four days. To say the skiing was superb is an understatement!
The mountain is accessed via a 40-minute drive heading west out of Penticton. Smaller than some of the other Okanagan ski resorts, it delivers where it counts. It boasts a great layout for a ski hill, a variety of terrain for all levels of skiers/boarders, 80 runs, a 610 metre vertical drop and some of the friendliest people running the place you'll find anywhere. Cue James Shalman – the GM and one of the nicest humans I have met.
If you're really not that into downhill skiing or snowboarding, there are plenty of other activities to keep family members happy.
Check out the tubing park and skating loop at Apex
A tubing park – with a Magic Carpet is great fun for all ages. Expect to scream. I always do.
Normally it would be a treat to glide on the one kilometre skating loop through the forest but when you get one massive dump of snow after another and there's a hockey game on (for kids to raise money for a children's hospital) that commandeers the Zamboni, then what can you do? Next time.
Snowshoe trails running through the forest round out the other adventuresome offerings.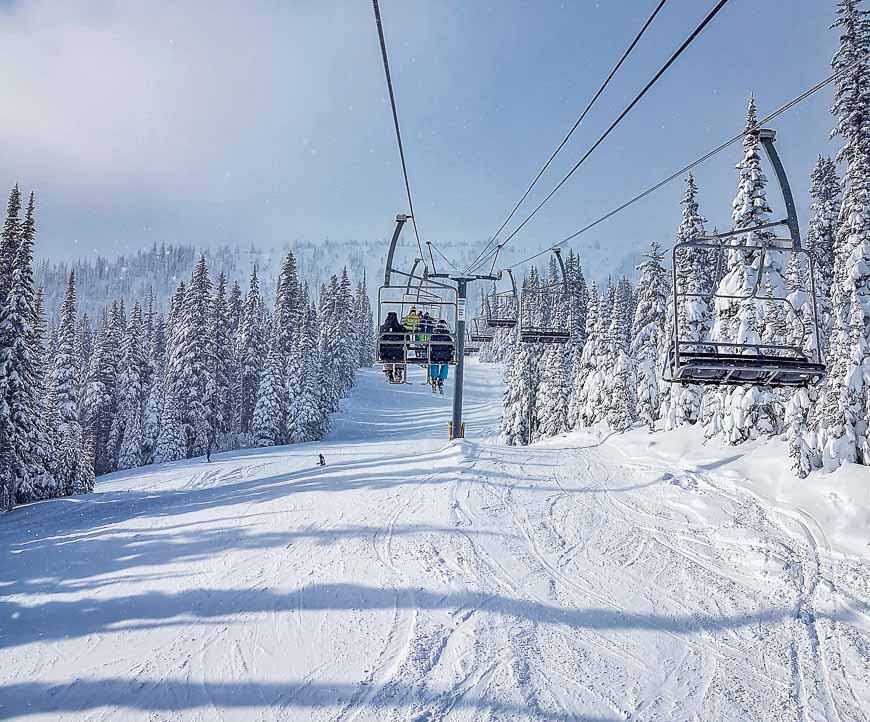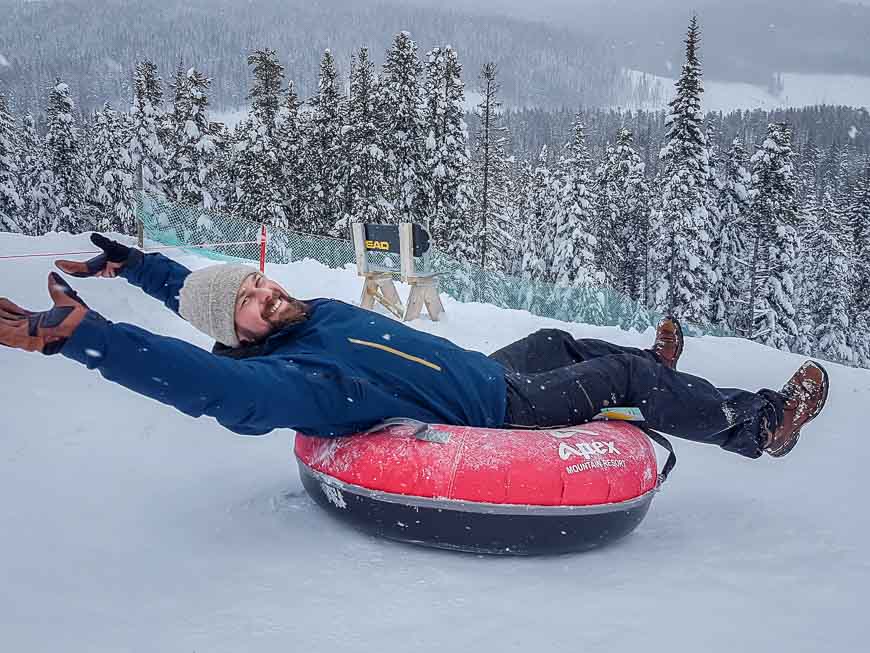 Cross-country ski or snowshoe at Nickel Plate Nordic Centre
If it's cross-country skiing you're after you'll have to drive another 7 kilometres past Apex Mountain Resort to reach the Nickel Plate Nordic Centre. It's that much higher again than Apex and so receives even more snow. Look for 56 km of groomed trails for both classic and skate skiing along with 22.5 m of signed snowshoe trails.
For winter enthusiasts, you'll be happy to know that the Nickel Plate Nordic Centre just 45 minutes from downtown Penticton enjoys one of the longest cross-country ski seasons in the country.
Meander along the Okanagan Lake Promenade
If you'd rather walk than drive anywhere, you can't go wrong with a stroll along the Okanagan Lake Promenade. In winter, it's a quiet place, but the views are no less stunning. At one end you can walk through the Ikeda Japanese Garden (which shows better in the spring) and at the other, check out the pier, the view below and the S. S. Sicamous.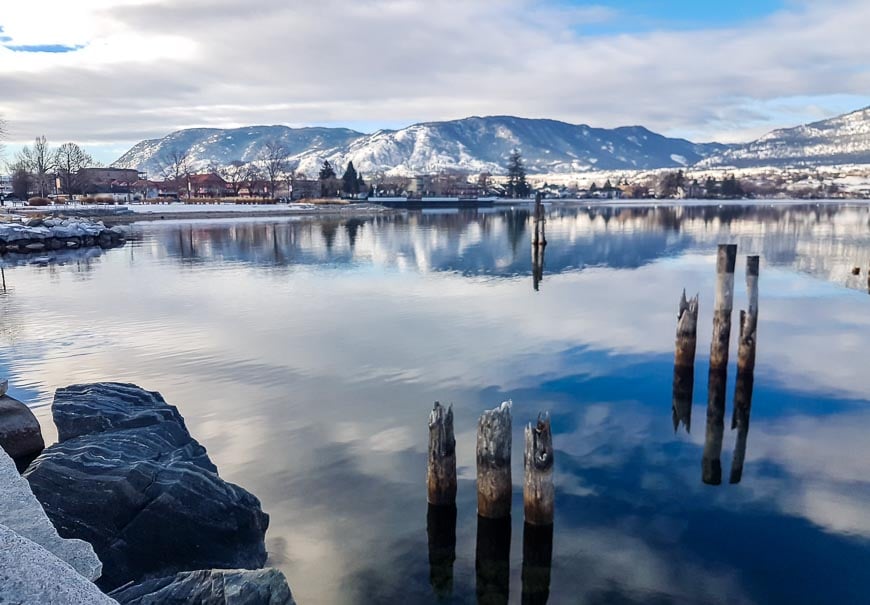 Enjoy the view from Munson Mountain
Munson Mountain is the home of Penticton's iconic sign, constructed in 1937. The sign is recognized as one of Canada's historic places. The Historic Places website has this to say:
"Munson Mountain is valued because its pebble constructed sign is a symbol of civic pride which has been maintained by volunteer groups since its construction in 1937. Literally built by civic boosters to "put Penticton on the map", it was compared to the Hollywood sign. First constructed by members of the Board of Trade, it was improved in 1941 by Jaycees, Board of Trade members, and boy scouts. Between 1972 and 1983 volunteers hauled 44,000 pounds of silica rock to the site. In 1998 concrete was laid down and silica imbedded in it."
There's a viewpoint just a 2-minute walk in from the parking lot but there's also a 1 km trail to the summit. Weather permitting, hike up to the top viewpoint and enjoy far-reaching views of Okanagan Lake, Penticton's downtown, and Skaha Lake if its a clear day. Use common sense and if the trail is icy use mirospikes and poles.
To get to the trailhead follow Middle Bench Road North to Munson Mountain Road. The road heads northwest from Middle Bench Road N. If you're coming from Penticton, you'll pass the entrance to the Polar Grove Winery, shortly before you turn left.
Follow the BC Ale Trail
My beer drinking days came to an end after I graduated from Queen's University – as a geologist no less – and moved onto wine. But I have to say that after much beer tasting in Penticton and attendance at the annual Brewski Festival up at Apex, I could now be persuaded to drink the occasional beer on a hot day.
There are eight craft breweries in Penticton – enough for Lonely Planet to call it the Craft Beer Capital of Canada – and more per capita than any other city in Canada! I wouldn't trust my word on whether it's a good beer or an indifferent one since I like beer with names like Blackberry Beer (Cannery Brewing) and Under the Weather Chocolate Milk Stout (Kettle River Brewing).
So what I suggest if you like beer is that you check out The Penticton Ale Trail and decide where you want to go. I heard great things about Slackwater Brewing and Cannery Brewing is a great place with a fun vibe and 13 beers on tap.
Go wine tasting in and near Penticton
The Penticton area is home to an astounding 80 plus wineries across four distinct areas – Penticton itself, Naramata Bench, Summerland and Okanagan Falls. Fortunately, if you visit Penticton in winter, many of the wineries are open but confirm hours of operation before you visit. You may even want to make an appointment. As a rule of thumb, three to five wineries are the maximum you'll probably want to do in a day.
I visited three wineries – TIME Winery in downtown Penticton along with Red Rooster Winery and Little Engine Wines on the Naramata Bench. Each wine tasting experience is completely different – depending on the host.
TIME Winery is easy to visit as it's right downtown in Penticton (Note that in January 2023 that space is being renovated so it's temporarily closed. Check out their District Wine Village Location for now). It was a treat to meet a woman who is president of a winery and commands respect from her fellow wine growers and vintners. A must visit if you're in town.
Red Rooster – with it's wonderful sculptural pieces outside is a fun winery to visit. Our knowledgeable host, Burke, had most of us chuckling for the better part of an hour.
Little Engine enjoys a gorgeous location with beautiful views overlooking the lake. This winery is geared more to the wine connoisseur who is looking for perfection in a glass.
Cycle the Kettle Valley Railway – even in winter
The Kettle Valley Railway (KVR) is an abandoned railway bed that runs for about 650 kilometres between Hope and Castlegar. One of the loveliest and accessible sections to bike or walk lies just outside of Penticton along the Naramata Bench. In summer I'd recommend the bike ride from Myra Canyon all the way down to Penticton – a distance of 80 kilometres.
In winter, much of the KVR would be hard to cycle. Unless the snow is packed down, it's tough going. But if you start in Penticton – where there are lots of people walking and biking it regularly, the snow is mostly hard. So the cycling is way easier. It's especially easy if you use an e-bike and it comes with a high fun factor too. The only thing is you'll barely break a sweat.
You can rent ebikes in Penticton from The Bike Barn and the Freedom Bike Shop.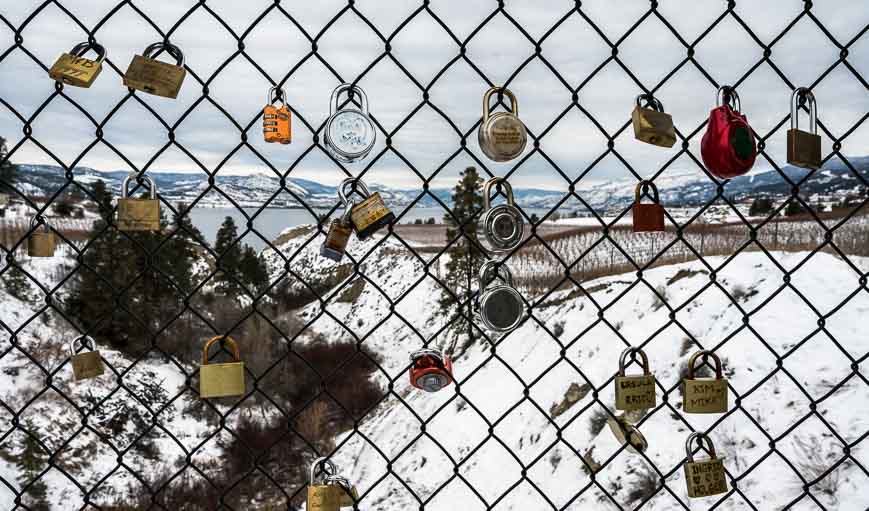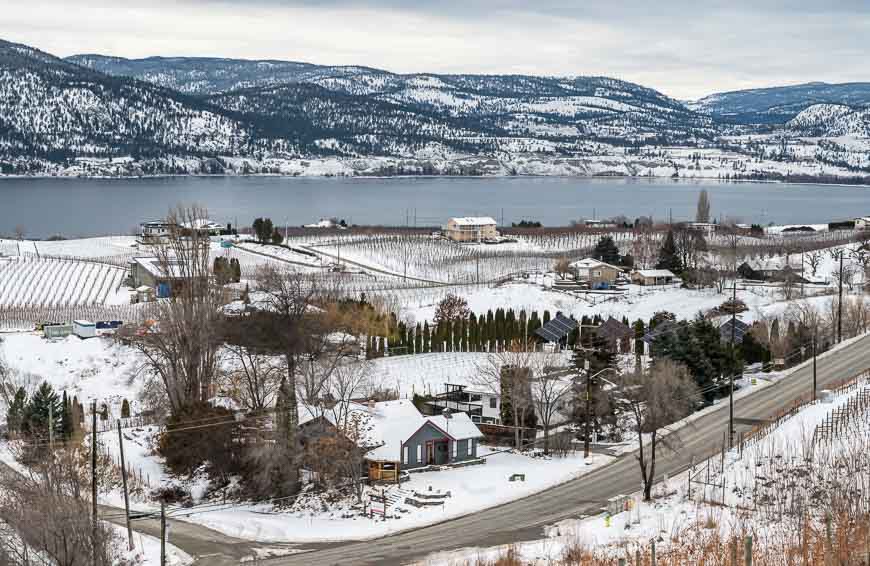 Visit these Penticton restaurants in winter
I managed to eat at a lot of different restaurants over a weekend – and not one was in any way a disappointment.
For breakfast Wayne & Freda is a great place. Their coffee is perfection in a cup and the house-made granola delicious.
What I also love is their story. The couple who run Wayne & Freda – Ryan and Jen – were dating when they learned that their respective grandparents were in the same care home in the Okanagan. In the latter years of their lives, Wayne and Freda were moved to the same table in the care home and were able to look out for each other. I think the name of the restaurant is a lovely tribute to their grandparents.
The Bench Market in Penticton recently celebrated its 15th anniversary. I had been here about a decade before and really enjoyed sitting on their outdoor patio. I love it now for its fresh baked goods, first rate coffee, and laid-back ambiance. It's also a great place to stock up on artisan grocery items and things you might need for an impromptu picnic.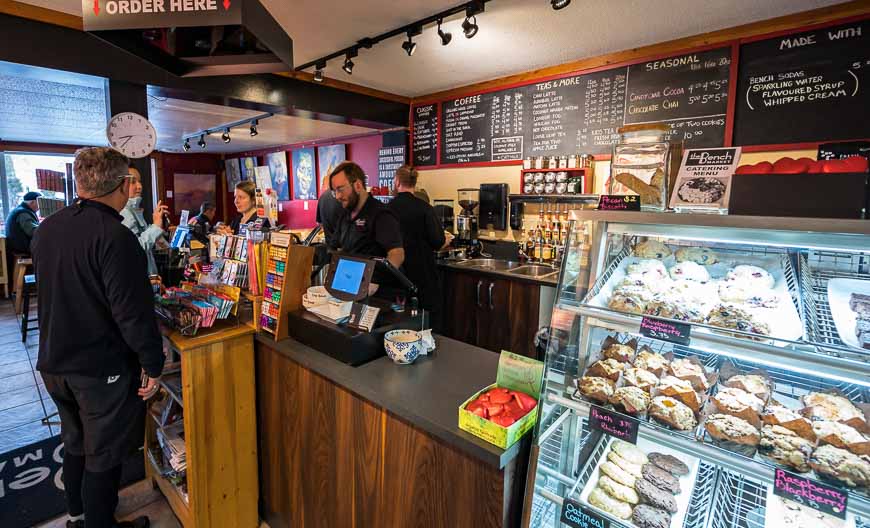 Pizzeria Tratto is another addition to the Penticton restaurant scene. Its one hopping spot. Serving pizzas (obviously), it's known for its warm welcome, superb service, and as someone said on Facebook, it's a great addition to the neighbourhood.
Elma – located across from the beach on Lakeshore Drive, serves Turkish inspired food in a clean modern space – filled with items sourced in Turkey. If you have never been to Turkey and haven't a clue what Turkish food is like, I say live on the edge and get down here. The food is completely divine – with a mix of Turkish and Okanagan influences – and the staff friendly and helpful. Their hummus, roasted eggplant, and charred red pepper starters had me swooning. It just went up from there.
Be sure to leave room for dessert! This restaurant is so good, I would visit Penticton for a weekend just so I could eat here again.
Come March, be sure to book a meal at the Naramata Inn Restaurant. I had a memorable meal in September 2022 and would highly recommend anything on their menu. This is a restaurant to watch! I bet it lands on the best 100 restaurants in Canada list in the coming year.
Look for wild horses on the way up to Apex
I had horseshoes on the way up to Apex. Not once, but twice we had to stop to let the wild horses cross the road – right in front of us. Reportedly they are mostly found in the south Okanagan. Perhaps the locals think of them as a pest but I thought it was magical seeing them.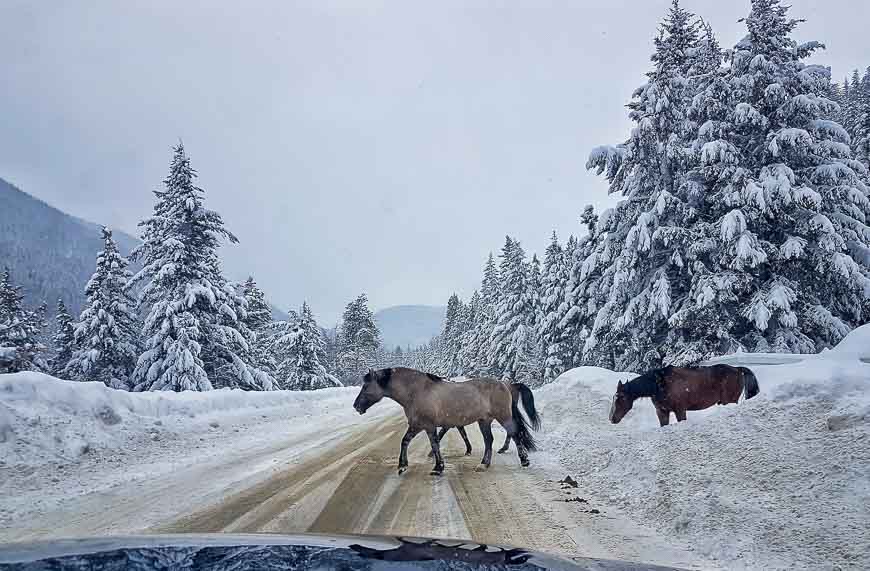 This post includes some affiliate links. If you make a qualifying purchase through one of these links, I may receive a small percentage of the sale at no extra cost to you. Thank you for your support.
Where to stay in Penticton
One of the top places to stay in Penticton is the Penticton Lakeside Resort. You can't go wrong with its waterfront setting, well-appointed rooms (cue the heated floors in the bathroom) and decks with a view. To top it off, it's home to the Hooded Merganser, a restaurant that is directly on the water.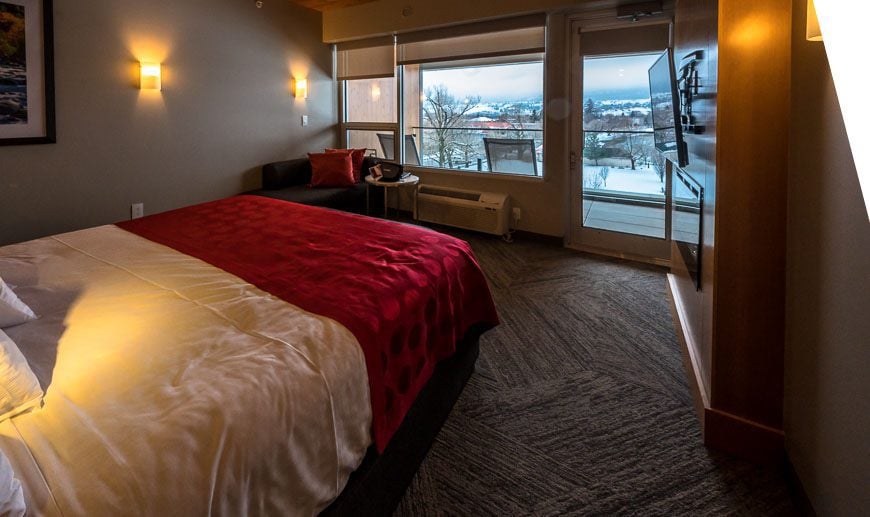 How to get to Penticton in winter
You can fly to Penticton on WestJet direct from Calgary in just 75 minutes or direct on Air Canada from Vancouver in 52 minutes. Another option is to fly into the Kelowna airport, about an hour's drive away.
There are shuttles in the winter from Kelowna to Apex Mountain with Cheers Okanagan Tours.
You can drive to Penticton from Vancouver in about 4.5 hours, Calgary in 8 hours and Seattle in 6.5 hours.
For more information on Penticton in winter visit their website.
Interested in more winter travel in British Columbia?
In Fernie, located in eastern BC, I'd suggest the following:
Interested in exploring the Golden – Invermere – Kimberley corridor?
And nearby Kelowna is also a worthwhile city to visit in winter.
Click on the photo to bookmark to your Pinterest boards.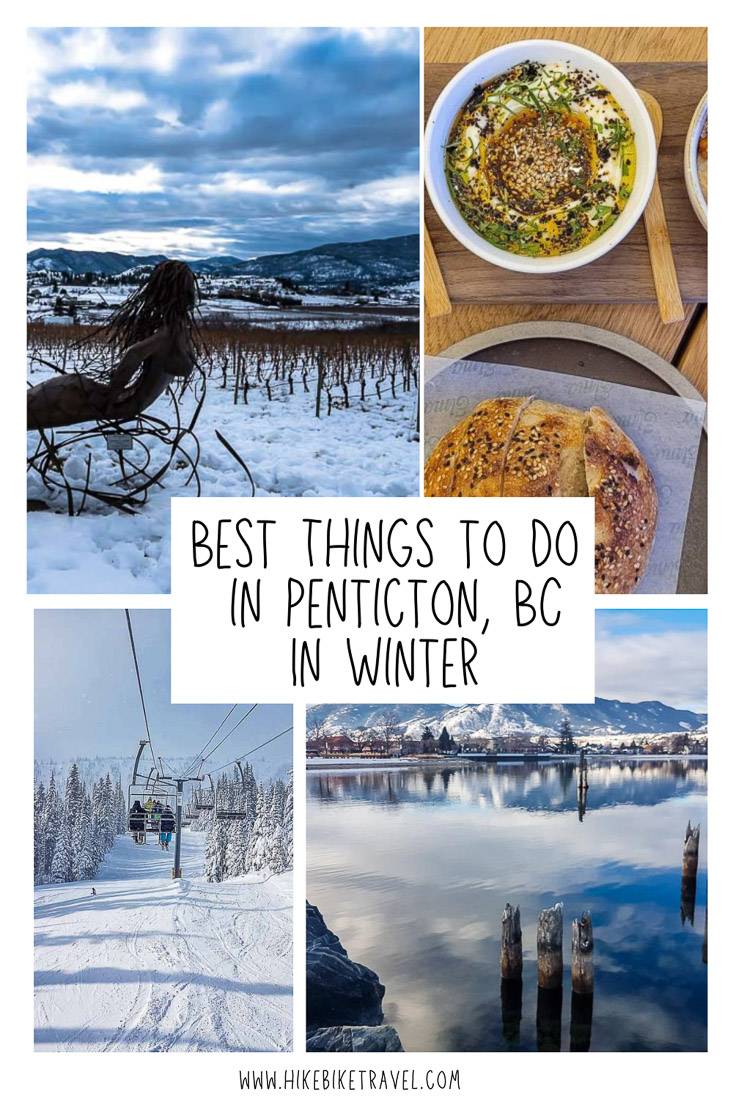 Thank you to Visit Penticton for hosting my visit. As always all thoughts and opinions are my own.