If you love cross-country skiing, mark your calendars now for a weekend in mid-February. The annual Canadian Ski Marathon takes place between Mont Tremblant and Lachute, Quebec – though they may mix it up from year to year. It's an incredible weekend experience for both participants and the community I highly recommend.
Canadian Ski Marathon – what a weekend participating in it looks like
John and I immersed ourselves in the Canadian Ski Marathon weekend – sleeping dorm style at Papineauville High School, eating in cafeterias, cross-country skiing, refueling post event on the Saturday at Château Montebello (what a treat to sit by a giant fire) and despite some hardships (when was the last time you slept on the floor of a high school with 20 people in a room?) we enjoyed the weekend immensely. (The year we did it
The physical challenges, camaraderie, and wonderful sense of accomplishment by the weekend's end are things that stay with you forever. There was the occasional moment of frustration but that related to crappy wax (or maybe it was the wax-e) and tough snow conditions.
What is the Canadian Ski Marathon?
The Canadian Ski Marathon is a two day, 160 km event made up of five sections a day, with sections ranging in length from 12.3 km to 20.5 km. It is not a race.
It's for anyone who can ski at least one section because once you've committed to a section you must finish it. And you must ski consecutive sections. You'll find kids and adults across the full range of abilities from the recreational to the super-elite athlete and everyone in between.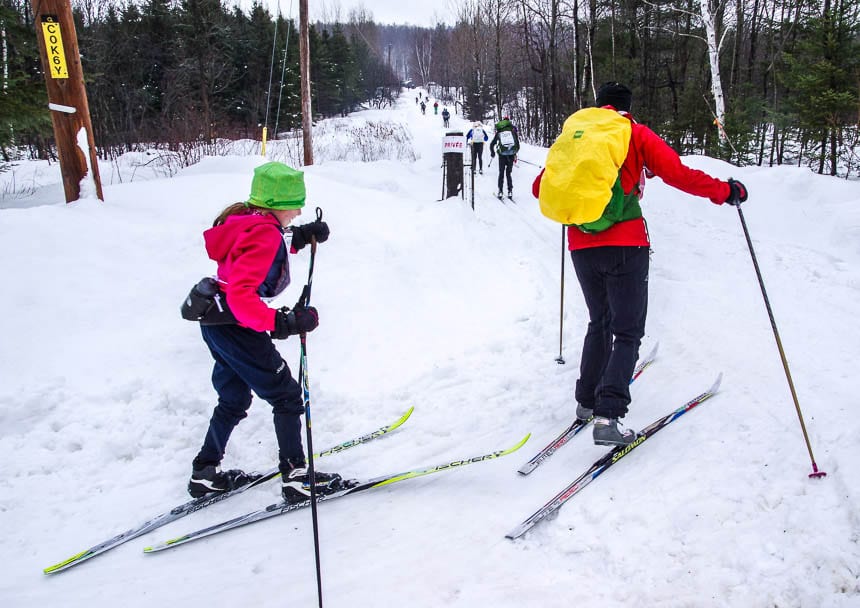 What makes the Canadian Ski Marathon so special?
Apart from the incredible dedication of over 500 volunteers (and the skiing of course), in my mind the standout part of this event is the "gentleman's agreement" with 350 landowners.
For one weekend of every year these landowners allow hundreds if not thousands of people to cross their property based on a handshake. There's not a legal document to be seen.
When the event first started, fifty one years ago that might not have been unusual. But to me, it's an absolutely heartwarming fact that there are so many people invested in the community that they continue to allow this to happen.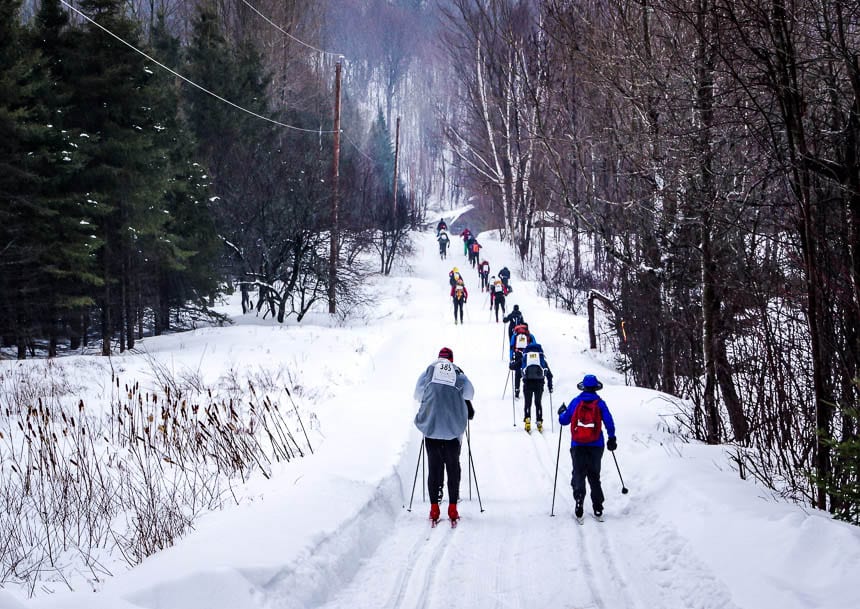 Who shows up at the event?
The bulk of the skiers are from Quebec and Ontario (80% of the total) with 6% coming from the northeast US, 1% from Europe and the rest are from other provinces in Canada.
Last year I met a couple on the shuttle from Maine who were up on their third visit, dorm sleeping and all. Because it's such a friendly event you do end up meeting and chatting with people from across the country.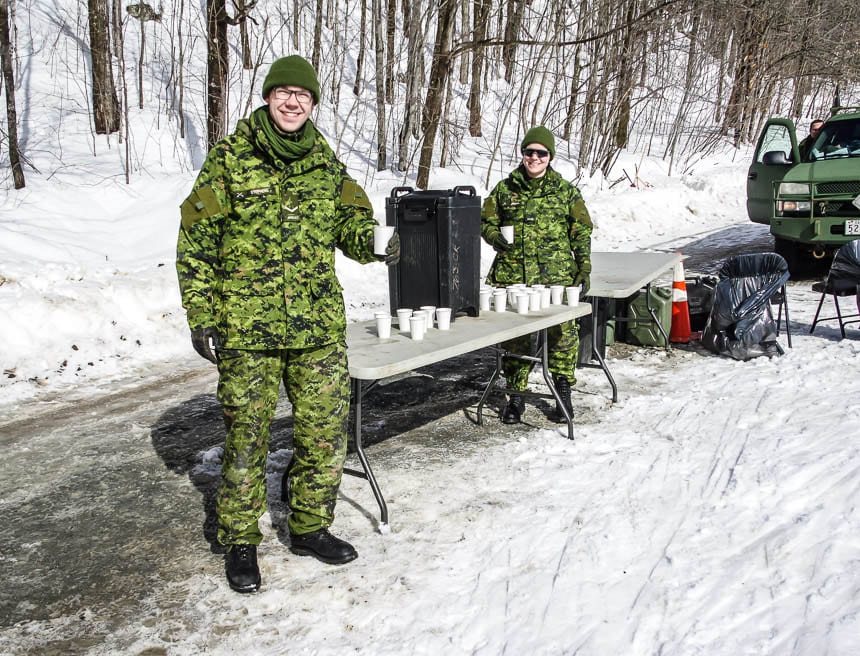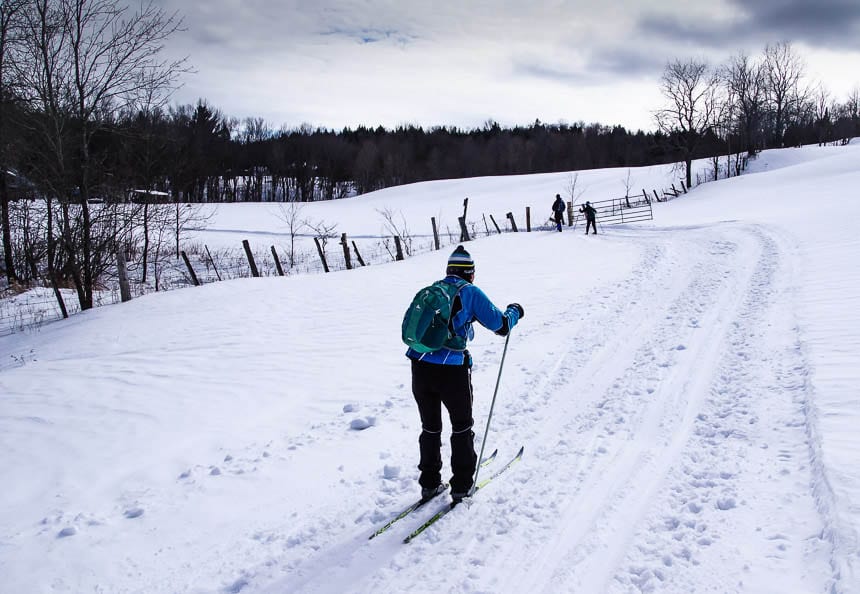 How do I sign up for it?
Register on the Canada Ski Marathon website but first decide what category you want to enter under.
Choose from CSM Taster (ski the last section only on both the Saturday and Sunday), the CSM Half Marathon (ski the last three sections of both Saturday and Sunday), the Tourer, by far the most popular category as you have complete flexibility in where you want to start and the Coureur des Bois.
That category is reserved for those capable of skiing about 80 km in a day. They also carry all their food and gear for two days and spend the night camping outside – at least if they are in the gold category.
Read: Do you have what it takes to be a Coureur des Bois?
What else should I know about the Canadian Ski Marathon?
I have to admit that John and I didn't quite get the whole section – shuttle thing right until the second day. It's very important you spend some time considering how many sections and what sections you want to ski every day. (Don't forget you can't skip sections.)
In advance you should know what you're getting into. How long is each section and what is the level of difficulty? Once you've decided that it's time to figure out the shuttle schedules.
You can ONLY reach the start of each section by shuttle. It is impossible to park at the start of each section as there just isn't the space on the country roads. If you miss a shuttle and there's not another going out to the section you want to start at, you're pooched. That's what happened to John and me so we ended up doing a different first section than planned on Saturday.
At the end of every section there are shuttles ready to take you back to any number of spots including Château Montebello and the Papineauville High School (for the year we did it.) You can easily reduce the number of sections you plan to ski by simply stopping at the end of any section. The shuttle bus will get you back to where you need to go eventually.
The bottom line – know the night before when the shuttle leaves and from where, especially if you're not bedding down in the high school or the Château Montebello. Confused? It all makes sense once you're there and volunteers will go out of their way to explain it.
Where can you stay?
There are lots of hotels and B&B's in the area but you will have to drive to a pre-determined parking area to catch the shuttle. The other alternative is to stay in Papineauville High School or at the Château Montebello as both of these places are on the shuttle stops and have lots of parking.
If you stay at the high school you must bring all your own bedding. Be prepared to sleep about 20 to a classroom. I can guarantee you'll need earplugs.
You can sign up for the package where breakfast and dinner is included at the high school. There is a great little restaurant – Le Louis Joseph – just a few blocks down from the high school in Papineauville where you can carbo load on the Friday night. It will be packed with fellow skiers.
Read: A Memorable Stay at the Fairmont Montebello
If I lived anywhere near Ottawa or Montreal I would make the Canadian Ski Marathon an annual event. But even if you don't, I think its well worth the experience at least once in your lifetime. You will walk away amazed at the effort and thought that goes into making this two day event happen.
Further reading on things to do in winter in Quebec
Click on the photo to bookmark to your Pinterest board.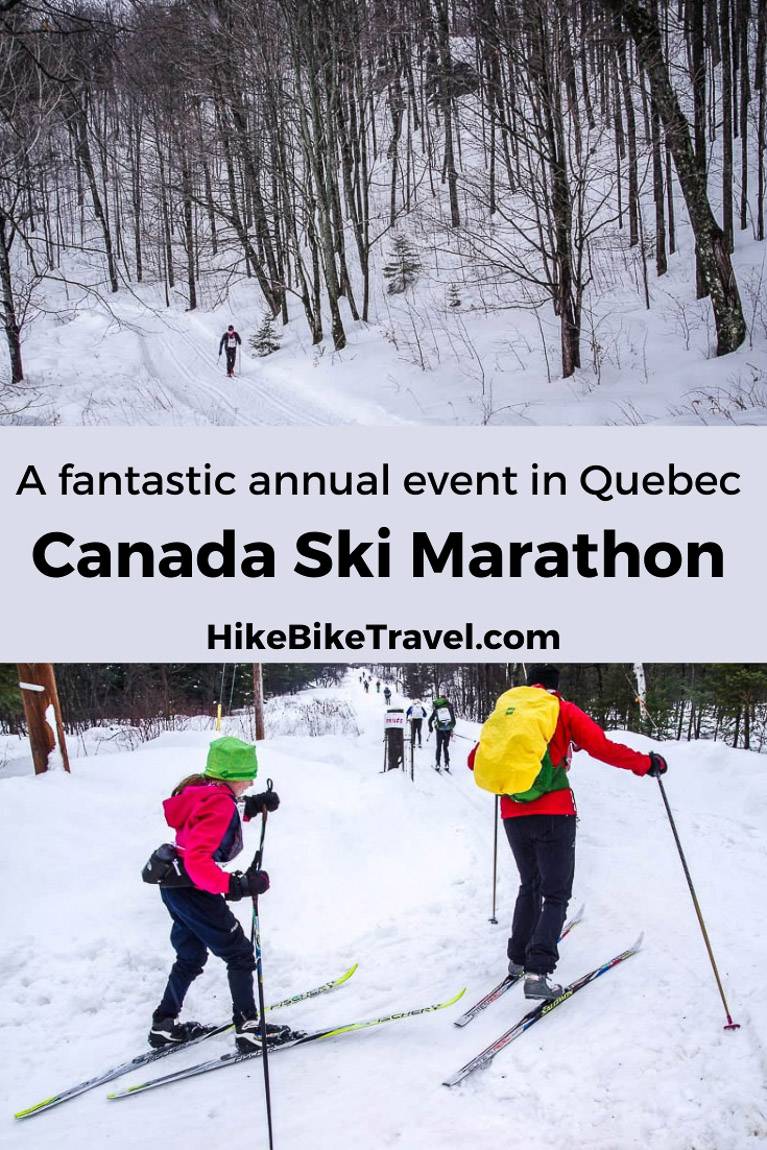 A big thank you to Tourism Outaouais for making my trip a possible – and for providing a giant air mattress so the floor in the high school was actually comfortable.