Devils Garden Hike in Arches National Park
If there is one must-do hike in Arches National Park, I think it has to be the Devils Garden hike – a loop that includes the Primitive Trail. Over its 7.2 mile length you are treated to the highest concentration of arches in the world – if you include all the spur trails.
The Devils Garden hike is truly a breathtaking beauty and one of my picks for top one day hikes in the world.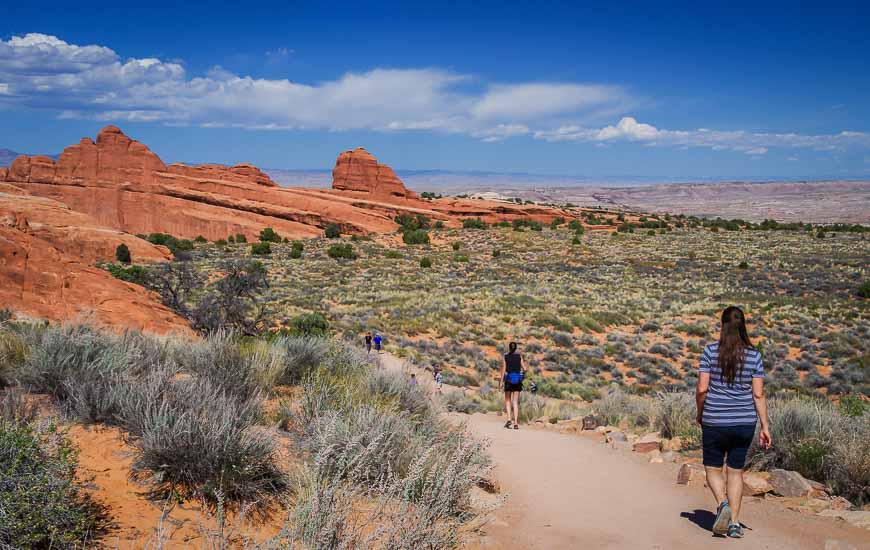 This post includes some affiliate links. If you make a qualifying purchase through one of these links, I may receive a small percentage of the sale at no extra cost to you. Thank you very much.
Devil's Garden Hike Trailhead Location
The trailhead for this hike is located at the end of the main road into Arches National Park. It can be crazy busy but don't let that put you off.
Once you step onto the Primitive Trail Loop or continue past Landscape Arch you lose 90% of the people. They're probably put off by the warning signs saying "Caution: Primitive Trail: Difficult Hiking".
That's not to say there aren't a couple of slippery spots, even slightly airy spots but the trail is very doable if you've got a good fitness level.
What arches can you expect to see on the Devils Garden hike?
The Devils Garden hike over-delivers in the scenery department from the minute you set foot on the trail. I think it's the best hike in the park.
If you do all the spur trails – which we did not – you can expect to see the following arches: Landscape Arch, Tunnel Arch, Pine Tree Arch, Double O Arch, Private Arch, Black Arch, Navajo Arch, Partition Arch and Wall Arch.
In early April by mid-afternoon the hiking is actually hot. Do carry a hat, sunscreen and bring several litres of water.
At the section pictured below, I figure our group of four is now on YouTube. The gentleman escorting his girlfriend had his video out while we helped her navigate a slippery section of slickrock. He didn't as much as offer to help but was very keen on getting the whole ordeal on camera. I'd dump him if I were her with that attitude.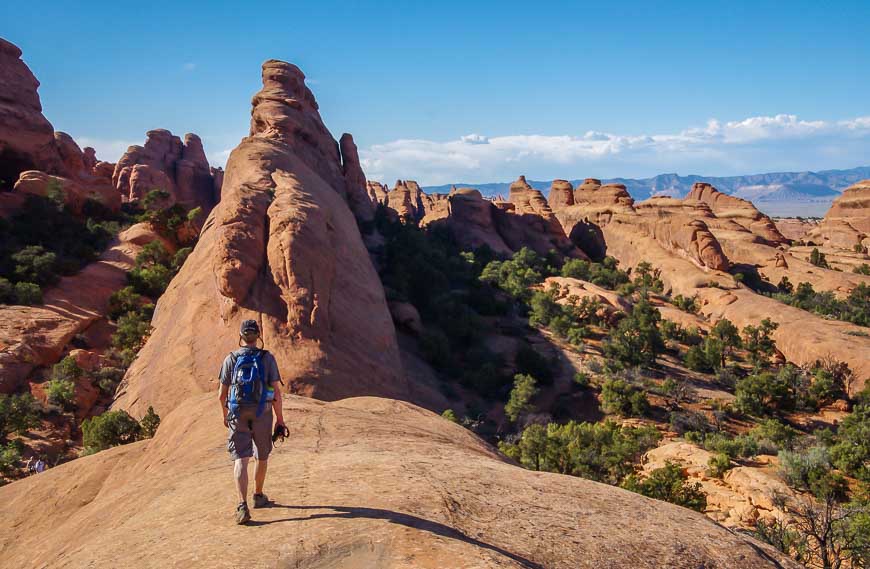 Do you know the difference between and arch and a bridge?
Typically there's water under a bridge – though in the desert it may be sporadic – and there isn't water under an arch. It seems there are always exceptions but it's a good rule of thumb.
Other hikes in Arches National Park
There are another eight hikes in the park ranging in length from 0.3 – 3.0 miles round-trip. None are particularly difficult – and all are worthwhile. Do get to trailheads early if you want to get a parking spot. This is a very popular national park.
The other hike you must sign up to do is called the Fiery Furnace hike. You can reserve online – and you should especially for morning tours which fill months in advance.
The entrance fee to Arches National Park for a vehicle is $US30/vehicle or $US25 for motorcycles . It's good for a week.
Before you go – read Edward Abbey's Desert Solitaire. It's a classic.
Further reading on things to do in the Moab area
Click on the photo to bookmark to your Pinterest boards.