I figured if I signed up for a Quebec City food tour, I'd finally try poutine. You'd think as a Canadian who has been on this planet for well in excess of five decades that I would have eaten it by now especially growing up just across the border from Quebec. For the first few decades I can blame it on my mother. She was a health nut and French fries were verboten – as was gravy except over turkey at Christmas.
In the ensuing decades the blame for avoidance falls squarely on my shoulders. After a while it became a matter of pride to be able to say I've never had poutine – akin to a friend who has yet to eat anything from McDonalds. When I was finished with the Quebec City food tour, I had had poutine not once – but twice in a couple of hours.
Quebec City food tour – seven stops to fill you up
The Quebec City food tour – which ended up being part walking tour, part history and part food tour was led by a vivacious woman, Judith who was born and raised in Quebec City. As she said "it wasn't until she wanted to lead tours that she really learned the history of Quebec City."
The tour started across from the famous Chateau Frontenac – named for the city's most famous and flamboyant governor. From there and over about three hours we walked about a couple of kilometres through a good chunk of old town Quebec and make seven stops. One of those stops (#4) would be at "Le Snack Bar" for some traditional poutine.
How did poutine come into being?
Before we sampled poutine we learned a little about its origin. It's tied to the Irish who moved to Quebec City to escape the potato famine. Of course their love of potatoes played a role in the dish but who exactly thought to add fresh squeaky cheese curds to the mix is debatable. Lots of people and restaurants want to take credit.
The bottom line is someone in rural Quebec – perhaps near Quebec City invented the dish sometime in the 1950's and today the dish has been bastardized – some would say improved – though only you the eater can make that call.
What is poutine?
The base of poutine is fresh cut fries – with the skin on. Then it's slathered in gravy and topped with cheese curds. For authentic poutine the curds must be fresh and squeaky.
Nowadays there are infinite variations of the main theme – with food experts weighing on one where you get the best poutine. In Quebec City the name Ashton cropped up repeatedly in conversation though I never tried their version. But I do think two taxi drivers agreeing on a place suggests they're onto something.
The other stops on the Quebec City Food Tour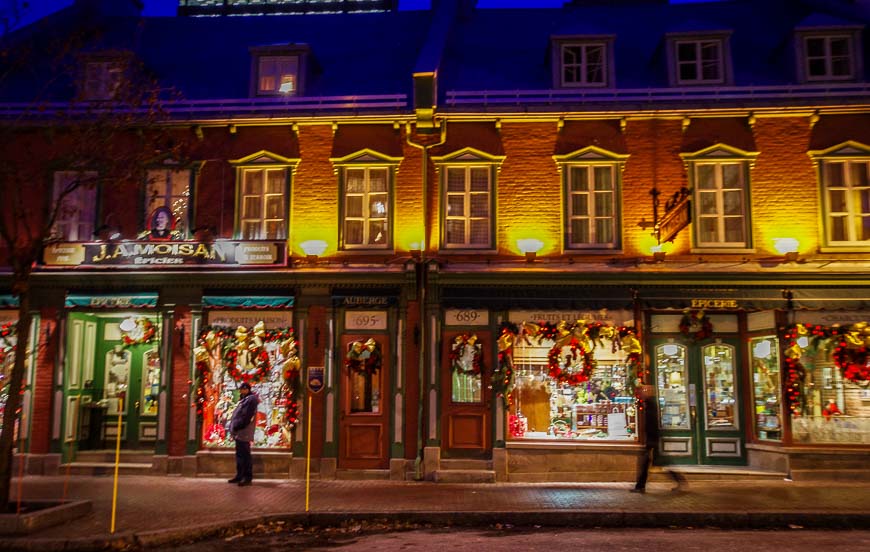 La Crémaillère
Our first official stop on the tour was La Crémaillère, a sophisticated French restaurant where we sampled salmon tartare. The historical link to salmon relates to the abundance of the fish in the nearby Jacques Cartier River.
For years salmon was a mainstay for much of the population – but then log floating on the river decimated the population. The salmon are now protected with the catch and release method of fishing the only one allowed. I believe it was Atlantic salmon we were eating.
Le Tournebroche
Stop number two was Le Tournebroche – an organic rotisserie with chickens raised in nearby Charlevoix. Considered to offer the best chicken in town, they use lots of herbs but no salt. Chicken comes in all sorts of forms from a grilled cheese sandwich with chicken to a whole organic chicken with accompaniments for four to share.
The restaurant also supports the local farmers so you'll see lots of regional Quebecois specialties. We sampled a local wine – La Rose Gabrielle while we enjoyed the story of how the restaurant came to be.
Maple Delights – a stop on the Quebec City food tour
Maple Delights was the third stop. I think everyone enjoyed the tastings at this place. Over 2,000 maple syrup producers supply the store with the maple syrup that finds its way into an incredible assortment of products. Sampling light and amber maple syrup was a given but then we also tried maple tea and maple sugar. Eat this in any quantity and you'll get a sugar headache but it's worth it.
The upstairs part of the store has an interesting museum dedicated to the maple syrup industry. Don't miss it.
Le Moine Échanson – a wine stop on the food tour
After a sugar fix it was time to visit Le Moine Échanson – a French bistro selling "honest" organic wines made with as little interference as possible. The wine we were offered was delicious but I have to admit to chickening out on eating the blood pudding concoction on toast – too many bad memories of previous encounters in Switzerland. However, I loved the cozy atmosphere of the bistro and would happily return.
Crêperie le billig
Our sixth stop and my favourite was Crêperie le billig specializing in authentic crêpes made with buckwheat. Buckwheat doesn't have any gluten so it has a different texture – more crispy and with a slightly nutty taste that I love.
The crêpes were paired with iced cider (apples are exposed to frost 3-4 times so fruit is sweeter) from McKeown – a Scottish family and my mother-in-law's maiden name so I felt a certain kinship to the cidery. It was delicious and I'm sorry it's not available in Calgary as I'd drink it all the time.
A Quebec City food tour stop at Choco-Musée Érico
The tour ended at Choco-Musée Érico – a chocolate museum with a store selling all things chocolate (cookies, brownies, cupcakes, handmade chocolates) made onsite.
We are told that chocolate in Quebec City originally owes its roots to the Brits. When the Brits were at the top of their game from the military perspective, part of the soldier's pay would be in cocoa – which could then be used for trading. It's come a long way since those days and we were the happy recipients of several of their handmade chocolates.
Check out the Saint-Jean District
We finished the tour just as the Saint-Jean district was coming to life. Don't miss this vibrant, colourful part of Quebec City if you visit. It's just a few minutes' walk from the gates of old town Quebec – and with its boutiques, cafes, restaurants and grocery stores, it's a window into how the locals live.
After I finished the tour it was a mad dash back to my hotel (the well located Marriot) to change and meet up with a group of writers, bloggers and Quebec City Tourism professionals. Within minutes of getting a drink out came the poutine – among other hor's d'oeuvres. How could I say no….again?
For more information on how to sign up for the tour visit their website.
Further reading related to Quebec City
Click on the photo to bookmark to your Pinterest boards.