The Forgetmenot Ridge hike is one of seven great hikes that you can do in the Bragg Creek area. Some of the other hikes include Prairie Mountain, Moose Mountain, Nihahi Ridge and Powderface Ridge. Accessibility is easy off Highway 66 near Bragg Creek.
The crux of the Forgetmenot Ridge hike is finding the start of the trailhead. That may be a bit of an exaggeration but it's not far off. Once you're on the trail, you'll find plenty of magic as you make your way up to the ridge. From the ridge there is more exploring to be done if you have the time and inclination.
This post includes some affiliate links. If you make a qualifying purchase through one of these links, I will receive a small percentage of the sale at no extra cost to you. Thank you very much for your support.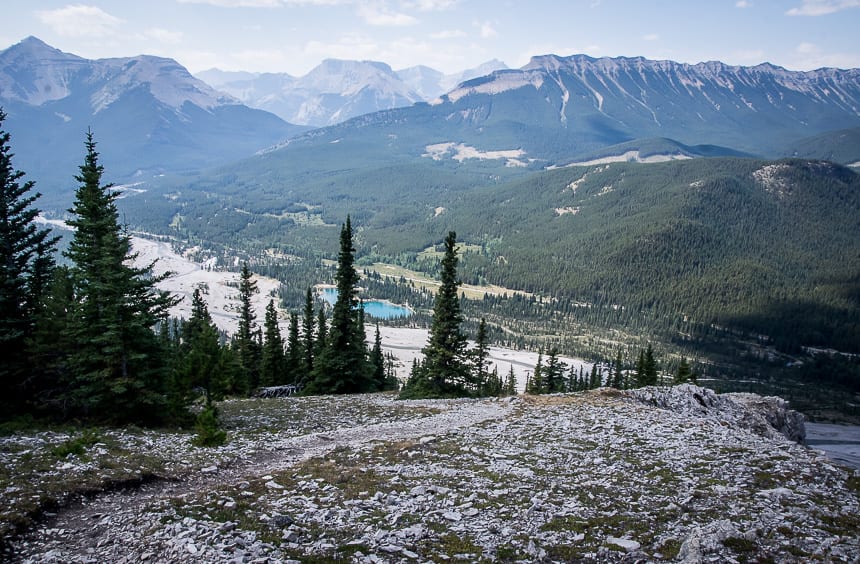 Forgetmenot Ridge hike summary
Distance: 14 km (8.7 miles) return
Elevation gain: 715 m or 2,345 feet
Time needed: 5 – 7 hours, for the ridge and 6 -8 hours if you climb Forgetmenot Mountain
Difficulty: Moderate to difficult because it's steep
Dog allowed: Yes, on a leash
Don't forget to purchase your Kananaskis Conservation Pass before you begin your hike.
The road to the trailhead is closed from December 1st – May 14th every year.
Always pack the 10 hiking essentials.
Although I've never seen a bear on any hike along Highway 66, I would still recommend carrying easy to access bear spray. Throw it in a bear spray holster so you don't set it off accidentally.
Pack some layers as there are often strong winds at treeline even on warm summer days.
The trail map for the hike is Gem Trek Bragg Creek & Sheep Valley.
There are washrooms at the trailhead.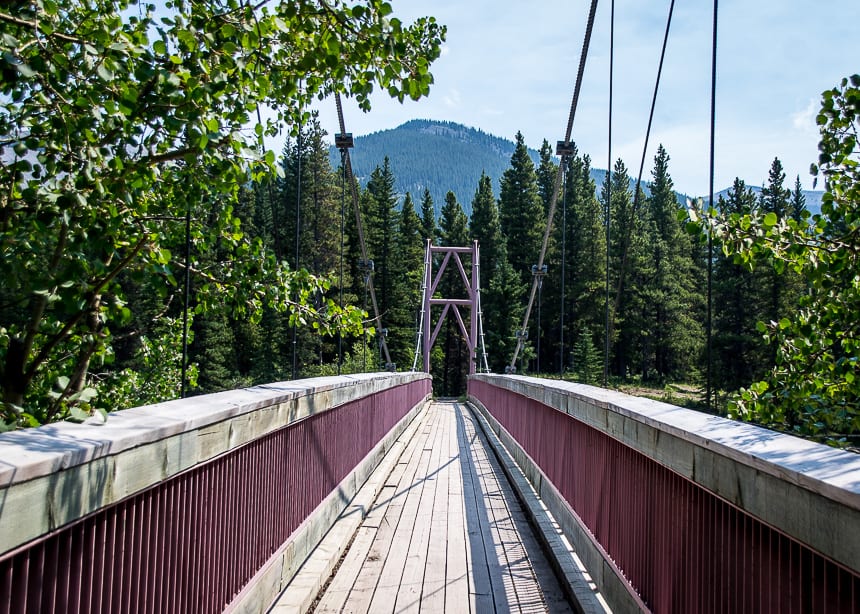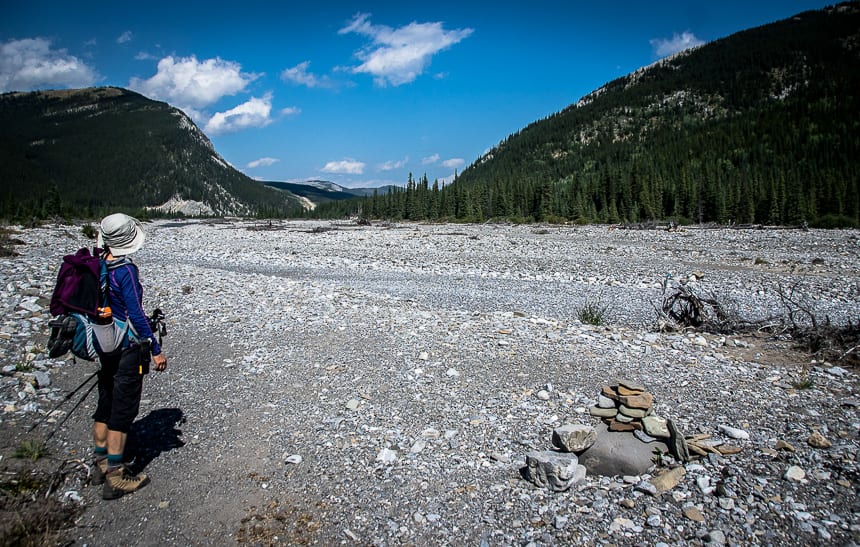 Forgetmenot Ridge hike trip report
The hard part of the hike isn't the initial steep climb but finding the trailhead. It probably took us 25 minutes of false starts before we were sure we were heading in the right direction. Once we found the Wildhorse Trail I knew we were on the right track.
With a steep start, you may be wondering what you got yourself into. But once you're through the woods and onto a ridge, the views start to unfold. Look for the Ford Knolls beneath Nihahi Ridge.
As you get higher you'll eventually see Moose Mountain and Prairie Mountain off in the distance as well as nearby Powderface Ridge. Pass the Holey Rock Tree – called the ultimate wind chime by Gillian Daffern.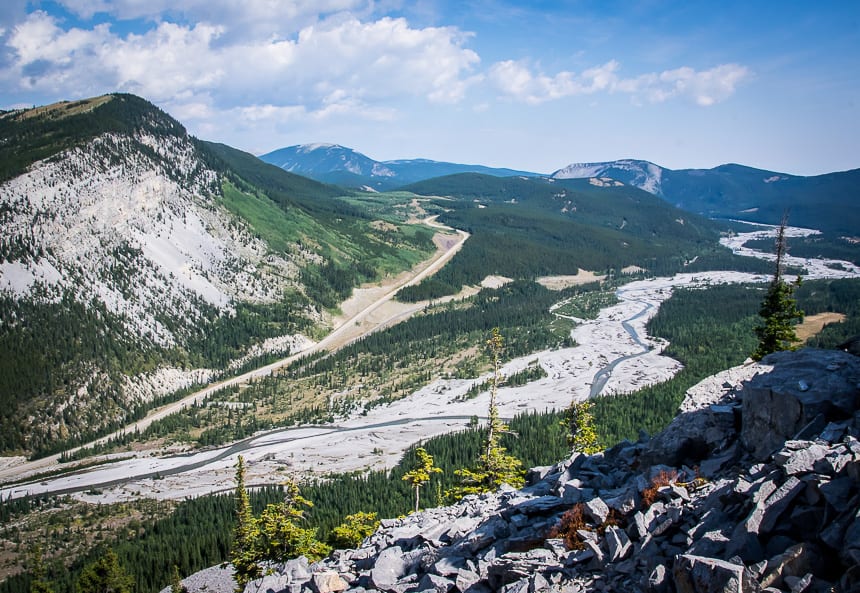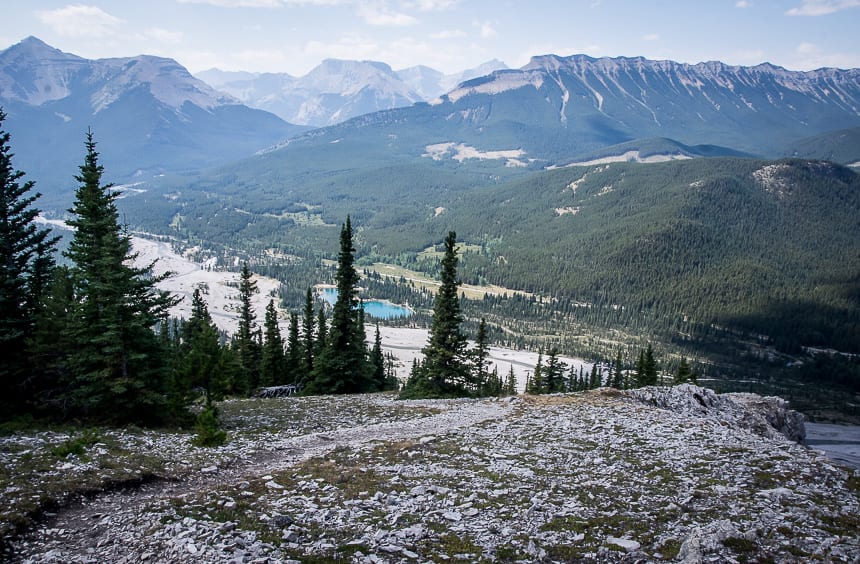 Route once out of the trees on the Forgetmenot Ridge hike
Continue on the trail, a little less steeply, through the last of the trees interspersed with some grassy sections. There are steep side trails up to the Forgetmenot Ridge but you can also continue on a well-trodden trail to a cairn just below the ridge some distance on.
From the cairn pictured below the angle flattens and you have a couple of options once your reach the ridge. Turn left (north) and follow the ridge over beautiful, lichen covered rocks in wild shades of lime green and orange to a huge cairn (and windbreak) overlooking the Elbow River at a height of 2,240 m. This is the turnaround point for many people including me and my friend Sarah.
Alternatively you can continue south on Forgetmenot Ridge to Forgetmenot Mountain, a one way distance of about 3.5 km. We'll just have to come back to do that part of the trail.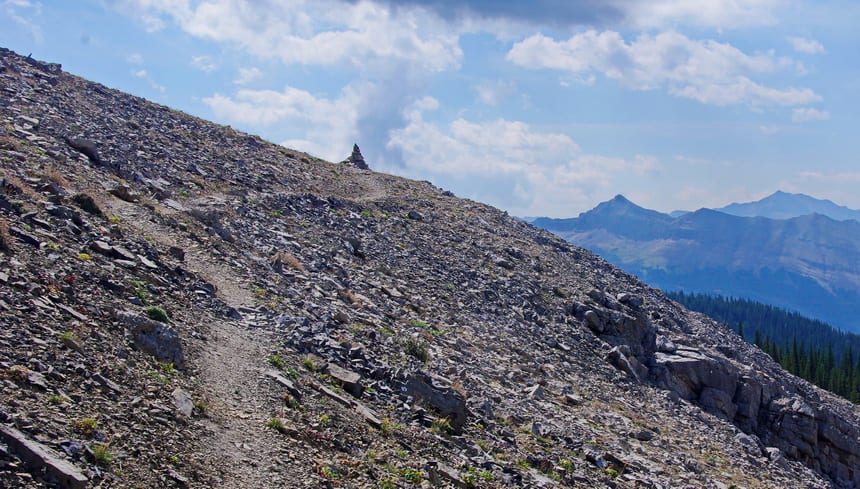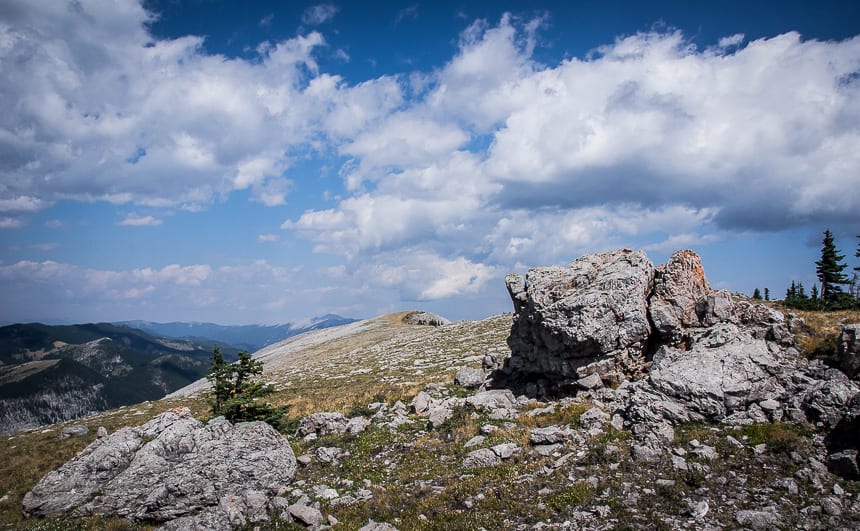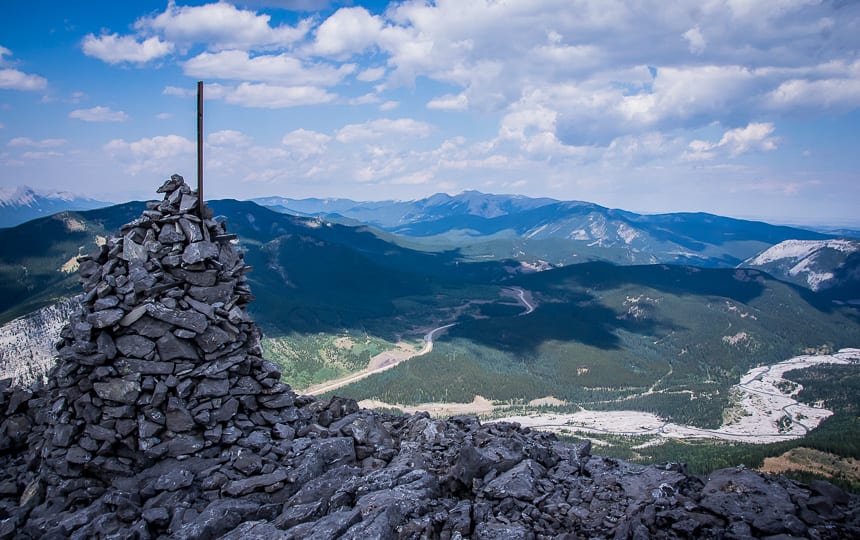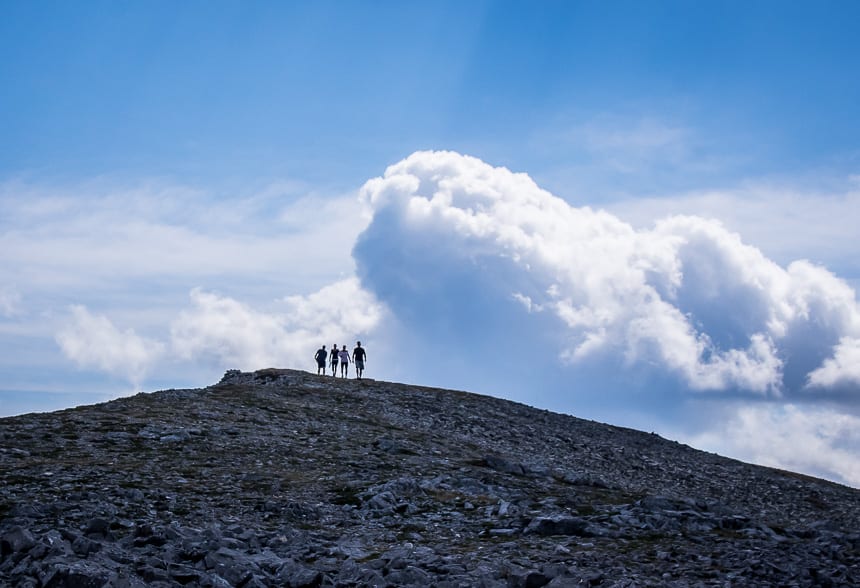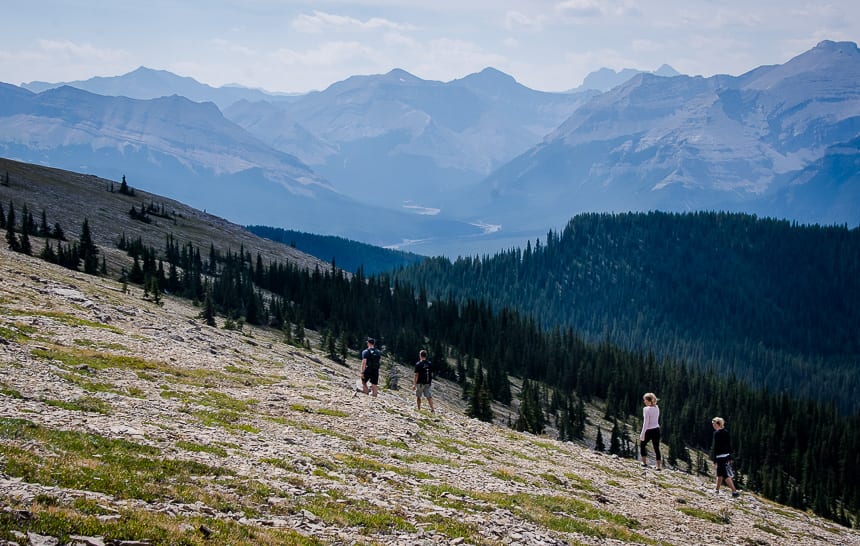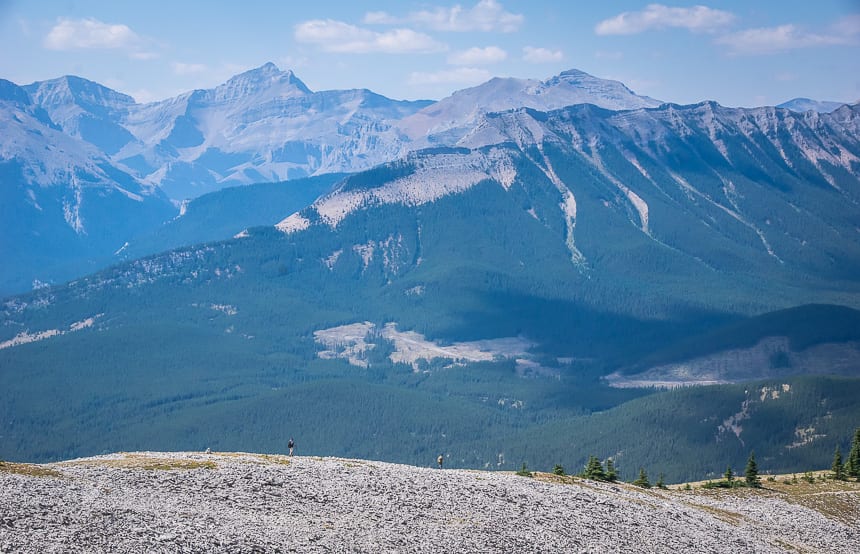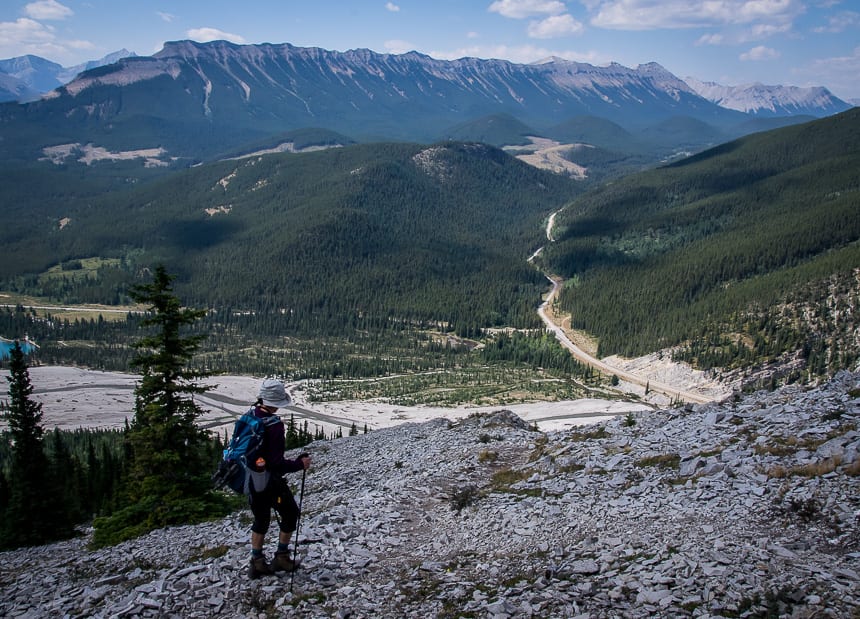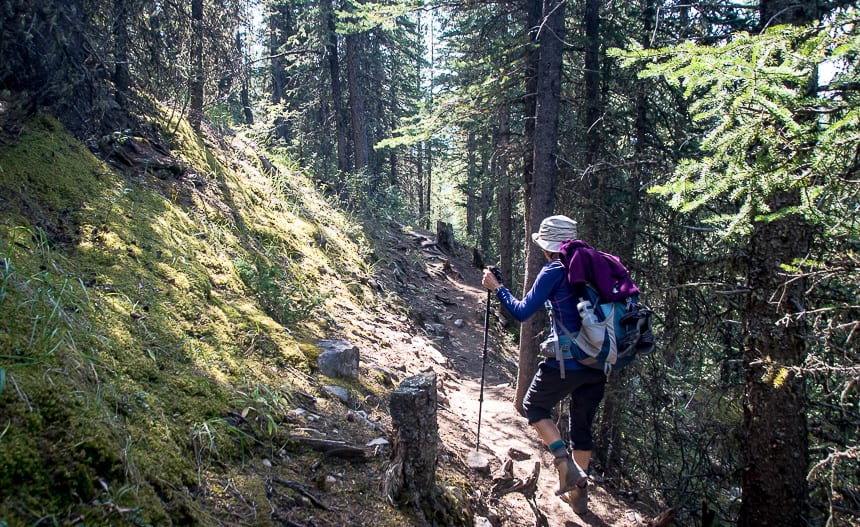 Final thoughts
I heartily recommend the Forgetmenot Ridge hike. It would be a beautiful hike to do in fall with the grasses in shades of red and yellow. Hiking in spring green would also be very beautiful.
A few things to take on the Forgetmenot Ridge hike
I like using hiking poles, especially when a stream crossing or a steep descent is involved. My preference are the collapsible ones so you can pack them away when you don't need them.
I always pack a buff as it's got so many purposes – neck warmer, keeps hair off your face, good in dust or smoke, dip it in water to cool your neck, and a 100 other things.
I highly recommend compeed for blisters. It's pricey but worth it as I find it helps speed up the healing process.
Another nice addition for those of you who love wildflowers is the book Popular Wildflowers of Alberta and the Canadian Rockies.
Getting to the Forgetmenot Ridge trailhead
Take Highway 66 from Bragg Creek all the way to the junction with the Powderface Trail. Turn left to stay on asphalt and follow it towards the Little Elbow Campground. When it turns to dirt road, continue straight for about 200 m. Look for parking for about 10 cars on your right – across from the Harold Chapman pedestrian bridge. (You won't be able to see the bridge immediately from the road.)
If you can't find parking here, retrace your steps to the stop sign. Turn right and follow it around to find a larger parking lot.
To start hiking look for a trail leading down towards the river from the small parking lot. You'll see the Harold Chapman pedestrian bridge. Cross it.
Take a trail heading left until you find what looks like a dirt road, about seven minutes along. Head right on it and look for another trail – with orange markers on the left – perhaps another five minutes up. It's called the Wildhorse Trail but there's little in the way of signage.
According to Gillean Daffern's book – Kananaskis Country Trail Guide – you follow the Wildhorse Trail for 800 m until you see a cairn, shortly after crossing a small, eroded creek bed. Turn right and start climbing.
We didn't have to ford any rivers but we did cross a large dry river bed with orange markers pointing the way. If you park at Forgetmenot Pond you will have to ford the Little Elbow River – and then weave on unmarked trails towards the Wildhorse Trail.
Further reading about hiking in Alberta
Click on the photo to bookmark to your Pinterest boards.