The Horton Hill hike, just an hour's drive from Calgary in Kananaskis Country isn't going to be the kind of hike most people are looking for. There is no trailhead, signage, or even a formal trail, though there is the odd piece of fluorescent flagging tape around. But it is surprisingly easy to find your way to the top, if you have any sense of direction as you just head up.
Horton Hill is the forested hill located behind the Tim Horton Children's Ranch. There used to be a trail from the ranch the kids could use, but no longer. For now, you access it via the south ridge.
This post includes some affiliate links. If you make a qualifying purchase through one of these links, I will receive a small percentage of the sale at no extra cost to you. Thank you very much for your support.
General directions for the Horton Hill hike
This is a short hike. It's only 1.7 km one way with an elevation gain of 320 m – so much of the hike is on the steep side.
We parked and then headed for the picnic tables in the trees – in the opposite direction of the trail to Baldy Pass. There were footsteps we followed for about 100 m before turning right and heading up through some open areas, past some massive Douglas firs.
We basically looked for faint trails, then looked up to see what was in the distance and adjusted our trajectory. I know that isn't very helpful, but once on the ground, I think you'll find much of the route surprisingly obvious, especially if you keep heading up.
The steepest part was early on in the hike. About two thirds of the way up, we reached a lovely open area with far-reaching views of Barrier Lake and the surrounding mountains. From there, we took off up through open woods of aspen to reach a more densely wooded section before the final climb to an opening grassy area. We did a bit of walking along the high point before retreating to the trees and a lunch with a view.
According to Gillean Daffern's Kananaskis Trail Guide, you can continue along the ridge for a further 2.3 km to reach Ridge 413572. It's an out and back ridge hike with a further gain of 192 m. From what we saw of the initial trail, it looks like you have to make your way through a forest that looks like a game of pick up sticks. Reportedly there is lots of open pine forest but we just weren't in the mood for some major bushwacking.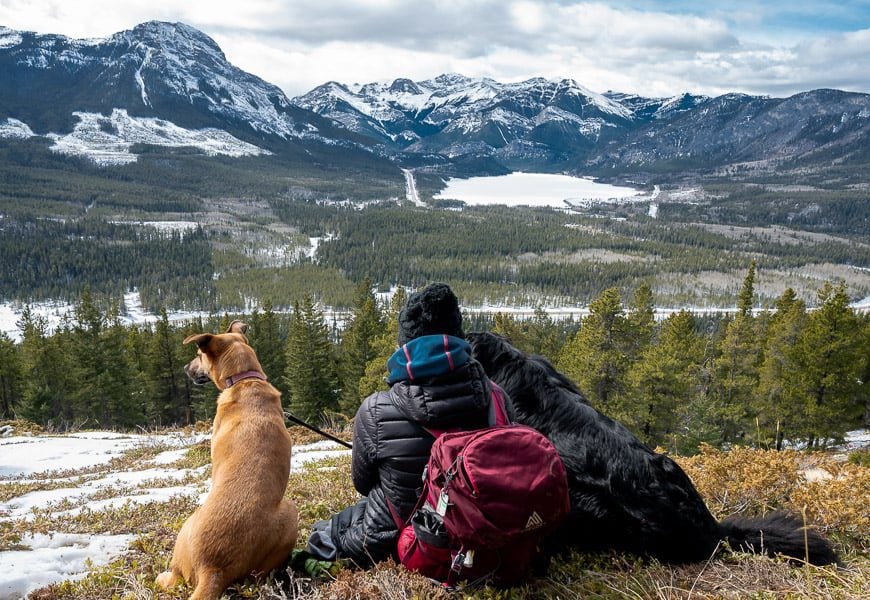 Finding the Horton Hill trailhead
There is no official trailhead for Horton Hill, but at least there is a mainstream parking lot, located at the Lusk Creek Provincial Recreation Area, here on Google maps. From Calgary, it's about a one hour, 80 km drive via the Trans-Canada Highway, Highway 40 and a short 1.8 km on Highway 68. The parking lot is a five-minute drive southeast of the turnoff to the Tim Horton Children's Ranch.
You can also access it via the Sibbald Creek Trail off of the Trans-Canada Highway – as you are driving from Calgary towards the Highway 40 exit.
More hikes you might enjoy in Alberta
Click on the photo to bookmark to your Pinterest boards.