The fabulous 3.5 km long King Creek Ridge hike off Highway 40 in Peter Lougheed Provincial Park, Kananaskis Country offers truly exceptional mountain scenery. But it's definitely not a beginner or even a family-friendly hike.
Once you reach King Creek Ridge itself, after about two kilometres of hard, steep hiking, the grade moderates and the rest of the hike is positively glorious. Enjoy fantastic views of the Opal Range, Mount Wintour, and the Kananaskis Lakes.
King Creek Ridge is one of the best ridge walks I've done – though I'd also highly recommend nearby Pocaterra Ridge. I did the King Creek Ridge hike in mid-June and it was free of snow. Unless you've got experience climbing on snow, it's not one you want to do before the snow is gone. That date will vary from spring to spring.
This post includes some affiliate links. If you make a purchase via one of these links, I may receive a small commission at no extra cost to you. Thank you very much for your support.
King Creek Ridge hike summary
Distance: 7.0 km (4.3 miles) round trip
Elevation gain: 731 metres (2,398 feet) – and it's relentlessly steep to King Creek Ridge.
Time needed: 4 – 5 hours to do the return King Creek Ridge hike.
Level of difficulty: A hard hike with steep slopes and uneven footing until you gain the ridge line.
Type of hike: Out and back
High point: 2,423 m (7,949 feet)
Dogs: Allowed on the hike. Carry extra water for them.
Best time to hike: Summer and early fall
Family friendly hike: Not recommended until kids are 12 and older with plenty of hikes under their belts
Toilets: At the parking lot
Route signage: None, which is typical for unofficial Kananaskis hikes
Map: Gem Trek Kananaskis Lakes
Permit: Be sure you've bought a Kananaskis Conservation pass before you start hiking. Fines are hefty if you don't have one.
Bears: This is grizzly bear country so be sure to carry bear spray that is easy to access. If you need a refresher, read Tips for Staying Safe in Bear Country. We didn't so much as see any bear scat.
Trail conditions: Before you head out on the hike it's always prudent to check the Kananaskis trail report.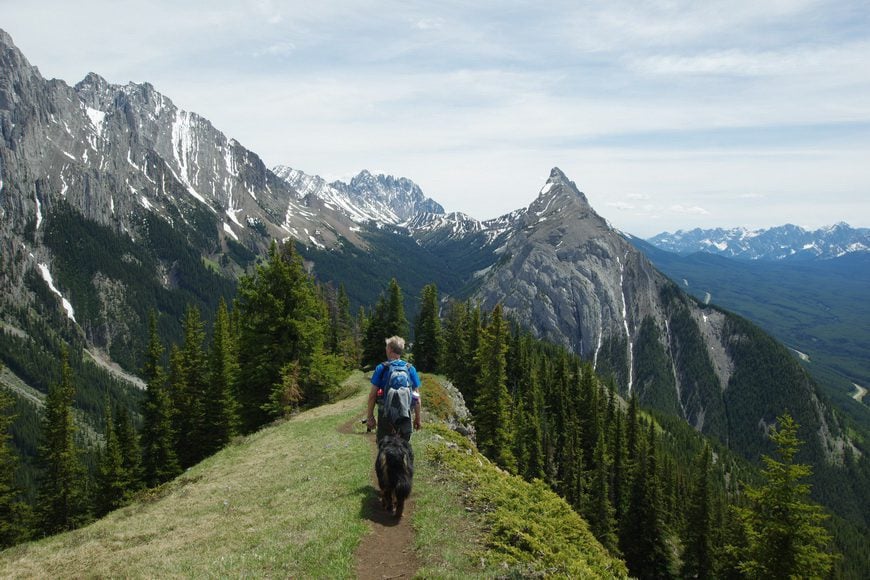 King Creek Ridge hike description
From the parking lot walk back towards Highway 40 and take the obvious trail heading off through the grass just in from the road. Follow it as it climbs up to an intersection. Take the left branch and head for the woods.
I was a bit confused once we got into the woods as the trail leveled out for a while – mostly paralleling the road without climbing very much. I'd read that it was two kilometres straight up but you do get a touch of flat hiking before the climbing starts in earnest.
The straight up part starts soon enough, perhaps after about 10 minutes of hiking in the woods, but it's not immediate. The ascent may be hard on the breathing but as you'll see, the descent is far trickier. You may want to take poles on this hike, especially for the way down.
Head generally in a northeast direction heading up sticking to the most prominent trail when you see braiding.
The minute you hit King Creek Ridge – and even a bit before – the magic unfolds. Turn left once you reach the ridge top and follow it for about 1.5 km enjoying sweeping views of the mountains, especially of Mt. Wintour. Its shape has been described as being "like whipped ice cream or the Matterhorn." This was my favourite part of the King Creek Ridge hike – and I didn't want it to end.
Look across the valley and you'll feel like you're looking at the Swiss Alps. Even the grass looks groomed. Maybe it's the numerous bighorn sheep that keep it looking so good. And if you look southwest it's easy to pick out Upper and Lower Kananaskis Lakes as well.
The ridge climbs at a gentle grade for its 1.5 km length. You'll see a lot of wildflowers along the route. I was surprised to see prairie crocus blooming in mid-June. The snow must have recently left.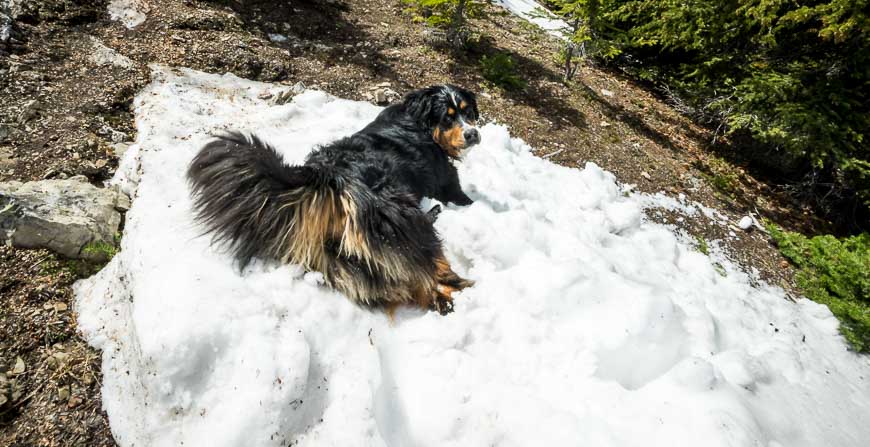 A small scramble at the end of King Creek Ridge
Some people turn around at a big rock cairn you'll see near the end of the ridge. But I think it's worth continuing to the very end. That does involve a small scramble up some rocks with a minor amount of exposure for a few feet.
We had a big Bernese mountain dog with us – so she was a far bigger concern than our own safety. She took her time, both coming and going, so it worked out just fine.
At the end of the ridge look over to Opal Ridge (another steep hike I'd recommend) and Fortress Mountain. Sit back, eat lunch and enjoy the scenery before retracing your steps.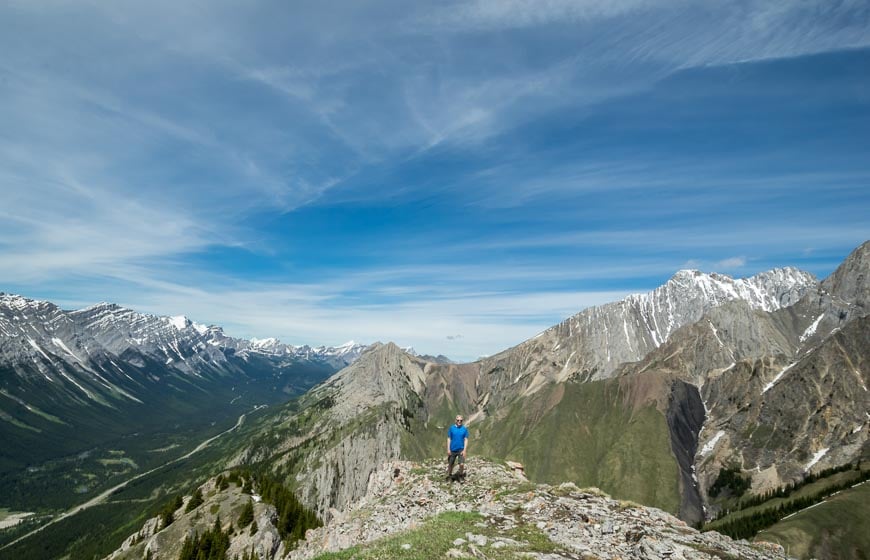 The descent from King Creek Ridge
As there is no signage anywhere take note on the way up of what the scenery looks like when you reach the ridge line. You don't want to miss the turnoff for the descent.
I think the rest of the route finding on the King Creek Ridge hike is straightforward if you pay attention to what trail looks to be well-traveled. There is a bit of braiding in places but it was minor compared to other trails I've hiked in Kananaskis Country.
Be cautious on the descent. There are some really nasty parts with those ball-bearing like small rocks where you could turn your ankle in a second. Take your time. John and I did the hike up and down in four hours at a relaxed pace. At the end of the ridge we spent about 40 minutes enjoying the view over lunch.
Finding the King Creek Ridge trailhead
A lot of people seem to have trouble finding the trailhead – especially since nothing is signed. The King Creek Day Use parking lot is easy enough to find. It's on the east side of Highway 40, roughly 100 metres north of the winter gate for Highwood Pass.
To get to the start of the King Creek Ridge hike walk back out towards Highway 40 and look right (north). You'll see a trail taking off through the grass just in from the road. Follow it as it climbs up to an intersection. Take the left branch and head for the woods.
King Creek Ridge hike location map
What to take on the hike
Don't forget the hiking poles. Other useful items on this hike include a buff in case it's windy and a seat cushion so you can enjoy a comfortable lunch. Take a water bottle that will do a good job of keeping your water cold for hours! In summer this would be one toasty hike.
If you take your dog on the hike, don't forget water and dog treats for them.
Where to stay before or after the hike
If you're a camper, then you'll find lots of choices nearby. Read A Complete Guide to Camping in Kananaskis to find out where you can camp without a reservation.
If you prefer roofed accommodation then you have three options in Kananaskis Country – Mount Engadine Lodge where all meals are provided, the Kananaskis Mountain Lodge which is also where you'll find the wonderful Kananaskis Nordic Spa and the Kananaskis Wilderness Hostel for a budget option.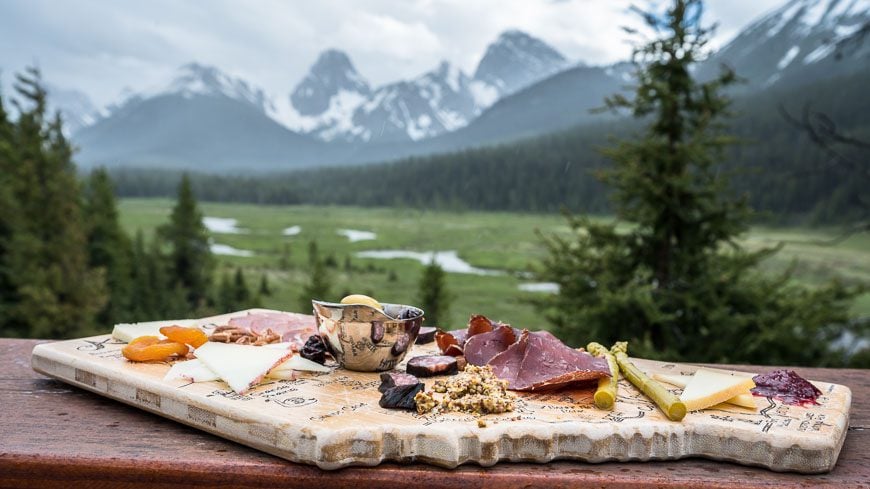 More Kananaskis hikes nearby you might enjoy
Click on the photo to bookmark to your Pinterest boards.