One of the classic areas in Canada for hiking and backpacking is the area around Lake Magog and Assiniboine Lodge in Mount Assiniboine Provincial Park. There are some truly outstanding day hikes once you get up here – but to access them can take a few days if you're hiking in.
The 25 km Marvel Lake – Wonder Pass hike to Lake Magog is one of the ways to access the Mount Assiniboine area. We hiked out on the trail from the lodge – and found the last 7 – 8 km from the Bryant Creek Shelter to the parking lot to be a bit tedious, but the rest of the hike was lovely, especially with a touch of snow.
This post includes some affiliate links. If you make a qualifying purchase through one of these links, I may receive a small percentage of the sale at no extra cost to you. Thank you very much for your support.
Marvel Lake Wonder Pass hike summary
Distance: 25.1 km one way from Naiset Huts to Mount Shark Trailhead. Add 1.6 km from the Lake Magog Campground.
Elevation gain or loss: 847 m or 2,779 feet
Level of difficulty: Hard because of the distance
Time needed: 9 – 10 hours on the descent, perhaps another hour on the ascent.
Always carry the 10 hiking essentials.
Leave no trace and pack out what you pack in.
You will be traveling through grizzly bear country on this hike so be sure to carry a full can of bear spray that is accessible and no more than three years old – as the propellent weakens over time.
How to get to the Lake Magog Area
There are three primary ways to access the Lake Magog area. Helicopter in and from what I was told you have to stay at the Naiset Huts or Assiniboine Lodge to do this, backpack in from the Sunshine Village Ski Resort, or hike in from the Mount Shark Trailhead.
John and I had helicoptered in – a good thing as we got caught in an early September snowstorm, but the plan had always been to hike back out.
Our car was near the Mount Shark trailhead, so we elected to hike over Wonder Pass instead of the less scenic Assiniboine Pass. From the Naiset Huts, a 10-minute walk from Assiniboine Lodge, it was 25.1 km to the trailhead. If you're camping at Lake Magog, add another 1.6 km.
I highly recommend carrying a copy of the Banff & Mt. Assiniboine map put out by Gem Trek.
The Marvel Lake Wonder Pass part of the hike
The hike from Assiniboine Lodge down to Wonder Pass and Marvel Lake is glorious for the first 16 – 17 km. Mountain views are phenomenal and if it had been a clear day, I'm sure Marvel Lake would have dazzled us.
However, once you pass the Bryant Creek Shelter, the hiking gets less interesting. In fact the last 6 km to the trailhead are on old logging roads, so the hiking is quite tedious through here – though it's lovely for cross-country skiing.
Where to stay before, after or on the hike
Mount Engadine Lodge is the closest lodge to the Mount Shark Trailhead. I may be biased but if you want a treat I think it's a fantastic place to stay.
For many, especially on the way in, there is the option of camping at the Marvel Lake Campground or booking a night at the Bryant Creek Shelter. That's probably a wise thing to do if you have a fully loaded pack as 27+ kilometres is a lot to bite off in a day.
To stay at the Bryant Creek Shelter – which is open year round visit the Banff National Park website.
To make a reservation at the Marvel Lake Campground go to the backcountry permits section of the Banff National Park website.
Vertical gain on the Marvel Lake hike
Considering the length of the Marvel Lake – Wonder Pass trail, the vertical gain/loss is a relatively easy 627 m (2,057 feet) from Wonder Pass to the Mount Shark Trailhead. From the Naiset Huts near Assiniboine Lodge to Wonder Pass there is a 220 m (722 feet) of gain or loss depending on what direction you're hiking.
Even if you have hiked into the Lake Magog Campground from Sunshine Village Ski Resort, it's worth visiting Wonder Pass as part of a day hike.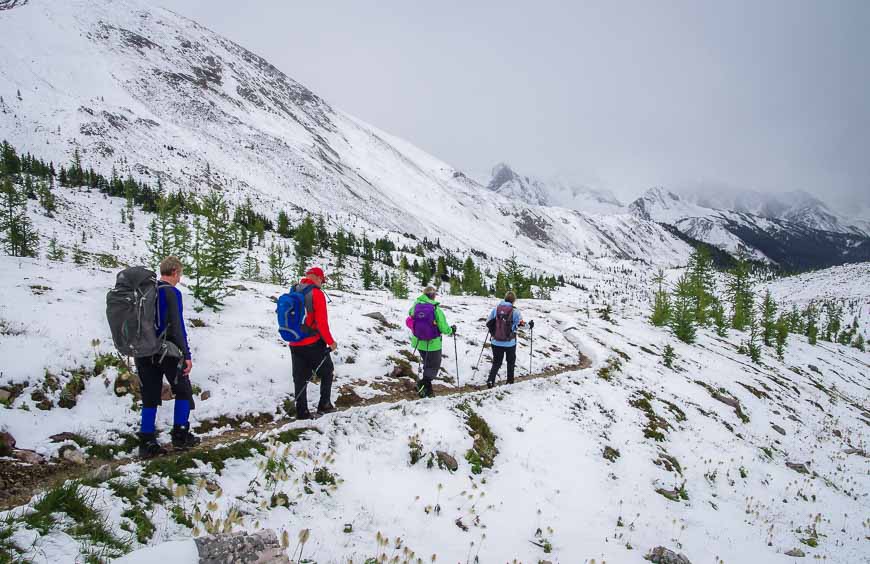 For part of this hike, you are in Banff National Park so you do need to have a national park pass if you sleep in the park – at one of the shelters. The Alberta – British Columbia border is at Wonder Pass.
The Marvel Lake Wonder Pass hiking combination offers a delightful way to access Mount Assiniboine Provincial Park.
A few things about the Marvel Lake Wonder Pass hike
At lunch time I like a seat like the Therm-a-Rest Z Seat.
On a hike like this one I like using trekking poles to save my knees.
I always pack a buff, a multi-purpose piece of fabric that takes up almost no room and is especially useful on a windy or smoky day.
Another nice addition for those of you who love wildflowers is the book Popular Wildflowers of Alberta and the Canadian Rockies.
Further reading on things to do in the area
Click on the photo to bookmark to your Pinterest boards.