Chile's Atacama Desert sits in the northern part of the country. It's one of Chile's three main tourist regions – the others being Patagonia and Easter Island. The Atacama Desert is desolate, dry, forbidding, inhospitable and at first glance you're going to wonder how you're going to find comfort in these surroundings. But the Atacama Desert surprises too.
The Moon Valley, Chile is located in Los Flamencos National Reserve. It's moon-like landscape consists of sand dunes, desolate looking rugged mountains and unique rock formations.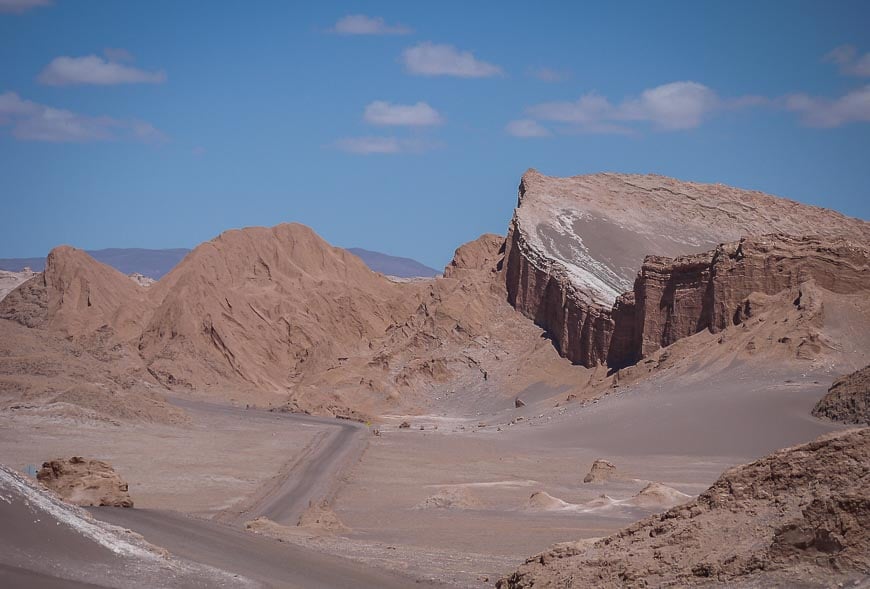 What can you do in the Atacama Desert?
There is a minimum of a week's worth of activities to keep you busy in the Atacama Desert and even more if you want to climb a volcano or two.
The Atacama Desert has the world's third largest salt flat with enough water and food to support flocks of flamingos and a huge number of volcanoes – some of which are technically easy to hike but demanding because altitudes are in excess of 5500 metres (18,044 feet).
There are also great hikes up narrow river valleys loaded with interesting vegetation, some of which have medicinal uses, thermal pools, geysers, interesting bird and animal life, fascinating geology, old mines and the engaging and lively town of San Pedro de Atacama.
We only had time for five activities in the Atacama Desert
We started with the geologically and visually interesting Moon Valley.
The Moon Valley or Valle de la Luna as it is called in Spanish conjures up images of the moon. In fact the rocky terrain served as a good testing ground for NASA's Lunar Rover.
In the Moon Valley, Chile there are many stops with panoramic views as well as a number of short walks. You can see large sand dunes, interesting rock formations, including one adjacent to the highway that looks like a dinosaur skeleton and the workings of old salt mines.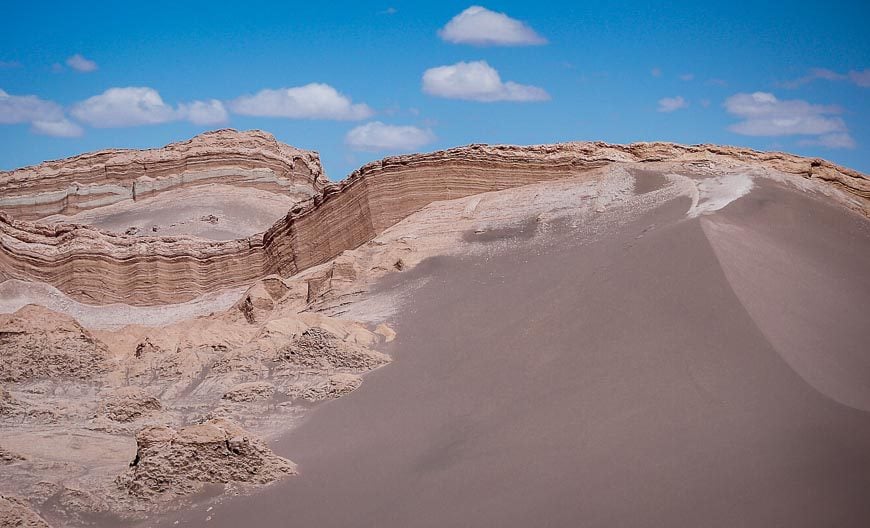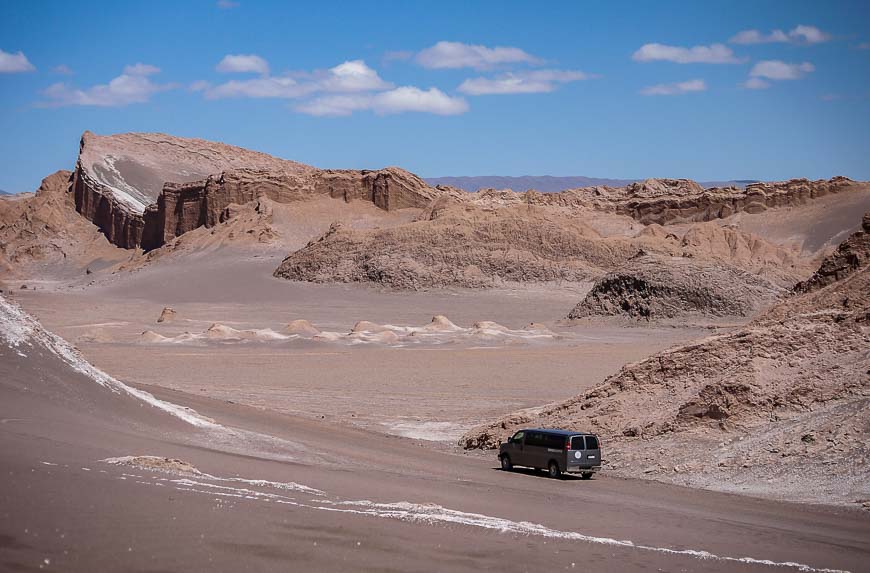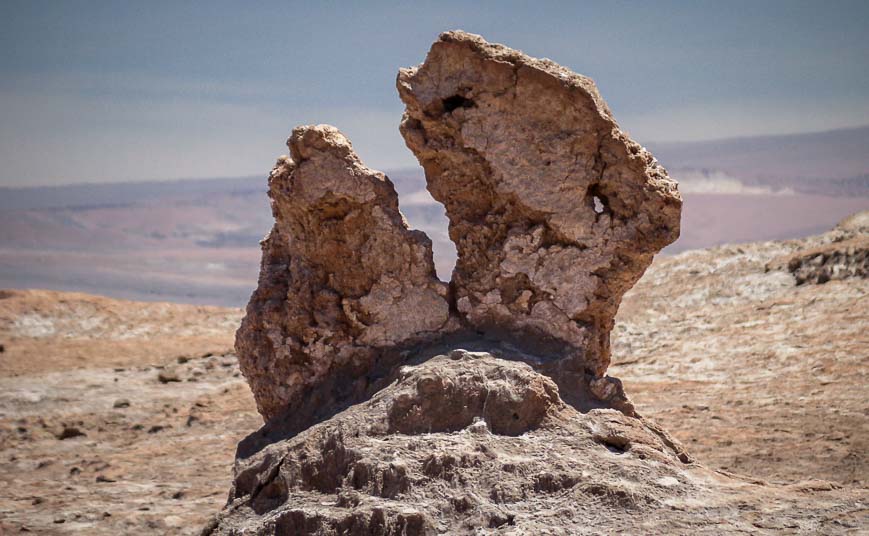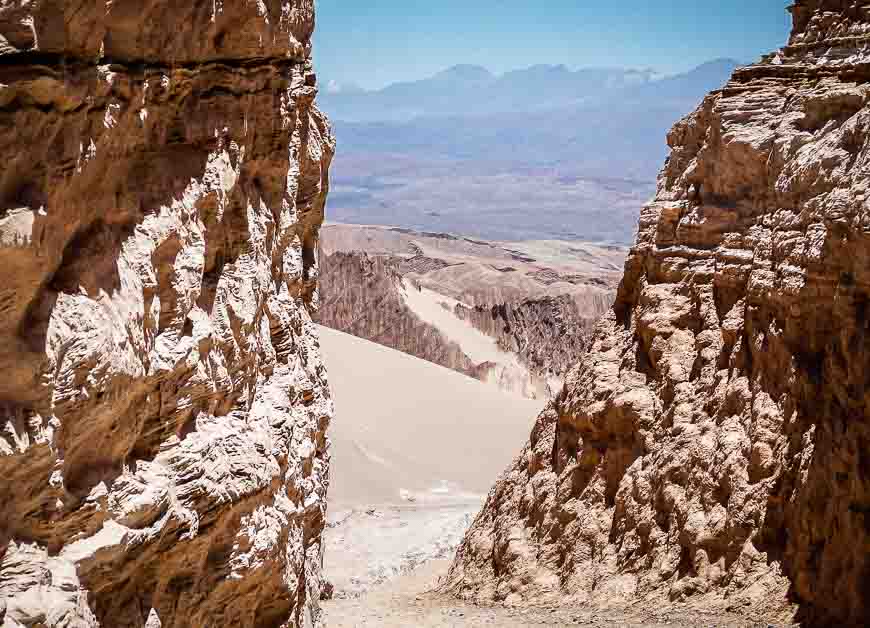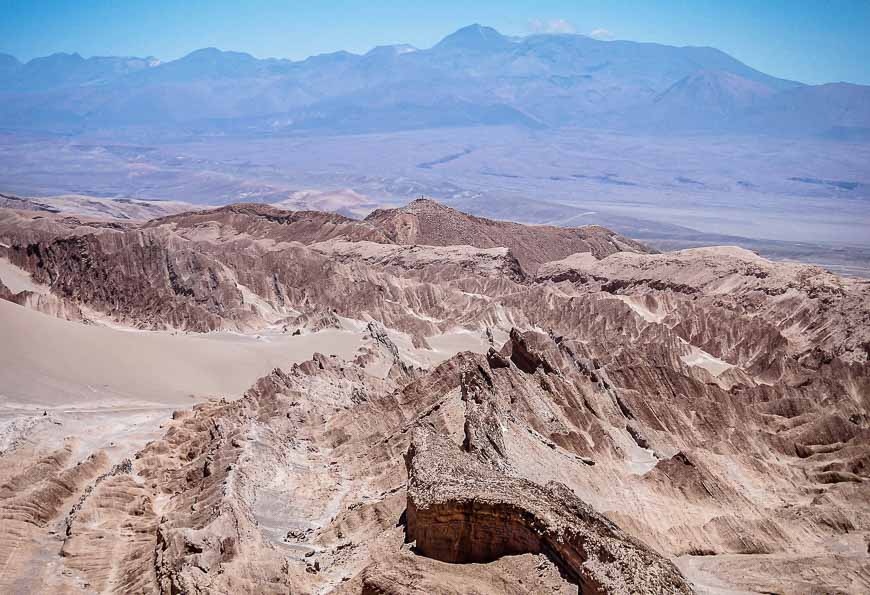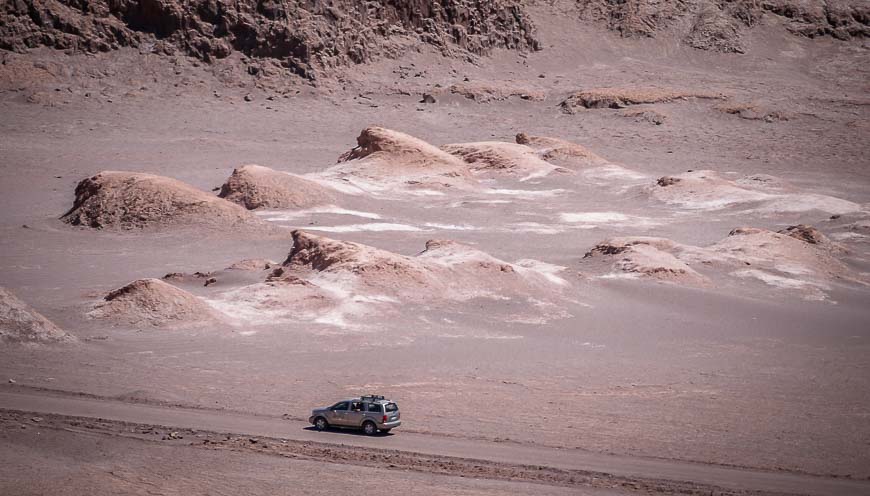 Lamborghini has reportedly used the highway below the following picture as a test course.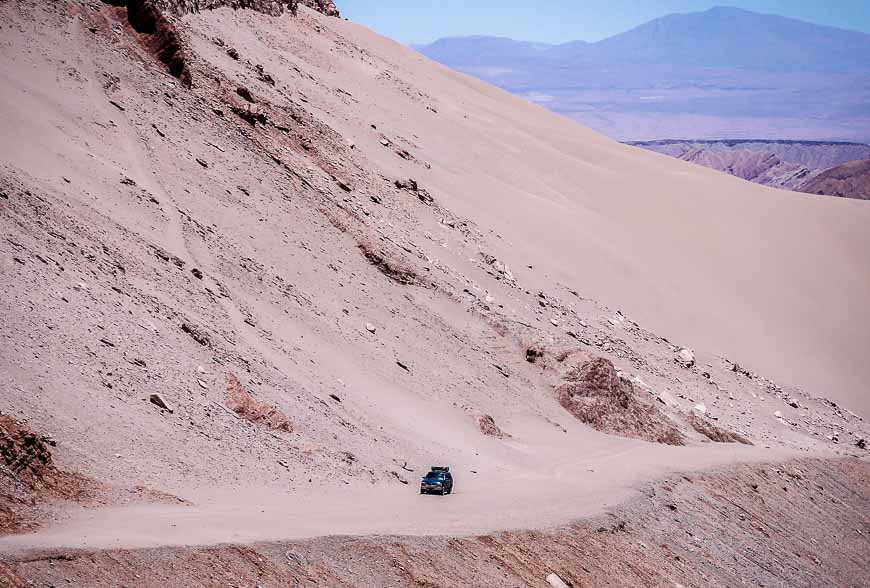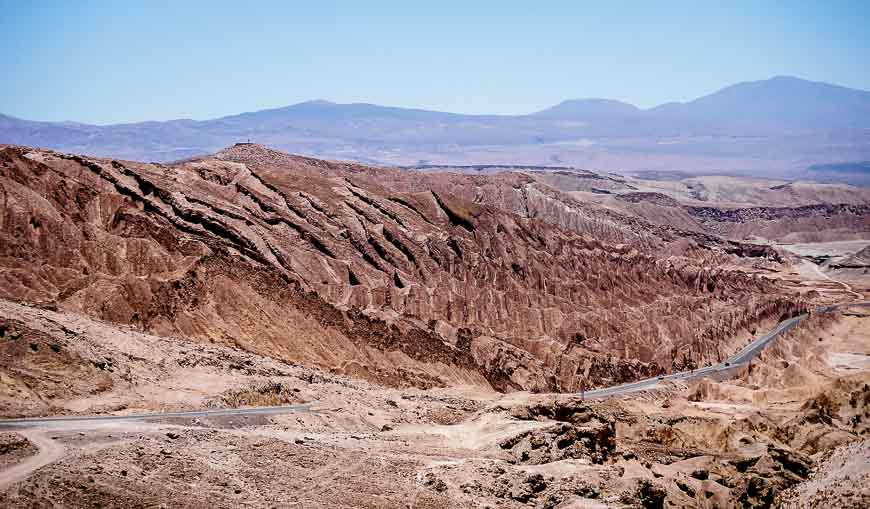 Salt is everywhere in Moon Valley, Chile
Salt crystals are everywhere – some large, some clean, some covered in dirt from sand blown in by the wind. There is evidence of salt mining which looks like tough, hot, dirty work.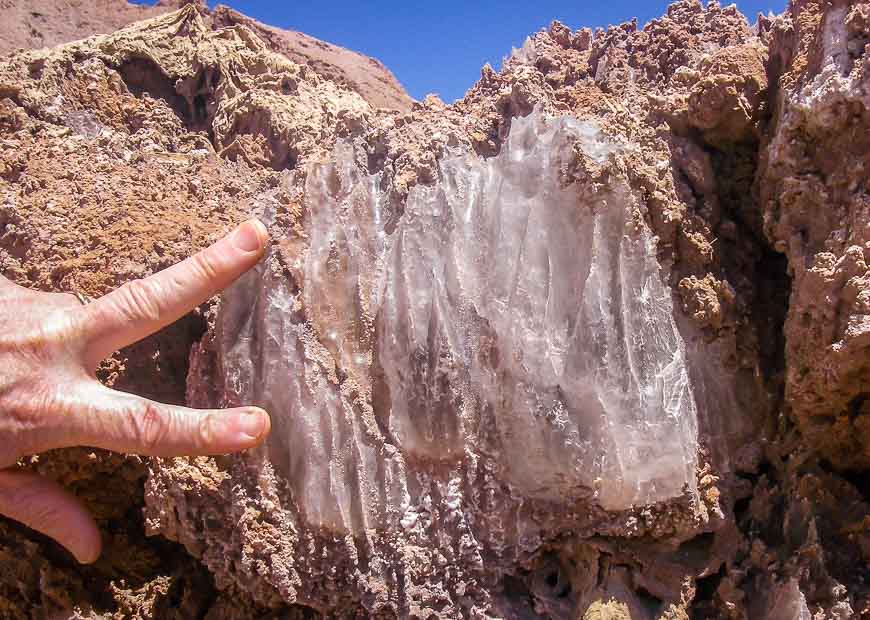 This post includes some affiliate links. If you make a qualifying purchase through one of these links, I may receive a small percentage of the sale at no extra cost to you. Thank you for your support.
When to visit Moon Valley, Chile
You need a half day to properly explore the Moon Valley Chile. The Moon Valley is in the desert so you can expect large fluctuations in temperatures between night and day. Expect temperatures to be in the range of 17 – 25 °C. Summer is the most likely time for rain but as this is the driest place on the planet, it shouldn't affect your plans.
Getting there
It's only 15-30 minutes from San Pedro de Atacama, depending on what entrance you use. Lots of tours are offered through operators in town. Otherwise you'll need a car though you could explore some of the area by bike too…but lock it and hide it.
Where to stay in the Atacama Desert
There are loads of hostel and inexpensive places to stay in San Pedro de Atacama. But on this trip we splurged and stayed at the Tierra Atacama Hotel & Spa. It's one of my all-time favourite hotels – with lots of great excursions to do along with a wonderful pool.
Further reading on things to do in Chile
For more information on things to do in Chile visit the Visit Chile website.
Click on the photo to bookmark to your Pinterest boards.