The Must Do Hike in Los Glaciares National Park
Los Glaciares National Park, a UNESCO World Heritage Site since 1981, is located in the Austral Andes of Argentina. The gateway town is El Chalten, about a three hour scenic bus ride from El Calafate – where there is a decent sized airport.
Los Glaciares National Park is best known for its day hikes rather than multi-day backpacking trips, though there is a three day trip that is recommended. There are seven main hikes in the park if you start in El Chalten – but the standout is the hike to the Fitz Roy Towers with the hike to Torre a close second.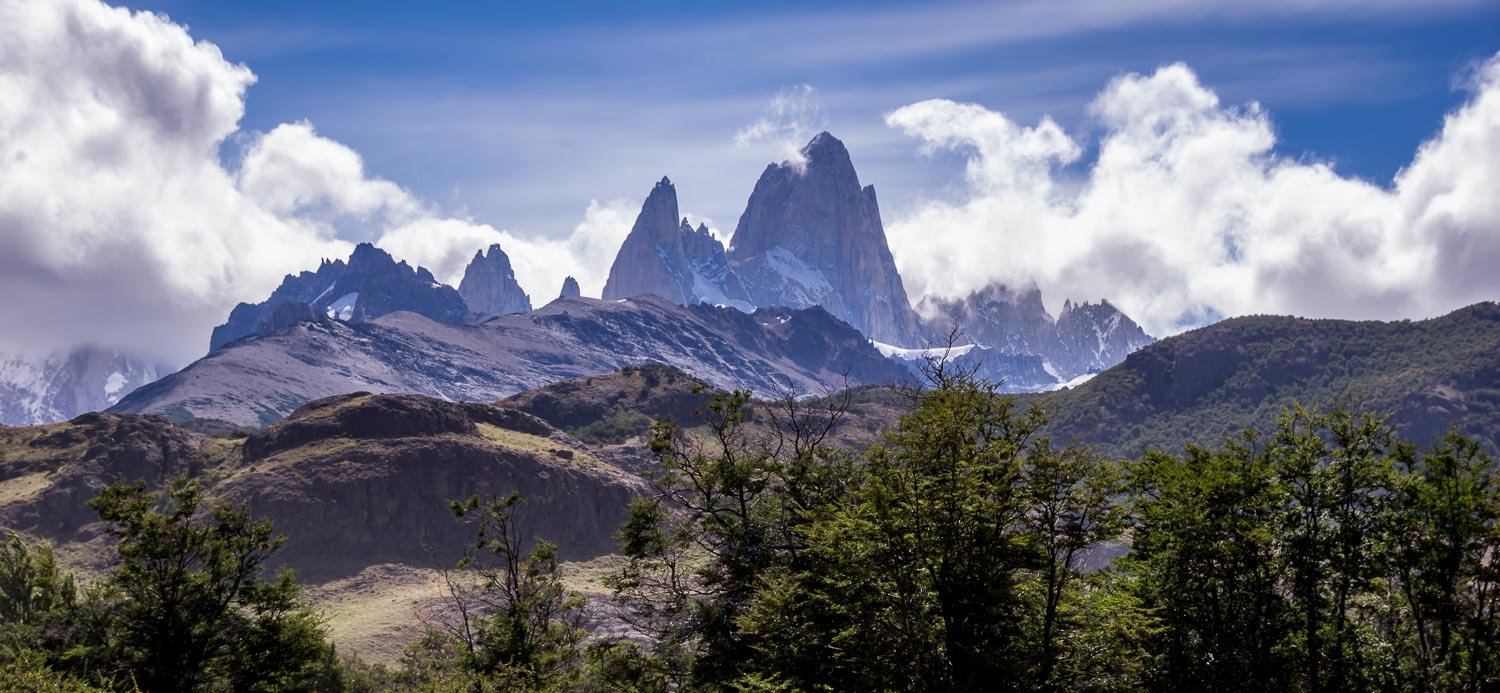 We had three nights in the El Chalten area planned with a stay booked at the Patagonia Ecodomes – which I highly recommend. We knew we could hike into the park right from the back door of the Ecodomes but actually didn't appreciate that it was the Fitz Roy Towers hike – one of the two top hikes in Los Glaciares National Park – that was the one available to us.
Los Glaciares National Park is notorious for extraordinarily high winds and crappy weather. We got lucky on the day we did the hike to the Fitz Roy Towers – as it's considered dangerous when it's windy and rainy according to the parks people.
After a leisurely breakfast we got going about 10 AM figuring it would only take us about six hours round-trip. It did not. We weren't back until 6 PM though we did spend at least an hour up at the top soaking in the views and eating our lunch. All told we figure we hiked 20 kilometres with 610 metres of elevation gain. From the main trailhead in El Chalten the park suggests allowing four hours one way, so eight hours round-trip. That Fitz Roy hike is also 20 kilometres round-trip with 750 metres of elevation gain – so they're very similar. They do meet up just before the Poincenot Campground.
The first 2.5 hours of hiking is very lovely – with most of it in a pretty forest following a river. The trail is in terrific shape and there's really no need for heavy leather boots. As we climbed gradually towards the Poincenot Campground, we did enjoy the spectacular Piedras Blancas viewpoint of both the lake and glacier bearing its name. It was even more beautiful in the late afternoon light.
Once we met up with the main trail we ran into the masses of people. The trail we hiked was positively quiet by comparison. From the intersection of the two trails it's not long before you start climbing. While it's only a 1,000 foot climb the steps are big and there's a lot of stopping and starting to let people pass by. Look back and take in the scenery when that happens.
Once we got to the top the views were truly nothing short of jaw-dropping, especially if you make the extra effort and hike up to the knob to the left of the photo below. It's quite obvious when you're there. If it's a high wind day be extremely cautious as these winds could literally knock you over the edge.
Spend some time wandering down by the lake. Peer over – on a low wind day – to the lake below the towers and marvel at the colours you see.
The hike to the Fitz Roy Towers is very worthwhile though I'd really recommend doing it during a good weather window. The trail is obvious, well-marked and easy to follow. The trail was litter free – which was great to see. Water bottles can be filled at a river near the Poincenot Campground – and I'd recommend purifying it just to be safe.
Don't forget the 10 hiking essentials before setting out for the day.
Affiliate links ahead, which means I receive a small percentage if you purchase anything through them at no extra cost to you. This helps me provide free content on this site.
Before you go to Los Glaciares National Park
Before you head to Patagonia be it Chile or Argentina I highly recommend purchasing a guidebook or two. I found it very difficult to get good information online – and some websites didn't translate from Spanish into English. Lonely Planet's Argentina guidebook is very useful as is Fodor's Essential Chile: with Easter Island and Patagonia.
Leigh McAdam