The Remarkable Village of Mendocino & Why You Need to Visit
Anybody I have bumped into since visiting Mendocino exclaims "I love that place." That's how I feel about Mendocino too. For a small village with a population of just 849, Mendocino and the surrounding area offers an incredibly diverse range of activities in a spectacular setting. And getting there is part of the fun.
Getting to Mendocino
Chances are you'll be driving north from San Francisco. You could take Highway 101 a good part of the way there but it's a whole lot more interesting to drive Highway 1 along the coast. Considered to be one of the most beautiful drives in the world, you may have difficulty making good time with all the possible stops along the way.
Mendocino itself is small and easy to explore on foot. Although it's loaded with cute shops and art galleries, it's also only a few minutes' walk away from Mendocino Headlands State Park. Here you'll find one accessible beach and a number of cliff-side walking trails. With its' spectacular coastline and plenty of bird life, you'd have no problem spending an hour or two.
Just outside of Mendocino there are state parks to explore, rivers to paddle and wineries to visit. Here's a taste of what I did over the better part of three days.
PADDLE the BIG RIVER ESTUARY
John and I spent one afternoon in an outrigger paddling the Big River Estuary, just minutes away from downtown Mendocino. Catch a Canoe and Bicycles Too offers kayaks, canoes, outriggers and bicycles though there was no time to explore nearby trails. They encouraged us to take out a tandem outrigger though normally we're partial to single kayaks. We both found it to be a fun way to explore the estuary. They're extremely stable and the larger ones are ideal for large family groups and novice paddlers – at least under these river conditions.
If you have the time, it's possible to paddle a total of 16.6 miles – but the Big River is tidal and if the tides aren't working in your favour, it can be a lot of work. We got as far as the 5 mile mark – and had to turn around so we'd be back to the rental shop before they closed. It took us three hours at a leisurely pace with lots of photography stops to paddle a total of 10 miles. Highlights apart from the sheer peacefulness once you got inland a mile were the playful harbour seals in one section, a fine lot of seabirds and remnants of man-made structures related to the logging history of the river.
HIKE in RUSSIAN GULCH STATE PARK
The Devil's Punch Bowl, a collapsed sea cave that gets pounded with waves, was the initial reason I wanted to visit Russian Gulch State Park. But then we discovered a couple of hiking trails – going in opposite directions to two different headlands. They both offered big drama with magnificent views of a very rugged coastline. Allow a few hours so you can take in all viewpoints along both trails.
WINE TASTING in the ANDERSON VALLEY
It may not be Napa but the Anderson Valley offers some incredible wines – especially Pinot Noir; and their wine-tasting experiences over the 25 – 30 wineries in the Boonville area are a whole lot of fun. We visited two wineries – Lichen Estate, an organic winery that plants vines on a metre by metre spacing (a rare planting method used by the Grand Cru wineries of Burgundy and Champagne) and Phillips Hill – housed in a beautiful, old apple drying barn. After sampling at least a half dozen wines at each winery, we walked away with two bottles – and wishing our bags had room for more.
WALK AMONG the REDWOODS in HENDY WOODS STATE PARK
It was a rainy day but we didn't let that stop us from visiting Hendy Woods State Park. Within spitting distance of wine country, it's well worth a stop. We had the place to ourselves as we wandered through grove after grove of magnificent Coastal Redwoods – in a state of awe.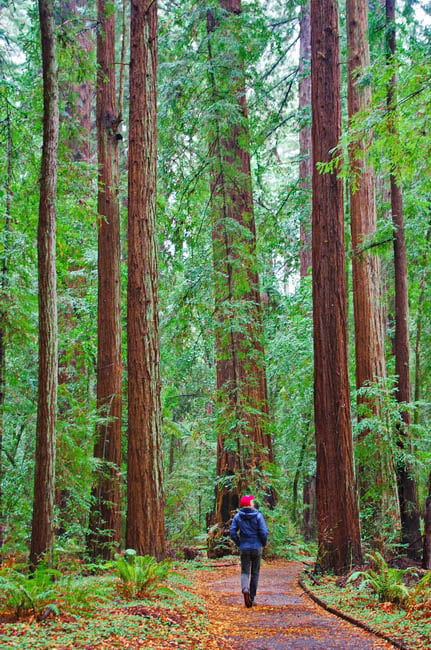 EXPLORE the POINT ARENA – STONETTA LANDS
I wrote about the Point-Arena-Stornetta Lands in a post last week. As one of the units of the California Coastal National Monument, try not to miss a quick trip here – if nothing else but to experience this section of rugged coastline. If your timing is right, the birds and the sea life can be fantastic.
WHAT I WISH WE'D HAD TIME TO DO in MENDOCINO
If I visit again I'll make a point of visiting the famous sea glass beach in nearby Fort Bragg. With a passion for gardening, I am disappointed I didn't have time to get inspired by the Mendocino Coast Botanical Gardens. And I would like to walk the beach at Jug Handle State Beach as it's reported to have one of the prettiest coves on the coast. I always prefer to leave a place wanting to come back.
WHERE WE STAYED in MENDOCINO
The village of Mendocino kindly put John and me up at The Andiron Seaside Inn and Cabins – about a 10 minute drive from Mendocino. Although the cabins aren't fancy or even luxurious they are unique and clean – and each cabin comes with a theme. Ours was called "curious" which suited us well. Inside the cabin were binoculars, a telescope, loads of bird and field guides as well as puzzles and games. There's a fridge, small stove and microwave so you can cook if you want. Outside there are a couple of chairs (though there is some highway noise at times) and on the property itself you can feed a couple of goats and relax in a very private hot tub. I'd happily stay here again.
Mendocino offers the full spectrum of accommodation choices – from camping to the just opened and very luxurious Inn at Newport Ranch. Your budget will be the deciding factor.
RESTAURANTS in MENDOCINO
We ate out the entire time while we were in Mendocino. For breakfast I highly recommend Flow – not so much for the food which was fine but not memorable – but for the view of the coast. You can't beat it. Another morning we found the local coffeeshop – Moody's Organic Coffee Bar and sat outside drinking lattes and eating homemade muffins. It was a happening spot and obviously a local favourite.
Lunch was on the fly both days but dinner one night at Café Beaujolais was a treat. Located in an old yellow farmhouse with a long history, the menu is a mix of French and Californian. I started with local Dungeness crab cakes and Asian slaw followed by the catch of the day – a piece of fresh halibut that was divine. John and I split a piece of coconut cream pie to finish the meal. Don't miss this place if you're in the area.
On another night we ate at the bar of The Little River Inn. The food was average but the ambiance and the views were excellent – and there was lots of local wine to try.
I think Mendocino is a remarkable village with so much to offer the visitor in a very small area. If you love the California coast – and you want something wilder and less crowded than southern California, then this is a great area to visit.
Thank you to Visit Mendocino County for providing some of the experiences and the delightful accommodation. I highly recommend a visit!
Leigh McAdam