One January weekend John and I were guests of Sunshine Village, a ski resort in Banff National Park. While most people head to the resort for downhill skiing – just as we did on one of the days, there is the option to take a Sunshine Village snowshoeing tour. This isn't just any snowshoeing tour – but one called a Canadian Signature Experience.
What sets the Sunshine Village snowshoeing tour apart from your average tour? The tour takes you through masses of white, fluffy, virgin powder snow high in the Canadian Rockies on the Alberta/British Columbia border – with nary a soul in sight. You can make your own tracks for the entire tour.
Starting at the top of the Standish Chairlift – which you've taken up whilst carrying your snowshoes – you head off towards the Sunshine Meadows Lookout. On a clear day you'd be able to see Mt. Assiniboine, though we weren't so fortunate.
This post includes some affiliate links. If you make a qualifying purchase through one of these links, I may receive a small percentage of the sale at no extra cost to you. Thank you for your support.
The tour is a combination of snowshoeing and looking for fun
And by fun, I mean jumping off cliffs and sliding down snowbanks. This area gets 10 m of snow on average per year, so there's never any shortage of it. In fact the snowshoeing season lasts for seven months!
Our guide, Adrienne from White Mountain Adventures led us through a white on white world (we'd hoped for a blue sky day but it only materialized towards the end of the tour), always on the lookout for cliffs with deep snow at the base and hills to slide down. She made a point of keeping us away from any slopes with avalanche danger.
During the tour, animal tracks including pine marten, snowshoe hare and coyote were pointed out. She also shared some of the Native history of the area.
On this snowshoeing tour you never need poles and in the deep powder they'd actually be more hindrance than help. The tour is roughly three kilometres in length and typically takes about two hours. Except for a short section just past Rock Isle Lake, it's all downhill.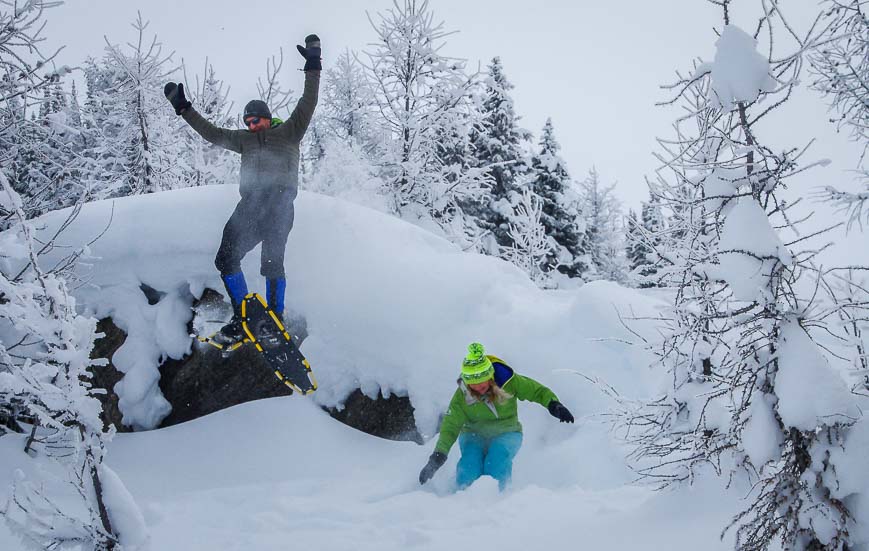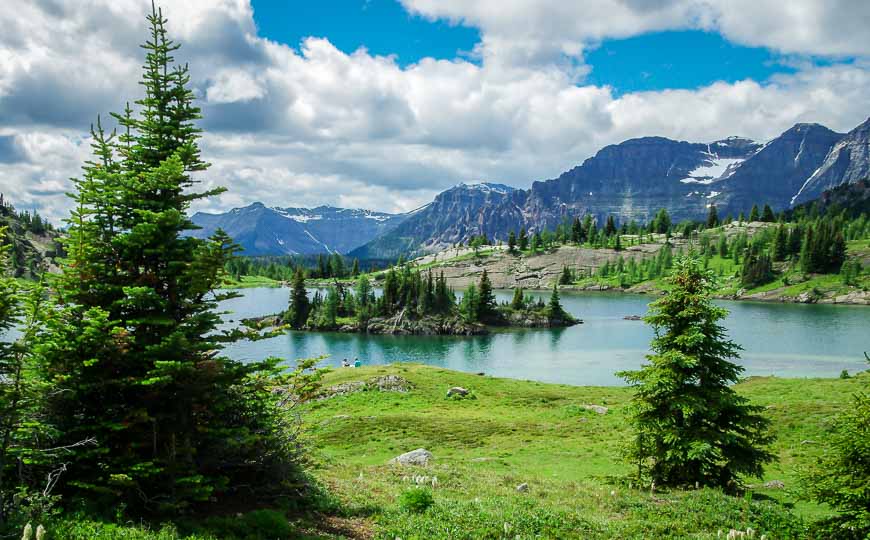 Fondue time post Sunshine Village snowshoeing
This is one tour that doesn't end when you take your snowshoes off. Up next is a cheese fondue served in front of the fire at the Sunshine Mountain Lodge. When the weather is warmer, the fondue may end up being served outside, but on a January day, it's nicer by the fire.
It's not until you've scraped the bottom of the fondue pot whilst sharing the highlights of the day that the tour officially ends. This is one snowshoeing tour that would be perfect for people of all ages – and even if it's a cold day, you'll be able to stay warm.
For information on how to book the tour, click here.
To book a stay in Sunshine Mountain Lodge (and I highly recommend it) click on this link.
Location map for Sunshine Village
Further reading on things to do in Banff
Click on the photo to bookmark to your Pinterest boards.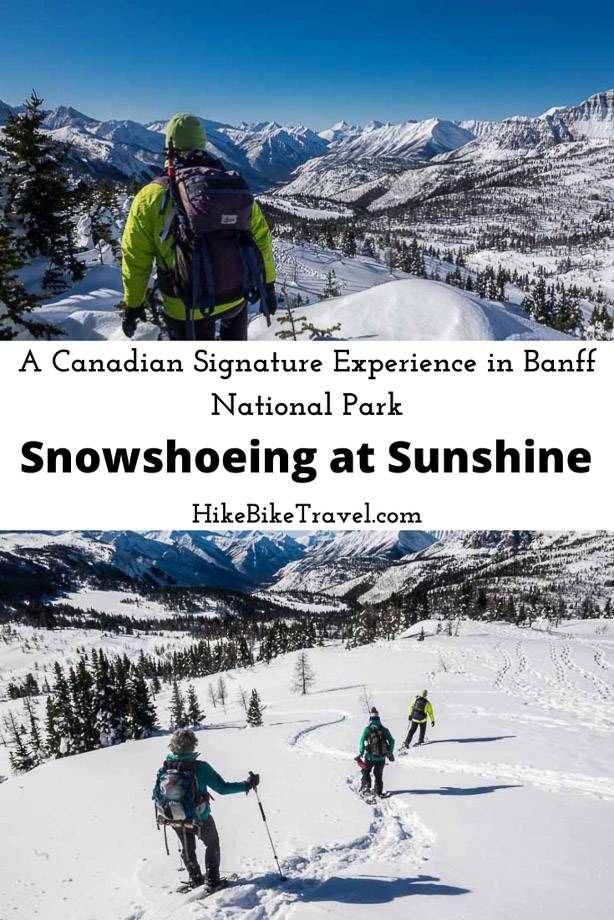 Thank you to Sunshine Village for inviting me on the tour. All opinions expressed are my own.