Can you picture yourself soaking in a hot tub minutes after finishing a day of cross-country skiing in the Rocky Mountains? Or drinking a local craft beer after an ice walk in a mountain canyon? If you answered yes, head to Canmore, a gem of a mountain town where there are lots of fun and interesting things to do in winter. Canmore and Kananaskis Country is only an hour's drive west of Calgary and just minutes from the gates of Banff National Park. If you have a couple of days you'll be pleasantly surprised at just how many things there are to do in Canmore in winter – because so many outdoor adventures are right on Canmore's doorstep.
I've listed a sampling of things to do in Canmore in winter (and nearby) and for some of them how much time you need to do them. If you've never visited before, then you'll enjoy checking out the main street filled with locally owned stores, cafes, and eating places. Bed down at one of the wonderful places to stay for a night or two (see below) and enjoy a few good meals, Voilá – a perfect Alberta winter getaway.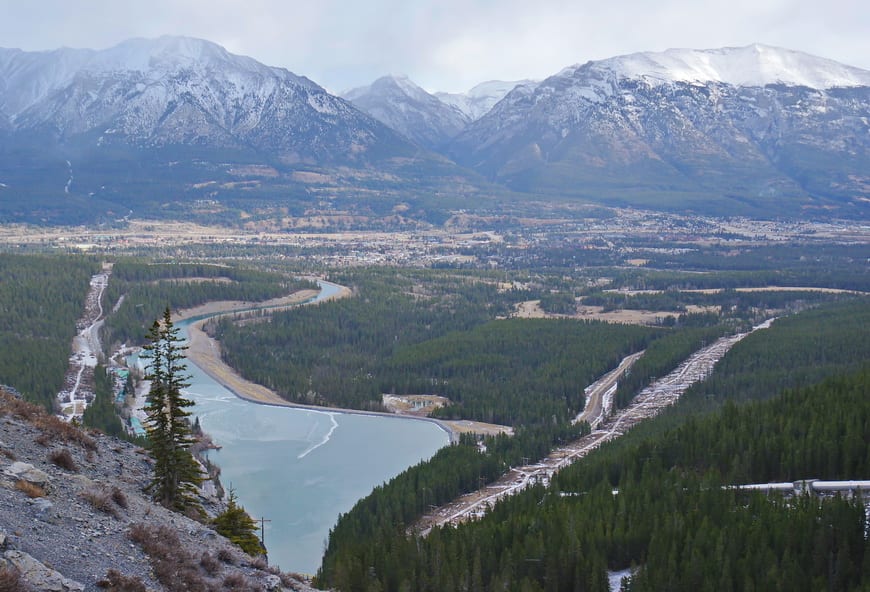 This post includes some affiliate links. If you make a qualifying purchase through one of these links, I may receive a small percentage of the sale at no extra cost to you. Thank you for your support.
Location map of things to do in Canmore in winter
Do the Grotto Canyon Ice Walk
Time needed: 1.5 – 2 hours
The Grotto Canyon ice walk is a fun, family outing that doesn't take a lot of time. When there's been a cold snap the hike is really an ice walk as you follow a frozen creek up a narrow canyon towards a waterfall.
Its 1.1 km from the parking lot to the creek bed, another kilometre to the waterfall and then about a kilometre up to the hoodoos. Don't be put off by the Baymag Mineral Processing Facility you see and hear in the first kilometre because once you turn into the canyon, the noise dissipates. Just before you reach the waterfall look for the pictographs down low on the left. Unfortunately I found out about them after I got home.
Don't stop when you reach the waterfall but continue left and make your way up towards the hoodoos and a cave. You can continue for some time past here on rocky terrain, but most people turn back at the hoodoos.
Trailhead Location: The Grotto Lake parking lot is located 3.4 km west of Exshaw and approximately 13 km east of Canmore on the 1A highway past the Baymag plant #2.
Icers are a necessity when the river is frozen but in November when we went, they were still optional. You can buy a good quality pair of icers right here – and they can also be used on icy days in the city and on numerous other winter walks. Mine come with me on every winter hike I do. I'd also suggest a pair of hiking poles.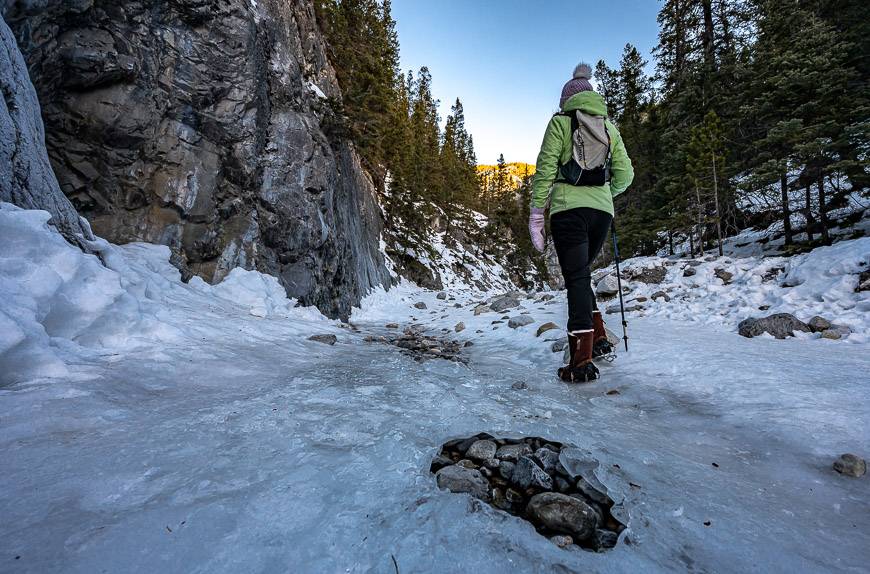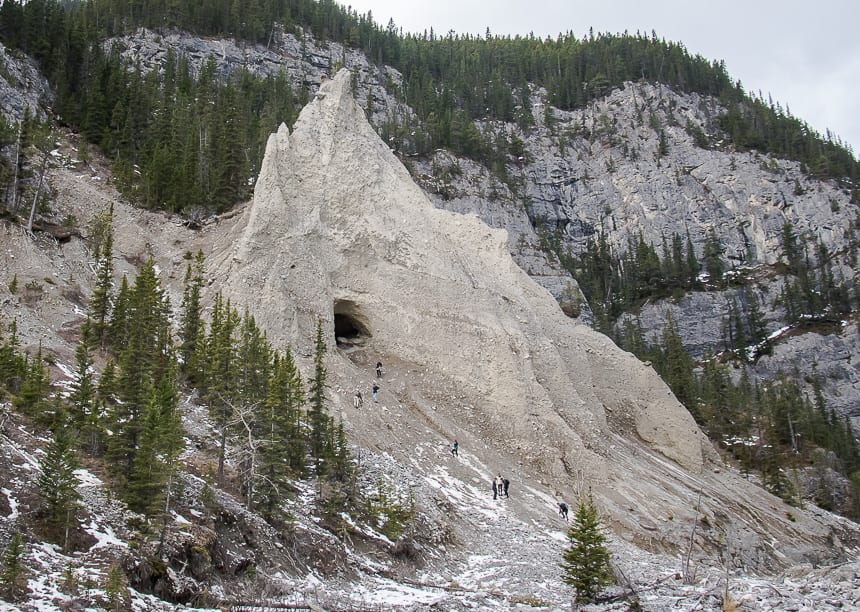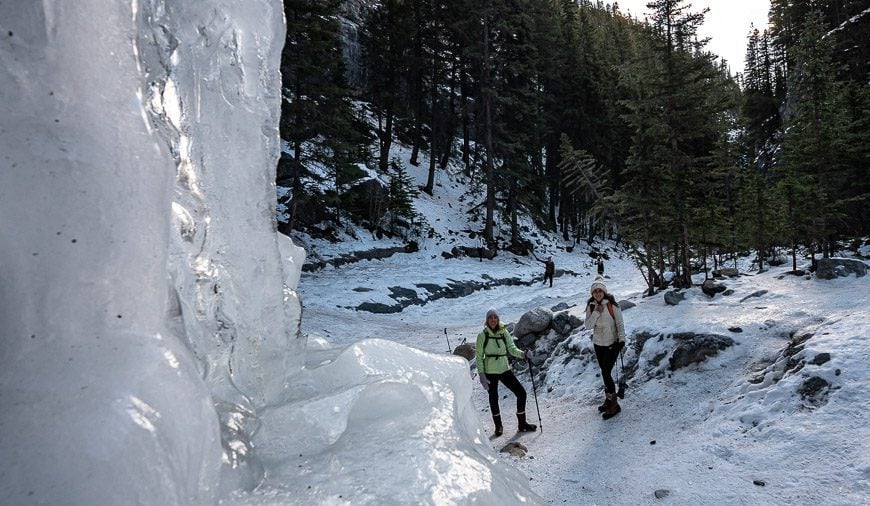 Go cross-country skiing at the Canmore Nordic Centre
Time Needed: 1 – 4 hours
With over 65 km of groomed and natural cross-country ski trails at the world-famous Canmore Nordic Centre both skate and classic skiers will find a trail to love no matter what type of skier they are.
While the trails are frequented by locals because as Olympian Sara Renner says "they're so convenient and accessible and they give you the most bang for your buck", they're also popular with the Calgary crowd. Tickets can be purchased at the Nordic Centre between 9 AM and 5 PM. Adult pricing is $15. Seniors (65+) can purchase tickets for only $11.25. Skiing is free after 5 PM for everyone. Bonus points – there's night skiing on 6.5 kilometres of lit trails.
Onsite you can rent skis, use a wax room, buy gear and clothes, and enjoy a fine mountain view from the restaurant.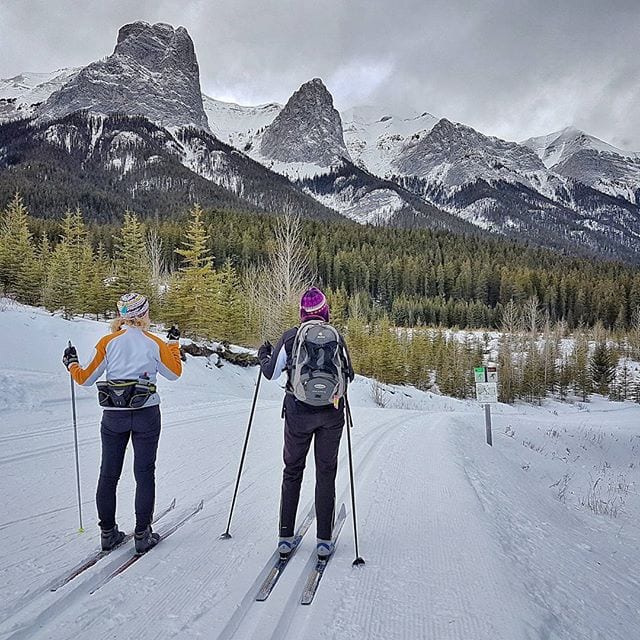 Try dogsledding
Time Needed: Allow half a day
Three dogsledding companies call Canmore home; Howling Dog, Snowy Owl Sled Dog Tours and Mad Dogs & Englishmen Expeditions.
All offer a variety of tours that include everything from a two hour outing around the Spray Lakes to mushing under the stars to an overnight camping experience.
I've done the two hour dogsledding tour out of Canmore and one in Kananaskis Country. It really just whets your appetite for more. You're offered the opportunity to mush the sled yourself – and really you must try it as the fun factor goes way up when you're in charge.
Go snowshoeing off of the Spray Lakes Road
Time Needed: Allow 2 – 6 hours depending on how far you have to drive
Canmore itself doesn't get a lot of snow so unless there's a big dump plan to head out of town. There are lots of nearby options in both Banff National Park and off the Spray Lakes Road.
At the top of the Spray Lakes Road you'll find the Goat Creek parking lot and trailhead. While you can cross-country ski the 18 km on the Goat Creek Trail to the Banff Springs Hotel (you'll need to shuttle a car to the far end) you can also head in the other direction along the High Rockies Trail – the westernmost section of the Trans-Canada Trail.
This trail runs for 80 km but beware as there are no facilities. Plan on an out and back snowshoeing excursion for as long as you have the energy.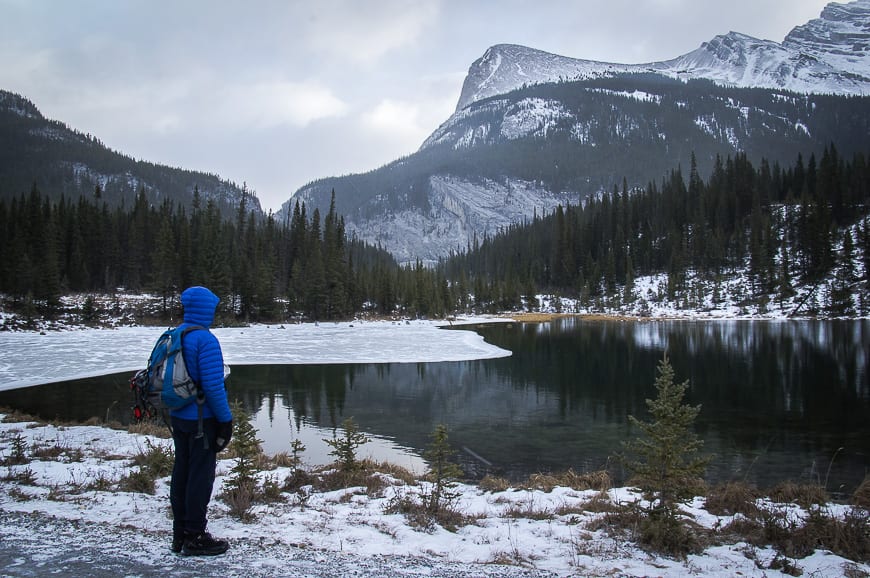 Snowshoe to Chester Lake
If you drive another 35 km south on the Spray Lakes Road from the Goat Creek parking lot you'll reach the large parking lot for Chester Lake.
Its here you can experience one of the premier snowshoeing experiences in the province via a 5 km trail to the lake. After about 40 minutes of climbing at a moderate grade you reach a large meadow and the going gets easier all the way to the lake. If you've got the time make the side trip to Elephant Rocks – the scene of massive boulders dropped helter-skelter. The views on a bluebird day enchant.
You might want to read: Where to Go Snowshoeing in Banff National Park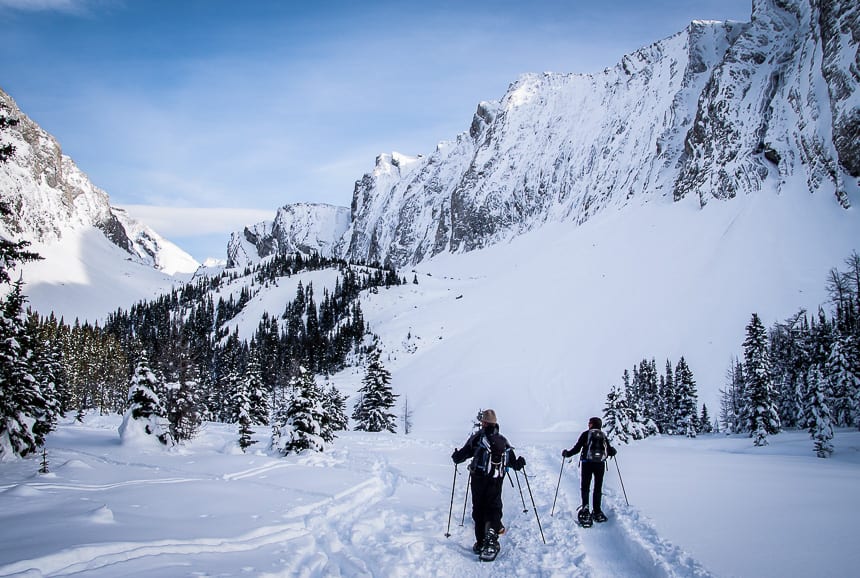 How about some caving near Canmore?
Time needed: Allow 2-6 hours depending on the tour
If tight spaces under tons of rocks don't scare you then you must try the Canmore caving experience. I did the six hour tour of Rat's Nest Cave just outside of town and survived. While much of the caving is straightforward and I actually liked rappelling in the dark, I'd have to pass on another slide down the laundry chute.
But if you're into adventure and it's a freezing cold day outside (don't forget caves stay at a comfortable 5°C) then sign up for a tour (some are as short as two hours) with Canmore Cave Tours.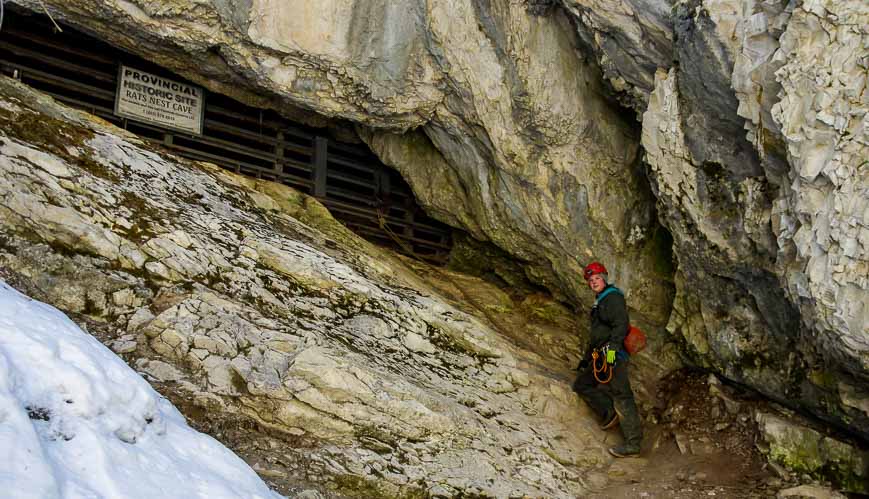 Head to Tavern 1883 for Tavern Trivia
On Wednesday nights, head to Tavern 1883, a family-friendly neighbourhood restaurant and bar, for happy hour drinks, a late night menu, and the chance to check your trivial knowledge. A fun way to spend an evening with prizes and gift cards up for grabs.
Where to eat in Canmore
For the best coffee in town head to Beamer's Coffee Bar on 7th Avenue. If you're into eggs benny or great pancakes (try the raspberry) head to Chez Francois. Too bad their coffee is only so-so. I'm never in Canmore when its lunch time but I'd probably just head over to Communitea Cafe where they've got a beautiful, bright space and lots of local, organic offerings.
For beer check out the Grizzly Paw Pub. High end diners should check out Crazyweed Kitchen; romantic diners will want to visit the Sauvage Restaurant. For a view try Murietta's Bar & Grill.
If you've just done the Jura Creek hike or the Grotto Canyon Ice Walk, I recommend stopping in at Rocky Mountain Bagel or The Market Bistro.
The Canmore Winter Carnival
Bookmark 11 days in February so you can be in Canmore for the Canmore Winter Carnival. While well-attended by locals, its got plenty to offer the out-of-towner too. The two weekends bookending the festival have the most events on while the weekdays offer themed evening activities.
Where to stay in Canmore
You're spoiled for choice in Canmore as they really do offer the full gamut of accommodations.
Inexpensive: The Canmore Clubhouse run by the Alpine Club of Canada is located 4.5 kilometres out of town. Members pay only $30/night, non-members $40/night.
Bed & Breakfast: Try the Monarch B&B and enjoy a breakfast cooked by a Japanese chef. Or stay in A Bear and Bison Country Inn and enjoy easy access to the trails on the sunnier side of Canmore.
New Kid on the Block: Basecamp Resort offers well-appointed rooms with thoughtful touches like local coffee and Rocky Mountain soap along with a washer and dryer (soap provided), a fully equipped kitchen and an awesome hot tub.
The downside in my books as I just stayed there, is the lack of a personal touch as you're given a code to your room so you don't have to talk to anybody. Ever. But maybe that's just me. Prices are reasonable.
Boutique Hotel: The Malcolm Hotel near downtown Canmore is a four star hotel with an outdoor heated pool. It opened in 2019. Their pool offers fantastic mountain views.
Resorts: If you like a full service hotel with spas, pools and lots of amenities check out Solara Resort and Spa or the Stoneridge Mountain Resort.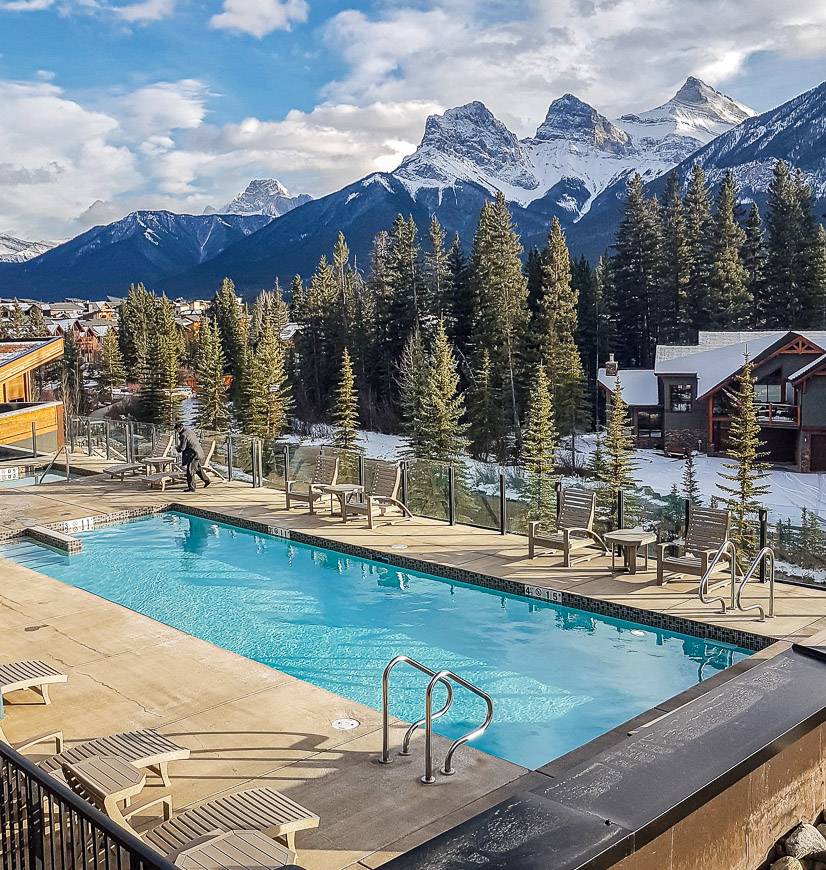 Further reading on things to do in Alberta in winter
Click on the photo to bookmark to your Pinterest boards.
Thank you to Travel Alberta for making this post possible.