Duluth – the first stop on a week long bike reconnaissance tour in Minnesota was a total surprise. I knew precisely zero about the city before I went and even had to check it's exact location – at the western most edge of Lake Superior. I discovered that Duluth is a real outdoor adventure lover's city. Check out some of the mostly outdoorsy things to do in Duluth that I discovered over a short time frame.
Duluth, for those new to the city, has a long history as a port – transporting coal, iron ore and grain via the Great Lakes to the Atlantic Ocean. But the small city is changing and becoming a haven for outdoor adventure types, microbrew lovers and people with an entrepreneurial spirit. Outside Magazine ranked it as the Best Town in America in 2014. Duluth received the gold level from the International Mountain Bicycling Association (IMBA).
Updated April 2021. This post includes some affiliate links. If you make a purchase via one of these links, I may receive a small commission at no extra cost to you.
Spirit Mountain near Duluth
My first view of Duluth was from a distance, just a few miles away from Spirit Mountain– where the hardy come to downhill and cross-country ski in winter. I say hardy as Duluth is renowned for its frigid winter temperatures – largely in part because of the cold winds that blow off Lake Superior – the world's biggest lake.
I think locals take a certain pride in enduring winter, much like we do here in Calgary when the Arctic winds blow in.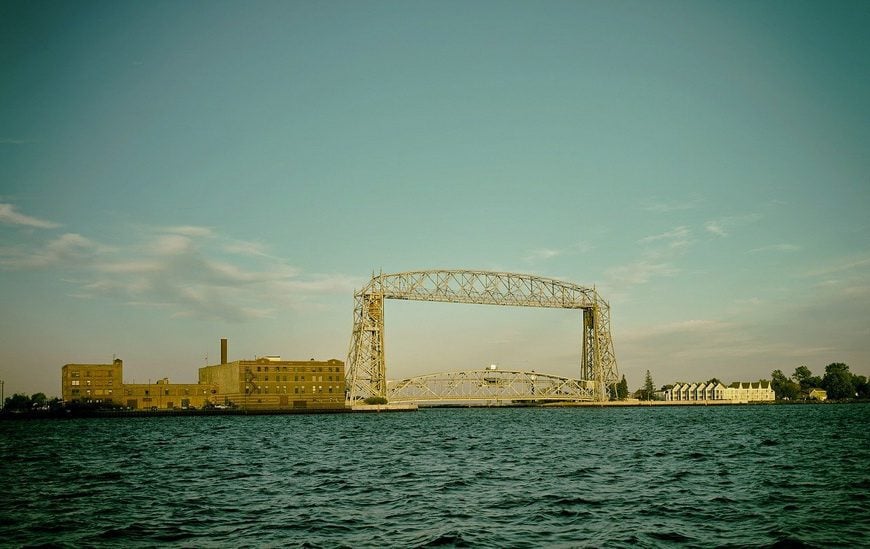 Where to stay in Duluth
My home for the night – The Inn on Lake Superior – had a great location beside a trail but the reality was that I was there only long enough to change in and out of biking clothes and sleep.
It was also just a short walk to Grandma's Saloon and Grill, a restaurant serving classic American favourites along with local specialties like chicken wild rice soup, wild walleye cakes and Grandma's wild rice burgers. Wild rice is a big deal in this part of the world.
Go for a bike ride
After spending an evening on 3 hour bike tour of the city with The Duluth Experience I can honestly say this small city (population 86,000) is full of people with energy and a can-do attitude. It's completely refreshing and very invigorating.
On the bike tour the idea was to cover a fair chunk of the waterfront via bike paths with stops at three local brewing companies. Our diverse group of seven started under cover of darkness and continued past 10 PM.
The pace was comfortable – not dawdling but not racing either. On the other hand we were going too fast to stop and take pictures of some of the historical landmarks, in particular the Aerial Lift Bridge, a rare type of bridge that is raised and lowered about 26 times a day to accommodate the boat traffic.
Beer lovers will swoon on a visit to Duluth
Our first stop on the tour was the Bent Peddle Brewing Company, with a hip modern home in a renovated warehouse. Enthusiastic supporters of the cycling and paddling communities, Bent Paddle is responsible for turning me on to beer flights.
It's a fun way of discovering beers you wouldn't otherwise try – which any beer drinker worth his/her salt already knows. Over the course of the evening and three flights of beer sampling I came to love pumpkin beer. It is so popular it sells out well before Halloween.
We cycled to two other breweries – Fitger's Brewhouse located in a renovated historic building not far from the Lake Walk and the Canal Park Brewing Company, in an "industrial chic" warehouse on the water and just a stone's throw from my hotel.
Each of these brewing companies had a unique vibe – and all served exceptional beer. My notes got fuzzy over time – but I do know that is is Fitgers where I tried and fell in love with their delicious apricot wheat ale but I nixed the tequila beer – wherever it was that I tried it.
Where to eat breakfast in Duluth
The Duluth Grill, which from the outside reminded me of cheap diners with fake tasting food – was the exact opposite of what I expected. Cage free organic eggs, grilled kale, wild mushrooms, organic smoothies, cherry wood bacon to name a few items were all on the menu. Food here is amazing with some of the vegetables and herbs grown onsite.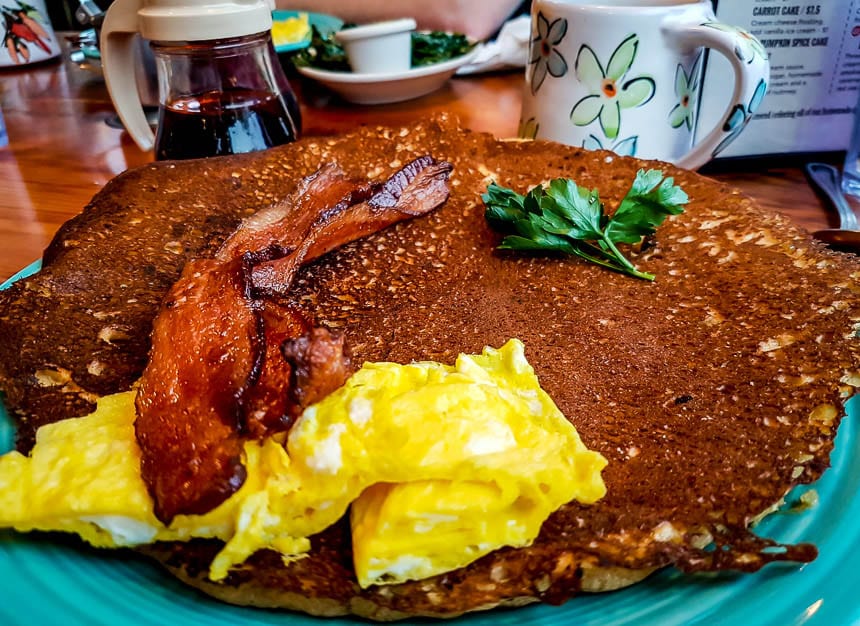 More cool things to do in Duluth
Go birding
The Hawk's Ridge Bird Observatory, just a short drive away from downtown Duluth, has seen as many as 120,000 broad-winged hawks in a day. If you're into birding, this is a place you must check out.
And another feel good story related to storms, birds and massive ocean going freighters goes like this.
When Lake Superior gets one of its famous storms, many birds are blown off course and plenty of them don't survive. But there are many ships that have started to deal with the problem by providing birds with much needed water and bird food until they can continue their flight. Kudos to whoever started this bird saving program.
Take a hike in Duluth
The 310 mile Superior Hiking Trail (SHT) takes you from Duluth to the Canadian border. For most of its length it follows the ridges overlooking magnificent Lake Superior. The trail spends time in boreal forests, and Minnesota's Sawtooth Mountains. Be prepared for elevation changes as the low point is at 602 feet and the high point at 1,829 feet.
Over the length of the trail you'll find 94 free backcountry campsites.
Go biking on the Gitchi-Gami Trail
The Gitchi-Gami bike trail is nearby. While it's only 30 miles long it's one heck of a beautiful trail. Ultimately though, the Gitchi – Gami Trail will be 89 miles in length and will run from Two Harbors to Grand Marais.
Duluth is one of the mountain biking capitals in the US. Eventually the 80 mile Duluth Traverse, an urban mountain bike trail system will be completed. Every summer a new section gets built.
In less than 24 hours I was completely taken with Duluth – and all that it offers. I hope you are too. Thank you to Explore Minnesota for hosting me on this trip and to Visit Duluth to making my visit memorable.
Further reading related to Minnesota and Lake Superior
Click on the photo to bookmark to your Pinterest boards.