Marrakesh – just the name conjures up exotic images – snake charmers, colourful souks, palm trees, classy riads. If only that was the reality. Marrakesh was our least favourite stop on a two week Morocco tour largely because it's turned into a noisy, polluted city. In the last five or six years cheap Chinese made motorbikes have been permitted inside the medina, so now do you not only have to dodge them, but you have to listen to them and breathe their dirty exhaust.
If you've made it as far as Morocco you probably what to spend some time in the city. Here are some of the worthwhile things to do in Marrakesh when you only have a day – and two nights and a full day is all you really need.
This post includes some affiliate links. If you make a qualifying purchase through one of these links, I may receive a small percentage of the sale at no extra cost to you.
Before you head to Marrakesh I'd recommend picking up the most recent edition of the Lonely Planet Guidebook and a map of Morocco– at least if you plan to see more of the country.
If you still want to see Marrakesh keep your visit short. While there are loads of day tours run out of the city why not find one of the more charming towns to stay in and do the tours – like treks in the Atlas Mountains and visits to the Sahara from smaller more interesting towns like Tamedaght and Imlil.
Put on your walking shoes, hire a local private guide (well worth it) and check out these Marrakesh places to visit when you only have a day
Visit Djemaa el-Fna at dusk
Djemaa el-Fna is the famous square in the medina in Marrakesh that comes alive when the sun goes down. Look for row upon row of open air food stalls, storytellers, jugglers, snake charmers along with a portion of hustlers and loads of tourists.
At the edges of the square are fruit and juice stalls – and surrounding the square are a lot of hotels, most with patios for watching the sun set.
Expect to pay a huge premium for the privilege of sipping a soft drink or a glass of water with a view. I do think it's worth "the price of admission" as it's quite a sight to see all the action.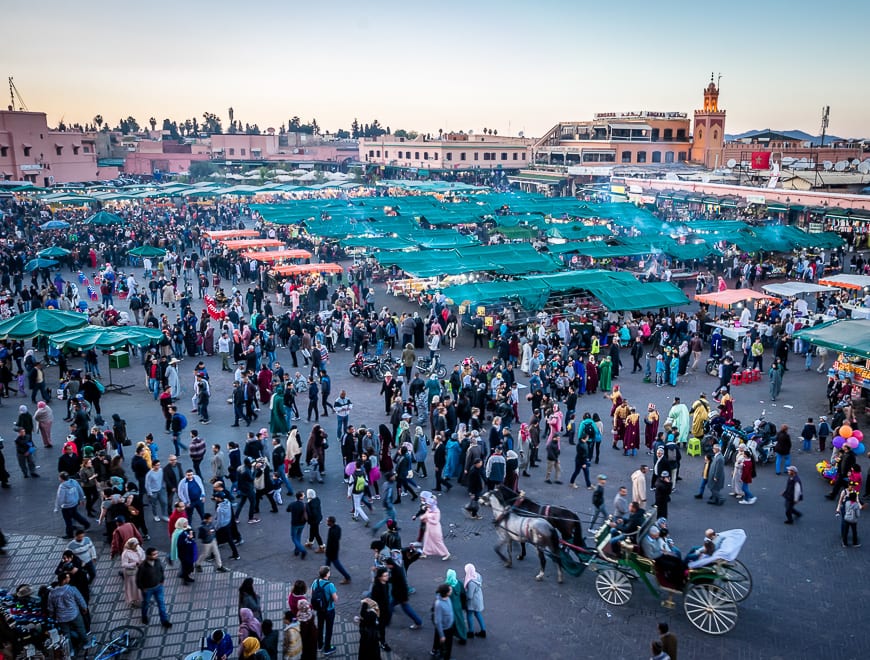 Check out the Palais de la Bahia
Built at the end of the 19th Century, as the residence of Si' Ahmed ben Musa, the Grand Vizier of Sultain Moulay al-Hassan I, the Bahia Palace is a rambling structure that includes, gardens, fountains, living quarters and courtyards.
A visit here is like a breath of fresh air and tranquility as its peaceful and quiet – a huge contrast to the noise and chaos outside the gates. That doesn't mean it isn't packed with people but it all seemed very orderly when we were there.
Explore the Souqs of the Marrakesh medina
Consider hiring a guide to take you through the souqs of Marrakesh – as much to avoid being hassled as anything else.
What you'll find is a maze of shops selling everything imaginable across the quality spectrum. Look for carpets galore, arts and crafts, apothecary items, spice and perfume shops, leather work and jewelry.
You'll also see people hard at work – often under less than ideal work conditions including carpenters, blacksmiths and dyers. An hour or two will be plenty of time to see everything.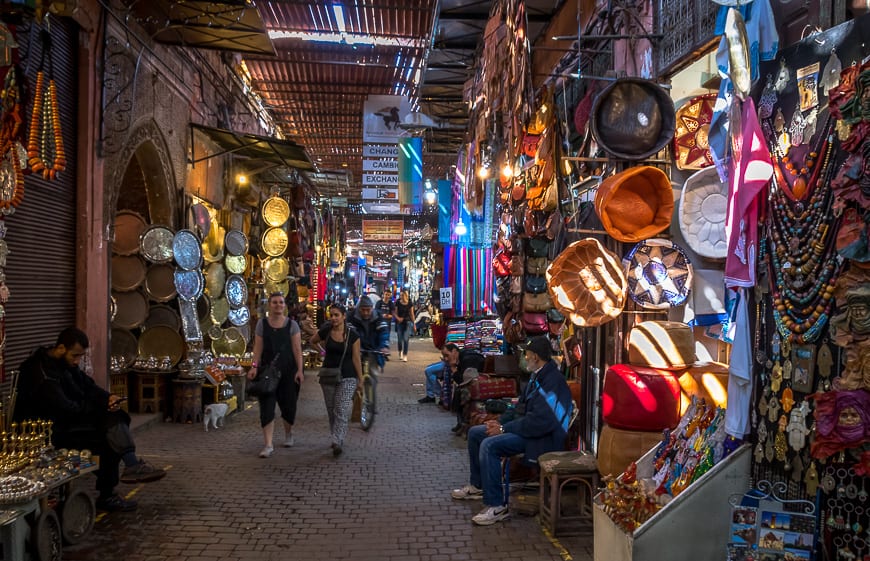 Soak in the sights and colours of Marrakesh
Take time to just wander and soak in the sights. That really is part of the joy of traveling and in Marrakesh there are no shortage of colourful scenes.
We found that doing what I described along with a quick tour of Maison Tiskiwin – a small public museum filled with Berber doors, jewelry, textiles and carpets – is plenty of ground to cover in a day.
Of course there are more sights to uncover – several beautiful gardens around the city and the Saadian tombs but I think there are far more interesting sights to see in the country and would move on.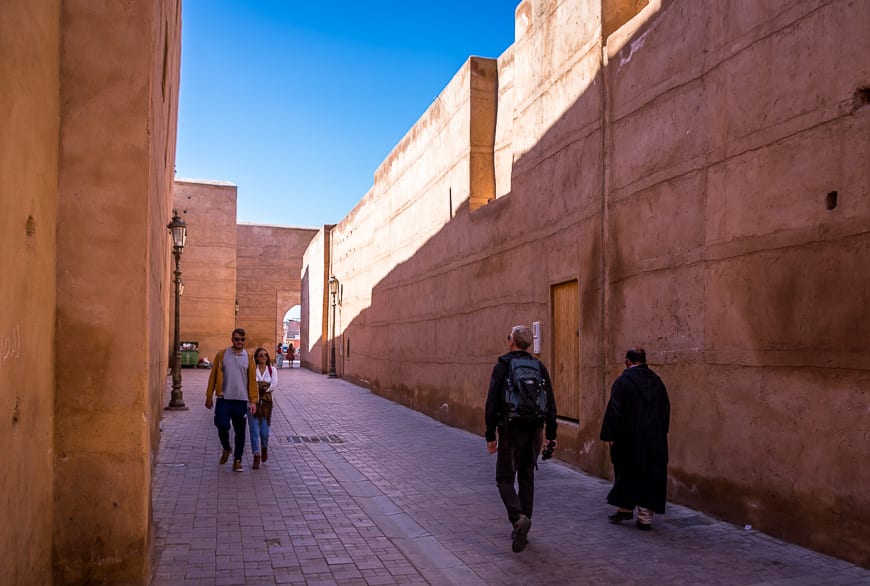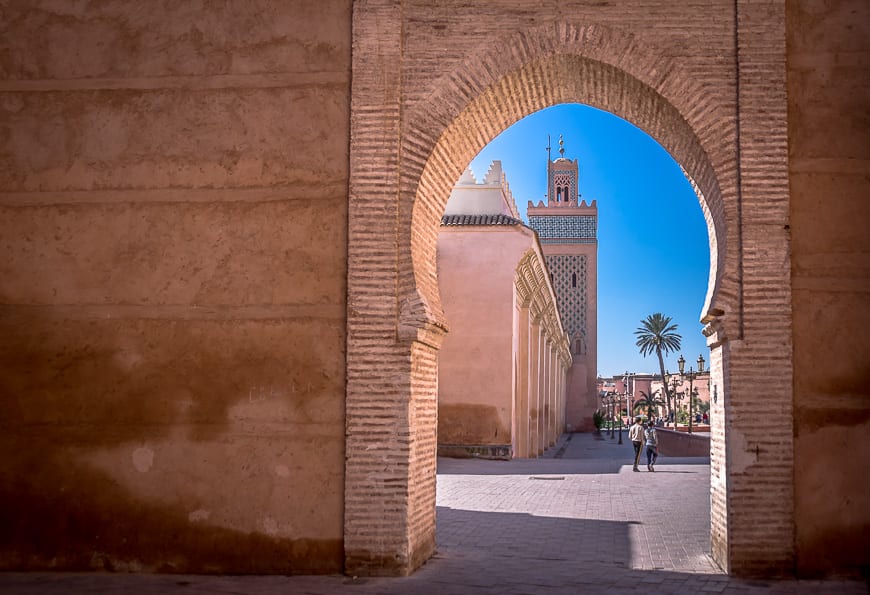 Further reading on Morocco
Click on the photo to bookmark to your Pinterest boards.