Let's not beat around the alder bush: the East Coast of Canada is one of the best spots to be in the summertime! There are many great opportunities for hiking, biking, swimming, and paddling—especially in the province of New Brunswick. For those who love the outdoors, don't miss out on these uniquely New Brunswick adventures. You'll find several things to do within a couple of hours of Saint John.
I grew up across the Bay of Fundy in equally stunning Nova Scotia. Over the years, I've spent time exploring a number of places in the Maritimes and am surprised to find that New Brunswick is sometimes overlooked. This coastal haven offers some of the most enjoyable trails and coastline in the country. So if you're new to the area, or simply looking for new ideas, here are some of my favourite things to do in New Brunswick.
Things to do in New Brunswick – Hike Split Rock and Troy's Trail
Alright, I'm not saving the best for last here. Only a stone's throw from Saint John, Split Rock and Troy's Trail has got to be one of the best coastal hikes in New Brunswick. Drive toward Lorneville on Route 1and you'll be at the trailhead in about 20 minutes. How could anyone say no to that?
Split Rock and Troy's Trail are two separate trails, though many combine for a longer day. I'd recommend starting at the Split Rock trailhead to finish at Black Beach. These two trails meet up at Split Rock Lighthouse which provides authentic maritime scenery along the trail. There's road access to the lighthouse too, so you may come across some visitors at this point. The total length of these combined trails is about 7 km one way, or you can double your distance by returning the way you came. If it's warm enough, enjoy a dip in Black Beach to cool down (or at least soak your tired feet after a long day!).
There are plenty of lookouts with great coastal scenery here, and if you're able to take your time, check out the caves and beach access along the trail. You could easily spend the better part of a day exploring the area. As a return hike, this trail is a bit on the longer side, but doable for most abilities. It's highly maintained with markers to keep you on track, and you'll likely come across others on the trail (especially on the weekends). The quintessential lighthouse and the beautiful Bay of Fundy views are absolutely worth it.

Read more: Split Rock and Troy's Trail—You'll Love This New Brunswick Hike
Hike Five Fathom Hole Trail in New Brunswick
Five Fathom Hole is another worthwhile coastal trail near Prince of Wales, New Brunswick. It's a tad shorter than Split Rock at about 11 km out and back, and the trail provides several lookouts along the way. To take full advantage of the views, wait until the fog burns off in the afternoon. I hiked this trail one foggy morning, which was still refreshing but I missed some views.
Once past the trailhead, you'll quickly come across the Musquash Estuary along the forested trail. This is one of the last fully functioning estuaries in the Bay of Fundy. Continue along the well-marked trail through the moss-covered forest, emerging onto cobble beaches as you go and ending up at Wallace Cove.



I'd recommend bringing a rain jacket in your pack, regardless of the weather forecast. Clouds can roll in very quickly in NB and being prepared on longer hikes is a must.
Cycle from L'Etang to Deer Island, New Brunswick

Have you heard of Deer Island? This little isle off the coast of New Brunswick is a small fishing community with a population of about 850 people. If you count the deer, the island population likely doubles! (Ok, I'm not exactly sure about that… but let's just say this island is aptly named). The main industry here is fisheries, but tourism has been growing in recent years—and for good reason. Aside from idyllic coastal beauty, Deer Island offers great cycling and paddling. And if you like deer, well, you're bound to see more than one….
On my last visit to NB, I cycled from L'Etang to Chocolate Cove on Deer Island. There's no chocolate here, but the views were just as sweet! I loved riding along quiet roads with lupines in full bloom and deer around every corner. Though the hills added an extra challenge.
The cycling distance was about 35 km roundtrip, with another 10 km over and back on the ferry. The Deer Island Ferry (free of charge!) leaves every half-hour from L'Etete and takes about 30 minutes to cross. It's a pleasant ride. Cyclists can ride onto the ferry, park on the side, and enjoy the views from the vessel. Bring some extra layers for the cool ocean breeze. And check the ferry schedule to make sure you return in time—or you'll be sleeping on the island!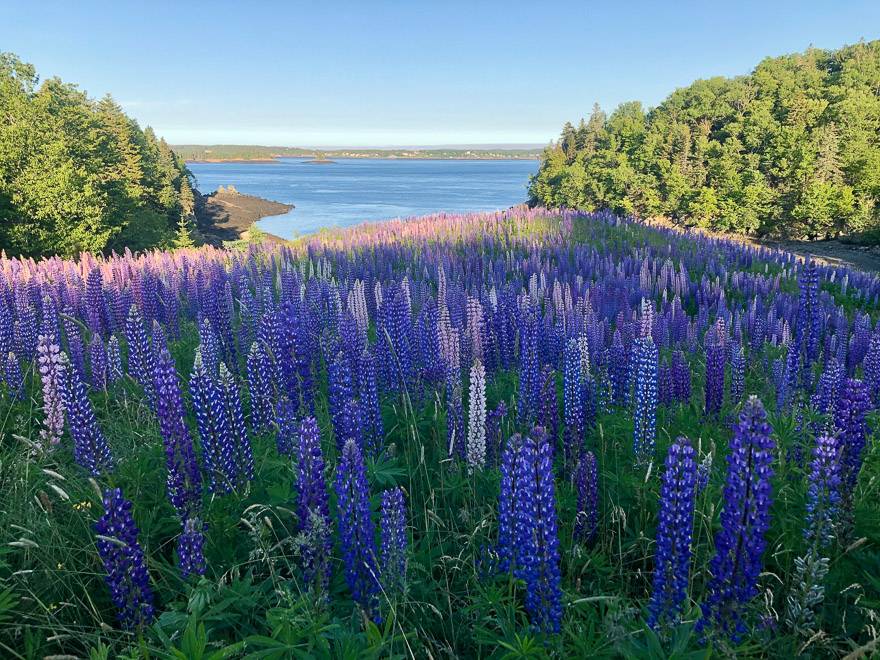 Kayak off of Deer Island
I've always wanted to try sea kayaking! Thankfully I finally got the chance with Seascape Kayak Tours on Deer Island. It was such a great experience to paddle near the Fundy Isles with Bruce, the owner of Seascape Tours. Whether you're a total beginner or an experienced paddler, Bruce provides expert instruction and brings deep insight to the tour. It was more than just a paddle—we learned about ocean conservation and were inspired by Bruce's deep care for these waters. We also spotted several seals and a bald eagle—what a joy!
If you're around Deer Island and want a worthwhile adventure, give Bruce a call at 506-747-1884. You can choose to go for a couple of hours or longer. They offer sea kayak tours from May to October.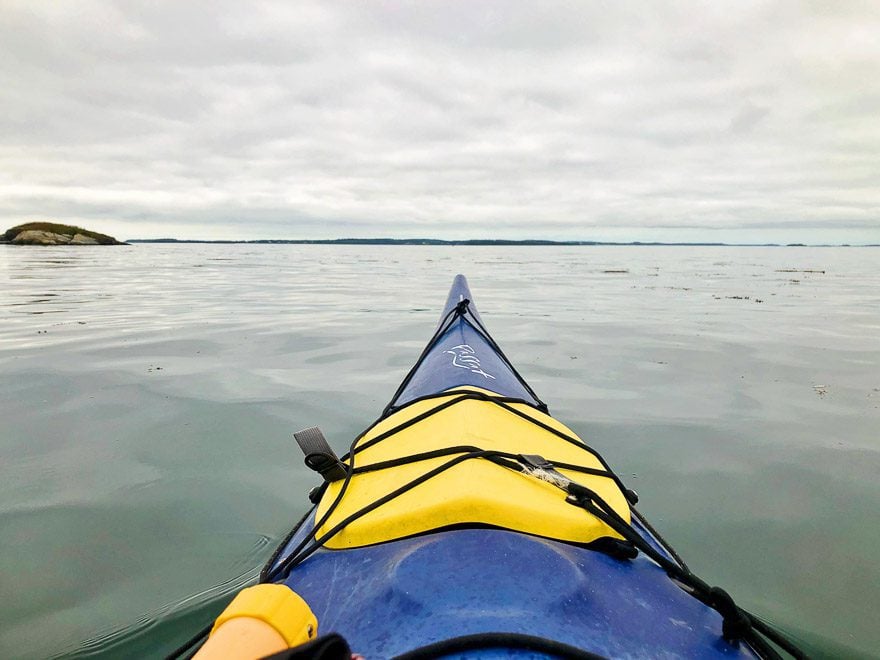 Swim at New River Beach (If it's not too cold!)
New River Beach is one of my all-time favourite sand beaches in New Brunswick—nay, in Canada! And I'm not alone. There's usually a fair number of sun-tanners, beachcombers, and swimmers on any given day. Not surprising, since it's only about 30 minutes west of Saint John. There's a huge beach at low tide so it doesn't feel overly crowded.
Do you like searching for sea glass? This is a popular maritime pastime, and I'll admit that I enjoy it more now than I did as a kid. We've collected several containers full of green, white, brown, and the odd blue and red. If you've never combed the beach before, be warned that you might get hooked on the hunt…. When the tides are low, New River Beach is also a great place to see crabs, starfish, periwinkle, and other creatures of the sea.
New River Beach is also one of the best swimming spots around. Though you might not stay in the water long on a cooler day. There are hiking trails nearby as well, and I've heard good things about camping at New River Beach Provincial Park (but I've never had the pleasure). Whether you're staying overnight or dropping by for a day trip, New River Beach is almost always the right choice.
After a nice beach day, top it off with the best fish and chips around at Comeau's Seafood Restaurant. It's a quick 10-minute drive from New River. Your tastebuds will thank you.
Explore St. Martin's Sea Caves
A New Brunswick adventure list isn't quite complete without St. Martin's. There's much to see in this quaint little village, only 40 minutes east of Saint John. The St. Martin's Sea Caves are a must-see, next to the spectacular Fundy National Park. I started my day with a latte from the Shipyard Cafe before venturing out to the beach.
There's no fee to visit St. Martin's Sea Caves (that's right, it's free!)—unlike other popular attractions like Hopewell Rocks. The expansive beach is a beautiful place to enjoy fresh air and freedom, and the two large caves provide something extra to explore. The Bay of Fundy's highest tides in the world have eroded these large holes into the shore wall. Can you believe this process took millions of years? The caves are completely submerged at high tide, so be sure to check that the tides are low.
It's not a long walk from the parking lot, so the sea caves are quite family-friendly. When you're done, there are several restaurants and artisan shops to visit in the village. I'd also recommend driving the Fundy Parkway afterwards for incredible views of the bay—it's totally worth it.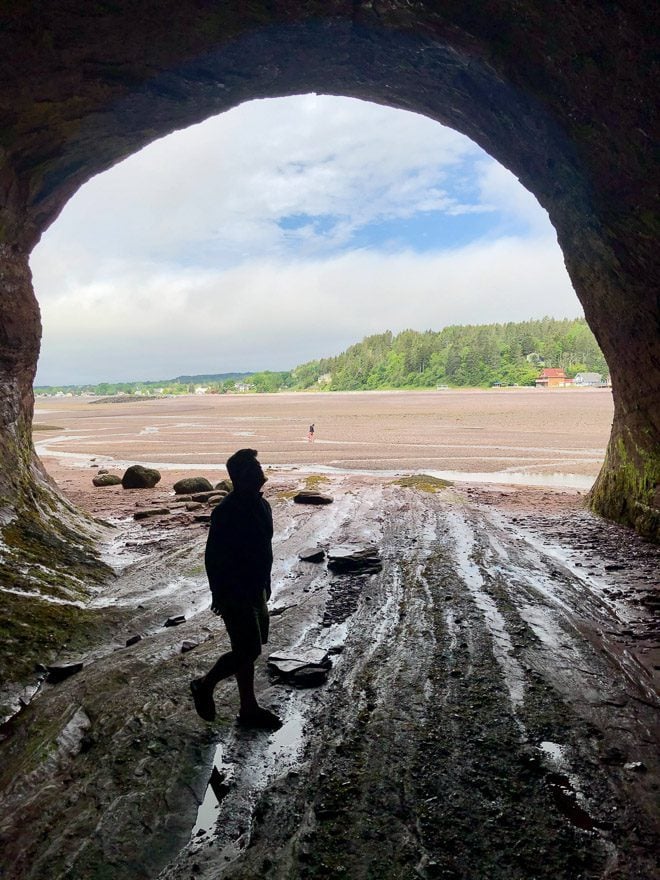 Visit Connors Brothers Nature Preserve (A Local Favourite) in New Brunswick
You likely won't find this one in the travel guide. While it's not the most popular tourist destination around, the Connors Brothers Nature Preserve at Pea Point in New Brunswick is a local favourite for trails and sea glass. If you want a quiet area to get away from it all, this is the place to go.
In the village of Blacks Harbour, and right next to the Grand Manan Ferry terminal, you'll find the Connors Brothers Nature Preserve on Wallace Cove Road, complete with the Pea Point Lighthouse. The preserve covers about 100 acres of land including 2 km of coastline. Enjoy a short trail walk before embarking on the 1.5-hour ferry to Grand Manan Island, or simply wander the beach at low tide to pass the time and find beautiful sea glass mementos.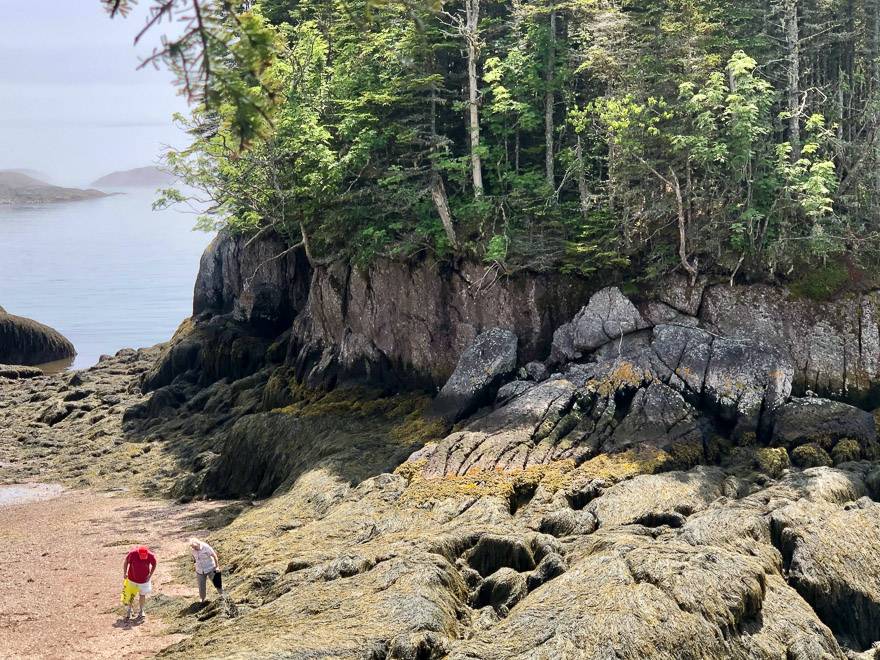 Looking for more ideas on what to do in New Brunswick?
Click on the photo to bookmark to your Pinterest boards.