Nothing beats the excitement of waking up in a new city ready to explore especially when you arrive at midnight, knackered from almost 24 hours of non-stop travel. That's exactly how John and I felt on our first morning in Palma, Mallorca. We only had a day to cover off the sights and there are a multitude of things to do in Palma Mallorca.
We'd made a spur of the moment decision to visit the island for a week of spring hiking and added a full day in Palma to help us get on the time zone. Our lodging, the lovely Hotel San Lorenzo, in the old part of town offered breakfast on an upstairs patio beside a pool, surrounded by bougainvillea. What a beautiful way to start a holiday and a wonderful change from the slush and freezing temperatures of Calgary.
This post includes some affiliate links. If you make a qualifying purchase through one of these links, I may receive a small percentage of the sale at no extra cost to you. Thank you very much.
Palma seems like a close cousin to Barcelona
Approximately half of the population of Mallorca (about 870,000 people) lives in La Palma. The city seems like a close cousin to Barcelona – with a street with the same name and in the same vein as La Rambla, lots of interesting architecture, a seaside setting and a lively cafe society.
It's a snap to fly to the island, usually cheaply, from numerous cities all over Europe. (And it's also easy to avoid any unrest in Barcelona related to separation.)
Things to do in Palma Mallorca
Put on your walking shoes and hit the streets. On a holiday like this one John and I were content to meander without an agenda though the tourist office offers daily two hour themed guided tours.
You won't want to miss, nor can you miss the massive Gothic Cathedral of Santa Maria of Palma, the second tallest cathedral in Europe.
Just below the cathedral is the Parc de la Mar where fiestas, concerts and an open air cinema is hosted throughout the year.
Across from the cathedral is the Almudaina, the official residence of the Queen and King. It's open to the public.
Nearby is the old Moorish quarter where you can lose yourself in a maze of narrow streets.
And west of the cathedral is the district of La Llonja, home to art galleries, quirky boutiques and a booming nightlife.
Find a lovely little café for lunch
After several hours of strolling the cobblestone streets you'll probably be ready for lunch. Find a quiet square and pick a café. There are plenty to choose from.
Enjoy a glass of local wine because you're on holidays. Right? Sit back and enjoy the music compliments of local buskers. And be sure to save some room for a gelato stop later in the day.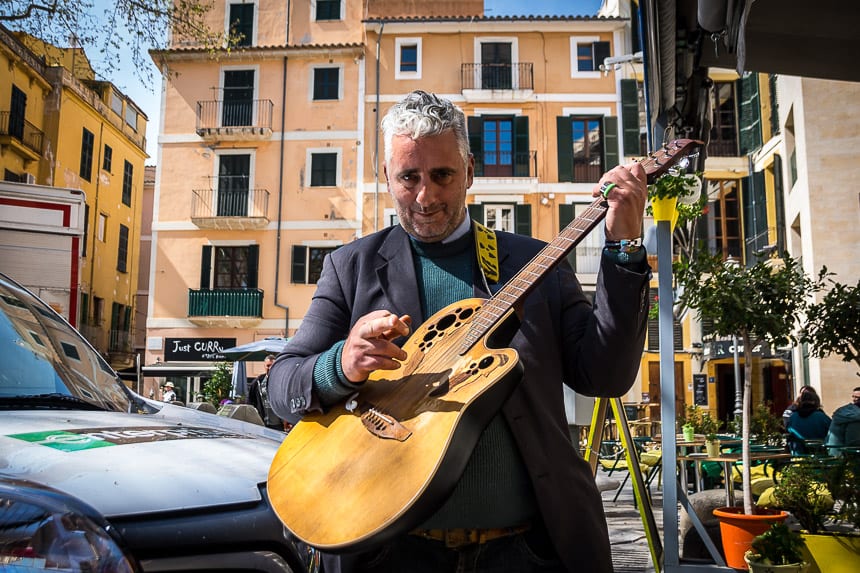 Check out Palma's Seafront
One of the highlights of Palma, Mallorca is the pretty seafront with its palm-lined walkway. Enjoy it on foot or by bike. (On this bike crazy island you'll have no problem finding a bike rental outfit with many delivering bikes to your hotel.)
Amble along pausing to admire expensive looking boats at the marina. People watch. Admire the city skyline from a very different angle.
Must see stops in Palma Mallorca we missed
By the time evening rolled around, nightlife wasn't on our mind – merely a good meal and a final walk back to the hotel.
We'd missed some of the must-see stops like Es Baluard Museum of Contemporary Art located in an old fortress and the Bellver Castle but we did come away with a good sense of the history and beauty of the city.
Hiking on Mallorca
I'd highly recommend hiking on Mallorca, especially in late fall and starting again in February and March. By April it's getting hot. Most people fly into Palma to start the hikes. For further reading check out these posts.
Further reading on things to do in Spain
Click on the photo to bookmark to your Pinterest boards.