If you've driven the rather boring section of Highway 401 between Toronto and Windsor, you could be forgiven for thinking there's not much to see and there aren't a lot of things to do in southwest Ontario. But drive off the main highway and you're in for a treat. Not only that – there's so much to do in southwest Ontario that you could visit every weekend for months and still not explore all the small towns and experience all that there is to do.
Southwest Ontario is home to a thriving and growing wine industry. It's full of cute towns and quiet backroads that are perfect for cycling. There are places to paddle and nature in abundance especially in the numerous parks scattered throughout the region. You'll find everything from cheese factories to art galleries, fine dining to local cafes. And the beaches are some of the finest in Ontario.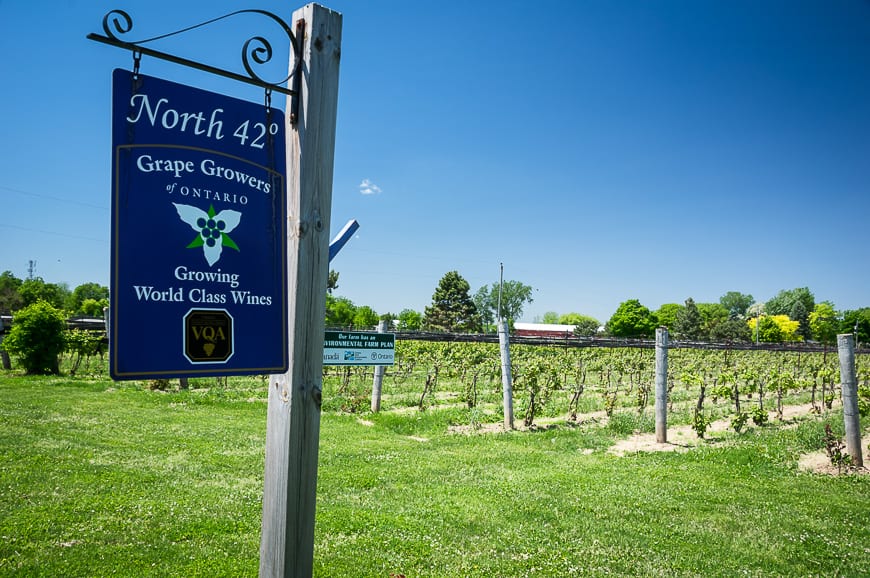 This post includes some affiliate links. If you make a qualifying purchase through one of these links, I may receive a small percentage of the sale at no extra cost to you. Thank you very much for your support.
Here's a sampling of 25 of the best things to do in southwest Ontario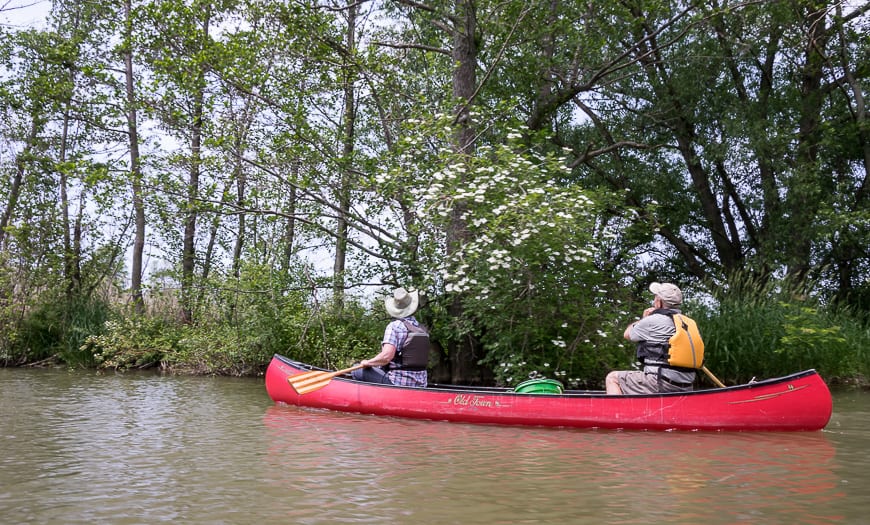 1. Go kayaking in Windsor
Paddle 15 – 20 minutes over to Peche Island. You can rent a kayak from Kayak Cove on Riversie Drive Easy and explore the marsh, parts of which are within sight of the Detroit skyline. Birding is excellent. Stretch your legs on a hike of the island, noting the ruins of the former Hiram Walker mansion.
Note: I stayed at A Hidden Gem B&B in Windsor and loved my room and the breakfast.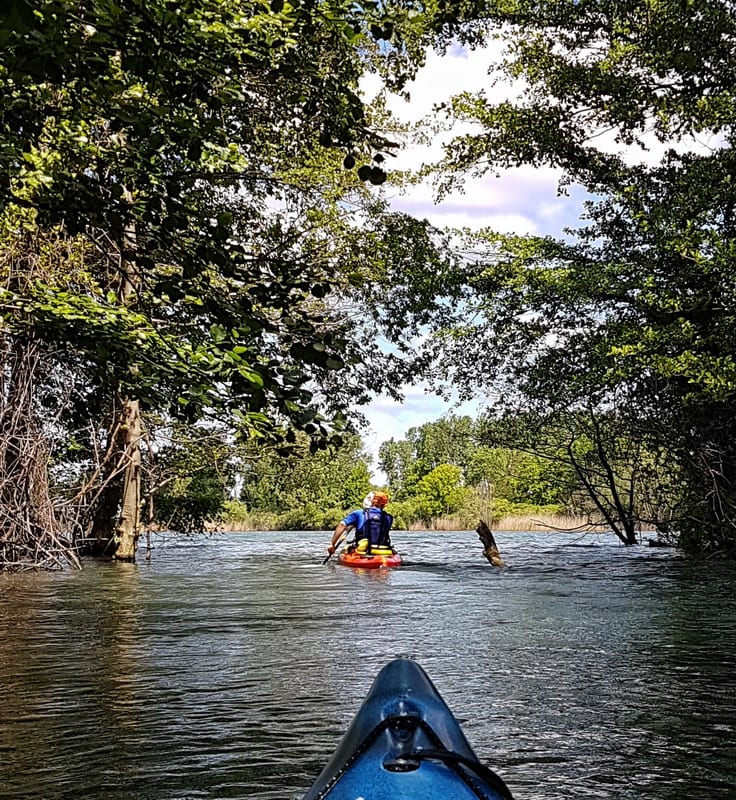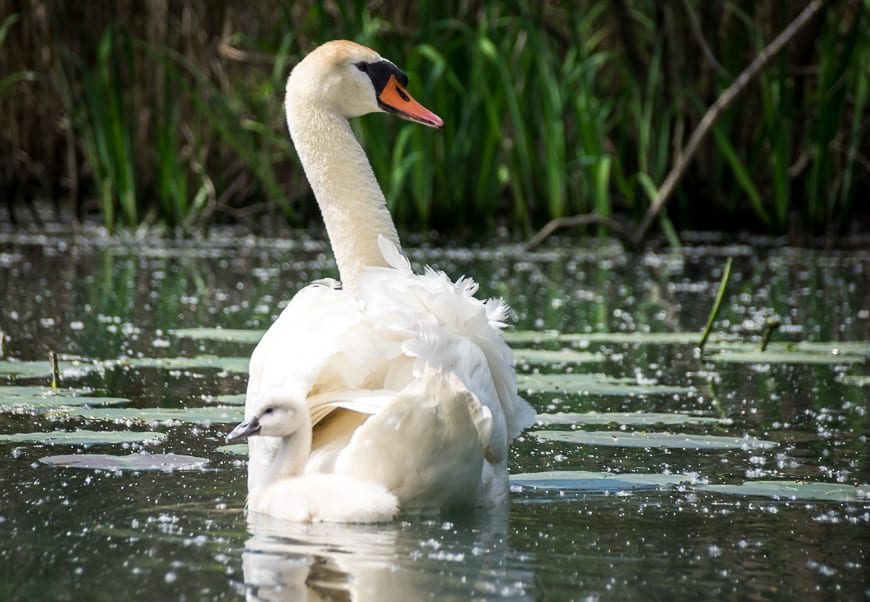 2. Explore Big Creek by kayak in southwest Ontario – called the Canadian Amazon
Enjoy several hours of kayaking on Big Creek with Long Point Eco-Adventures. This easy paddle that's perfect for beginners as well as advanced paddlers takes you through Carolinean forests (look for the 300 wood duck boxes in the trees along the route) teeming with birds.
This quiet waterway has been termed the Canadian Amazon as it's internationally recognized for the marshes and wetlands.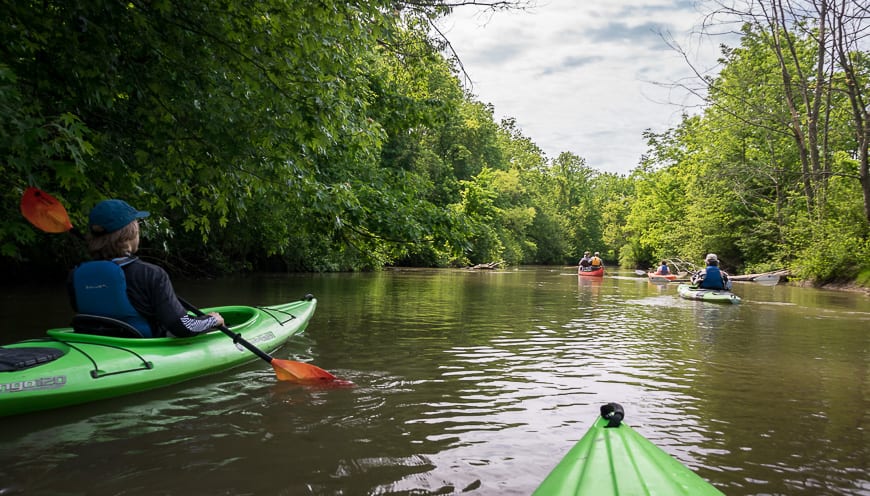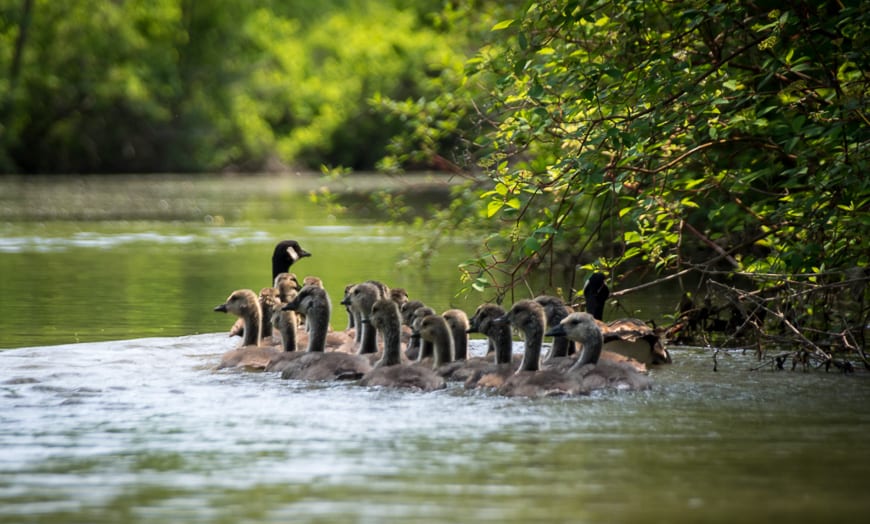 3. Kayak the Grand River near Dunnville in Southwest Ontario
Spend a couple of hours paddling the Grand River and explore the Dunnville area's marshes where you're likely to see blue herons, kingfishers, snapping turtles and massive carp. Grand River Rafting Company offers lots of options – on inflatables and kayaks in southwest Ontario.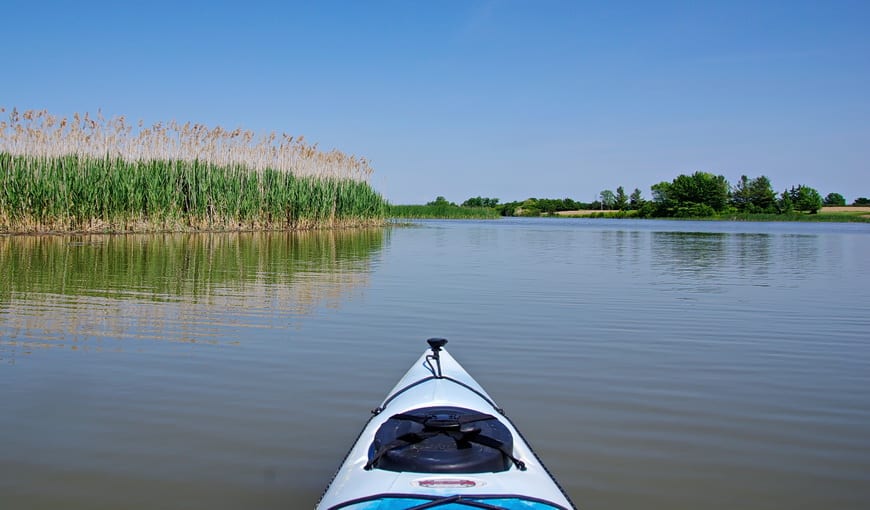 4. Explore, stay and eat in Kingsville
Plan an overnight in Kingsville. It boasts a couple of cute places to stay including the historic but completely renovated and very hip Grove Hotel as well as retro rooms, beautifully done at Inn 31.
After enjoying a farm to table meal on the wrap around porch at Jack's Gastropub, rent one of their bikes and check out this quiet town on the shores of Lake Erie.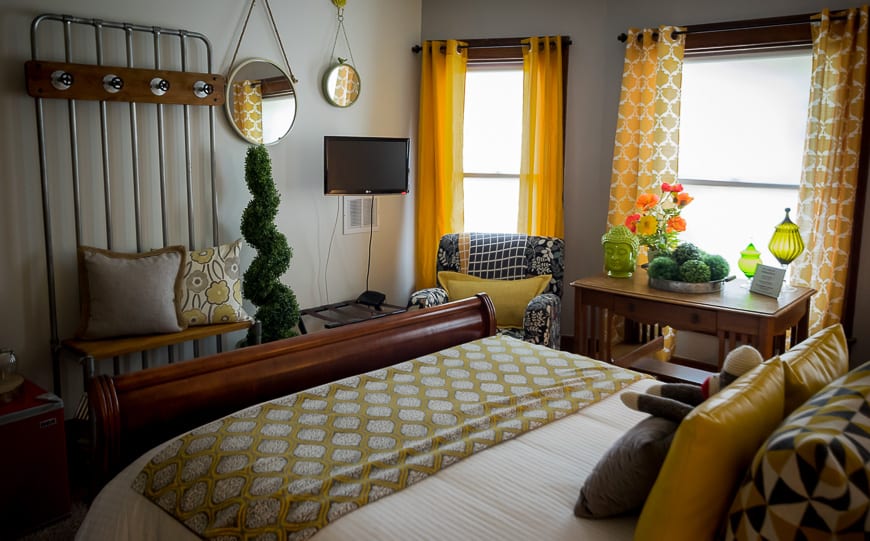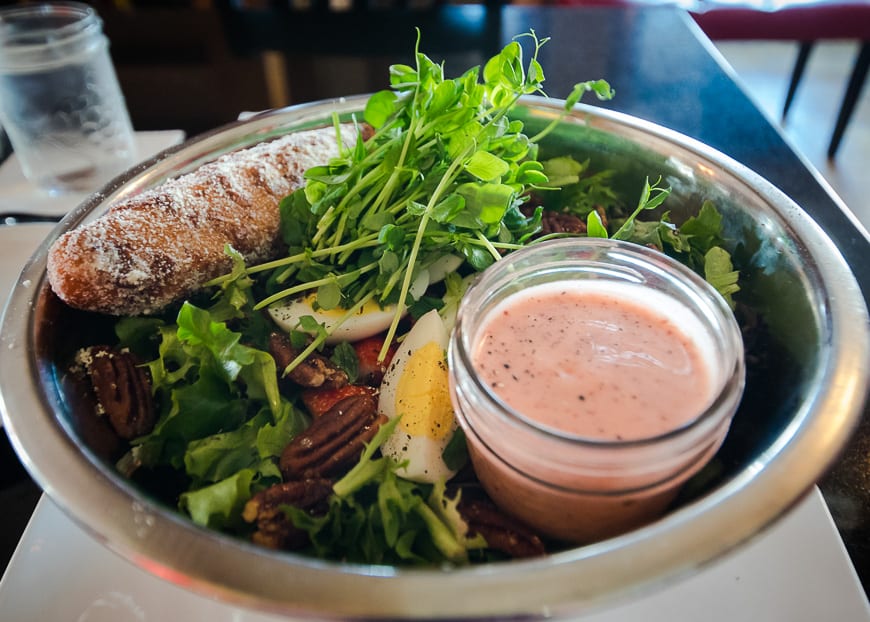 5. Visit Point Pelee National Park in southwest Ontario
Visit Point Pelee National Park if you love birding, beaches, boardwalks, butterflies, hiking, and nature. The park is an absolute delight, especially during the spring and fall migration. You can also book oTENTiks and camp here – so it's a perfect destination for families.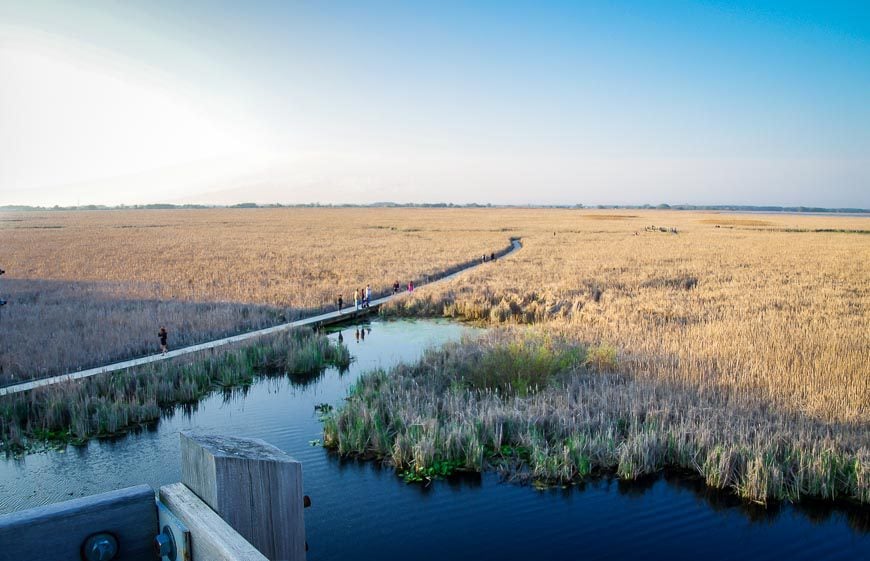 6. Visit Dunnville
Check out Dunnville, a small town on the Grand River in southwest Ontario that's full of little B&B's and cute locally owned stores. You'll smell Sweet Retrospect before you see it – a store famous for candy and different flavours of Chicago style popcorn.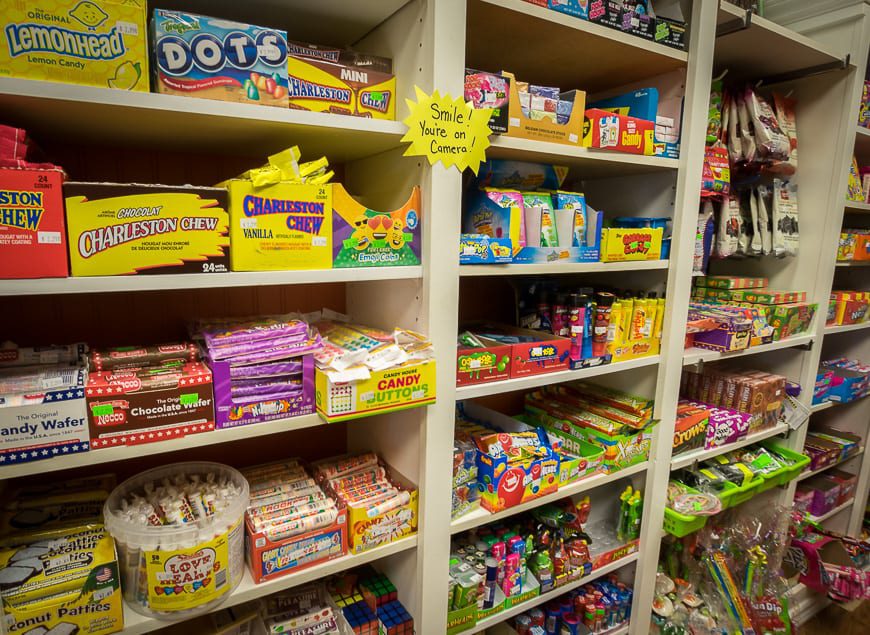 7. Check out the Port Maitland pier in southwest Ontario
Don't miss a chance – either by car or on a bike – to see the Port Maitland pier. Go early in the morning to see all the fisherman on the pier.
I found the bike ride out to the pier to be particularly beautiful first thing in the morning.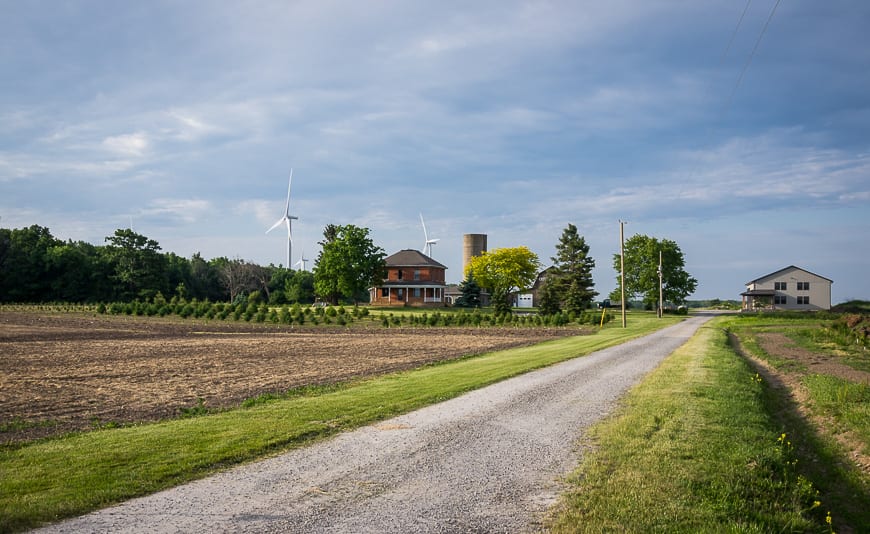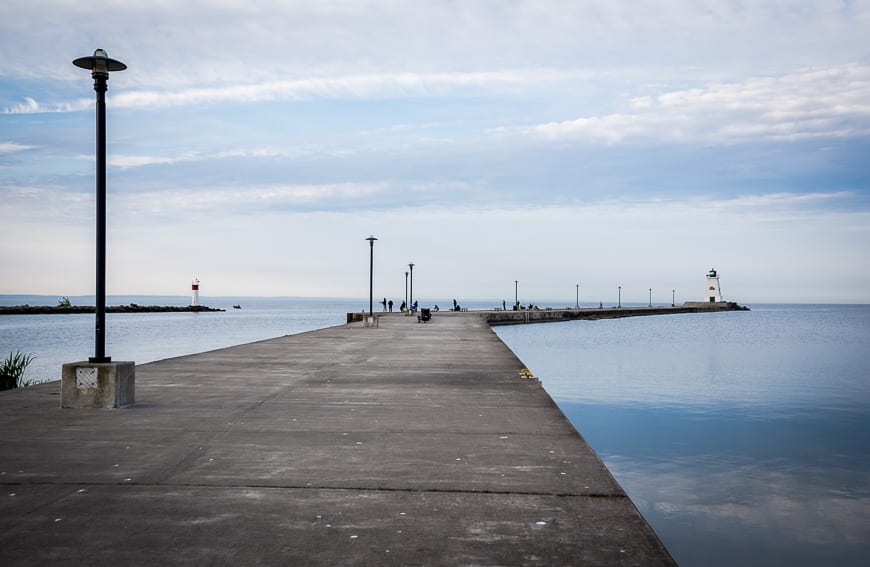 8. Pick up something to eat at Cayuga's Carolinean Café
Need a caffeine hit? Stop at the Carolinean Café in Cayuga for delicious coffee and one of their home-baked treats. Starting in summer picnic baskets to go will be an option.
9. Hike the trails at Ruthhaven National Historic Site in southwest Ontario
Order a picnic basic at the Carolinean Cafe and then head to nearby Ruthven Park National Historic Site to soak in the natural beauty of the area. The site, formerly owned by five generations of the Thompson family, sits on approximately 1,600 acres along a scenic portion of the Grand River. Explore the grounds via the numerous hiking trails.
Take a tour of the Greek Revival mansion. If you're lucky you may see the bird banding station in action.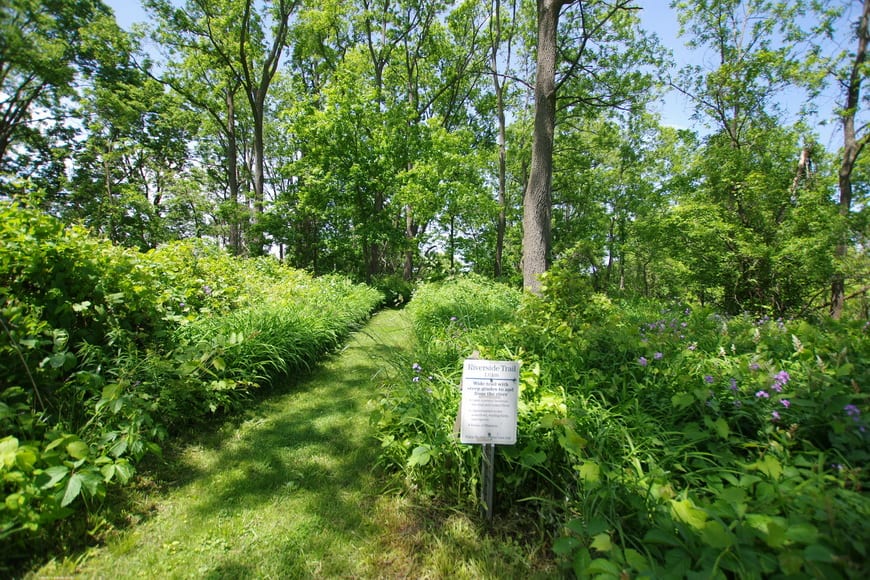 10. Explore Sarnia by bike
Bike around Sarnia if you want to change your preconceptions of the city. Sure, its got a big industrial area but its also got loads of first-rate multi-use trails.
Pick up a rental bike at The Bicycle Shop and head for the waterfront along the St. Clair River. Cycle under the Blue Water Bridge, stopping to gape at the wild river currents. Explore Cantara Beach and Park and if you have time hang out on the beautiful beaches of Lake Huron. The biking was one of the unexpected delights when it came to things to do in southwest Ontario.
11. Check out Sarnia's Judith & Norman Alix Art Gallery
Visit the Judith & Norman Alix Art Gallery in downtown Sarnia. I spent a solid 90 minutes in here – enjoying their collections especially the exhibit – Homage: Donald Stewart in which 41 neck pieces were created and on display to celebrate Canadian women – from political activists to writers to hockey players. It's one of the most interesting exhibits I've seen in a long time!
12. Enjoy a glamping experience at Long Point Eco Adventures
Go glamping at Long Point Eco Adventures and explore the area on bike, on foot or via zipline. Eat breakfast in the large dining room with a view over the marsh, grab a bite from the onsite food truck for lunch and walk across the street to Burning Kiln Winery for dinner. Be sure to order a glass of their Cabernet Franc.
13. Enjoy a meal overlooking Lake Erie
Head to Sandbar on the Beach in Turkey Point, just minutes from Turkey Point Provincial Park. Grab a burger and beer while you enjoy the view of Lake Erie.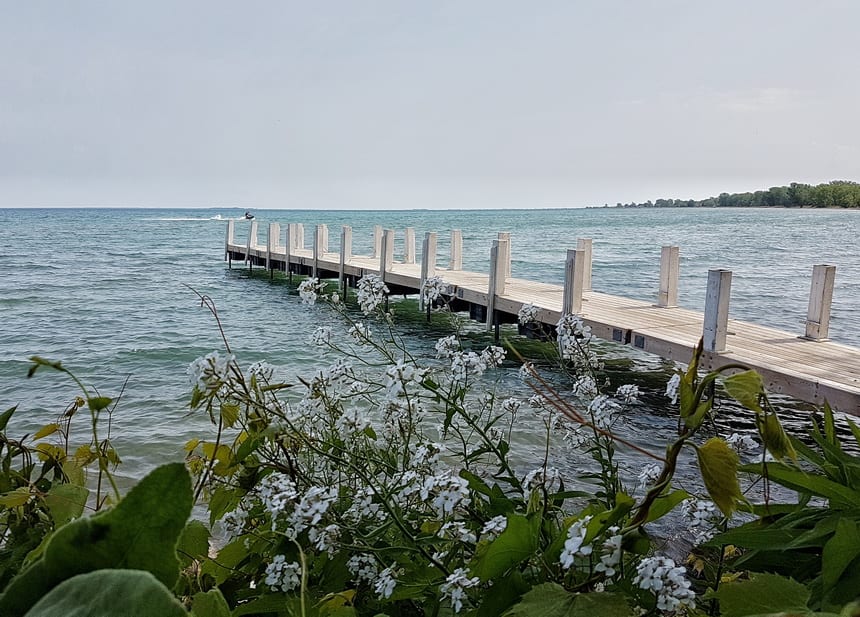 14. Explore the Cheese Trail in Oxford County
Spend at least a day in Oxford County – what I would describe as the centre of cheesemaking in southwest Ontario. Follow the Oxford County Cheese Trail (beware – many of the businesses are often closed on Sundays) and be sure to include a tour of Gunn's Hill Artisan Cheese.
Get your cheese curd fix at Bright Cheese & Butter or Mountainoak Cheese.
15. Visit Ingersoll for wine, cheese and a Saturday Farmer's Market
In the town of Ingersoll stop in for a taste of cheese at the Ingersoll Wine Cellar & Cheese Shop. You may end up walking out with one of their beautiful charcuterie boards.
If you need a more substantial lunch or a cup of coffee stop in at The Olde Bakery Café on Thames Street South.
Visit the Farmer's Market at Town Square from 8 AM till noon on Saturdays starting in June and going through till Thanksgiving. Stock up on local produce and support the locals.
16. Stop by the Ingersoll Cheese and Agricultural Museum
Check out the mammoth cheese replica at the Ingersoll Cheese and Agricultural Museum. The cheese which was made from 35 tons of milk visited the New York State Fair and toured Great Britain in 1886.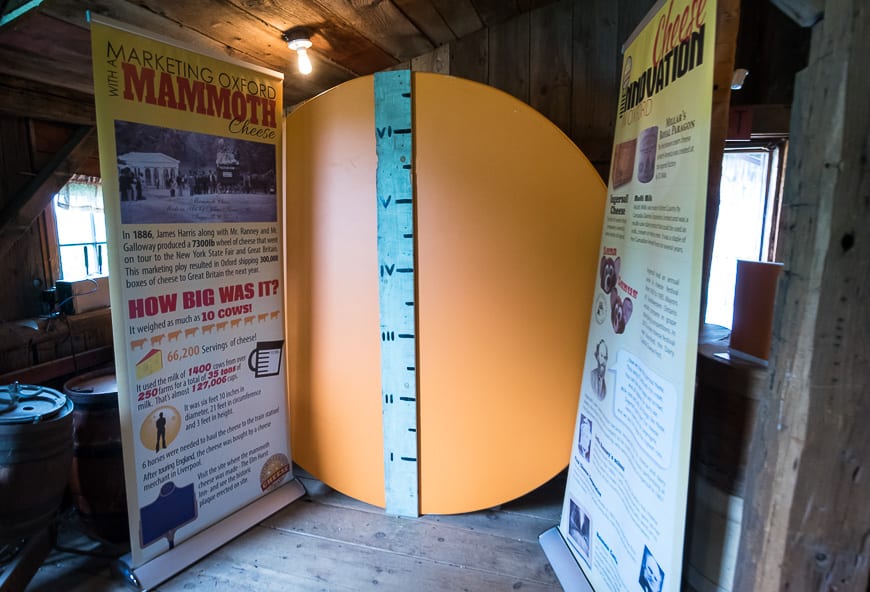 17. Cycle the backroads of Oxford County in southwest Ontario
Explore Oxford County on a bike. The local tourism organization has put together a biking guide with a number of routes – of varying lengths and difficulties.
Expect predominately quiet roads through pretty pastoral countryside as you'll see in the photos below. You could easily spend several days in this area exploring.
18. Spend a night at the R W Inn
Plan a stay at the R Wee Inn in Otterville. While it can accommodate four people with built in bunk beds, it's a lovely place and comfortably roomy for two.
Aesthetically everything seemed perfect and really well thought out. Breakfast fixings are provided. You can eat dinner at the nearby Otter Creek Golf Club. And while the cycling in the area is rolling, it's very pretty.
19. Tour and taste the southwest Ontario wineries
You're spoiled for choice when it comes to wineries in southwest Ontario. In the Windsor – Essex – Pelee Island area alone there are at least 18 wineries. There are three in the Huron region (east and northeast of Sarnia) and ten in the Norfolk County – Elgin County area.
Over a week I stopped in at three wineries in the Windsor – Pelee region, one in the Huron area and the Burning Kiln Winery in Norfolk County. They all offer very different experiences, with some being more low key than others. All that I visited offered meals, usually in incredibly pretty settings. Wine tasting is truly one of the prime things to do in southwest Ontario.
In the Windsor – Essex area you can rent bikes with The Bike Kitchen. This is flat country so the cycling is easy but very pretty.
20. Visit Oxley Estate Winery in southwest Ontario
Located on the shores of Lake Erie, the family owned Oxley Estate Winery grows 12 grape varieties so there's plenty to taste. The tasting room located in a beautiful bright barn is a far less intimidating spot that many, staff are very helpful and there's a nice patio for a meal.
21. Enjoy a winetasting at Viewpointe Estate Winery North
Located on the shores of Lake Erie, the Viewpointe Estate Winery North is the largest of the wineries I visited. It's got a grand view of Lake Erie from a dining patio and a large tasting room so it's perfect for big groups.
22. Eat and drink at 42 Degrees Estate Winery & Serenity Lavender
Sitting on an acreage that is ground up Canadian Shield, the husband and wife team that run the 42 Degrees Estate Winery and lavender farm benefit greatly from three generations of a farming background along with the fact that Martin (husband and co-owner) is a microbiologist.
The onsite restaurant produces divine food with the must-have dish the most beautiful charcuterie plate I've ever seen. Choose from 16 wines including a sparkling Sauvignon Blanc and a store full of great smelling lavender products. This is a must visit winery in southwest Ontario.
23. Visit one of the friendliest wineries in southwest Ontario
I have so much respect for Marc and Anne, the hard-working co-owners of Alton Farms Estate Winery who had never farmed a day in their lives before jumping into their wine making adventure.
In addition they have an outdoor seating area for enjoying their thin crust pizzas (made onsite), as well as about 30 new lambs. Where they find the time to do it all is beyond me.
As Anne said on numerous occasions over the course of a tour, "every time they upgraded or automated a piece of equipment it was a marriage saver." Go check these people out as a good portion of their wine is only available onsite.
24. Visit Point Pelee Island in southwest Ontario
From a previous trip to the area I can also highly recommend a visit to Point Pelee Island – but do it over a couple of nights. It's a great place for biking, birding, nature and even wine tasting.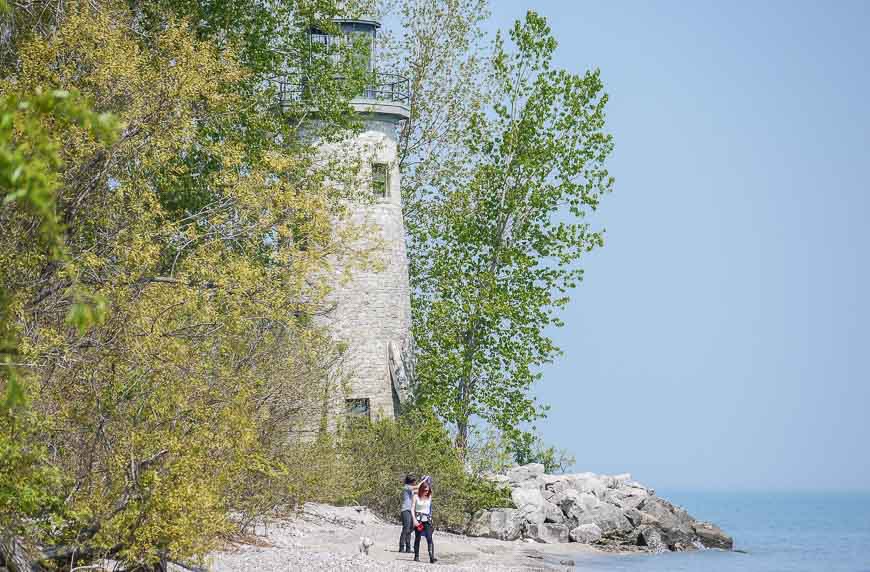 25. Hike up Dundas Peak
Although not technically in southwest Ontario – if you're anywhere close to Dundas (near Hamilton) try hiking Dundas Peak. It's located in a scenic area with vistas and waterfalls; come fall the colours are particularly glorious here.
Location map of things to do and places to eat and stay in southwest Ontario
Click on the three dots that are in the top right hand corner to email a copy of the map.
Over a week as a guest of Southwest Ontario Tourism I barely scratched the surface of what you can do. Take these ideas for things to do in southwest Ontario as a starting point for more exploration of this unique corner of the province.
Further reading on things to do in southern Ontario
Click on the photo below to bookmark to your Pinterest board.