Last August my now fiancé, Grace, and I went west to British Columbia to visit parts of my extended family and to get some true vacation time. My extended family is great, but of course we were particularly excited to visit the somewhat remote and amazing locale of Tofino.
Updated April 2020. This post includes some affiliate links. If you make a purchase via one of these links, I may receive a small commission at no extra cost to you.
Getting to Tofino
Getting there is a really cool winding drive through some hills and lakes that provide a fun driving experience. I was a little too aggressive with the turns on the way out as I caused some unfortunate motion sickness with Grace, but on the way there we were fine.
From Nanaimo it's a three hour drive via Highway 19 and 4.
A stay at Middle Beach Lodge
It was early September when we actually went to stay at Middle Beach Lodge in Tofino. I had been twice before as a kid with family and had recalled it being a really cool and unique place.
Grace has been to some parts of the Caribbean on vacation, but had never been west of Ontario nor on outdoorsy type trips. Tofino I figured would be a prime introduction to a more active trip since everything is very accessible and the town has normal amenities of a small town, and there is lots of room for relaxing on the numerous beaches.
Middle Beach Lodge really is an incredible log based lodge perched up about 100 feet above the water back from the cliffs edge. It has easy sloping trails down to the beach on either side of it. Grace was blown away when she first saw the full weight of the setting of the lodge.
One beach is smaller and more intimate, perfect for sunset beers on the beach. I believe it is owned by the lodge so it's definitely more private, but it is still at least a few hundred metres long. The other is longer and more public so it has a few more people (but we're still only talking in the tens of people) and little more activity and is great for a moderate walk and hanging out.
Starfish hunting in Tofino
After checking in and getting our room sorted it, we got to the high speed business of starfish hunting. After a summer of promising Grace that starfish are ubiquitous here and that she would get to hold one, we headed down to the beach at somewhat high tide. There were no starfish in sight, but after wading a few feet into chilly water around a bend in the rock, we found our first colony and Grace was elated.
They were much fiercer in protecting their right to stick to a rock and not be held than we expected so it took a good 15 minutes to get one into my fiancé's hands for inspection. After returning the purple and orange beasts to their kingdom of rocks, we waded back through the deepening water to go explore some more.
Tide pool exploring in Tofino
It was pretty cool exploring the tide pools on the shoreline with lots of weird creatures to look at and seeing Grace's further astonishment and the thousands of mussels you can easily see on the rocks. We followed that up with an exploratory walk on the bigger beach looking for any other creatures or cool things to find. Once the sun disappeared and it started cooling down we went to town to get some dinner.
Eating in Tofino
The first night's dinner wasn't anything special as we just found a grill shack in the main part of town and had normal pub style food.
The other two days we found some awesome eats though. About five minutes down the road from Tofino is a small collection of stores and rental shops. In the back of the parking lot there is a taco truck called Tacofino that is unbelievably good. We went to this place on the second night after it was mentioned by my uncle before we came up here. I've eaten a lot of Mexican food and somehow a truck in the back of a lot on Vancouver Island had may be the best tacos I've ever had.
Being near the ocean, the fish tacos are the highlight, but its regular tacos are just as good. We went back again for lunch on our second full day there, and then went back a third time on the day we were driving out, and it didn't feel like nearly enough.
We also had an awesome meal on our third night there. This place called The INN at Tough City is actually a sushi bar by the water in town that had both really good sushi and oysters. I had just been turned on to oysters by Grace that year and had tried a few good ones in Toronto.
With the INN being next to the ocean, the super fresh fish and oysters put to shame anything we'd had in the past year. To top it off, the restaurant had a great patio overlooking the harbor in town so we relaxed as long as we could with some pints and a steady flow of oysters.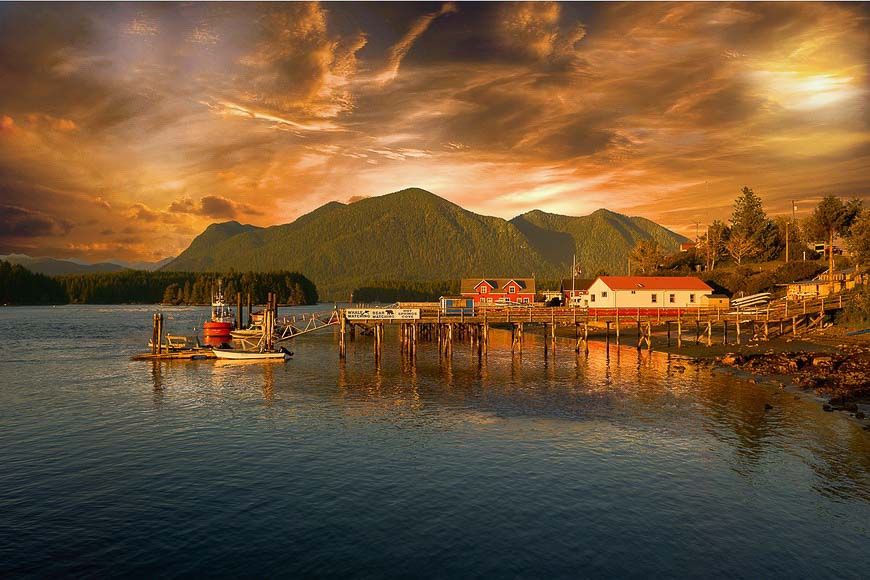 One last note on food, if you can stay at Middle Beach, they have a nice spread of muffins, bagels, fruits, cereal, coffee etc. every morning that's included in the stay. It was all good and an enjoyable way to start each day.
Long Beach
For most of the two days there, we spent the majority of the time exploring beaches. Tofino is somewhat famous for Long Beach which is a seemingly never-ending beach on the Pacific Ocean with good (maybe great – I'm not sure) surfing. It's a couple hundred metres wide all along too. When we got there to walk it, it was caked in fog which had a really eerie ghostly effect. But when it's not, it looks like the photo below.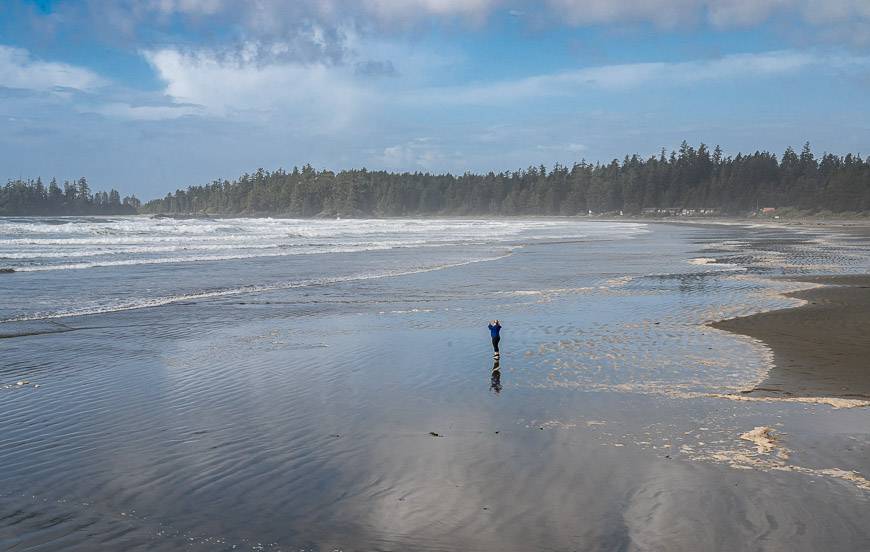 Hunting for treasure
There was only one other car in the parking lot from one dedicated surfer who had no qualms about the limited visibility. We walked to the north end and back, again hunting sea creatures and washed up treasure.
I presume the sandiness of the beaches there extends a good ways in to the ocean because outside of the rocky areas there really wasn't much to be found other than really long kelp washed ashore. As the sun burned off our cover, more people came out and you could see a few more people out having fun surfing. The beach is so massive and still only a few dozen people were out on a then sunny day.
After hours walking the sand we went off in search of the aforementioned tacofino truck. We only missed by about 30 kilometres as we ended up in Ucluelet, the town at the other end of the peninsula.
We found a decent spot overlooking the harbor there for lunch, but didn't stop to explore the town. Ucluelet, like Tofino, has all the sorts of shops for rentals and gear for getting out and exploring the ocean and nature around.
Beaching it in Tofino
For the remainder of the day and the morning of the next day we checked out at a few different beaches just to see what we could see. There were trails ranging from a few hundred feet to a kilometreor so. They were well maintained so we just walked them in our flip flops and then explored each beach thoroughly for any signs of alien ocean life.
We didn't find anything crazy, but the beaches were interesting with cool little pebble ones tucked into some rocky cliffs as well as more long extra isolated sandy beaches. We saw only maybe 5 people across 3 or 4 beaches.
Grace was a little unsure about the wilderness as she had read stories of cougar attacks on Vancouver Island in researching the trip before we went. The signs at the trails further reminded you that the trails were truly in wild habitat and how animals may be about. I
kept reminding her that animal attacks were pretty rare, but I figured I had to provide high quality security on our walks to and from the beach. As a result I carried a plastic bag with a rock in it, figuring I could swing my way to victory in a battle with any fierce attackers. Luckily I didn't have to test my skills at bag with rock swinging.
Go kayaking in Tofino
The last piece of the outdoors that I wanted to expose my dear Grace to was getting out on the ocean. We kept it simple and rented a double kayak from one of the shops by the water. I had moderately enjoyed kayaking when I was younger, but as I grew larger and got stiffer, I fit less well. It is still definitely an activity worth trying as it isn't too difficult and can be pretty relaxing. We kept it safe and didn't stray too far from the Tofino harbor.
We had an afternoon rental, so we paddled around the two islands called Clayoquot and Felice Island and then across the bay to the beach at Vargas Island. The whole time there was the eerie ghostly fog rolling in again from the open ocean. It moved very slowly so we had whole visibility most of the time.
It was cool as long as it stayed away and didn't disorient us from getting back. Grace really enjoyed it, once she got over the initial difficulties of getting situated in the kayak, but it is a strange motion paddling for a kayak so she found it tiring for an afternoon. Just something to be aware of if you're thinking of getting out on the water and haven't done it before – it's good to have someone with some experience to ensure a smooth trip.
When the sun was out, it was crazy relaxing…for Grace chilling in the front! It felt good for me to be useful as a boat motor, though, so I was good providing the manpower. I think we'd do it again, but we both would need to be stronger and me more flexible to do it for any extended period of time otherwise the kayak becomes a mild torture chamber.
After the kayaking excursion is when we had the glorious sushi oyster dinner as a reward for exposing ourselves to the spirit fog. We followed it up with some more glorious relaxing on the beach as darkness came in and ended two and half perfect days with my beautiful now adventurous fiancé in Tofino.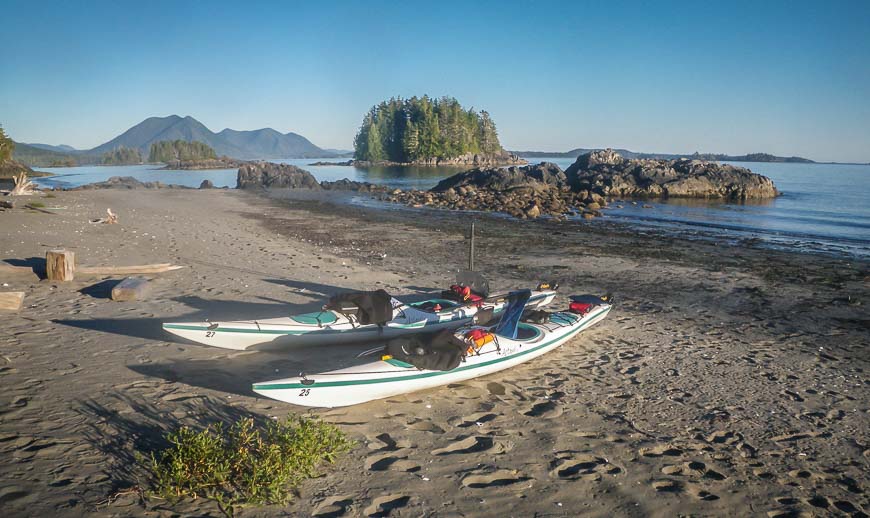 Further reading on things to do on Vancouver Island
This guest post was written by my son Matthew, normally a city guy based in Toronto.