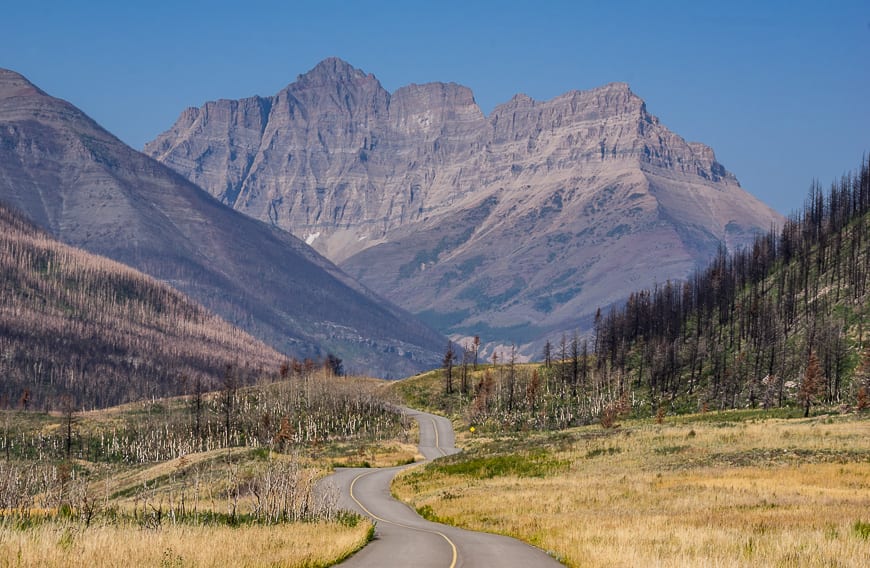 Things to Do in Waterton National Park, Alberta
Enjoy a selection of these 7 things to do in Waterton Lakes National Park, located in southern Alberta. The park shares a border with Glacier National Park in Montana.
Remember you can even visit Waterton National Park as a day-tripper from Calgary! Even though it may be the smallest national park in the Rockies, it sure delivers a punch for its size. While parts of the park remain closed after the Kenow Fire from 2017, the townsite itself was unaffected and there is plenty to keep you happily busy for a couple of days, especially in summer and fall.
In 2020 the Red Rock Parkway is once again open – as are the hikes you can access from it including Goat Lake.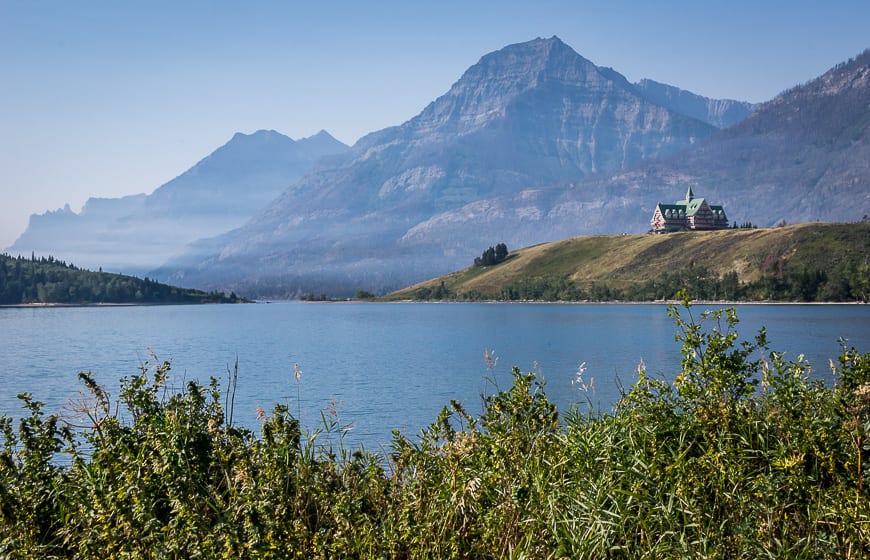 Things to do in Waterton – go e-biking (or regular biking) on car-free roads
If you're at least 16 years old, you can rent an e-bike (which stands for electric bike) at Pat's Waterton Gas and Cycle Rental. I personally guarantee a whole lot of fun – especially as you effortlessly roll up the hills. If you aren't a hard core cyclist you may end up a convert forever.
Explore a large part of the car-free Red Rock Parkway. Or hop on the Kootenai Brown Trail – a dedicated bike path that travels for 6.9 km from the Townsite campground to visitor facilities in the Waterton Valley – while enjoying superlative mountain views.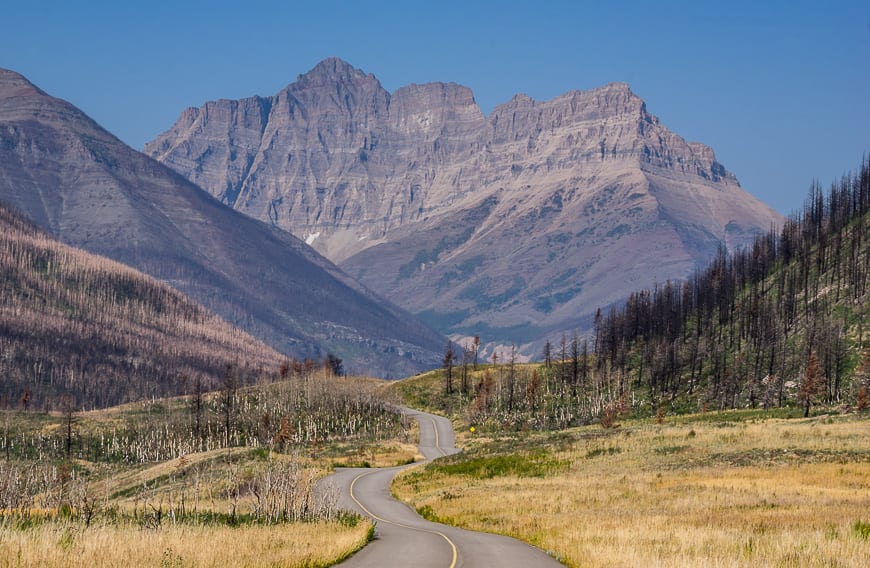 Take a hike in the park
You can do the hike to what National Geographic describes as "one of the world's most thrilling trails" – Crypt Lake from June until Thanksgiving weekend. It involves a boat ride, a five to seven hour hike complete with a ladder, tunnel and chains along with a finish at a beautiful beach.
Read the full details in this blog – The Crypt Lake Hike in Alberta.
Of course there are easier hikes in the park to try as well. I highly recommend the hike to Bertha Falls and Bertha Lake if you have the time. It starts near Cameron Falls (a must see if you're into photography) and offers up stunning views of Waterton Lake along the way.
Other hiking choices at the present time include the Wishbone and Lakeshore Trails but in 2020 and 2021 more trails will continue to open up. In fact the Bear's Hump hike is now open again – and what a view for the effort. (See below.)
Read: 5 Fabulous Hikes in Waterton Lakes National Park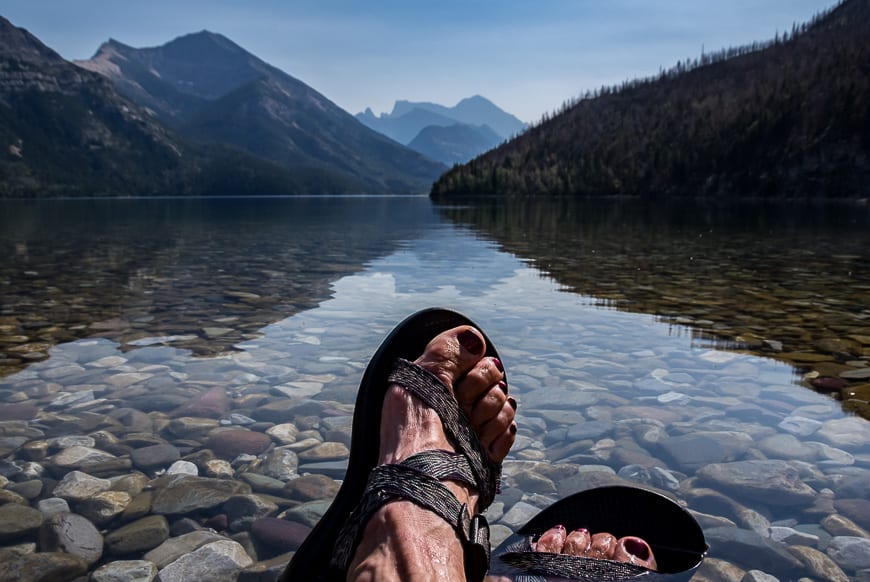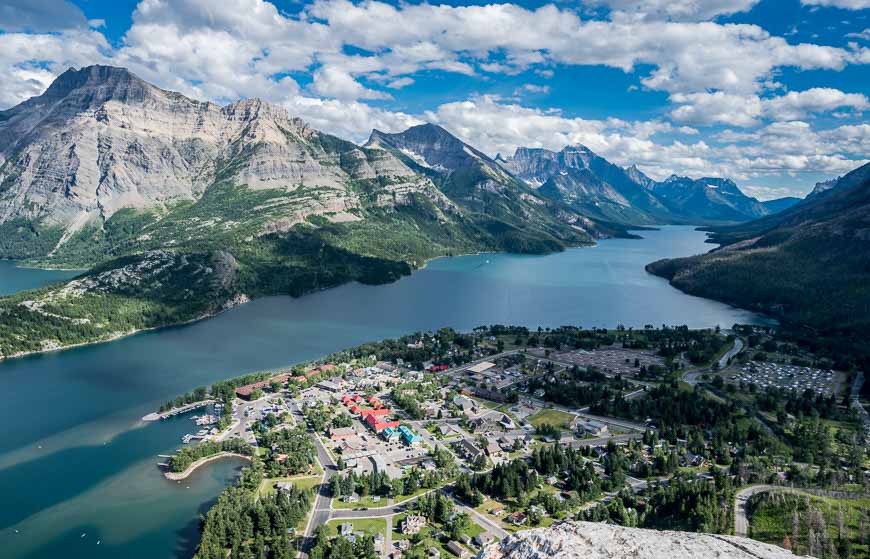 Try stand up paddleboarding (SUP) or kayaking
From summer all the way through until October, SUP and kayaking are a great way to experience Waterton Lakes National Park. You can bring your own kayak/SUP or rent from local outfitter – Blakiston & Company. Early and late in the season you may want to wear a wet suit!
Enjoy a Waterton Lake boat cruise
The best way to see Waterton Lake is via a scenic cruise. Over the two hour cruise you are treated to a mountainscape that includes soaring vertical cliffs, waterfalls and glacial valleys.
Part way down the lake you'll cross the international border into Glacier National Park in Montana – where a 30 minute stop (with the proper ID of course) at Goat Haunt is part of the deal. Sign up for a cruise in the morning for the best lighting – and the evening for the best chance of seeing wildlife.
Cruises run through to Thanksgiving weekend. Note that from the last week of September through to Thanksgiving there are only two cruises a day.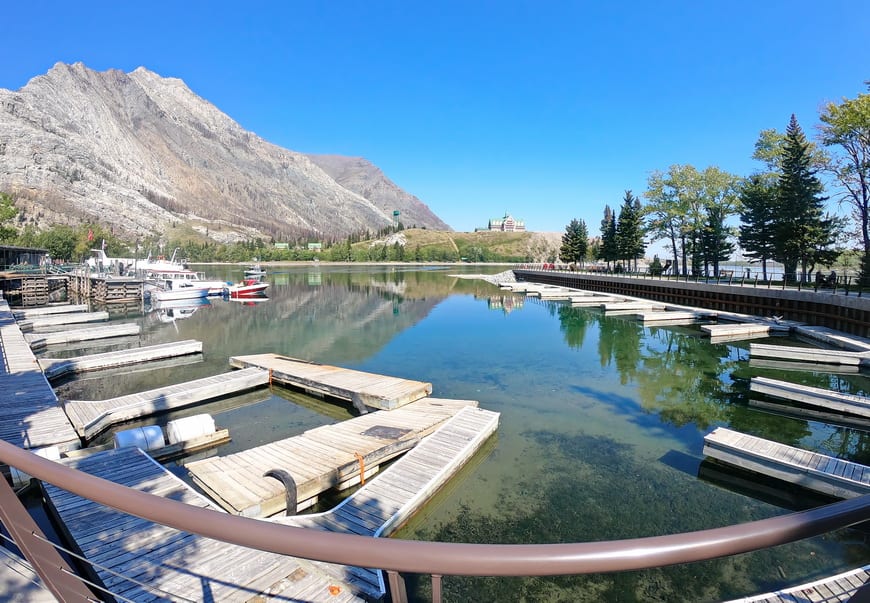 How about a horseback ride?
From one hour to full day rides, Alpine Stables in Waterton has something for everyone – at least if you're five years or older. There are three rides to choose from this year – including an exploration of the prairie grasslands, a shorter wildlife habitation ride and a full day of riding up to Vimy Peak.
Horseback riding will never be my first choice of adventures probably because of some deep-seated fear of galloping off and holding on for dear life until the horse either tires or bucks me off. Bi on my horseback ride in Waterton the scenery was so breathtaking that I couldn't help but be swept along in the moment.
They do a really good job at the stable of matching you with a horse that fits your ability.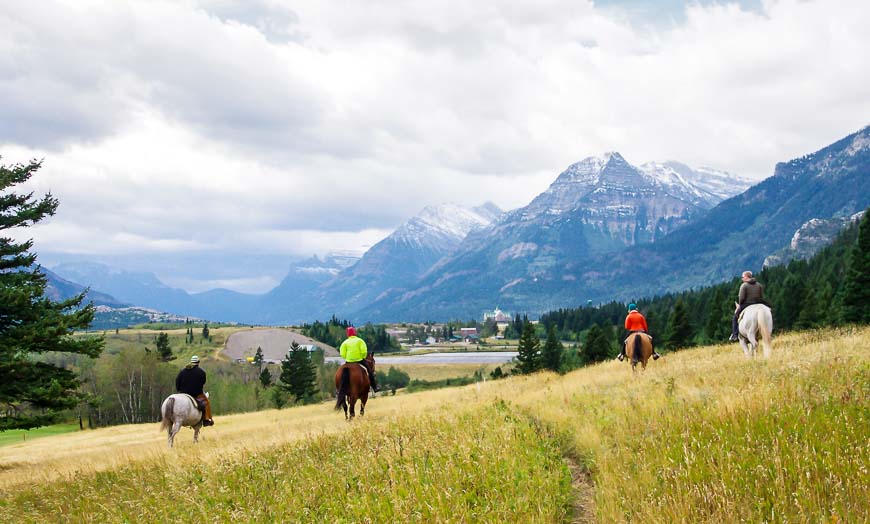 Where to eat in Waterton
Waterton has a lot more going for it food wise than first meets the eye. Many establishments are second and even third generation – and what you find is locals owning and running the restaurants.
Diner's Choice recently awarded Red Rock Trattoria with the title Best New Restaurant. It serves up Italian Food – but in the evening only. (It's closed in 2020 but hopes to reopen in 2021 after COVID disappears.)
Even if you never eat hotdogs you're going to want to at Wiener's of Waterton. I scarfed one of their gourmet hotdogs down on my recent visit – the first in years – and it was divine. It made Fodor's list of places to eat in Waterton.
Other great choices include The Lakeside Chophouse, Thirsty Bear Kitchen & Bar and Pearl's Cafe for coffee.
After a full day of e-biking and hiking I was ready to slump into a comfy chair with a view down the length of Waterton Lakes. If this sounds like something you'd like, visit the iconic Prince of Wales Hotel for high tea.
Smiling servers dressed in kilts (both male and female) will offer you a choice of teas and then let you poke away at a choice of goodies while enjoying the scenery. Fall is a great time to take advantage of high tea as there aren't nearly the lineups that you get in summer. But beware – the hotel is the first to close for the season in Waterton.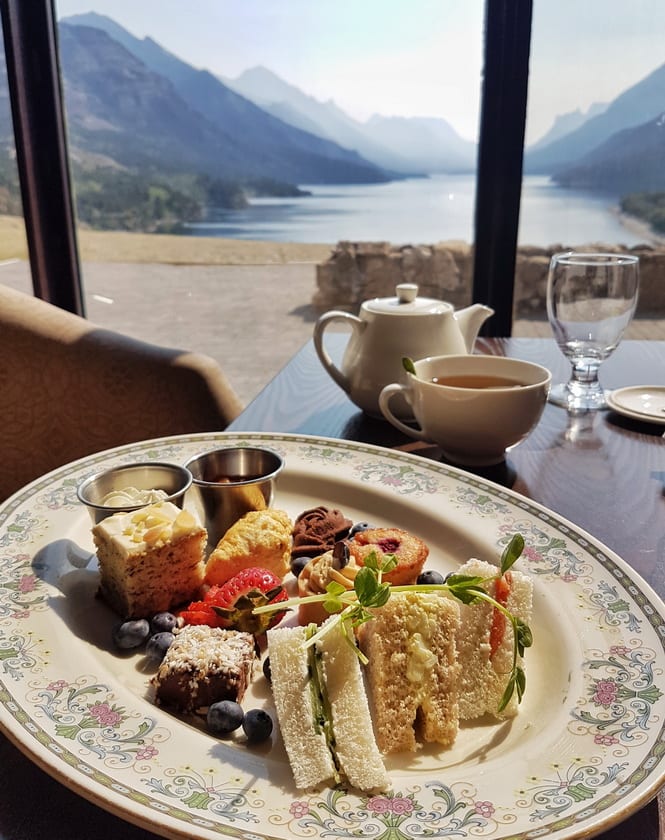 Things to do in Waterton National Park: Come for a festival
Waterton boasts a number of festivals including the Waterton Wildlife Weekend and the annual Wildflower Festival in June. Also in either late May or early June there's a Taste of Waterton event that features a pie cruise. In mid-September check out the Artisan Fair – held in mid-September.
Getting from Calgary to Waterton Lakes National Park
From Calgary it's only about a 250 km drive. Take Highway 2 to Fort Macleod, then turn west along Highway 3 to reach Pincher Creek. Or take the scenic Cowboy Trail (Highway 22) but when you reach Highway 3, go east to get to Pincher Creek.
At Pincher Creek go south on Highway 6 for about 50 scenic kilometres to reach the park gate. From the gate it's another 8 km to reach the townsite with all the services. It takes between 2.5 and 3 hours to drive from Calgary.
Hotels in Waterton
This post includes some affiliate links. If you make a qualifying purchase through one of these links, I may receive a small percentage of the sale at no extra cost to you. Thanks for your support.
The Townsite Campground on the lake is a good choice if you're into camping. You can reserve online or call Parks Canada at 1-877-737-3783.
I highly recommend Waterton Glacier Suites. It's very conveniently located and you can do your own cooking.
For a B&B experience Northland Lodge is an excellent choice. If you're after lodging in an incredible setting then check out the Prince of Wales Hotel. At the very least, have a drink in their lounge with a view down the lake.
Note that in winter you can ski into and night over in the Cameron Lake Cabin run by the Alpine Club of Canada.
Fall 2018/ Spring 2019
There has been a misconception that the Waterton townsite burned down. The Park's Canada Visitor Centre was lost in the Kenow Fire (and it was out of town) but the townsite is very much in one piece and unaffected. Local businesses are happy to welcome visitors. September is one of the nicest times to visit as the temperatures are ideal and the bugs are gone. There are no alerts in place.
Further reading on things to do in southern Alberta
Click on the photo to bookmark to your Pinterest boards.
Thank you to the Waterton Chamber of Commerce for making this post possible. All thoughts as always are mine.