I've done three multi-week treks in the mountains – two guided trips in the Himalayas (Nepal and India) and one that was self-guided in the Cordillera Blanca region of Peru. The guided trips definitely follow a daily pattern. While on our 16 day trip with World Expeditions trekking in Ladakh Zanskar, the landscape changed but the routine did not.
Trekking in Ladakh Zanskar, though hard, has been one of the most beautiful experiences in my life. There is no place on earth I have been that is remotely like it. But you still need a mindset where you expect to deal with some hardship – whether that be tough hiking days, freezing cold nights, living in a tent at altitude and perhaps eating food for calories and not pleasure. In the end it's all worth it. What follows is a description of our daily routine we got into starting on day one of 16.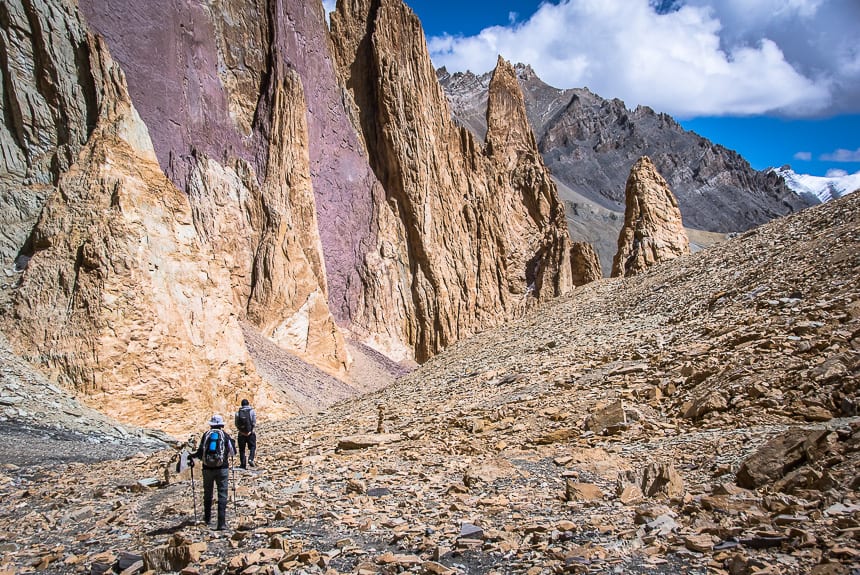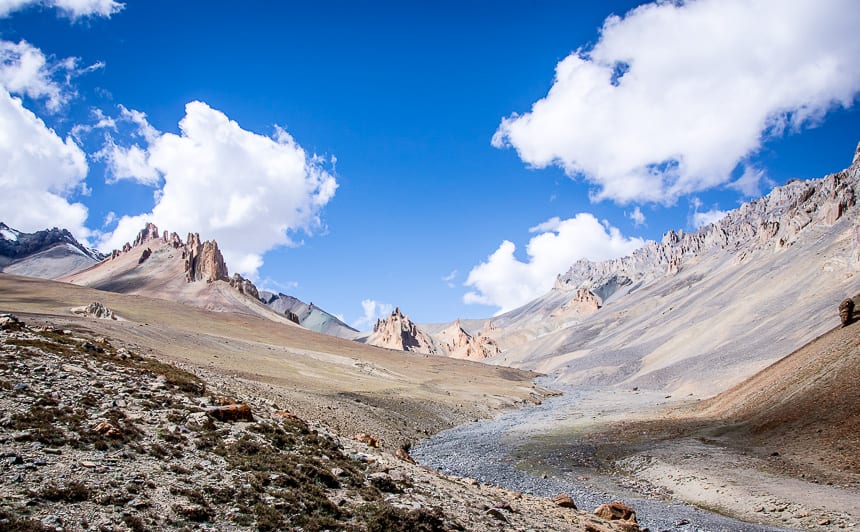 How our day trekking in Ladakh, Zanskar started
Our day would start with tea being brought to the tent. Depending on the day that could happen anytime between 5:45 AM and 6:30 AM. You'd have 15 minutes to come alive, drink some tea and then a bowl of warm wash water would arrive.
In our two man tent, gymnastics would ensue along with some swearing as there wasn't a lot of room to manoevuer with two large bags, day packs and sometimes hiking boots. (Single tents had a vestibule for boots. Ours did not.)
Before we showed up to breakfast we would have emptied our tent so it could be taken down and packed. It took a few days to get into a routine but in no time I think we all knew how best to pack the bags without having to sit on them and what we absolutely needed to go in our day packs (energy bars for sure).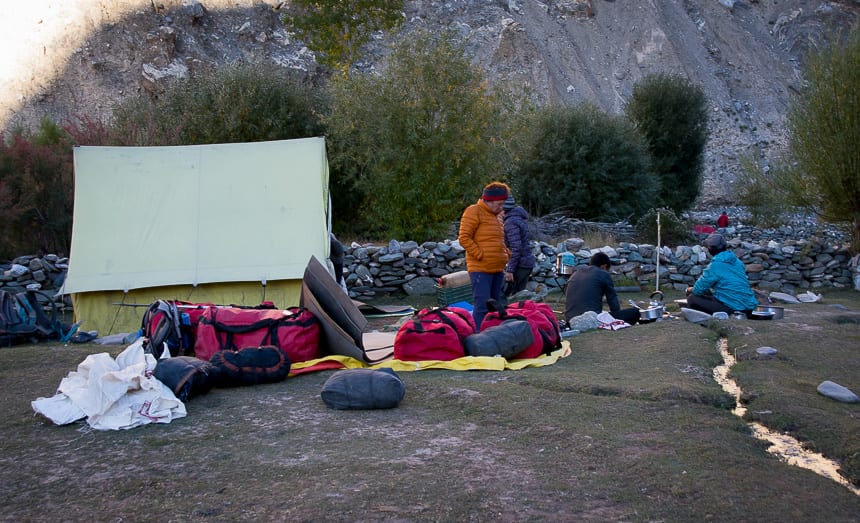 Breakfast routine
Breakfast was served between 7 AM and 7:30 AM with the same food appearing most every day. There would be porridge and some sort of cold cereal, toast (and apricot jam) and eggs in one form or another. On a couple of occasions there were delicious pancakes. There was always fresh fruit including bananas, apples and watermelon.
More tea, hot milk and watered down coffee was also served. Coffee was the big disappointment as we ran out partway into the trip with the only choice being expired Nescafe. I had to resort to tea.
Breakfast would last for about half an hour. Then we had another 15-30 minutes depending on the day to get our gear together, brush our teeth, use the delightful toilet tent or pit toilets in dilapidated buildings – depending on the camp, refill water bottles and be ready to go.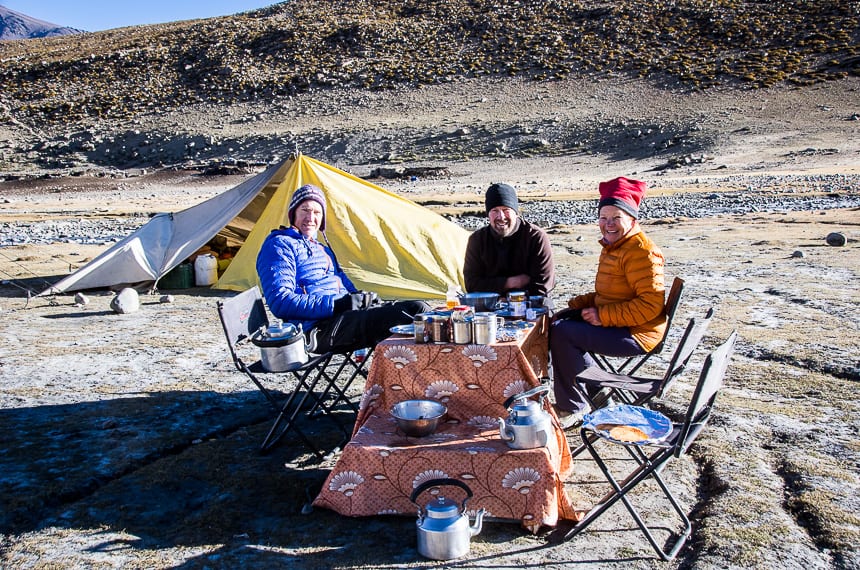 Morning trekking in Ladakh
For the better part of the trek, our day would start with a climb to a mountain pass. That was actually a good way to warm up and it meant by lunch time we had the hardest hiking behind us. I think all of us were thankful for that.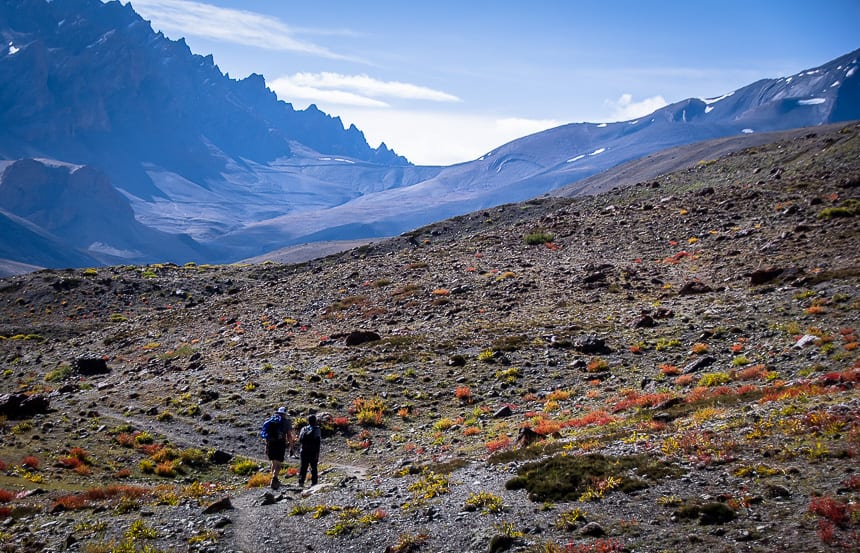 Trekking in Ladakh, Zanskar – lunch routine
Lunch was usually served somewhere between 11:30 AM and 12 PM. After hiking hard for many hours we'd all be famished. The cook, Badum would have prepared a hot meal when he was making breakfast. (Don't ask me how he did it in his little tent!)
Norbu the 22 year old cook's helper would be the guy to carry the tiffin – a stacked tin affair with all the different parts of lunch kept separate. Many times we'd have something with curry and rice and for the first two weeks that was always great. But after 2.5 weeks of non-stop curry I confess to needing a curry break for several more months.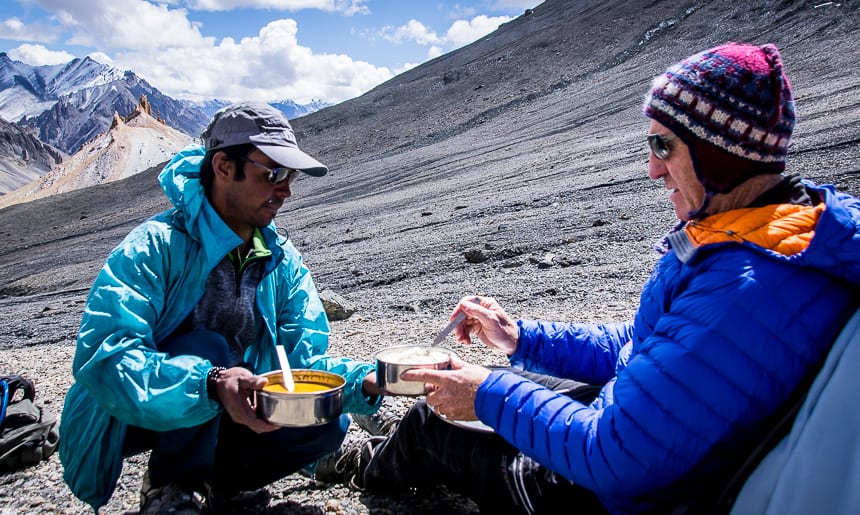 Arrival in camp
Most afternoons we'd roll into camp somewhere between 2:30 PM on an easy day and up until 6 PM on a tough day with the average around 3:30 PM.
The horsemen and cooks usually beat us to camp so our tents would already be up – and that's after getting the kitchen and cook tents up. The blue tent in the photo is the toilet tent and it was always positioned well away from the rest of the camp to provide a sense of privacy.
Depending on the day we might have time to wash clothes and ourselves while the sun was still high in the sky. Afternoons were usually hot so clothes dried very quickly. At 4 PM tea and hot chocolate would be served in the kitchen tent along with cookies or some other snack like deep fried rice crackers.
Then we'd have several hours of down time until dinner was served at 7 PM. Usually we'd nap, read or just stare out into space in a state of complete exhaustion.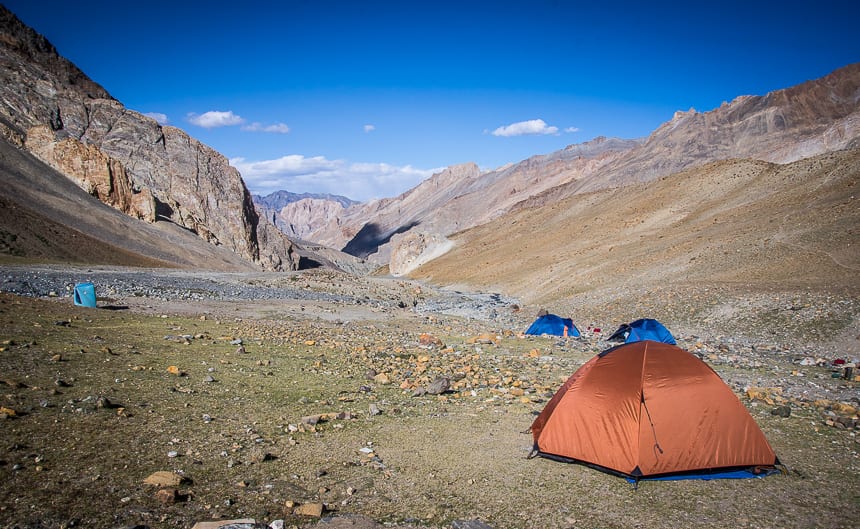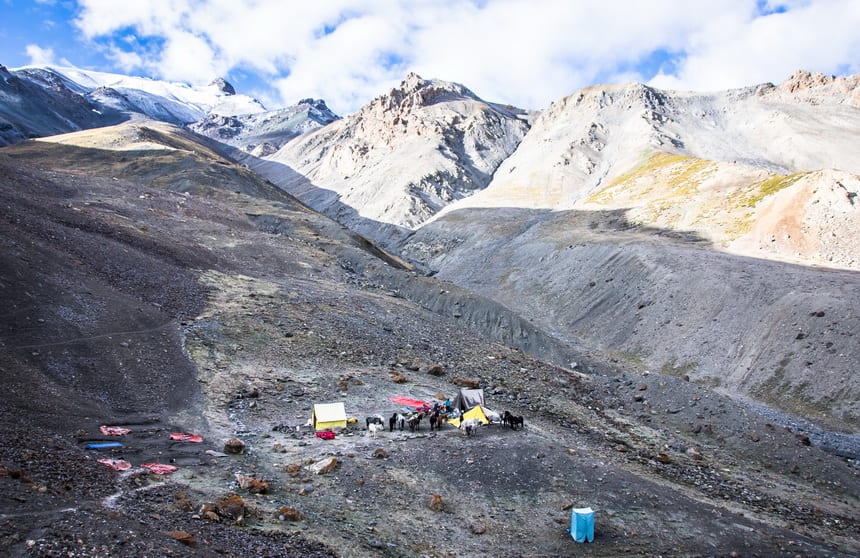 Dinner in the dining tent
Thank heavens for a dining tent as it made an enormous difference to our comfort level. By the time 7 PM would roll around it would be cold enough that you'd want a hat, a down coat and sometimes a bulky coat on top of all of that.
Dinner always started with soup as a quick way to warm up and rehydrate. Our guide Pradeep always joined us for dinner so we could discuss the plan for the next day. And that's the time we'd have discussions about India and get a better sense of what life was like for not only Pradeep but the other men who were part of the trip.
After the soup was taken away approximately five different, mostly high carbohydrate dishes would arrive, a few minutes apart. You'd take a bit of something and then yet another dish would show up that looked even more appetizing.
The cooks did an excellent job and the food was way better than anything I had on the Nepal trek. We always finished with dessert. On two memorable occasions we were served homemade apple pie – and cakes showed up several times. Canned cherries were also a popular item. (Despite eating a lot of food everyone lost weight – as much as 15 pounds over the length of the trek.)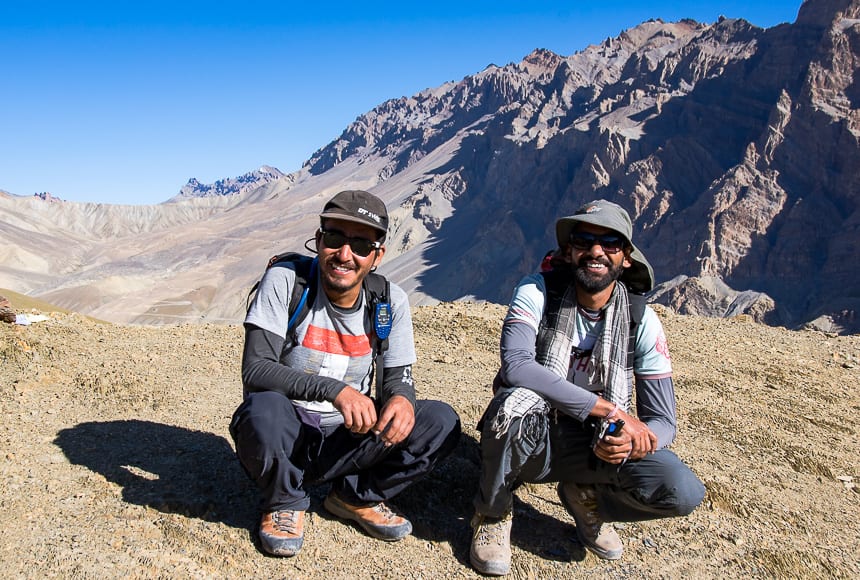 Bedtime by 8 PM
By the time 8 PM rolled around we'd be back in the cozy warmth of our sleeping bag, perhaps with a Nalgene bottle filled with hot water down by our toes. Most people didn't last long after that – with headlamps rarely out after 9:30 PM.
At the beginning of the trek when we were all taking Diamox to prevent altitude sickness we'd be up to pee as many as three times in a night. It was only later in the trip that anyone slept through the night. But what a night it was once you got the tent zippers opened. The stars in this part of the world are magnificent. I would just stand there and stare, telling myself I could go back to bed after I'd wished on a shooting star. They showed up with great regularity!
And that dear readers is a typical day in the life on a trek in northern India. My trek through Nepal followed a very similar routine, though with much worse food.
Further reading related to trekking in Zanskar
Click on the photo to bookmark to your Pinterest boards.