Valhalla Provincial Park is home to one of the best hikes in BC. The 6 km trail into Gwillim Lakes is take-your-breath away beautiful, especially in the evening light. You'll find meadows to explore, mountain ridges to climb and lakes for skinny dipping. Also look for well-spaced tent pads, a kitchen area and a couple of outhouses. You could easily spend a few nights here.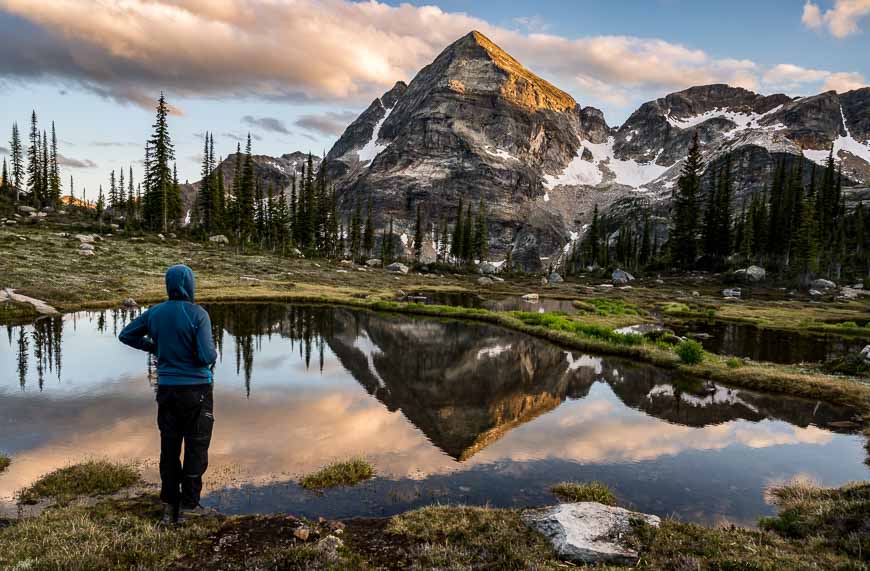 This post includes some affiliate links. If you make a purchase via one of these links, I may receive a small commission at no extra cost to you.
Where is Valhalla Provincial Park?
There's a pretty good chance that you've never heard of Valhalla Provincial Park, unless you're a local with a love of the outdoors. The park is located along the west shore of Slocan Lake in British Columbia's Kootenay region. The nearest towns of note are Nelson and Castlegar. Still confused? It's about a 7 hour drive southwest of Calgary.
Before you go I'd recommend purchasing a copy of the Kootenay Rockies Backroad Mapbooks. In this part of BC, where there are logging roads galore, and no cell service, it could come in very handy. It covers a huge area that will give you loads of ideas for future trips.
Location map
The Gwillim Lakes hike
The hike to Drinnon Lake, Drinnon Pass and Gwillim Lakes can be done as a day hike or a backpacking trip. If you've got the time and equipment I highly recommend camping at Gwillim Lakes.
In total it's a 6 km one way hike to Gwillim Lakes with an elevation gain of 680 metres and a loss of 250 metres. It's truly one of the best mountain hikes in BC that I've done so far. (On the West Kootenay website they suggest a gain of 894 metres.) There is the option from the Gwillim Lakes camping area to hike up to the Upper Gwillim Lakes and scramble to Lucifer Pass.
Note: There are plans in summer 2020 to move the trailhead back so that the rough road is blocked off so the last 2.4 kilometres of the road will need to be hiked. This would add 4.8 kilometres round-trip to the hike and increase hiking time into the park. We didn't feel comfortable driving all the way when we got there and did most of the 2.4 kilometres. It wasn't hard, just not that interesting on the road.
The hike from the trailhead to Drinnon Lake
Leave the trailhead (elevation 1,615 m) and start up through the woods. Use your voice through here as the streams and waterfalls provide background noise and you'll want to warn any bears of your presence. When you pop out of the trees after about 40 minutes of hiking, you'll be greeted with a massive rock face as seen in the photo below.
Head across the rocks, where a sign lets you know that you're officially entering Valhalla Provincial Park. Look for rock climbers as you walk this section.
It's only 2 kilometres from the trailhead to Drinnon Lake. When you reach the end of the rock face, zigzag up through the trees, steeply at times, to reach Drinnon Lake. There are at least three tent pads, an outhouse and a bear-proof cache here.
Note that at all locations along this trail, camping is on a first come – first served basis.
Many people stay at Drinnon Lake if they've started hiking late in the day or they're planning on a multi-day camping experience. Fishing is also reportedly good.
Drinnon Pass, Valhalla Provincial Park
Drinnon Pass is your next destination. It's 1.5 kilometres from the lake. By the time you get to Drinnon Pass you will have climbed 430 metres. On this part of the hike you get a good look at the bluer than blue Drinnon Lake from above.
The good stuff – Gwillim Lakes
And then the really good stuff starts. The small tarns you see before you reach Gwillim Lakes give a hint of what lies ahead. To reach Gwillim Lakes it's a 2.5 kilometre hike from Drinnon Pass. Once you reach the top of Drinnon Pass you will have knocked off 430 metres of elevation gain from the trailhead.
From the first tarns you see drop down into a wetter area where you there's another lake.
Then the climbing starts again but at least the higher you go, the more glorious it gets. Part way up there's a place where you can look out to the valley and watch the water cascade down a very long waterfall.
At the top of the steep hill – after another 250 metres of elevation gain, the beauty of the Gwillim Lakes area hits you squarely in the face. Numerous small tarns and crystal clear lakes sit beneath a string of mountain peaks making up part of the Selkirk Range.
You literally won't believe the scene in front of you – glorious, breathtaking – adjectives that barely describe the beauty. Catch the golden hour on a calm night or morning and the reflections in the ponds will blow you away.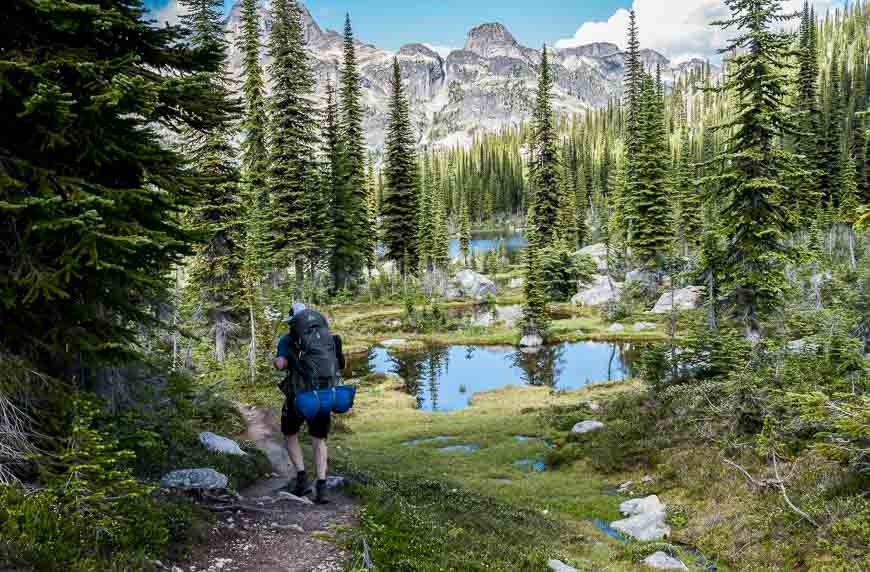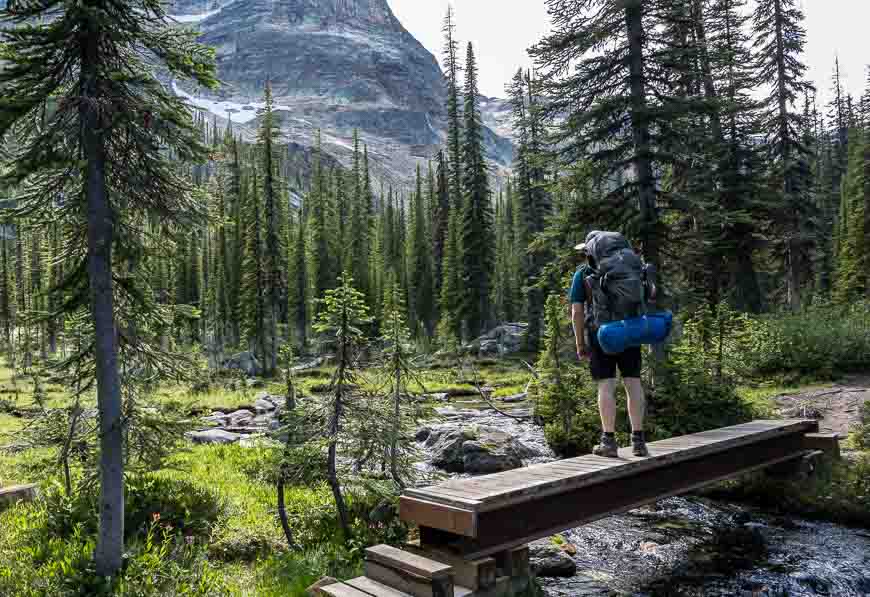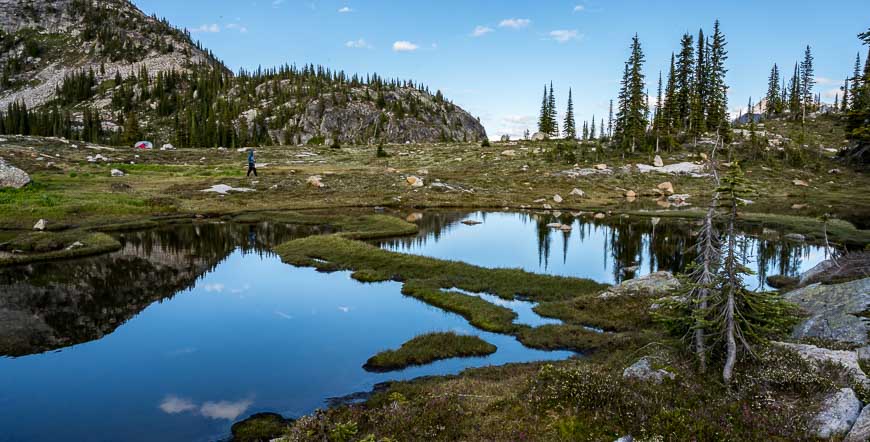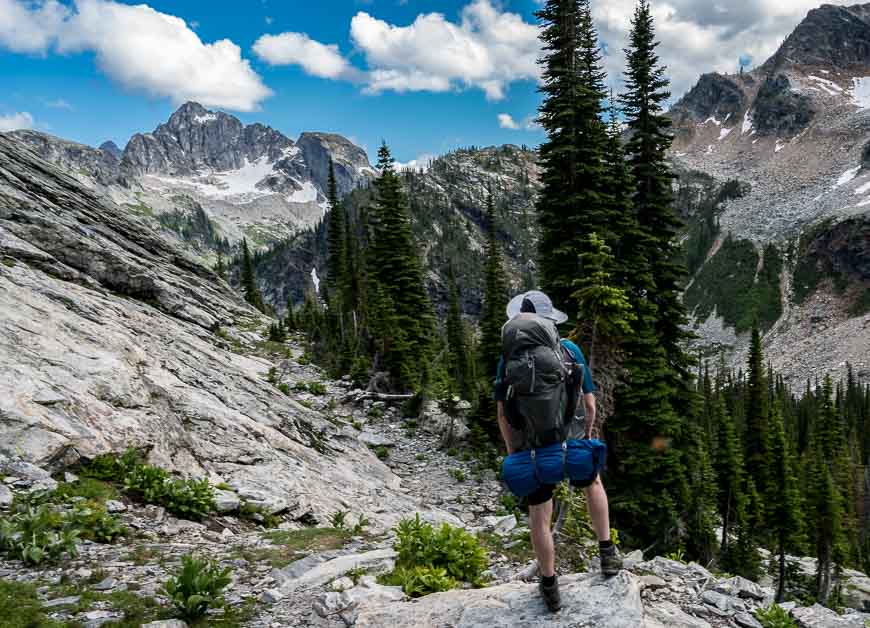 Camping in Valhalla Provincial Park
On the hike to Gwillim Lakes there are three separate camping spots Drinnon Lake, Drinnon Pass and the most beautiful one of all – Gwillim Lakes.
At Gwillim Lakes I counted at least 13 tent pads; some of them look brand new. They are all well-spaced so you can enjoy a sense of privacy. There are two outhouses – including one with a conveyor belt for solid waste, an approach I'd never seen before. Just don't forget to pump the pedal!
There's also a cooking area and four large bear lockers down near one of the lakes. A few benches at just the right height along with some built-in platforms with wind screens make cooking easy. No fires are allowed.
The Drinnon Pass campsite also offers at least a half dozen well-spaced campsites with some pretty lake views. You'll also find a cooking centre at Wicca Lake, bear boxes and an outhouse.
Finding the trailhead to Drinnon Pass and Gwillim Lakes
In many ways the crux of the hike is getting to the Drinnon Pass – Gwillim Lakes trailhead. I was ready to give up on account of the road in – though John was definitely not. The rough road is both a blessing and a curse. It keeps the masses away but driving logging roads way into the backcountry is not my favourite thing to do.
There's a lot of signage suggesting that you call in your location by radio to the logging trucks. We didn't have a radio and we never saw a logging truck. But I would recommend that you drive defensively and pull over at a moment's notice should you see one.
The easiest way to get to the trailhead is to start in Slocan. If you go in from Passmore you'll spend more time on dirt roads. Take Highway 6 south to Gravel Pit Road and turn west (right if heading south) in just under a kilometre from the centre of town. Gravel Pit Road becomes Little Slocan (Forest Service Road) North.
Next look for a sign and a road branching up that says Valhalla Park, Drinnon Pass trail, roughly 21 km from Slocan. If you get to Upper Little Slocan Lake Provincial Park you've driven past the turnoff – but only by about 200 metres.
Follow Hoder Creek Road (signs are few and far between) up for 21 kilometres – though the last 2 kilometres as the road narrows are impassable for cars with a low clearance. We have a Subaru and decided not to take chances and parked near the bottom of the final section.
The extra few kilometres of walking up to the trailhead was worth it for my peace of mind, knowing I didn't puncture a car or worse – a gas tank which we've done before. (Bring chewing gum to repair punctured gas tanks.)
Porcupines in Valhalla Provincial Park
The last thing you want to think about while enjoying one of BC's best hikes is the state of your car's brakes. Plan to buy a roll of chicken wire before you head into Valhalla Provincial Park.
Wherever you park, be it at the trailhead or at some point along the final 2 – 3 kilometre section of road, wrap your car in chicken wire like they did in the car pictured below. This will prevent the pesky porcupine from gnawing away on your car's brake lines and causing untold misery getting back to civilization.
Other useful information about the Gwillm Lakes hike
For more information about Valhalla Provincial Park, visit their website.
No dogs are allowed. If you're caught with one you'll probably get dirty looks from everybody that left theirs at home and a nasty fine.
Camping is FREE!! It's also first come – first served. Fortunately there are loads of campsites including an overflow area up at Gwillim Lakes. While the trail is well-used there are lots of day-hikers so don't despair if you see lots of cars.
Mosquitoes can be bad so don't forget the bug spray or lotion.
The three campsites all have cooking areas away well from the camping area along with bear lockers. (You won't have to hang your food here.)
Campsites come with wooden tent platforms.
Treat all your water.
Be bear aware. Grizzles frequent the area. Read Bear Safety Tips: What You Need to Know.
Other useful items to take
If you're like me and a tad clumsy and good at tearing things, take some Gear Aid with you. It's like duct tape but better and will patch everything from tents to down jackets to your sleeping pad.
Want something soft to sit on that will also keep your butt warm and weighs next to nothing? I love my inflatable seat cushion. On the comfort theme, you might find a camp pillow gives you a better night's rest.
I also recommend a map. Check out Backroad Mapbooks topo maps and look for Valhalla Provincial Park.
Further reading on hiking in British Columbia
Click on the photo to bookmark to your Pinterest boards.