Biking the Viking Trail from Deer Lake to St Anthony, Newfoundland is for those of you who have an adventurous spirit and don't mind some hard, even challenging cycling. The 600 kilometre (373 mile) trip up Newfoundland's Great Northern Peninsula is a fantastic bike ride. The Viking Trail primarily follows the rocky, barren coast through a series of sparsely populated but picturesque fishing villages with names like Sally's Cove, Cow Head and Brig Bay.
There is one long cycling day (100 km+) on the Viking Trail where there isn't much of anything but trees and rock, so I would recommend carrying high protein snacks and taking lots of water.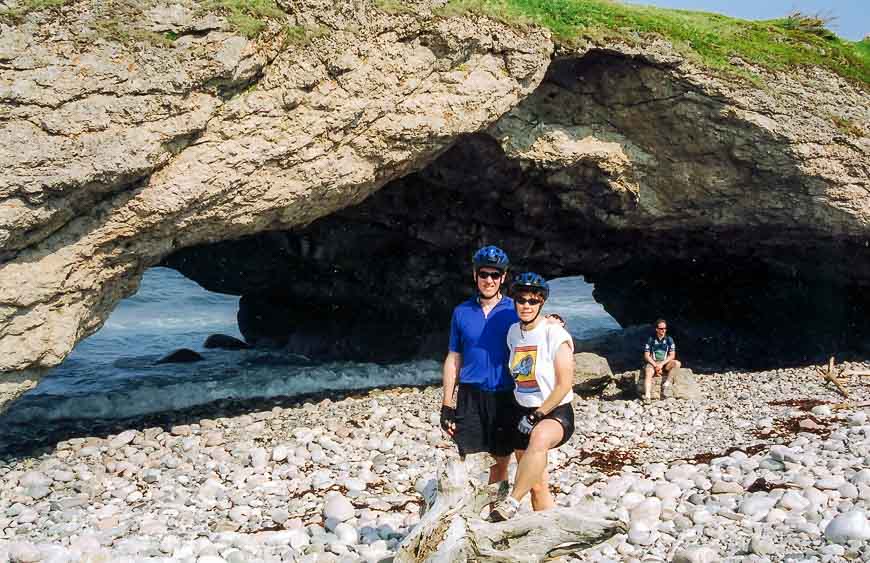 Location map of the Viking Trail bike trip
Highlights of the Viking Trail bike ride
Rugged, coastal scenery, unexpected moose encounters, Gros Morne National Park, whale watching, L'Anse aux Meadows, seafood, music, outdoor theater, exceptionally friendly people
Distance: 523 km (325 mi) plus an additional 72 km (45 mi) to visit L'Anse aux Meadows. If you cycle in Labrador add at least another 30 km (19 mi) – more if you're up for it.
Where: Start in Deer Lake and finish in St. Anthony near the tip of Newfoundland's Great Northern Peninsula
Time Needed: A minimum of 7 days, ideally 10 days to allow for side trips off the Viking Trail
When: June through to September
How: Best to join a tour unless you take your own bike and figure out a shuttle back from St. Anthony's
Cost: It's possible to camp along the way; there are numerous B&B's, some motels and hotels
Tour companies: Atlantic Canada Cycling, Freewheeling Adventures
The Viking Trail bike ride to St Anthony, Newfoundland
The Viking Trail bike ride up to St Anthony in Newfoundland offers so much more than just rugged coastal beauty. At the top of the list are the people of Newfoundland who in my experience rank as some of the friendliest and most generous on the planet.
Where else in the world does a complete stranger offer their car to you so you can drive to dinner in the rain instead of cycling?
And then there's the option of doing a number of unique and highly worthwhile side trips. That's why 10 days is ideal for this bike ride.
Although you cycle through Gros Morne National Park, a UNESCO World Heritage Site – it merits more of your time. The park showcases one of the best examples of plate tectonics in the world along with an unrivaled landscape of great natural beauty.
At a minimum take a boat ride up the fjord or hike to the top of Gros Morne Mountain.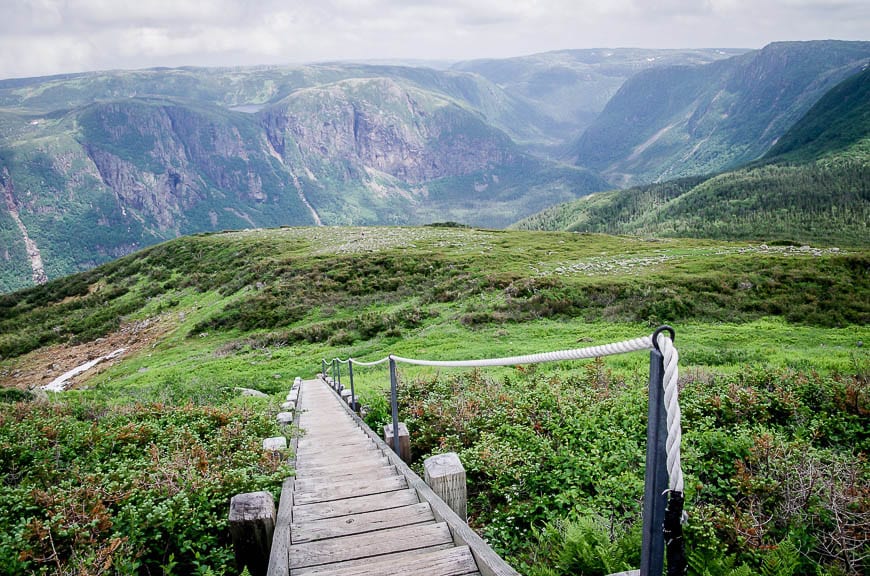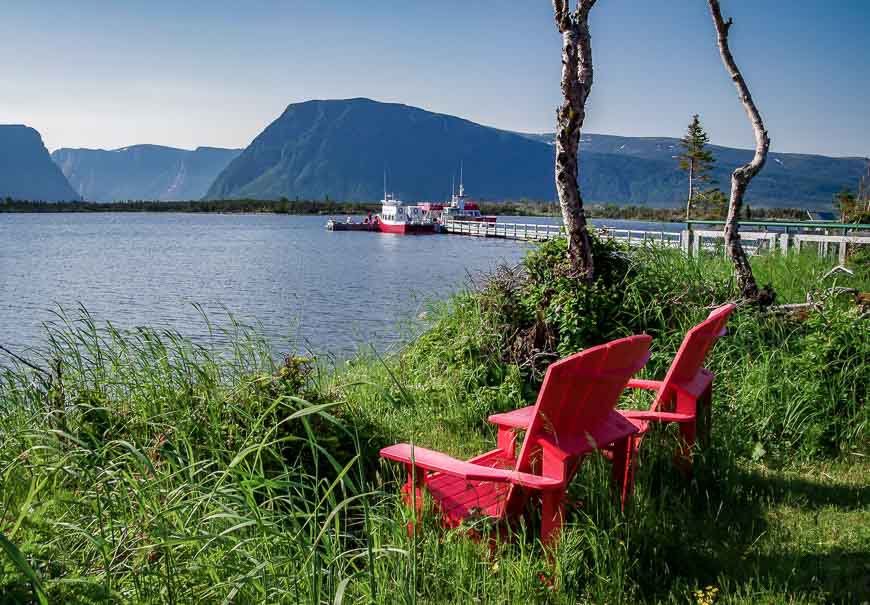 How about a day trip to Labrador so you can explore by bike?
Allow another day to ferry over to Labrador from St. Barbe. Whale sightings are common and the biking, though hilly, is also very beautiful, rugged and treeless. And besides when are you likely to return to Labrador?
The last must do side trip is a visit to L'Anse aux Meadows at the tip of the Great Northern Peninsula. It too is a UNESCO world heritage site. What you see are the wood framed sod house remains of an 11th century Viking settlement – evidence of the first European presence in North America. If your timing is good you may see an iceberg float by too.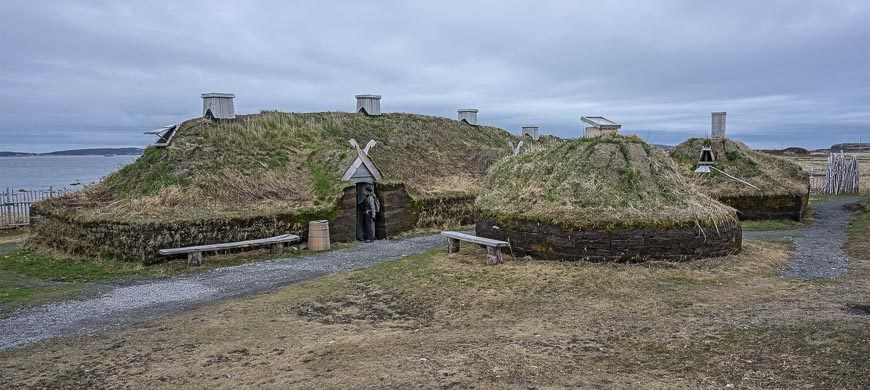 Here's what to pack on a multi-day cycling trip.
Viking Trail bike ride 10-day itinerary suggestion
Day 1: Start in Deer Lake and cycle 89 km (55 mi) across the rocky barrens to beautiful Trout River.
Day 2: Take a boat to Norris River, perhaps spend half a day kayaking, and continue 42 km (26 mi) on to Rocky Harbour.
Day 3: Get off the bike explore Gros Morne National Park on foot. Climb Gros Morne Mountain.
Day 4: Bike 50 km (31 mi) north to Cow Head but allow time to do a boat tour of the fjord at Western Brook Pond.
Day 5: Bike 101 km (62 mi) on the Viking Trail along the coast to Hawkes's Bay.
Day 6: Cycle 86 km (54 mi) to St. Barbe. Don't miss the visit to the Port au Choix National Historic Site along the way.
Day 7: From St. Barbe take the ferry with your bike to Labrador and come back in a day. Look for whales on the crossing. Enjoy some hilly riding in Labrador.
Day 8: Pray that the wind is at your back as its 125 km (78 mi) across a desolate stretch of the northern interior barrens to Pistolet Bay. It's even further if you don't plan to camp.
Day 9: Bike 72 km (45 mi) to L'Anse aux Meadows and back to Pistolet Bay.
Day 10: On the final day it's an easy 30 km (19 mi) to St. Anthony and from there a shuttle is required to get back to Deer Lake.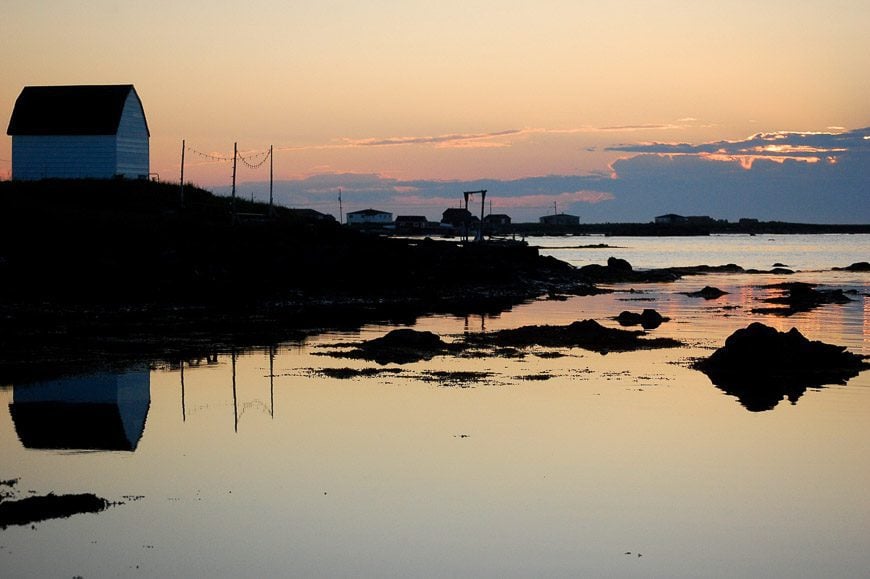 There are variations to this Viking Trail biking itinerary depending on what company you choose and whether you plan to camp but the one day you cycle across the barrenlands is a tough one, no matter who you go with.
Chances are you'll see moose along the way. They pop out of the woods quite unexpectedly – in fact one fellow in our group was followed down the highway by a moose but never even knew it!
By cycling the Viking Trail and exploring this barren yet beautiful section of Newfoundland you will come away with a new appreciation of the land, the history and the people.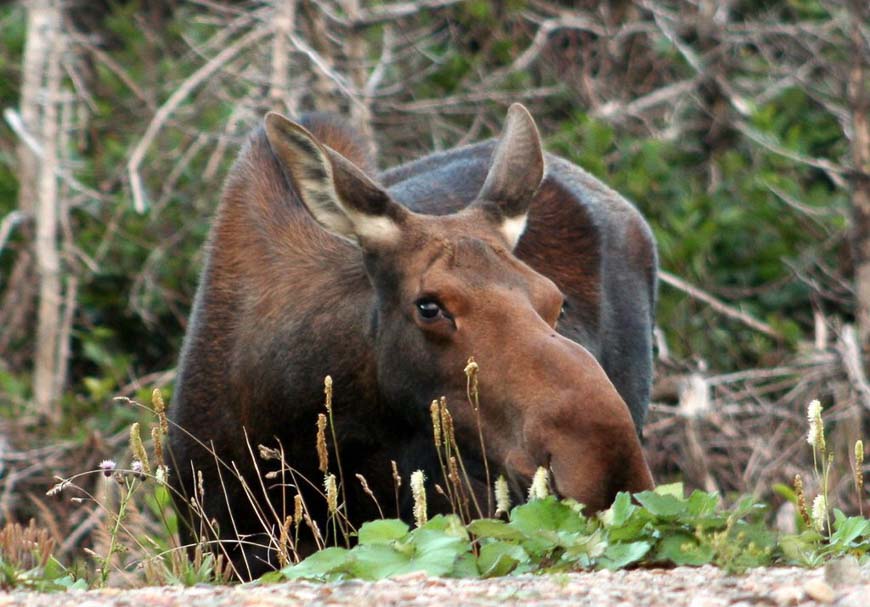 More reading on great things to do in Newfoundland
Click on the photo to bookmark to your Pinterest boards.