Since its opening in the fall of 2017, the Fairmont Amman has set the bar for luxury hotels in Amman, Jordan. Its prestigious location in the 5th Circle of Amman, ensures its a convenient 30 minute drive from the Queen Alia International Airport.
From the moment you step out of your car at the entrance of the Fairmont Amman, the five star hotel experience begins. As you walk to the check-in desk through a magnificent lobby replete with stunning flower arrangements and sparkling chandeliers, you know you're in for a treat. Unless of course you lead a five star life on a daily basis and I do not.
I've stayed at Fairmont properties in Canada on many occasions along with one in Kenya. With any chain hotel there is an expectation, no matter how many stars they have, of a certain level of service, comfort and amenities.
While I didn't experience all the amenities – like the Willow Stream spa and the Lumi Pool Bar, John and I did enjoy impeccable, friendly service, a notch above any other Fairmont I've stayed in. The room was especially comfortable – especially after a couple of not-so-pleasant nights at a dodgy hotel in Amman.
Our room, one of 317 in the hotel, was very spacious. Along with a queen bed and a chaise in the main part of the room, we had a roomy entrance way with closet space. There was an office area and a bathroom, the likes of which I wish I had at home.
All the usual amenities you'd expect at a five star hotel came with the room. We enjoyed cozy slippers and robes, lovely toiletries, turn-down service, a coffee machine and a speedy response to any request.
While we were in Amman we did a couple of day tours including one to the Azraq Nature Preserve along with a food-history tour of Amman.
Even though both tours were excellent, I would have been equally comfortable hanging in our room; going down for tea or afternoon drinks to the Crystal in the lobby lounge. Maybe even working out at the Fitness Centre – but after a week on a bike maybe not. The room felt like an escape from life – in the best way possible.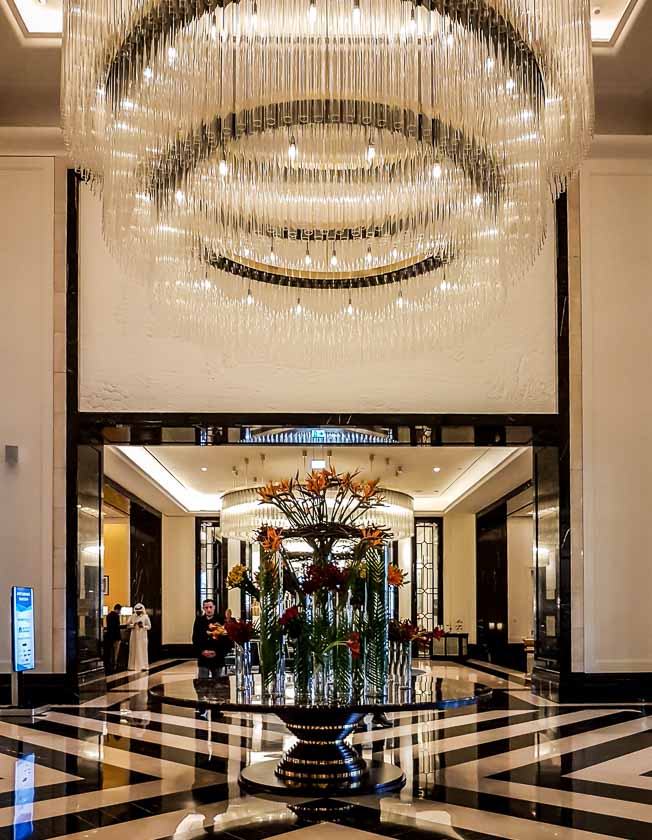 Fairmont Amman – and an unforgettable breakfast spread
If you're a breakfast lover like myself you will be in total heaven at the Fairmont. While you can enjoy a private coffee with a view of Amman in your bedroom, you'll still want to take advantage of all the breakfast options available.
There's a whole area dedicated to delicious carbs. Of course you can get eggs cooked to order, pick up a healthy breakfast bowl of fruit and yogurt or choose foods reflective of a favourite of countries around the world. Literally there is something appealing for every palate. And the service when it comes to coffee refills is very attentive. You won't need to wave anyone over.
The Bar at the Fairmont Amman
With just two nights at the hotel, John and I only visited Caprice – a bar that offers stylish, yet comfortable seating, music most nights along with a great vibe. It was a treat to order a drink – something you can only do in high-end hotels in Jordan.
We enjoyed a casual dinner along with a good dose of people watching. This bar in particular is an interesting place for that, especially with its very diverse, international clientele.
There are four other restaurants we could have eaten at in the hotel – but quite frankly we were happy where we were. In case you visit you can choose from "local food and shisha at Nasim, Levant cuisine at Nur, Japanese and the finest sushi at Tsuki, or the finest steaks and meats at Salt."
Security at the Fairmont Amman
You can't drive up to the hotel entrance without first being vetted by a security guard. The kind of tire-destroying spikes that you find at car rental places the world over are in place – as are x-ray machines when you enter the hotel.
I have no idea what hidden security measures are in place but from the outside it would seem they take security seriously. I ALWAYS felt safe in Jordan but for people who worry, it would seem that the Fairmont is doing a great job at keeping their guests safe.
Would I stay in this Fairmont again?
This post includes some affiliate links. If you make a qualifying purchase through one of these links, I may receive a small percentage of the sale at no extra cost to you. Thank you for your support.
Unequivocally this Fairmont ranks as one of the top three hotels in the world I have been lucky to stay in. Some of you may think of me more in terms of small hotels and tents. After all I do call myself five star or no star (referring to my camping experiences). But for five star experiences you can't beat this Fairmont.
Booking the hotel
You can book a stay at the hotel here – with free cancellation available. Prices depending on the season start around $Cdn300 and go up from there – about half of what you'd pay for a night at a Fairmont in the Rockies.
Further reading on our Jordan experiences
While the hotel was kind enough to host our stay, all thoughts and opinions are mine. I wish I had more hotel experiences like this!
Click on the photo to bookmark to your Pinterest boards.