What Makes a Night at Sundance Lodge so Magical
Most people do not book a night in a backcountry lodge that requires an 11-13 kilometre trek in on skis or snowshoes. Why would you when it's so much easier to drive to the front door of a hotel, slip someone a tip to carry your luggage to your room, lounge in a hot tub and order room service from the comfort of a king sized bed?
One word – magic.
That's what you'll find if you spend a night at Sundance Lodge.
Apart from a body flowing with happy hormones after several hours of invigorating exercise and the cheery warmth upon entering the lodge, you can look forward to a starry night (maybe even a Northern Lights display), delicious meals and the camaraderie of new friends around a glowing fire.
Sundance Lodge is in Banff National Park. Accessed via a ski (or snowshoe) in from the Cave and Basin area on the outskirts of Banff or the Healey Creek Trailhead off the Sunshine Valley Road, it takes the average guest 2½ – 4 hours to reach the lodge. Although it's not a difficult ski in, it does get the blood flowing especially on the long but gentle hill on the final turn-off to the lodge (signed for Allenby Pass).
Once inside you'll find the lodge decorated in a cowboy theme – fitting since it's used as a base for trail riding for a good chunk of the year. Wander around the property and you'll see the hitching posts and tack room shrouded in snow.
THE MEALS AT SUNDANCE LODGE
This year the cook is Stephen Roach – a former executive chef on Cape Breton Island at the well-known Keltic Lodge. As our visit coincided with New Year's Eve, he had a wonderful meal planned; leek and potato soup with homemade dinner rolls, a bison roast, mashed potatoes with fresh stir-fried vegetables and a made from scratch lemon meringue pie for dessert.
Stephen weaves his culinary magic for up to 34 guests at a time. It's incredible what he can produce in the space that he has – and even more so once I found out he also track sets the trails and handles anything that needs doing or fixing in the lodge.
In the morning we awoke to the scent of freshly baked cinnamon rolls. They were for the trip out but he also produced eggs, bacon and pancakes for breakfast. We weren't going to leave hungry! Then he flipped into lunch mode and whipped up 10 turkey salad sandwiches on homemade bread for the ski out as well.
Just so you know – you can buy beer ($5) and wine ($40/bottle) at the lodge if you haven't schlepped it in.
WHAT CAN YOU DO AT SUNDANCE LODGE?
Sundance Lodge is one of the few backcountry lodges that will take guests for a single night. By the time you get there, enjoy a cup of something hot to drink and relax around the fire for a few hours it will be dinner time. Our group made it to midnight – just – and only because it was New Year's Eve – but my guess is that most people hit the sack early after a day of fresh air and exercise.
Apart from staring into the fire and relaxing there are games and books to read. (Don't forget a headlamp for reading in bed as the solar powered lights aren't very bright.) Stargaze. It's an incredible spot and fun to photograph star trails if you're into photography. Before you even show up you may want to check the Northern Lights Forecast. Sometimes you'll be lucky and see them here too.
If you're around for another day you can ski halfway up to Halfway Lodge – a distance of 8 kilometres one way. That's in my plans for next year – as Sundance Lodge is the sort of place where you want to make an annual visit.
If you want to book a stay visit Banff Trail Riders. Prices are $195 per person and include all meals.
Would you ski into a backcountry lodge?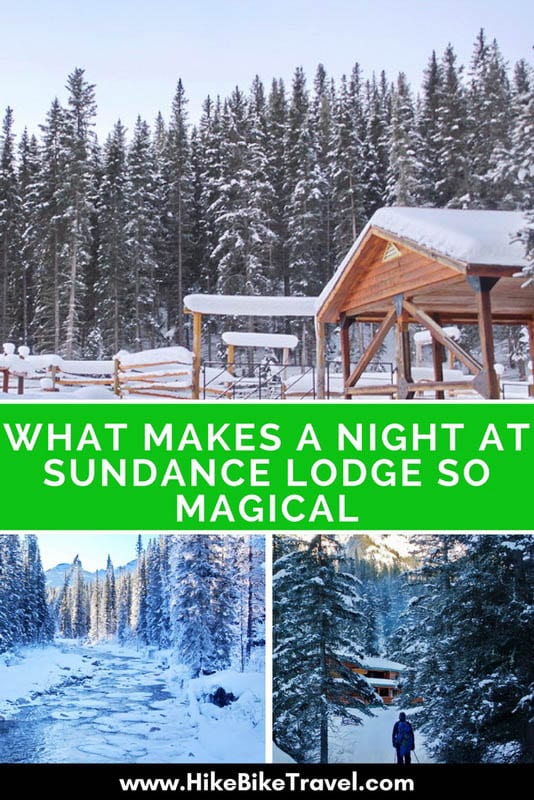 Leigh McAdam