In typical Texas fashion, Big Bend National Park is massive. Over 800,000 remote acres are tucked into the western section of the state, much of it just across from the Mexican border. Elevation ranges run from 2,000 feet at the Rio Grande River to nearly 8,000 feet at the top of Emory Peak. Massive canyons, vast expanses of desert, forested mountains and 118 miles of river frontage along the Rio Grande make up Big Bend National Park.
Choosing what to do in Big Bend, with so much country to explore, can be problematic, especially if you're short on time.The park is twice the size of Rhode Island so there's obviously a lot to see. Hiking is excellent with over 150 miles of trails, including the South Rim Trail, one of the best in America.
The birding and wildlife viewing is fabulous. Over 450 bird species have been recorded in the park. Seventy five mammal species, many nocturnal because of the heat, and 31 species of snakes have also been cataloged.
It was a treat to visit the park – though interestingly we didn't find many Texans on our trip. But then again you don't find many people. The ones we did run into were from all over the world. In fact we heard more French spoken then we ever do at home in western Canada.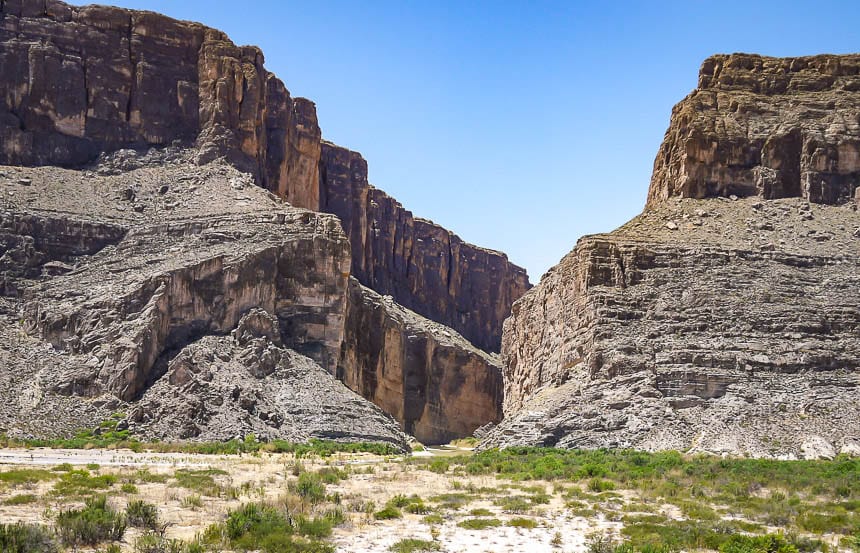 This post includes some affiliate links. If you make a qualifying purchase through one of these links, I may receive a small percentage of the sale at no extra cost to you. Thank you for your support.
How much time do you need in the park?
If you're going to make the effort to do a trip to Big Bend National Park, then allow a minimum of two days and up to a week. It could easily be part of a larger road trip that starts and finishes in El Paso with stops in Terlingua, Marfa and Marathon.
Here's what you can do on a trip to Big Bend
More than 200 miles of hiking trails are available to explore. Some are short 0.25 mile hop in and out of your car affairs while some like the 25 mile round trip Telephone Canyon Trail in the Ernst Basin require endurance and route finding skills.
There are three main sections of the park to explore – Panther Junction and Rio Grande Village, The Chisos Mountains and the Ross Maxwell Scenic Drive.
Because distances are large between sections AND the speed limit is only 45 mph it's worth picking the hiking trails off one section each day to make the most use of your time.
Go birding in Big Bend National Park
It's a birdwatcher's paradise with more than 450 bird species sighted. You can't miss seeing the turkey vultures riding the thermals and if you're lucky you might catch a glimpse of a roadrunner.
The vermilion flycatcher was my new favourite but the Mexican Jay was the one that didn't mind being photographed.
Drive the backroads
Exploring 200 miles of backcountry roads is possible if you have a high clearance vehicle. In the off chance that it rains (it hasn't since last June!!!), exercise caution when crossing dry river beds. These can be prone to flash floods.
Check out the flora in the park
If you like plants then you'll find plenty to interest you. Over 1,000 species of plants are found in the park – many with spines to protect them from animals that might want their water.
We found several species of desert cactus blooming and lots of agaves with their fantastically long flower stalks. The agave lechguilla is in fact the indicator plant for the Chihuahuan Desert.
Check out the Rio Grande
The Rio Grande defines the park boundary and is easily identified by the wide ribbon of green on either side of it. The river in its present state is underwhelming.
Unfortunately a whopping 95% of the Rio Grande's water is diverted so the 5% available now doesn't support even a rafting trip. But the good news is that you can still canoe sections and see parts of the park that would otherwise be out of reach.
Catch a sunset
Driving the main roads of the park, especially at sunset is also worth doing. This is grand country and the colours at sunset are spectacular.
Big Bend National Park Precautions
Big Bend is a long ways from any major center. It's not a place where you want to have problems.
Make sure your car is tuned up before you go. Carry a spare tire. Fill up with gas before you enter the park though you will find a gas station at the Panther Junction Visitor Center.
Bring lots of water (1 gallon per person is a good idea) and keep extra in the car.
Daytime temperatures in mid April were above average – over 100°F by 2 PM. Hike early in the day. Bring a sun hat and lots of sunscreen.
Pay attention to warnings about mountain lions and bears. It's been estimated that there is a population of about 24 mountain lions and 15 – 20 black bears. Most sightings are from the roads but occasionally encounters occur on trails.
There are venomous snakes and scorpions in the park. Wear shoes or boots and inspect shoes and sleeping bags.
Javelinas are pig like looking animals that weigh 40-60 pounds. They are developing a reputation of raiding campsites for food. Keep food in your car and pack away your tent in the morning.
Big Bend National Park – what you need to know
Entrance fees for a single vehicle are $US 30, a motorcycle $US 25 and the pass is valid for 7 days.
Closest towns with accommodation include Terlingua, Marathon, Alpine and Marfa.
In Marathon check out the Gage Hotel or the colourful Eve's Garden Bed & Breakfast.
In Terlingua the Lajitas Golf Resort rated fabulous would be a treat.
In park accommodation is available at Chisos Mountains Lodge.
Closest airports to the park are El Paso, Midland, San Antonio, San Angelo and Midland….and none are less than a three – four hour drive away.
Click on the photo to bookmark to Pinterest.