You won't have any problem figuring out what to do in Cabo San Lucas once you arrive. While you may want to lounge by a pool and drink margaritas all day I can tell you that there are lots of half day trips out there that are really interesting – and still allow for plenty of R&R.
I don't have the lounging gene and after a day of doing nothing I'm usually chomping on the proverbial bit and ready for adventure. Here are five things you can do in Cabo San Lucas that should appeal to a broad spectrum of people.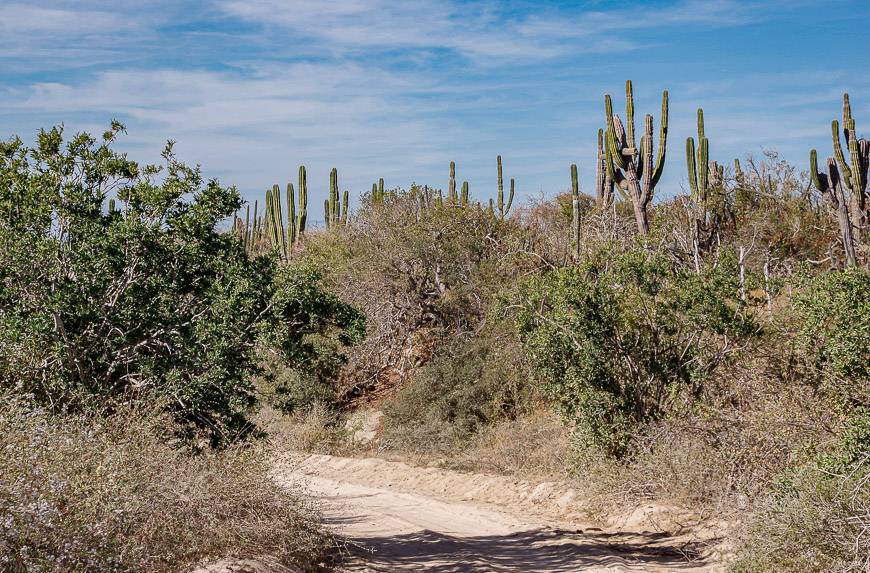 This post includes some affiliate links. If you make a qualifying purchase through one of these links, I may receive a small percentage of the sale at no extra cost to you. Thank you for your support.
Go mountain biking in Cabo San Lucas
Biking in Cabo's outback on the gorgeous Rancho San Cristóbal property is a great way to spend half a day. The track is primarily a dirt road with the odd run of singletrack to keep things interesting.
What I particularly loved about the ride, apart from the desert landscape, were all the stops we made along the way to learn about the native flora and fauna. Our guide – Hector – was extremely well versed in the medicinal use of plants.
He pointed out nondescript plants that had the most amazing properties – eg. sunscreen from sap. This is an easy ride – and you don't need much experience.
A fantastic Mexican lunch was served at the end of the ride (hot off the grill tortillas, prickly pear cactus salad, tomato salad, guacamole, chicken mole…) followed by a tequila tasting. Although I passed on the tasting I thoroughly enjoyed learning about the types of tequila along with what's said (sung, chanted, shouted) when you're about to knock one back.
One of the other guests in our group, Diego, who grew up in Mexico City but was working in Russia as a salsa dancer, showed us how tequila tasting is done; four shots later and we was toast for the afternoon.
What to do in Cabo San Lucas – try kayaking and snorkeling
The beauty of a kayaking and snorkeling trip is that it requires a boat ride to get to the cove. So if you visit during the whale migration you can also knock whale watching off your to do list.
It was a leisurely ride out for us as we saw whales in short order. We stayed around until they dove – and really this part of the trip was nearly as good as the full whale watching trip we did the next day.
The kayaking was fun and easy. It was all about playing in the water and enjoying the sunshine.
There was a picturesque stretch of coast for snorkeling and although it wasn't nearly as good as many places I have snorkeled, there were plenty of huge schools of colourful fish to ooh and awe over.
If you're lucky you might see manta rays, sea horses, sea turtles and puffer fish (no such luck for us except for puffer fish.) It's an ideal outing for families with older children or for people who haven't done much snorkeling. There was also the chance to use a power snorkel with a water scooter to up the wow factor.
How about a camel safari?
The camel safari is one of the most popular Cabo tours judging by the number of people getting on the shuttles. I thought it would be an interesting experience – and I looked forward to returning to the same area where we had gone mountain biking.
I have to say I was disappointed. I did like the Lawrence of Arabia look I sported for 30 minutes but this is one adventure I felt was too touristy – especially as photos "kissing the camel" were only allowed to be done by a photographer who then sold the photos.
However, I think I am in the minority as most people were thrilled to bits with the experience. You'll have to be the judge.
We also had lunch at the end of the safari and a short nature walk. The lunch was just as wonderful the second time round but the nature walk didn't offer the depth we got on our mountain biking adventure.
It was however, eye opening to sit on a camel – and I have a new appreciation for how uncomfortable a long journey could be.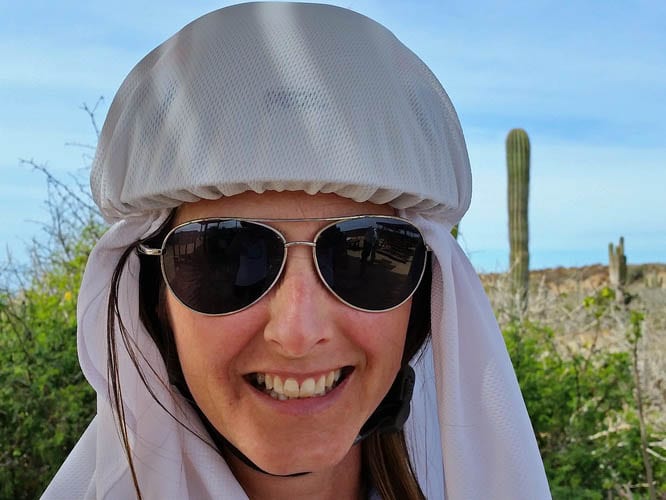 Go whale watching

in Cabo San Lucas

Not everyone likes to kayak or snorkel but almost everyone loves to see whales and this is one of the top spots in the world to see humpback whales. It's a two hour round trip once you're out of the harbour and it can get breezy and bumpy.

On the whale watching tour, on-board experts dole out lots of fascinating information about whales and whale behaviour. While they keep a respectful distance away, we definitely move quickly towards the whales once they're sighted – which they are frequently in late January.

Another benefit to doing a whale-watching only experience is listening to the whales via an underwater microphone. We could hear a couple of them directly beneath our boat but they never surfaced for us.
Don't miss the sunset cruise
A sunset cruise may not sound like much of an adventure but it was truly one of the highlights of the week. Our cruise left the Marina Cabo San Lucas at 4:30 PM and returned just over two hours later.
It was run by Pez Gato and I'd highly recommend them – as the catamaran wasn't crowded and it was peaceful, unlike some of the sunset tours that include dinner.
I loved the tour for the silence once we were out of the harbour. Of course it was pretty, but it was memorable to see whales in the distance and dolphins nearby, especially with a glass of wine and a plate of snacks in your hand.
Both my sister-in-law and I had come with low expectations – and they were far exceeded. This is an outing that is great for all ages.
There's plenty of things to do in Cabo if that's what you're after.
Except for the sunset cruise we used Cabo Adventures. Just be sure to add in up to an hour in travel time both coming and going to your adventure, particularly the bike ride and camel safari. In high season book well in advance.
For more information on Cabo, visit their tourism website.
Where to stay near Cabo San Lucas
We didn't stay in Cabo San Lucas per say but about halfway down the coast towards San Jose del Cabo at the lovely Sheraton Grand Los Cabos. It had lots of pools, a lovely long stretch of beach and several places to dine – most of which were really good. At breakfast in the winter time you can see the whales spouting from your table.
Further reading on Baja California
Click on the photo to bookmark to your Pinterest board.