Have you ever stopped in Golden British Columbia? At a minimum I've driven the section of the Trans-Canada Highway through the town at least 20 times, and the most I've ever done is gas up my car along Gasoline Alley – a common theme according to the folks at Tourism Golden.
I finally changed that. Now I know where to get a great meal and a killer cup of coffee but even better I know what to do in Golden BC – at least in winter. Over a few days in the town, I barely scratched the surface.
Golden, BC location
The town of Golden, situated at the junction of the Columbia and Kicking Horse Rivers, is three hours west of Calgary and about an hour's drive east of Rogers Pass. It's in a scenic valley with the Rocky and Purcell Mountains on the doorstep. What you see from the highway is a fraction of the town.
Enjoy excellent breakfasts and lunch
Within minutes of Gasoline Alley is the Blue Bird Café with delicious lattes and baked goods along with more substantial fare if that's what you want. They're open early seven days a week.
For breakfast or lunch with some local flavour and history check out Big Bend Café on 9th Avenue North. Their hot sauce selection is enormous and so are the portion sizes. Bring your appetite and enjoy the atmosphere.
I missed a breakfast at Jitas Café on 11th Avenue North but I understand their coffee is great – and that's reason enough for me to give the place a try.
Best bets for dinner
Golden has far more great restaurants for dinner than I ever imagined. If you're staying up at a lodge and you don't want to cook, arrange a catered meal by Whitetooth Mountain Bistro. You'll be in for a treat.
The Island Restaurant has an interesting location – and an eclectic menu with pizza, pasta, Mexican and a little Asian Fusion thrown in for good measure. With a patio on the Kicking Horse River and great mountain views, this is definitely a place to check out after a day on the hills.
Another local favourite is Eleven22 – named for its address on 10th Avenue South. Located in a historic house, it offers a modern take on Canadian cuisine alongside local beers and Okanagan wines.
Called one of the top 50 restaurants in Canada, The Cedar House Restaurant can be found on 10 acres south of Golden. You can also stay in one of their luxurious onsite chalets.
And there is a microbrewery – The Whitetooth Brewing Company with a location beside the Kicking Horse River. There is a tasting room and you can get a growler filled.
Explore the mountains around Golden
I visited Golden towards the end of the winter when snow was starting to melt and spring was on everyone's mind. This town is definitely a winter playground.
Kicking Horse Mountain Resort draws skiers and snowboarders with the fourth highest vertical drop in North America of 1,260 m (4,133 feet). I hit it on a day that gave me sun, fog, rain and snow depending on where I was on the mountain. This is an especially good resort for advanced skiers.
There are a couple of national parks that are very close by. Yoho and Glacier National Parks both offer phenomenal backcountry skiing. Snowmobiling is also big – on account of the epic snowfalls in the area. Avalanche awareness is a must for both of these sports.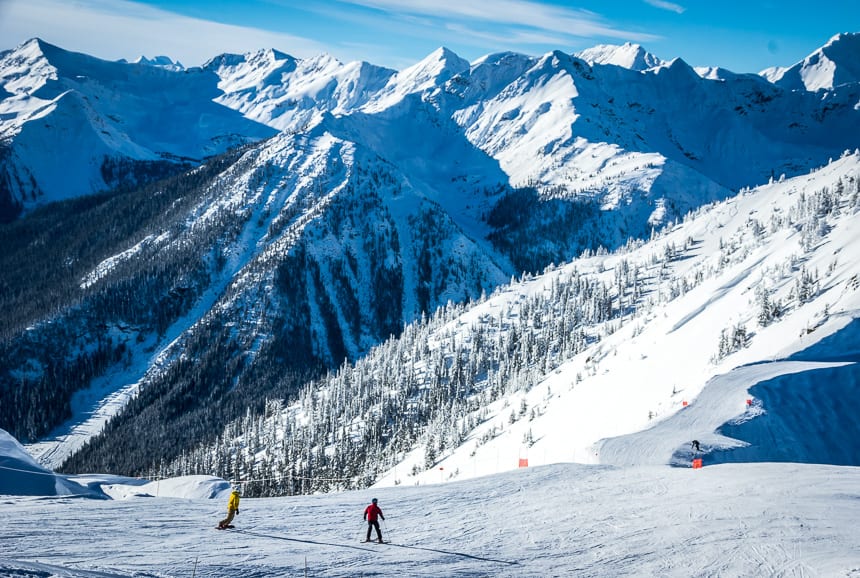 Go cross-country skiing
The Dawn Mountain Nordic Centre offers excellent cross-country skiing on 35 kilometres of groomed skating and classic ski trails.
There's one warming hut in the backcountry and a lovely lodge by the parking lot. You can rent equipment. And the price is right for a day of skiing – $12 per adult. There are also snowshoe trails that can be accessed for $10 per adult.
What to do in summer in Golden
In the summer there are three things in particular I would come for – hiking, rafting on the Kicking Horse River (loads of fun) and paddling. Near the top of my wish list is an overnight paddle along the Columbia River through the Columbia Wetlands. It's the longest protected wetlands in North America.
The birding is also fabulous through here. It's part of the reason there is a Wings Over the Rockies bird festival every May.
When it comes to hiking head up to Kicking Horse Mountain Resort. They have an excellent network of 7 hiking trails and a kick-ass Via Ferrata. Mountain biking is also excellent at the resort.
Walk with wolves
I'd seen the signs along the highway pointing to the wolves at the Northern Lights Wolf Centre but again in a rush to get to my destination, I never stopped. Do.
Even better, reserve ahead so you can actually go on a walk with the wolves. It's truly a magical one-of-a kind experience. Most walks occur in the morning and last about 90 minutes.
Read: The Most Unforgettable Walk You'll Do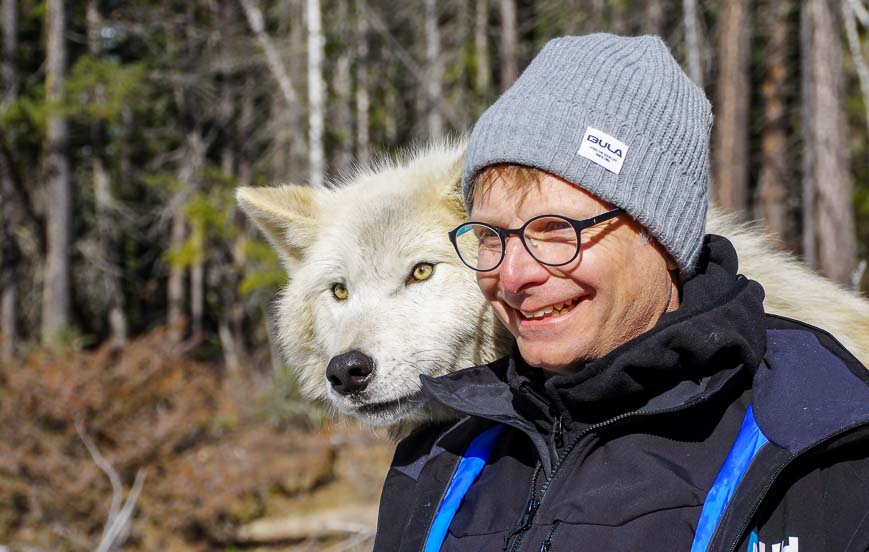 Where to stay in Golden, British Columbia
This post includes some affiliate links. If you make a qualifying purchase through one of these links, I may receive a small percentage of the sale at no extra cost to you.
Golden doesn't offer the boutique hotel experience many travelers are looking for. But there are plenty of chain hotels like the Prestige Inn near the gasoline alley strip where you can get a good night's sleep. (I stayed here and while not fancy more than adequate.)
If you're looking for alternative accommodation there are some excellent options.
At the higher end of the price scale are chalets of varying sizes that you can rent on the mountain. I enjoyed a catered dinner in one of them on my first night and was blown away by the amenities – and the fact that it was just a short walk to both Kicking Horse Mountain Resort and the Dawn Mountain Nordic Centre. Check out Lush Mountain Accommodation if you and your family have designs on a ski trip to Kicking Horse.
Within a block of the ski resort are three higher end B&B lodges – Winston Lodge & Spa, The Copperhorse Lodge and Vagabond Lodge. They all look very appealing from the outside.
In Golden check out the Kicking Horse River Lodge, located across the street from the Kicking Horse River. Just outside of Golden, there are several rural options including the Home Lodge B&B or consider a stay in a luxury log cabin.
I'd also recommend Home Lodge, about a 12-minute drive from downtown on a 4-acre property with Scottish Highland cattle.
Further reading on things to do in BC
Click on the photo to bookmark to your Pinterest board.
Thank you to Tourism Golden for hosting my stay. All thoughts are truly my own.