Located in southern Poland, Krakow is one of Eastern Europe's many hidden gems. Its old medieval architecture blends well with the more modern remnants of the city's time under communist control, – one of the reasons why Krakow attracts visitors from all over the world.
But Krakow offers so much more than meets the eye for travel newbies and seasoned veterans alike. After spending a month navigating the city on a bicycle, it's safe to say this modern yet medieval town holds a special place in my heart. It's the perfect place for budget travelers interested in culture, history, and architecture. Don't miss these top things to do over 3 days in Krakow – one of the quaint and enchanting cities in eastern Europe.
Krakow sign in the central city
3 Days in Krakow – where to stay
Krakow is full of terrific places to stay – great locations, fantastic rooms, and low prices. It doesn't get any better!
Luxury Locations to Stay in Krakow
The absolute most extravagant and expensive luxury hotels such as the king suite at the DoubleTree are $225 per night, and massive 10-person penthouse apartments will run you $275 per night.
Poland is well developed for how inexpensive it is. So, if you can't afford to stay in 5-star hotels or penthouses, don't sweat it.
I'd highly recommend staying in PURO hotel if you're a digital nomad as you can get a room for around $100 a night and it's well worth the price.
As a digital nomad, I particularly enjoyed the hotel lobby. There are plenty of places to set up your laptop, enjoy a coffee, and get some work done. The hotel WiFi is fast, free, and reliable.
Average Accommodation in Krakow
If staying in a hostel room with 9 of your closest stranger friends isn't your style, getting an AirBNB near the center is a great option. I found a gem AirBNB located just 1 mile from the city center for $20 a night.
The place was complete with a full bathroom, a beautiful kitchen, two bedrooms, and a balcony with a lovely view of the city.
You can get a place near the center with a bathroom and queen-sized bed for around $30-$40 per night.
You can't help but fight the feeling of a medieval-like enchantment while exploring the Old Town. Cobblestone roads, beautiful Gothic churches, and horse-drawn carriages dominate Rynek Glowny – the largest medieval square in Europe – located in the center of Krakow.
Things to see and do over 3 days in Krakow
Filled with incredible history, breathtaking architecture, and beautiful parks, there's a lot to do in Krakow.
It even became a regular habit of mine to take a long way home just so I could soak up as many sights as possible. Krakow is a great city to walk or cycle through.
There are cycling and e-scooter tours that you can find if you'd like to pay for an official guide.
Otherwise, let's dive right into the best things for you to see and do over 3 days in Krakow, Poland.
Wawel Castle
Once home to rulers and royalty, Wawel Castle is a signature part of Krakow that is a must-see for anyone visiting this city.
The castle sits atop Wawel Hill, which has been home to different people dating back to the Paleolithic period.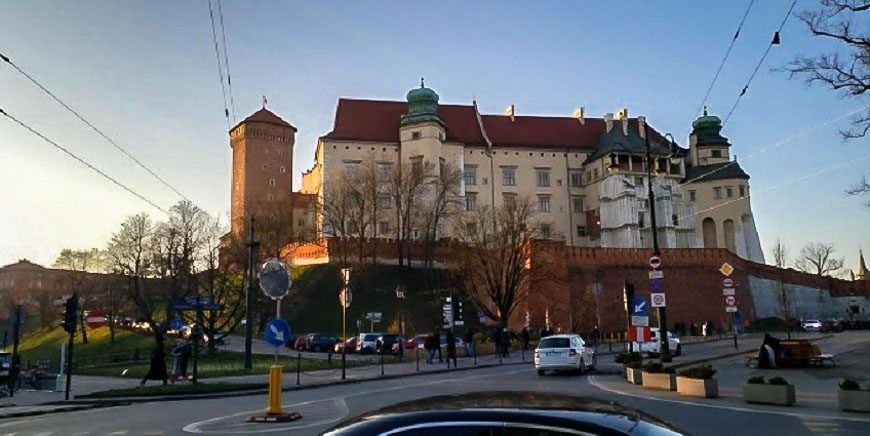 At Wawel, you can find five permanent exhibitions year-round, as well as three seasonal displays only available April 1st – October 31st.
Built with a mix of medieval, renaissance, and baroque architecture, which comes together as a unique structure that you can't see anywhere else, Wawel is incredible.
My favorite exhibit was the Armory, filled with weapons and royal artifacts.
You pay per exhibit, and the last ticket sells at noon, so arrive early to ensure a spot. Expect to pay 10 – 25 PLN ($US2.50 – $US7) for each permanent exhibit, while the seasonal options are 5 – 15 PLN ($US1.25 – $US4)
With walkways and paths surrounding the structure, Wawel is an excellent place to walk around and snap some pictures.
There is also a trail for biking and jogging if you want to workout during your stay.
Smok Wawelski Dragon Statue
Located just 50 feet from Wawel, is a statue of Smok Wawelski. The statue breathes real fire every 5 – 10 minutes, which is great for pictures, especially at night.
The tale of Smok is a strange one, but it is very well known in Krakow and has affected the culture of the town quite significantly.
Several stories of Wawel's dragon have passed down since the 13th century.
Each story generally depicts Smok as a destructive creature, sometimes requiring sacrifices and other times taking it upon himself to destroy the town. Ultimately, each story ends with a hero stuffing the dragon with sulfur and smoldering embers, which leads to the dragon's demise.
Earlier versions of the story tell of the dragon dying from the fire, while later tales explain that the dragon was forced to drink water from the Vistula River until he exploded.
Smok's Dragon Den underneath the castle is an exhibition of Wawel that you can visit in the summertime. Admission to the Den is just 5 PLN ($US1.25), but it only consists of a single room cave.
Vistula River
The Vistula River runs from the Baltic sea north of Poland and ends in the far southwest of the country. Before splitting off and narrowing, the Vistula passes through Krakow to separate the central city from the more residential areas in the south.
A footpath follows the Vistula and serves as an excellent place to jog or bike, but I'd also recommend that you take a walk along the river to enjoy this Krakow gem.
Lined with beautiful bridges, one of which gives a great view of Wawel and the water below, the Vistula is a magnificent sight to see. The Father Bernatek Footbridge is my favorite, or as I called it, Krakow's Circus Bridge.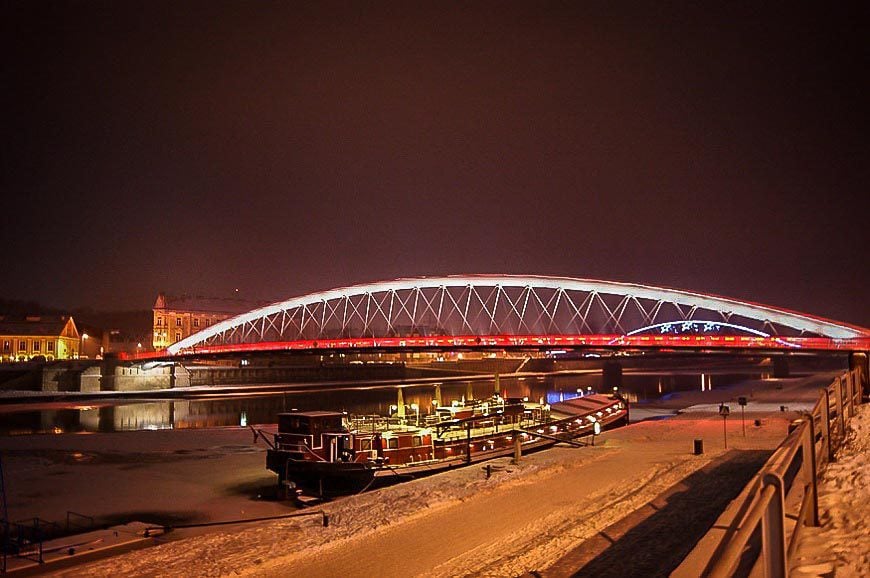 The Circus Bridge is illuminated with colored lights and has curious gymnast-posed statues suspended from the cables of the bridge, as if the figures are a part of a circus act.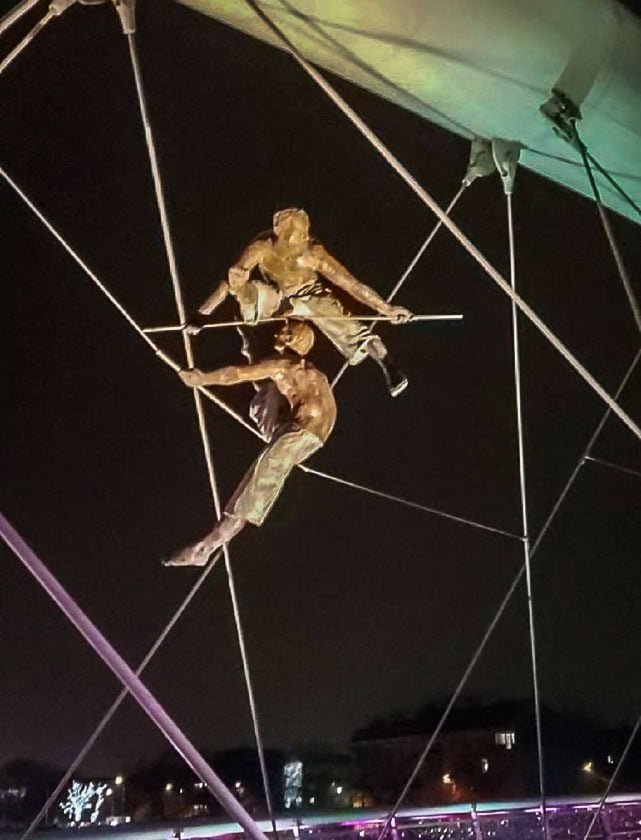 You can also rent kayaks for flat-water paddling in the summertime. Or, for a more leisurely experience, you can take a riverboat and cruise along the river. Boat tickets range from 30 minute guided floats to booze cruises with food included.
We've already mentioned a lot of cool things to do, and we're not even close to done yet. As you can see, it's vital that you create a useful roadmap for your trip so you can do/see everything you want while you're there!
St Mary's Basilica
Standing at 80 metres (260 ft) tall in the center of Krakow and comprised of two towers styled with Polish Gothic Architecture, St. Mary's Basilica is another spectacle.
The Basilica faces the old town central square, filled with different markets year-round. Inside of St. Mary's, you can walk through the massive cathedral and find the largest Gothic altarpiece in the world: Veit Stoss.
St. Mary's also hosts an amazing and humbling ceiling. I couldn't help but stare above me for 10 minutes straight after walking into the breathtaking cathedral.
A bugle plays every hour from the North tower out of four windows facing the Cardinal directions, performed to honor the bravery of a guard that died while warning the city.
The 12th-century tale tells the story of Krakow's invasion by the Tatars. As the guard played his bugle to warn the city, the tune suddenly stopped when he caught a Tatar arrow to the throat. Because of his song, Krakow was able to react to the attack and thwart it. However, the bugle isn't the only morbid story about this place.
Notice how the North Tower is taller than the South Tower?
Two brothers worked on the towers, one per tower. The brothers oversaw the construction and competition ensued between them to see who could build their tower faster and taller. The brothers were neck-and-neck until the southern tower began to overtake the other.
The man working on the northern tower became blind with fury and murdered his brother to stop his construction. Being the only remaining man on the job, he then ordered for his brother's tower to be capped where it was and then continued to build the Northern Tower.
In the end, the Northern Tower stood over 10 metres taller than the Southern owe. However, this is where the story splits.
Some will say that fate took the second brother as he fell from the top of his creation. Other versions say he confessed his guilt to the town before stabbing himself with the same knife that he impaled his brother with. The man fell from the tower to the street, where he perished. The blade is on display inside of the cathedral to this day.
Visit the Main Square at least once
On a brighter note, Krakow's Main Square is a beautiful place to visit and is a great meeting place for anyone going out with friends. Surrounded by businesses and restaurants decorated with lights during the night, the square is a great place to be.
While we're on the topic of shopping, Krakow's Galleria Mall is pretty insane. It's got multiple stories and is full of stores selling everything from beautiful watches to designer clothes, all for a terrific price.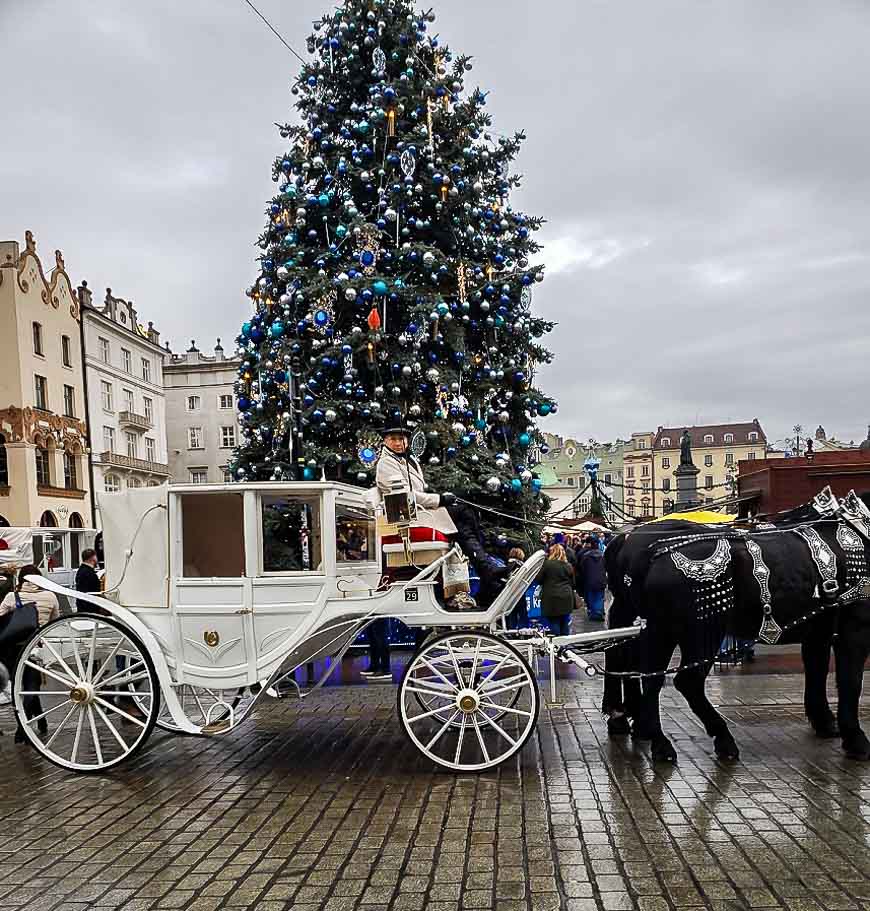 Additionally, if exploring Krakow by way of horse-drawn carriage is on your bucket list, rides are offered all of the time.
Nightlife to enjoy over 3 days in Krakow
Krakow's nightlife is excellent for young people and older adventurers alike – but beware of the promoters that linger in the town's central square. Every ten feet, someone will ask you to visit their bar, restaurant, or strip club.
It's a bit annoying at first, but you get used to it eventually. My friends and I used to mess with the promoters, and most of them are good sports.
Huki Muki
Krakow is full of excellent bars and clubs. I'm a young 20-year-old guy, and I quite enjoyed Huki Muki. It's a hipster bar located in the center of Krakow, just a stone's throw away from the Basilica.
I always met cool people in the pub of all ages, both men and women. It's a fun atmosphere and the drinks are great there.
Forum Przestrzenie
This place is also pretty spectacular – located next to the riverbank inside an abandoned hotel. It's a real treat for a date or a night out with friends.
Forum Przestrzenie is an excellent example of Krakow's hipster culture. If you want to read more about Krakow's nightlife in detail, you can check out this guide.
Krakow's Jewish Quarter
During the early 1930s, Cracovian Jews were prosperous people that worked as citizens in Krakow while building a community. The Jews of Krakow constructed six Synagogues.
Tragically, only 10% of Cracovian Jews lived to see the end of World War 2.
Despite the history, however, the Jewish Quarter hosts great options to stay in Krakow, as well as being a gorgeous place to explore with a vibrant community.
For any history buffs visiting Krakow, the Jewish Quarter is full of museums like the Old Synagogue. Constructed in the 1400's, it's probably one of the most important places to visit in the Quarter.
During the Second World War, Germans devastated the Synagogue and executed people at their place of worship. Today, the Old Synagogue is a museum that acts as the preservation of Jewish history in Krakow.
Oskar Schindler's Enamel Factory
While technically not inside the Jewish Quarter, there is a museum dedicated to the story of Oskar Schindler and his aid to the Jewish people. It is just right across the Vistula.
The inspiration of the movie Schindler's List (a great film to watch in preparation for your visit here), as well as an inspiring story regardless, Oskar Schindler was a businessman during WW2.
Although Schindler belonged to the Nazi party, he was horrified by the treatment of human beings under Nazi rule. The man leveraged his power to employ over 1,000 Jews in his factory, providing them with living conditions and saving their lives.
If you visit Schindler's Enamel Factory, you'll learn all about the story and Krakow's role in World War II.
Food in the Jewish Quarter
The food found in this section of Krakow is some of the best in Poland. The Jewish Quarter is home to food from all around the world, often with locally sourced ingredients — especially authentic Polish food.
Pierogi
Before coming to Poland, pierogi was already one of my favorite foods. I was not disappointed by the real deal. Pierogies are pretty much dumplings filled with mashed potatoes and served either boiled or fried. There are also pierogies filled with meat, but I much prefer the potato-filled variety.
I ordered pierogi studenckie, or student's, filled with bacon bits and served with sauteed onions. I enjoyed the to-go version so I could feast on them while walking along the Vistula River as the sun dipped below the horizon. My long-anticipated authentic meal was delicious, but there was one problem – I didn't ask for a fork!
Poland is getting more strict when it comes to the environment and reducing waste, which is why restaurants rarely include anything that you don't request. Luckily, I had some twist-ties that I rolled to create a tooth-pick type of food stabber.
The lesson here? Ask for a fork and napkins when you order to-go in Krakow!
Paczki
Paczki is a traditional Polish treat served across Krakow.
Paczki is made fresh every day in Krakow and comes in loads of different flavors. They're essentially cream-filled donuts. My favorite is the classic powdered custard-filled flavor, although they also come filled with fruit sauces as well.
Ice Cream
Maybe not on your list of things to try during a Polish winter, but the best ice cream I've tasted in my life was in Krakow — and I don't state that lightly.
Could it be that my American taste buds expect processed commercialized cream? Or maybe the undoubtedly fresh local ingredients are responsible? Either way, ice cream found in the center of Krakow is crazy good.
Plus, it's cheap! I spent only $3 for a cone of ice cream the size of my face. Seriously, don't skip out on the ice cream!
Things to do near Krakow
You'd be foolish not to check out some of the awesome things to do near Krakow while in Lesser Poland.
I loved trekking in the nearby mountains while I was in southern Poland, but taking a trip to the mountains may not be ideal if you're only there for a weekend.
Instead, consider one of the following day trips:
Wieliczka Salt Mine
The Wieliczka Salt Mine in southern Poland dates back to Neolithic times, where they produced sodium chloride from the up-welling brine. It's one of the coolest places in Poland and is visited by more than one million people every year.
The salt mine is about 30 minutes from Krakow by car, so if you have an international driver's license and a rental car, it's only a short drive away.
Alternatively, a train from the central station in Krakow to the village Wieliczka only costs 5PLN each way (~$US1.25) and takes roughly 20 minutes.
Auschwitz/Birkenau
Auschwitz is located south of Krakow and is where the Nazis murdered more than 1.1 million people. Although not inside of Krakow, the Auschwitz concentration camp is just 2 hours by bus from the city center.
Disgustingly heinous atrocities took place there in World War 2 so a visit to the concentration camp isn't for the faint of heart. Auschwitz has a powerfully depressive history, but in my opinion, it is a must visit while in Poland.
Invasion, displacement, starvation, and murder was the unfortunate truth for Jewish people in Krakow during the late 1930's and early 1940's, and most of the survivors refused to return to Poland after the war. It's a sad place to visit, yet I'd highly recommend taking a guided tour.
You'll walk through Auschwitz and Birkenau with a tour guide who speaks English, and you'll hear about the atrocities that took place there. The tour also includes transit to and from Auschwitz via bus.
I had a hard time there – it was mournful, and I teared up more than a few times. Nevertheless, I'm glad I went and highly recommend visiting. The atrocities of what took place there don't hit home until you step foot on the soil of the death camp yourself. It's crucial to visit and remember so that it never happens again.
The best time of year for a Krakow visit
The average climate in Krakow by seasons:
Spring: 55

°F (12.5°C)

Summer: 65

°F (18.5°C)

Fall: 50

°F (10°C)

Winter: 30

°F (-1°C)
You should also note that Krakow only holds daylight for 8 hours a day in December, with the sun setting around 4 PM. Expect a full 16 hours of daylight in the summer until as late as 8:30 PM.
Outdoorsy adventurers that plan to spend most of their time exploring ought to aim for the summertime. Krakow, and especially the surrounding area, is filled with beautiful nature, great swimming opportunities, and impressive overlooks.
The problem, however, is the amount of tourism that Krakow sees in those warmer months. That said, if you're okay with exploring in the cold, there is still plenty to see and do in Krakow during the winter.
For example, Krakow has a light show during the holidays (New Year's concert above), especially in the city center. You can find the Christmas Market, carriage rides, and an overall energizing nightlife around this time.
Weather varies in Krakow – it was usually sunny during my time there, but I experienced my fair share of rainy days as well. I'd highly recommend bringing some sort of umbrella for travel or at least a raincoat if you're going to visit during the rainy seasons.
There are a few things that I learned during my time that aspiring visitors should know as well.
Will Krakow be expensive to visit?
The short answer: not at all.
Luxury travelers will have no problem staying in a top-notch hotel with the best accommodations without breaking the bank. Eating out is pretty cheap too, even at the most delightful restaurants in the center of the city.
You'll find a lot of cool outdoor restaurants and underground spots in the city center by the main square, but if you're bold enough to do a bit of exploring around the city, you'll find plenty of excellent restaurants around the city as well.
As someone coming from the USA, the prices of Poland are crazy low, but maybe that isn't saying a lot.
However, after my time in cheap countries like Hungary or Romania, I can say that Krakow is still slightly less expensive in comparison, being nearly as affordable as places like Ukraine or Georgia.
The To Be Hostel was my home for the first week in Poland, located about 15 minutes from the city center by foot. For the entire seven days stay there, I spent almost $40 ($5.50 per night), which is impressive for a Central European country.
You can expect to pay $US5 – $US10 for a decent meal in Krakow, and almost everywhere I've been will take credit cards.
Oh, and as a heads up:
Be very careful with ATMs and their fees. Although ATMs are still much better than cash exchange rates, you could even get hit with withdrawing fees of up to 20%. I'd stick to using a bank's ATM or just paying with my card.
However, you will get funny looks sometimes from locals if you don't have a contactless card and have to pay with a chip, which brings me to my next point.
The people of Krakow
I'll be honest – Polish people aren't as friendly to foreigners as western Europeans. After a warm welcome in Italy, I found Polish people to be a bit colder. The young people were easier to get along with, but that's usually the case anywhere you go.
One thing's for sure, though:
Across the board, Polish people's English drastically improves after they've had a few drinks, so if you want to befriend a local, I'd recommend giving it a go at one of Krakow's local pubs.
As someone that doesn't speak Polish — if you don't count masterful charades — I have had mixed luck with communicating with the people of Krakow.
Generally, anyone behind a register will speak at least enough English to have essential communication. I had to use charades a few times, especially outside of the city center, but you can get by if you're friendly enough.
However, I will say that learning simple pleasantries goes a long way. I was often able to put a smile on someone's face by attempting to say hello, goodbye, please, and thank you in Polish.
Google translate helped me out a ton during my time staying in a smaller town a few miles south of the city. I highly recommend downloading Polish through the app to use offline.
Google Translate also has a feature where you can point your camera at text, and it translates to English on your screen, which is excellent for reading labels and signs.
Make sure to carry small change on you wherever you go. For reasons unbeknownst to me, cashiers hate giving change.
I'd usually withdraw $100 at a time (400PLN), and the ATM would spit out four 100 PLN bills – but if you try to hand over 100PLN to a shopkeeper, expect them to hit you with a dirty look.
I recommend breaking your big bills at big chain restaurants like Starbucks or grocery stores where they have more small change available, and avoid local shops until you have smaller bills on hand. They won't kill you, but I found them to be a lot more pleasant when I didn't hand over a huge bill.
Conclusion on what it's like to spend 3 days in Krakow
Krakow is a solid destination for adventurous travelers who want to enjoy the modern medieval feel of this enchanting Polish city. It's incredibly underrated so make sure Krakow is on your hit list for your next trip to Eastern Europe!
This is a guest post written by Jacob Tuwiner, from Will Hatton's blog The Broke Backpacker. Jacob grew up in the mountains and was always fond of hiking, biking, and traveling. Most recently, he spent 7 months abroad in Europe, two of which were in Krakow, Poland.
Further reading on things to do in Europe
Click on the photo to bookmark to your Pinterest boards.