If you love the outdoors you don't want a short downpour, let alone a week of rain to stop you in your tracks. While rain might be less of an issue when it's warm outside, the right gear is essential when you're in a climate where hypothermia inducing temperatures are commonplace – cue the mountains and much of coastal Canada.
Here's what to wear on rainy adventures. But first let me say that sometimes you get really lucky and even normally rainy places like Prince Rupert in northern British Columbia can dish out daily, even weekly doses of sun and warm temperatures. But it's always better to pack for the worst and hope for the best.
Travel gear that holds up in the rain
If you're planning to hike in the rain you need a pack with a rain cover, ideally built in so you never forget it. I like Osprey's Stratus 36 pack as it holds the 10 essentials, all my clothes for the day as well as my camera, snacks…The built-in rain cover is bright green and highly visible. It's also large enough to amply cover the whole pack.
This post includes some affiliate links. If you make a qualifying purchase through one of these links, I may receive a small percentage of the sale at no extra cost to you. Thank you for your support.
I have three sizes of waterproof North Face bags now – from a small one like the one pictured below to a both a medium and large one. I especially love them for my paddling trips.
Two I've had for over 10 years and they are still just as waterproof and durable as when I first bought them. I'm using the smaller bag for all my electronics and camera gear.
What to wear on your feet
Even the toughest of leather boots can get wet and stay wet if it's a soaking rain, particularly if you're hiking through wet undergrowth on muddy trails.
Gore-Tex boots may help to some extent but in my experience under harsh conditions even they have not. If it's not too cold I'll use a sandal and pack my boots away to keep them dry.
For socks, I love the merino wool ones made by both Darn Tough and Patagonia as they dry quickly, are super comfortable and come in crazy colours so they're easy to match out of the dryer.
Shorts/Pants/Raingear
If you're outside anytime from spring to fall you may be in shorts or long pants depending on conditions.
I prefer shorts unless the snow is about to fall – and two brands stand out. I love Lolë's Suki short – super comfortable, quick drying and they move with you. Also they flatter and make me feel good. Arc'teryx also makes a great fast drying short (with two deep front pockets) called the Parapet Long.
If it's a long pant you're after check out Marmot's Lobo's Convertible Pant. It's got zip off legs, three front pockets including a zippered pocket and a button, stretchy clasp system to turn the pants into capris.
For $100 you get three options in one piece of clothing – and the material is quick-dry.
For a waterproof layer I am a big fan of Arc'teryx (again) as they fit well but most importantly offer a full length zip. Make sure they fit over your shorts or pants with enough room that they're comfortable for a range of movement.
The ones in particular I'd recommend that I'll probably have for the next 10 years are called the GTX Zeta LT Pant. I also suggest buying quick dry underwear. I don't know how many times I've been soaked down to my skin but you sure want to have your undies dry fast.
What to wear on top
Wear merino wool short or long sleeve t-shirts like Icebreaker and you'll be less likely to get chilled. I find they dry quickly too. I also am a big fan of the t-shirts made by Tentree. Not only does the material feel good next to your skin but for every item purchased, ten trees are planted.
On top of a t-shirt I for one always wear a fleece, preferably with a hood (this is a favourite from Patagonia) and then a rain jacket on top of that again. For a light-weight rain jacket that works well in misting to medium rain conditions, Patagonia offers this one.
If it's a full blown rain storm then the Helly Hansen's Salt Light Jacket is an excellent choice. I tested it in Ireland on a couple of occasions and it delivered.
Raincoats should have a good hood that can be cinched down. Adding a ball-cap with a brim underneath the hood is a good way to keep the rain off your face. Just don't pick a cotton one as it takes forever to dry.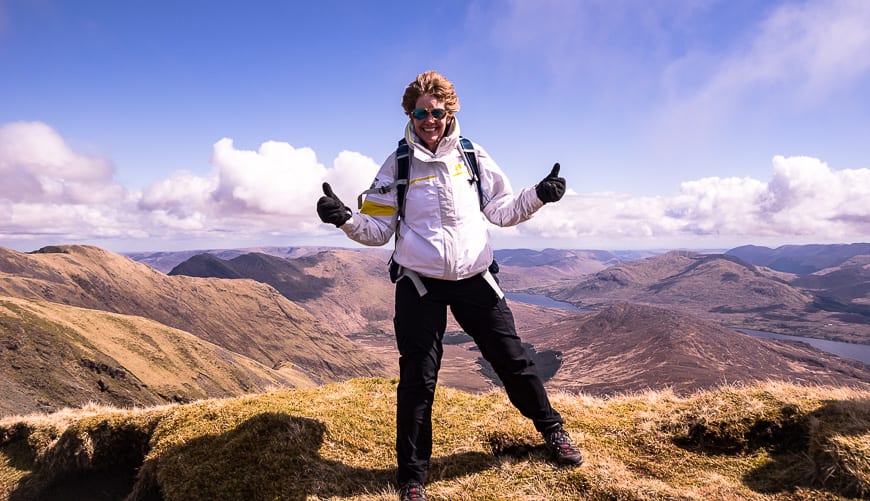 Always carry a pair of gloves with you no matter what the season. Your fingers are the first to go when the temperature drops and the rain is falling. You don't want to lose your dexterity.
How to dry your boots in the wild
To speed the boot drying process, remove the insoles. If you're in a natural environment with nary a newspaper (for stuffing boots) or hairdryer in sight, use dry leaves, grasses or any other absorbent material instead. Stuff the boots, repeating with fresh material to keep pulling the moisture away.
Another trick is to use heated dry stones (apparently never river rock as it may explode). You do have materials for making a fire – right? Stuff the heated rocks in a sock and put them in the boots. Continue the process until dry or at least mildly damp.
Further reading on adventures you might like in the rain