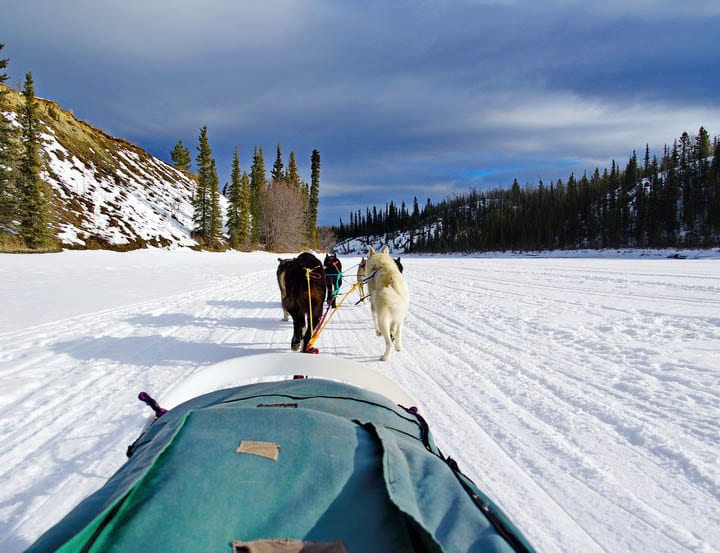 Yukon Winter Holiday for a Magical Time
The Yukon is a place of magic in the winter and a unique and unforgettable holiday destination. In a drama-filled landscape you can experience a host of guided winter activities that range from easy to adventurous. Throw in the warmth of the northern people and the great vibe you'll feel the minute you arrive in the Yukon and there's little doubt you'll leave the Yukon with a lifetime of memories.
Why You Need to Go on a Yukon Winter Holiday
Northern Lights in the Yukon
The chance to view the Northern Lights brings people from around the world to the Yukon. It's truly one of the best places to see them and with accessibility to dark skies just a short ride away from Whitehorse, it's an easy activity to schedule.
The Northern Lights experience is offered almost every night with a high degree of success. On tours you can expect the comfort of warming tents along with hot drinks and snacks, at least at most places.
Many outfitters will also provide tripods (so you don't have to travel with them) in addition to tips on how to get the best Aurora Borealis photographs.
Yukon dogsledding
It's a thrill to go dogsledding in the Yukon, especially with its long history of dogsledding races like the Yukon Quest. You can choose from a variety of tours ranging from a few hours to a full day.
Multi-day trips are also available for the more adventurous souls who want to immerse themselves in the dogsledding culture. In my experience, a full day out with the dogs, learning to drive the sled and enjoying a lunch by the river complete with a roaring fire is a fun way to go.
With warm winter clothes provided by the outfitter – either as part of the tour or for rent, everyone no matter what your fitness level or experience can have an unforgettable experience.
Snowmobiling in the Yukon
From newbies to experts, snowmobiling Yukon style is a memorable one. In the magnificent landscape of the north you can let 'er rip across gorgeous frozen lakes or enjoy a mellow ride through the trees of a scenic valley.
Some tours offer a cooked lunch over a fire while others serve hot drinks in the comfort of a cozy cabin at day's end. Want something more? Try the lodge to lodge snowmobile experience – following frozen rivers and lakes to finish at a comfy cabin.
With a snowmobile suit, helmet and warm mitts and boots, you'll comfortably spend a whole day outside.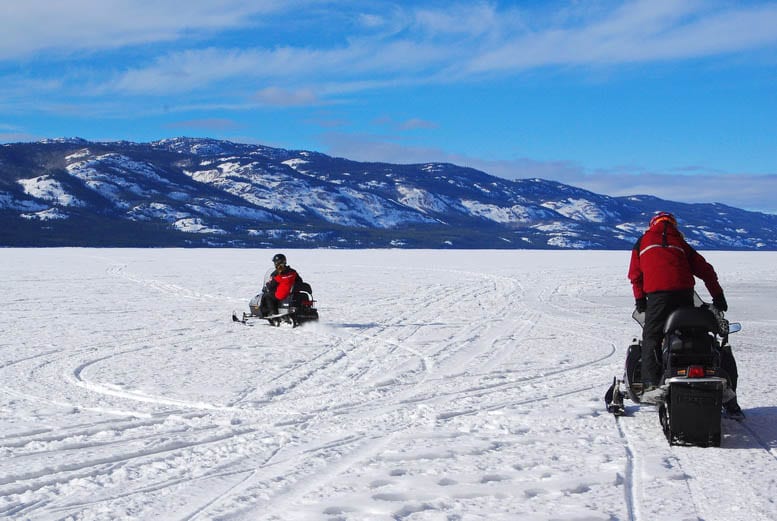 More Yukon Winter Activities
While dogsledding and Northern Lights viewing are extremely popular there are plenty of other things to do to round out a northern visit. Try a soak in the Takhini Hot Springs. Go ice fishing. Or visit the Yukon Wildlife Preserve and stare a moose in the face.
For those who want something completely different join a group and drive the Dempster Highway to the Arctic Circle. This may be one of the last year's its available!
When you visit the Yukon you can choose what level of activity best suits you. Do you want a crazy adventurous multi-day trip or something a little gentler with all the creature comforts?
No matter what kind of adventure you choose – or how long it is, there are tour operators via Yukon Wild that intimately know the Yukon and its hotspots. In addition, they boast a wilderness tourism license and have all the equipment, gear and knowledge to make your experience safe and memorable.
Further reading on things to do in the Yukon