If you're thinking about nature and wildlife adventures in Canada you might be surprised to learn that there's a lot more to Canada than just bears. Most people I've run into on my travels think of Canada strictly in terms of bears. But read on and see what other wildlife encounters are possible.
Here's my round-up of what I think are 10 of the most interesting nature and wildlife adventures in the country – though it's by no means an exhaustive list.
Updated April 2020. This post includes some affiliate links. If you make a purchase via one of these links, I may receive a small commission at no extra cost to you.
Wildlife adventures in Canada – try to see the Porcupine Caribou Herd
The Porcupine caribou herd, found in the Yukon Territory and Alaska, is the fifth largest herd in North America with around 125,000 caribou. They migrate over 1,500 miles per year – the longest land migration of any animal on the earth.
Their migration takes them from central Yukon in the winter to the calving grounds along the Beaufort Sea coast in the summer.
To witness this migration you could try a rafting trip on the Firth River in July. Another option is to time your driving of the Dempster Highway in northern Yukon with their crossing – sometime in the spring or fall. A friend got very lucky in the summer of 2019 and caught the caribou migration from the Ivvavik National Park base camp.
For further reading I highly recommend the book by Karsten Heuer Being Caribou.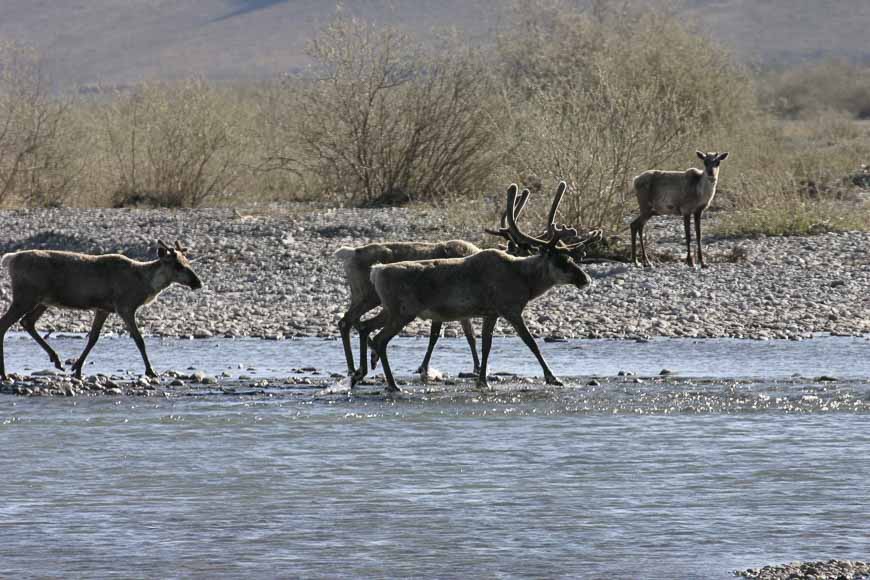 Want to see more snakes in one place than anywhere else in the world?
You'll have to travel to Manitoba. Twice a year, tens of thousands of red-sided garter snakes congregate at the surface of their winter dens and perform a mating ritual for a few weeks. Then it's off to the marshes for the summer but by early fall they're back to the dens.
You can find this place – one that sounds like it's out of an Indiana Jones movie, 130 kilometres north of Winnipeg, and six kilometres north of Narcisse. Look for the Narcisse Snake Den signs to get to the exact spot.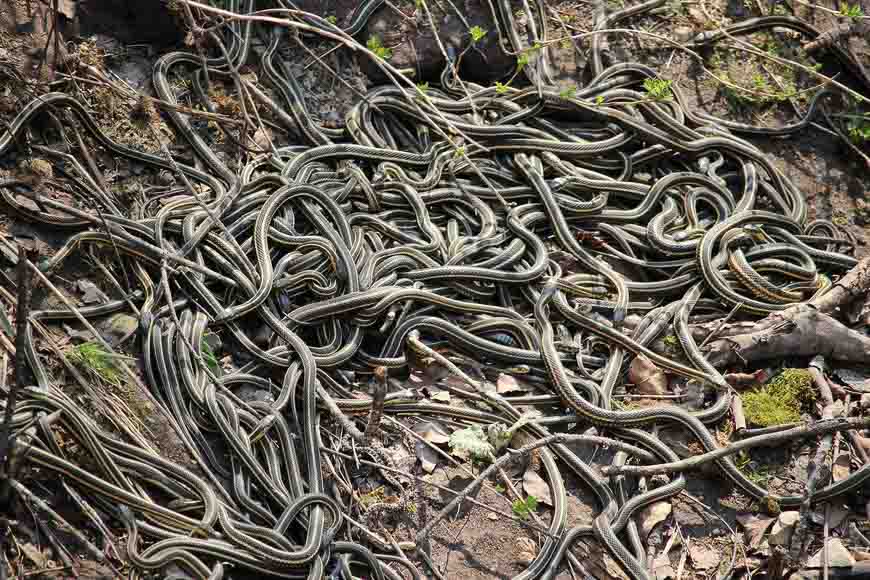 Visit Churchill, Manitoba for the polar bears
Manitoba has more than its fair share of interesting wildlife opportunities. Lots of people know about the polar bears in Churchill – probably because its the polar bear capital of the world. Plan to fly or take the train to Churchill between late October and late November.
You can see the bears in a day but why not stay for the Northern Lights too. Although I haven't been, I'd probably opt for a tour run by Lazy Bear Lodge – one that was given high marks by National Geographic for its sense of place.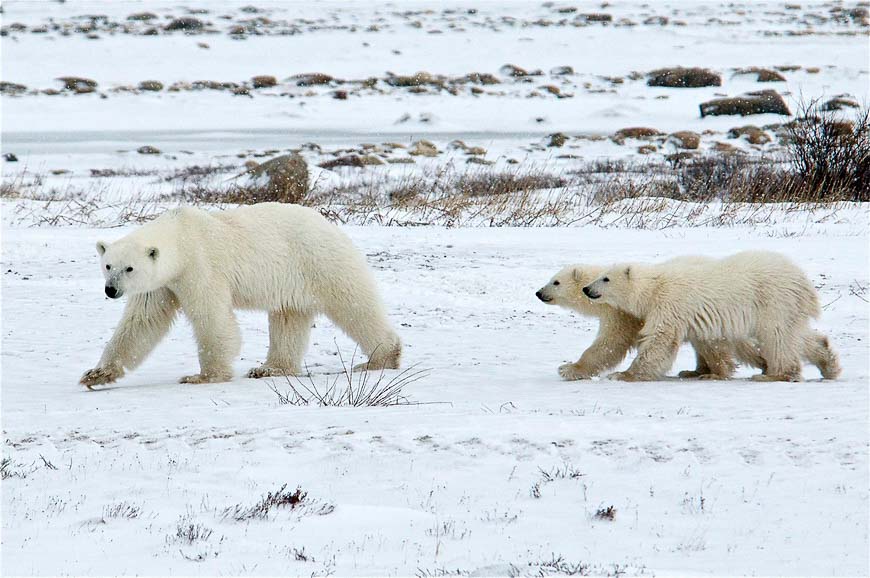 The Wolf Howl in Algonquin Provincial Park
Have you ever wanted to hear the howl of a wolf? With about 50,000 – 60,000 wolves in Canada, chances are reasonably high you can do this, especially if you head to Algonquin Provincial Park in Ontario where trips to hear howling are organized.
I saw plenty of wolf dens when I canoed the Thelon River in the Northwest Territories but we didn't see a single wolf on that trip. My husband has already had his wolf experience.
Years ago he was alone on a traverse, again in the Northwest Territories, and was followed by a pack of wolves for over twenty miles. They were never aggressive but it was still a tad disconcerting, especially alone.
A couple of other ways to interact with wolves include a walk with wolves out of Golden, BC and a fantastic experience at Parc Mahikan where you can walk with wolves and then spend the night in cabins listening to them howl.
See grizzly bears in the Great Bear Rainforest
British Columbia's Great Bear Rainforest is one of the best places to see grizzly bears in the world. You can take a tour out of Port Hardy from May to October with Great Bear Nature Tours – rated by the National Geographic as one of the best travel adventure companies in the world.
I've come across one in the wild before – in northern BC – and been awed by its size and power. I can't imagine seeing a concentration of them.
I also highly recommend a trip to Great Bear Lodge via a float plane trip from Port Hardy at the tip of Vancouver Island. You can read about my three night stay here.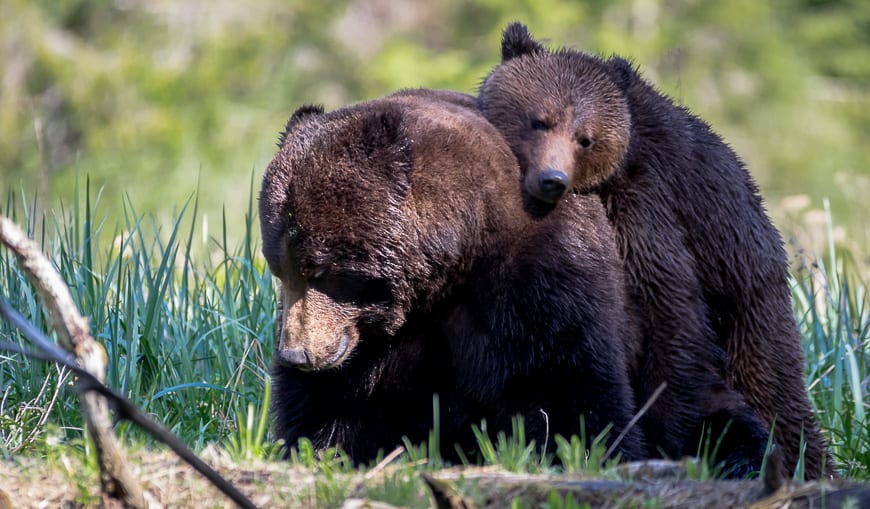 Walrus viewing
Do you want to see a walrus? You'll have to travel to the Arctic to see them – one of the more expensive places in the world to visit. The community of Hall Beach in Nunavut organizes tours to see one of the largest groups of walruses.
Did you know that a walrus tusk – which is made of ivory – can grow to be four feet long??
Bald eagles in British Columbia
Who doesn't love to watch the bald eagles flying? Every fall in Brackendale, BC, not far from Vancouver, eagles begin to congregate along the Squamish River, attracted by spawning salmon.
In January there's a month long eagle festival. The 1994 bird count in Squamish set the world record with 3,769 bald eagles sighted. Bald eagle viewing is free though there are outings like winter rafting trips you can take to see them.
The salmon run on Adams Lake, Shuswap area of British Columbia
How would you like to swim with the salmon? It's possible on the Adam's River in BC in the fall when one of the largest salmon runs in North America occurs.
The Adams River is located between Adams Lake and Shuswap Lake, only 40 minutes from Kamloops. Up to two million salmon are expected some years – so even if you don't want to swim with them the sight of them should lift your spirits.
Wildlife adventures in Canada have to include whale watching
Whale watching on either the Atlantic or Pacific Coast is a real adventure. On the West Coast you can choose tours out of Vancouver, Victoria and up and down the coast of Vancouver Island. For Orca whales head to Telegraph Cove where the sightings are particularly good near Robson Bight in Johnston Strait.
One trip I did was a nature and wildlife viewing trip out of Campbell River. We saw whales, seals, sea lions and sea birds galore over about three hours.
In Newfoundland try a trip to the Witless Bay Ecological Preserve where along with puffins you can see Humpback and Fin whales. Inshore you can find Minke whales – a small whale with a pure white belly.
Out of Nova Scotia, and in particular Cape Breton Island, whale tours are offered up and down the coast. Friends highly recommend the tours out of Cheticamp and Pleasant Bay – where you're likely to see pilot, minke, finback and humpback whales.
Head to Mingan National Park Preserve to see the puffins
In eastern Quebec near the end of Highway 138 you'll reach two towns that offer boat access to Mingan National Park Reserve – Longue-Pointe-de-Mingan and Havre-Saint-Pierre. Either go out on a boat tour – and hike some of the islands or better yet stay in the Lighthouse Keeper's cottage and catch the comings and goings of puffins for hours on end.
Birding – and puffins in particular are one of the big reasons to come for a lighthouse stay. Puffins are the stars of Île aux Perroquets. With their clown like face and comical take-offs and landings you can certainly see why. The Atlantic puffins are the most westerly puffins in its range.
Time your visit for late June through to the end of August, depending on the year if it's puffins you want to see. I'm told sooner in the summer is always better for higher numbers of puffins.
You'll also see huge colonies of Arctic terns, Common eiders and razorbills. In fact more than 40,000 pairs of seabirds call the Mingan Archipelago home.
Another top place to see the puffins is in Elliston on the Bonavista Peninsula in Newfoundland. And by puffins, I mean the real thing, and not just a chair painted to be a puffin.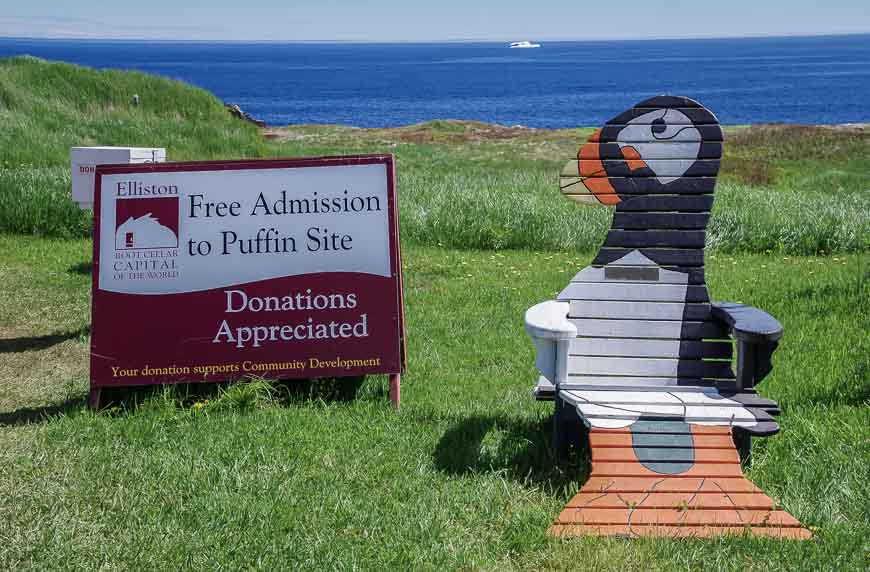 Further reading on nature related travel
Click on the photo to bookmark to your Pinterest boards.