When snow finally makes an appearance, by November at the latest in this part of Canada, it's the time to get pumped for winter in Alberta. Say no to winter blahs by filling your weekends and holidays with a host of exciting outdoor winter activities in Alberta. From skiing to dogsledding, skating to snowshoeing, ice-climbing to fat tire biking – there really is no excuse not to get outside.
Invest in the clothing so you can enjoy those sunny, blue sky days, even when the thermometer dips to -25°C. It's amazing how even a few hours outside on a winter day can enhance your sense of well-being. Enjoy these 10 winter activities in Alberta that will get and keep you excited for winter.
Read: What to Wear in Canada in Winter on a -20°C Day
This post includes some affiliate links. If you make a purchase via one of these links, I will receive a small commission at no extra cost to you.
Winter activities in Alberta – go downhill skiing
Get your boards and skis tuned now so you can hit the ski resorts in the Rocky Mountains once they open. For the shortest drive from Calgary head for Nakiska Ski Resort in Kananaskis Country.
In Banff National Park choose from three ski resorts – Mount Norquay – a perfect choice for novice and expert skiers, Sunshine Village – home to Canada's first heated chairlift and Lake Louise Ski Resort with its exceptional scenery and vast choice of terrain.
If you're lucky enough to visit Jasper National Park in winter give Marmot Basin a try. It's a well-designed, friendly resort and a great choice for families.
Read: 7 Amazing Alberta Ski Resorts You'll Want to Visit
Visit a backcountry lodge in the Canadian Rockies
Not into downhill skiing? No problem. Enjoy the cozy vibe of a backcountry hut tucked into the mountains – and accessible only on cross-country skis or via snowshoes.
Near the town of Banff choose the relatively easy to access Sundance Lodge. More experienced backcountry skiers should consider Skoki Lodge or Tonquin Valley Lodge. Shadow Lake Lodge with its individual log cabins is another excellent choice.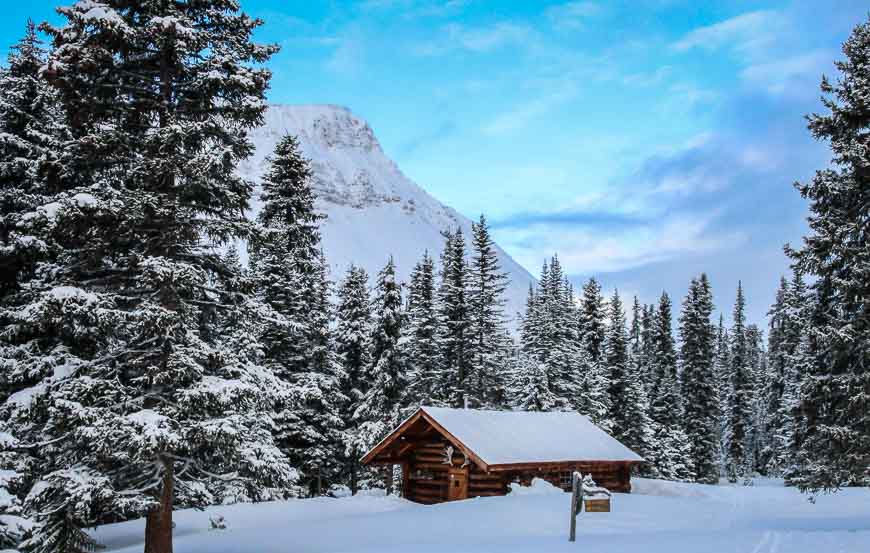 Go skating
Bring skates or rent a pair at the Fairmont Chateau Lake Louise so you can enjoy the magic of skating or playing shinny on Lake Louise.
Called the world's best skating rink by both CNN and the Huffington Post, skating here offers a backdrop like no other, In January be dazzled by the Ice Magic Festival.
There's also lots of wild mountain skating available too. – depending on the year and conditions. This skating post by Tanya Koob showcases the best places to try in Banff and Kananaskis.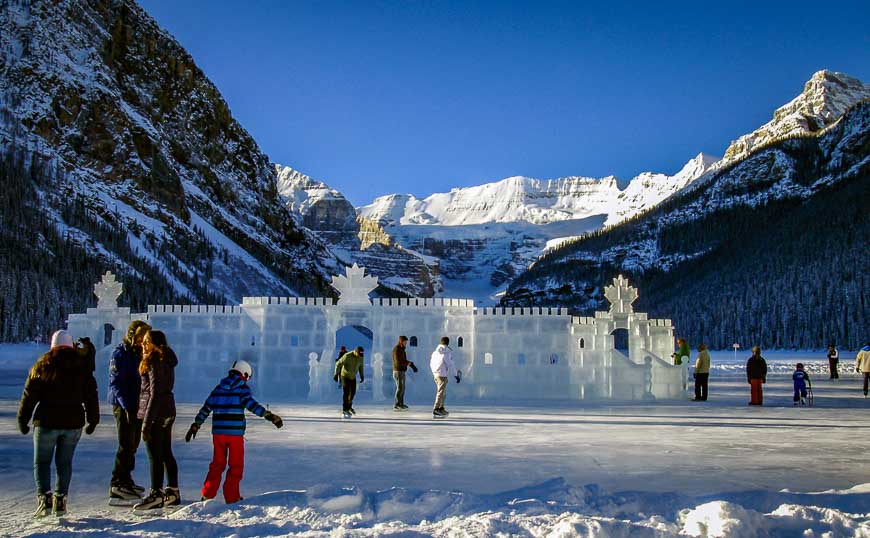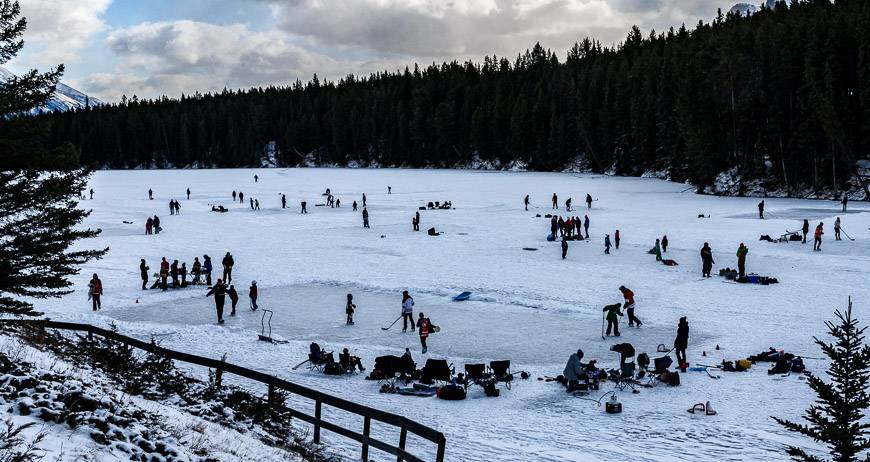 Try snowshoeing in Alberta
Ever wondered what it's like to snowshoe under a full moon? Sign up for a two hour tour with Kananaskis Outfitters and see for yourself. Or choose their Dark Sky Stargazing Tour. Other options for exploring Kananaskis Country include Sunday morning tours and private half or full day snowshoe tours.
Above Sunshine Ski Resort, it's also great fun to go out into the stunning backcountry with White Mountain Adventures. You can read about my Canadian Signature snowshoeing experience here.
You might like: Snowshoeing in Kananaskis – 9 Trails to Explore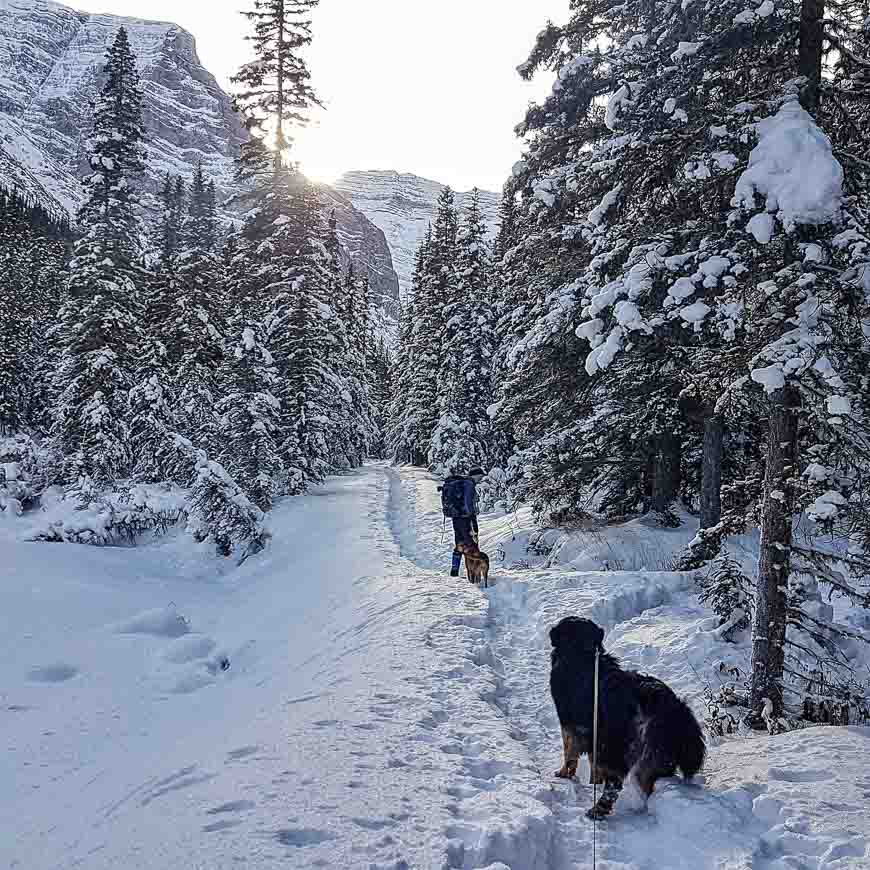 Go cat skiing at Castle Mountain
Cat skiing powder snow at Castle Mountain Resort in southern Alberta is a thrilling experience. Strapped onto a pair of fat skis, it's like floating on air – when you get it right.
With pointers from the guides, intermediate and better skiers will have an adrenalin filled day that will leave you wanting more.
And if someone in your group isn't interested in cat skiing, they can go head off on downhill skis, or go snowshoeing and cross-country skiing.
Get your adrenaline pumping while ice-climbing
Ice climbing might look intimidating but it's actually a whole lot of fun. And it's VERY SAFE if you go with a guiding company like Rockaboo.
In just a few hours you can learn to rappel down a frozen waterfall and climb right back up with an axe in each hand, a pair of crampons and a few words of encouragement from your belayer. One of the best places to try it in Alberta is on the beautiful frozen waterfalls at the end of Maligne Canyon in Jasper National Park.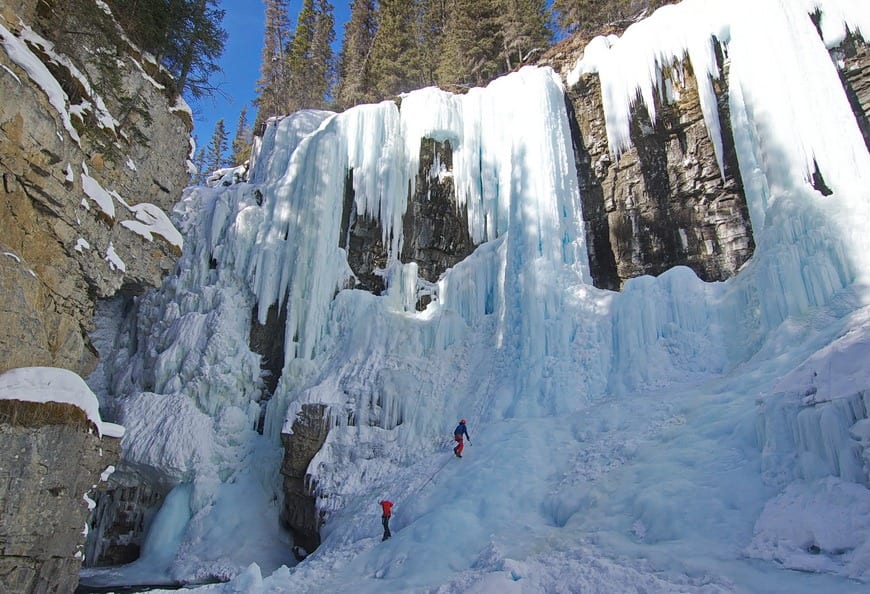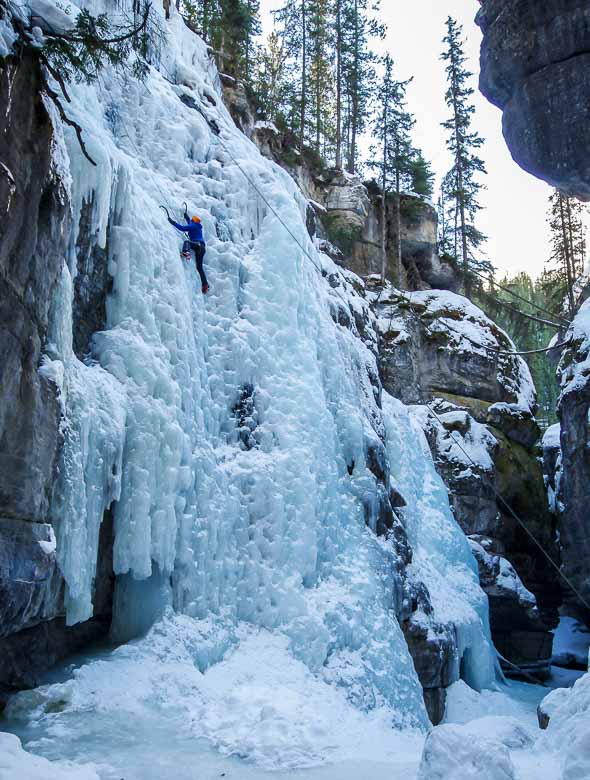 Go fat tire biking
Head to Banff's Soul Ski & Bike for a fat tire mountain bike rental and information on the best trails to ride in winter. That will vary depending on whether you're there on a powder day or if a Chinook has rolled in and turned the snow to mush.
For novice riders the Sundance Trail that follows the Bow River is usually an excellent choice – and a scenic one to boot. If you're hardcore chances are you'll be directed to the Tunnel Mountain area where you can challenge your conditioning program as well..
Read: A Fat Biking Adventure in the Banff Backcountry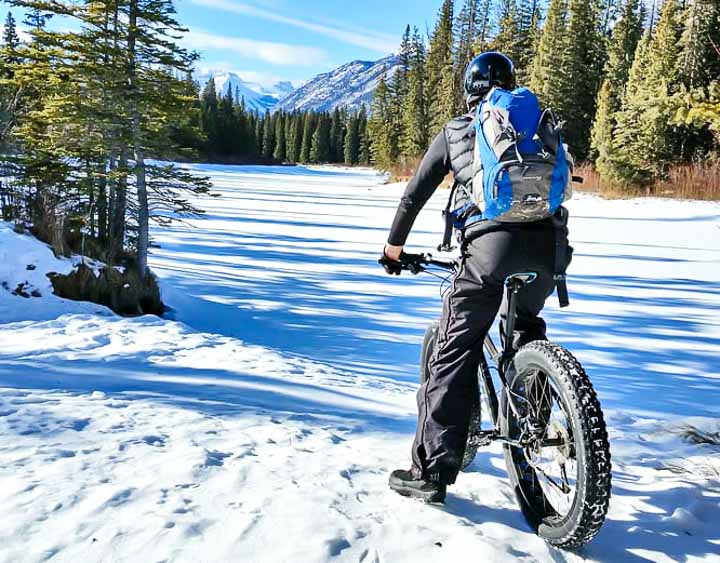 Cozy up with your partner on a dogsledding tour
Unleash your inner musher on a dogsledding tour out of Kananaskis or Canmore. It's a wonderfully romantic activity to do with your partner and it can be just as much fun with kids.
The dogs will enchant you with their personalities and amaze you with their athleticism. Tours run the gamut from two hours to overnight. Now who wouldn't want to do that?
Read: Fun Times Dog Sledding in Canmore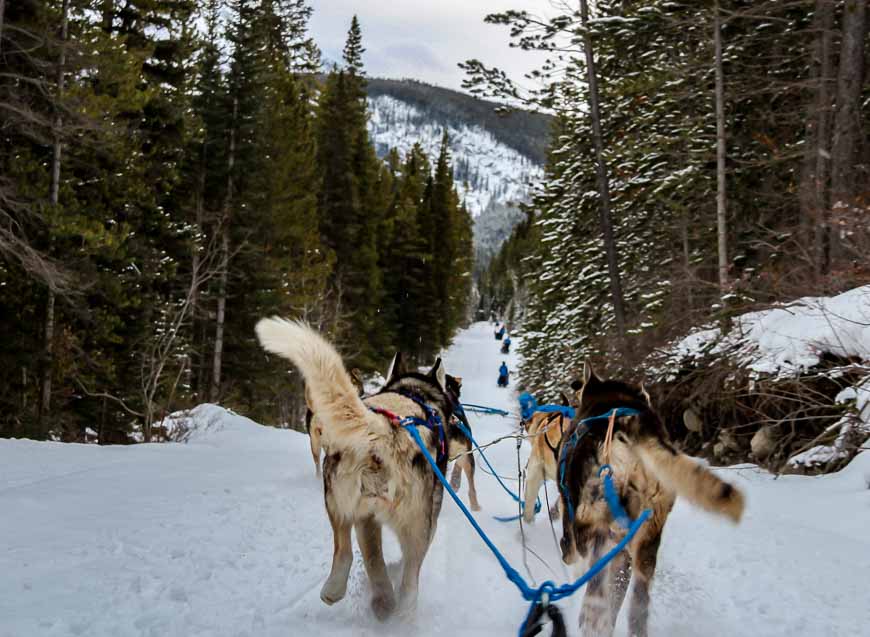 Head to the trails in Bragg Creek for skiing or snowshoeing
Explore the trails around Bragg Creek on snowshoes or skis, especially right after a fresh snow. The Ranger Summit – Strange Brew Loop is particularly beautiful. It's one of my favourite winter activities in Alberta close to Calgary.
Over several hours you are treated to many a mountain view and the silence of a snow shrouded forest. Take a thermos of hot chocolate and enjoy it in the woods. Afterwards warm up in one of Bragg Creek's cafés.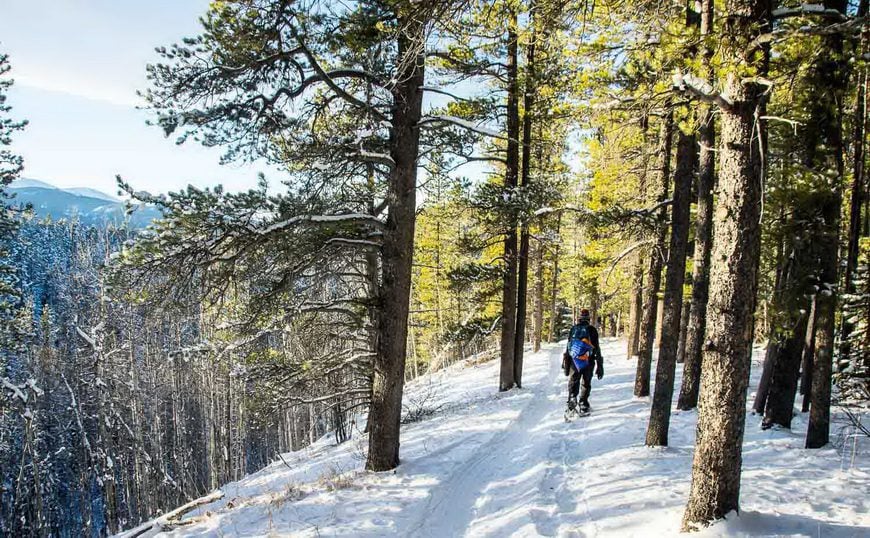 Explore Johnston Canyon in winter via an ice walk
Do the ice walk up Johnston Canyon – wearing a pair of icers – to admire the frozen beauty. While some people don't bother wearing anything to stop the sliding, you do so at your peril.
There are two sets of frozen waterfalls to see – with the best being at the upper falls, 2.6 kilometres from the parking lot. Always popular, this trail is best hiked early in the morning or later in the afternoon to avoid the crowds.
Visit the Kananaskis Nordic Spa
You should book your visit in advance but nothing beats soaking in steamy hot waters on a cold winter days – interrupted if you dare by a dip in freezing-cold plunge pools. Then hop in the saunas and melt all the stress away. I could enjoy a visit here every day of the week.
Read: A Relaxing Visit to the Kananaskis Nordic Spa in Alberta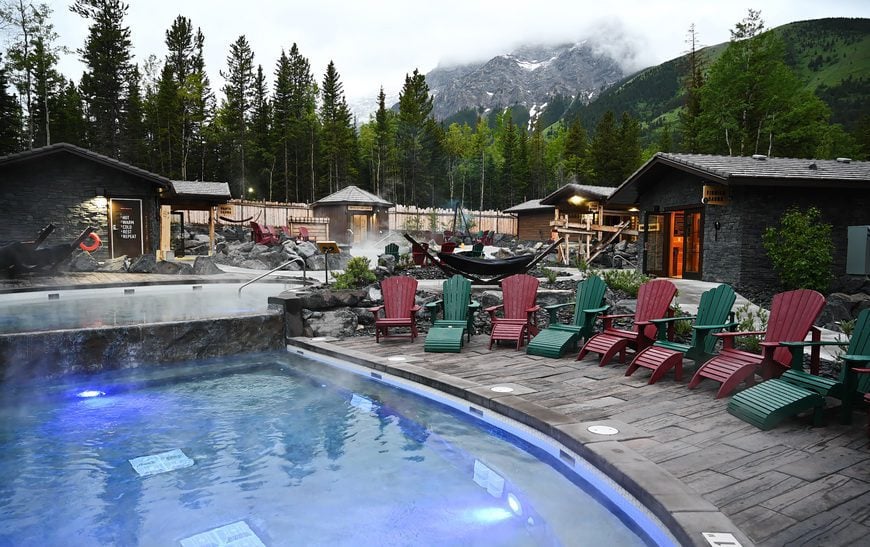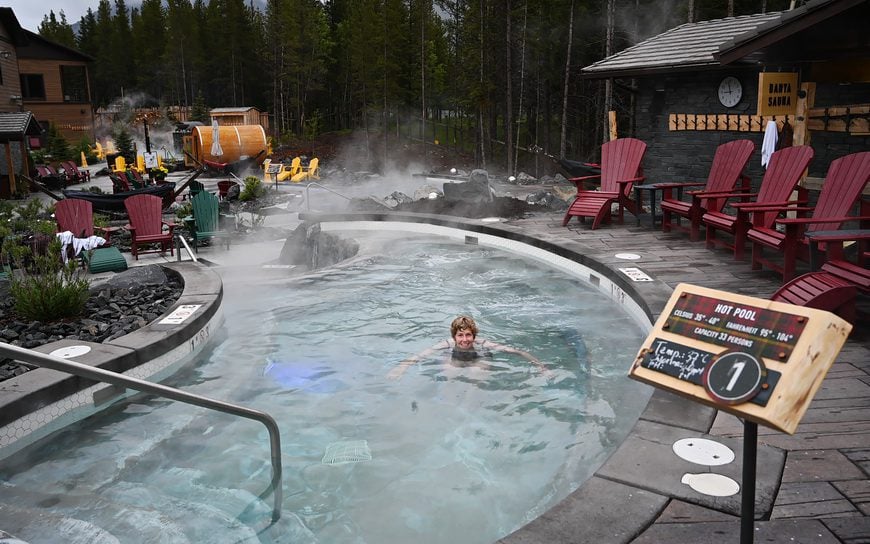 Further reading on things to do in Alberta in winter
Click on the photo to bookmark to your Pinterest boards.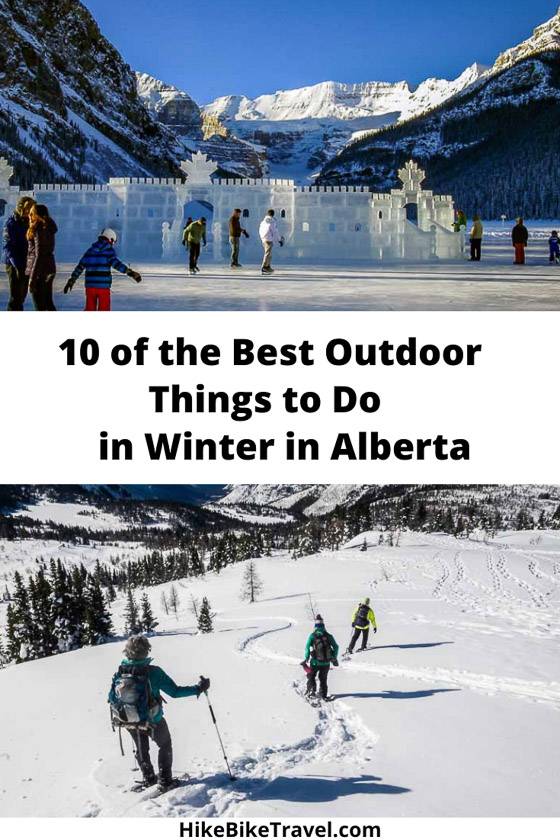 A big thank you to Travel Alberta for sponsoring this post – but really what's not to love about winter in this province?