Down in Alberta's southeast corner within sight of the Sweet Grass Hills of Montana sits Cypress Hills Provincial Park, a four season beauty that has escaped the notice of almost all Albertans. Of course the folks in nearby Medicine Hat and parts of Saskatchewan know its winter secrets but do you? Mike Ratcliffe, the Head of Visitor Services in Cypress Hills Provincial Park tells me that "Cypress Hills in winter is a snowy playground with loads to do including downhill and cross-country skiing, snowshoeing, skating, and a luge for kids."
This post includes some affiliate links. If you make a qualifying purchase through one of these links, I will receive a small percentage of the sale at no extra cost to you. Thank you very much for your support.
Cypress Hills Provincial , Alberta location map
Most of the services in the park including the Visitor Centre and the Hidden Valley Ski Resort are open in the winter on a Wednesday to Sunday basis but there are exceptions. You can still stay at Elkwater Lodge and snowshoe, cross-country ski and take advantage of the skating trail all week long. There are also comfort cabins to rent.
Even though the park is a 3.5 hour drive from Calgary, I think you'll see from the photos and my experiences that it's well worth the drive, even in winter.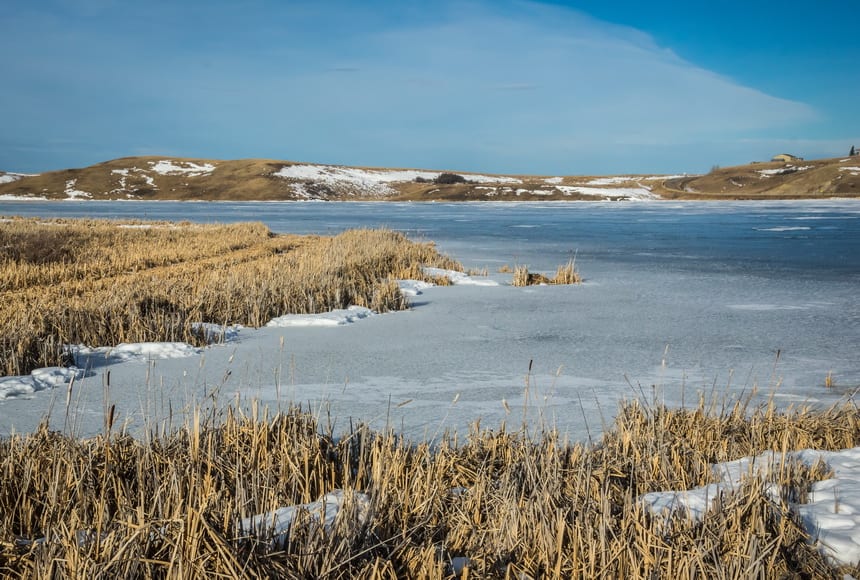 Go skiing and snowboarding in Cypress Hills Provincial Park
Cypress Hills is home to Hidden Valley Ski Resort, one of the most family friendly and affordable ski resorts in Alberta. With four lifts (and next to no lift lines) a vertical of 200 metres and six major runs, it's an ideal destination for beginner skiers.
That said, expert skiers can still have a fun day skiing laps on Suicide. Adult lift tickets are just $58 for the day, youth aged 13 -18 years are $52 and kids aged 6 -12 pay $44. Those that are 5 and under pay $14. There is also half day pricing and night skiing available for $29/night (2021 prices) starting at 4:30 PM.
On the drive to the ski hill you might be wondering if there will be any snow at all, considering the lack of it on the prairies. Fortunately the hills in the park rise high above the prairies and between natural snow and extensive snow-making capabilities, skiing usually lasts until the end of March.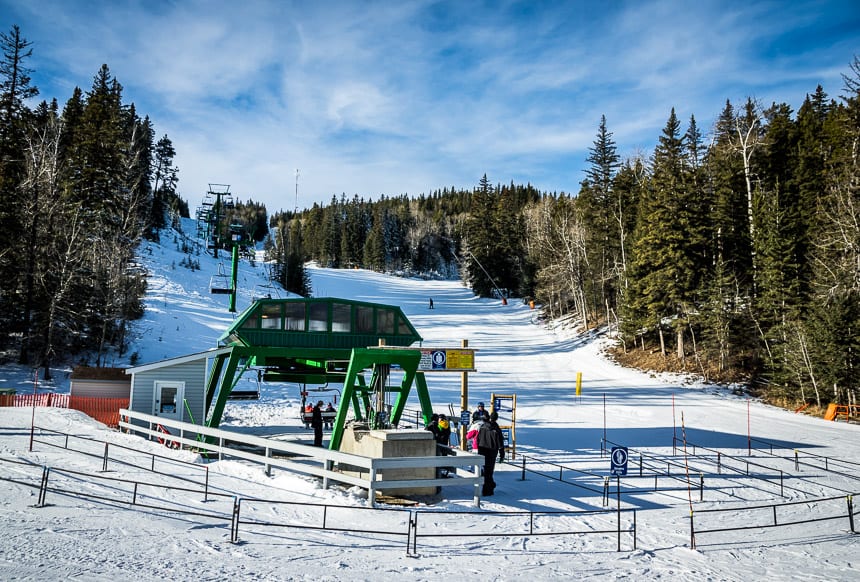 Try the skating trail in Cypress Hills
What a treat to be able to skate in the natural environment. In Cypress Hills Provincial Park they have turned some of the roads in the Beaver Creek Campground into a skating trail.
You can expect slight uphill and downhill grades that will have you working a bit harder in one direction and coasting in the other. I was trying out new skates and hadn't got the stopping quite under control so on the first loop, as I started to pick up speed on the downhill grade, I figured I needed to bail into a snowbank to prevent a crash.
It wasn't pretty but at least the learning curve was short. As you can see from the photos the grade is pretty minimal.
You will find an open air changing hut beside the trail but there are no warming facilities.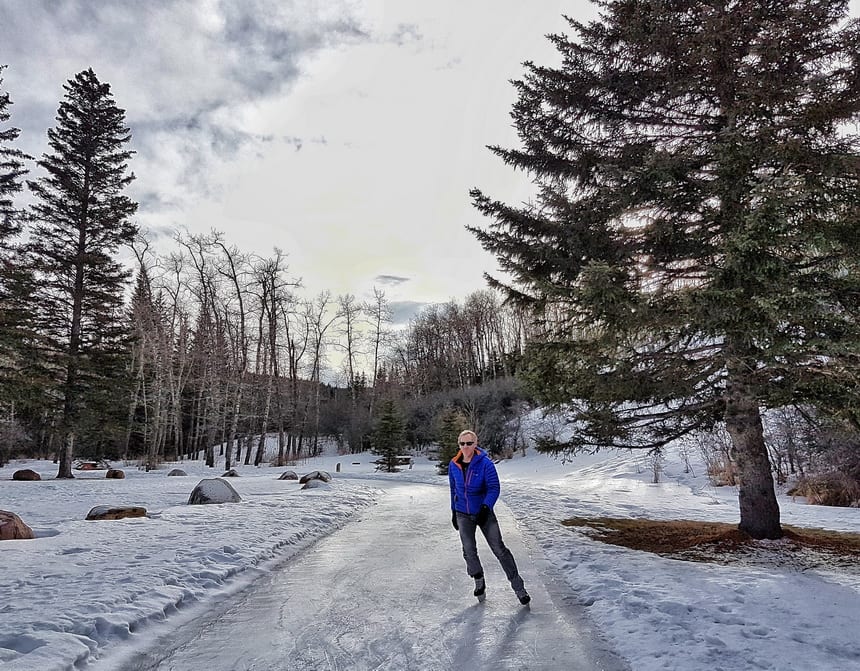 Go cross-country skiing and snowshoeing in Cypress Hills
There are a couple of areas within Cypress Hills that are ideal for both snowshoeing and cross-country skiing. I skied about eight kilometres on cross-country trails in the Spring Creek area.
These trails are at the same elevation as the Canmore Nordic Centre. Although snow cover was a little thin, I still came away impressed with the beauty of the area, the signage and the grooming. In addition there's a lovely warming hut at the Willow Creek Campground. In theory you could snowshoe the same loops, as long as you stayed off the groomed tracks.
The nearby Spruce Coulee area also offers both snowshoeing and cross-country skiing trails.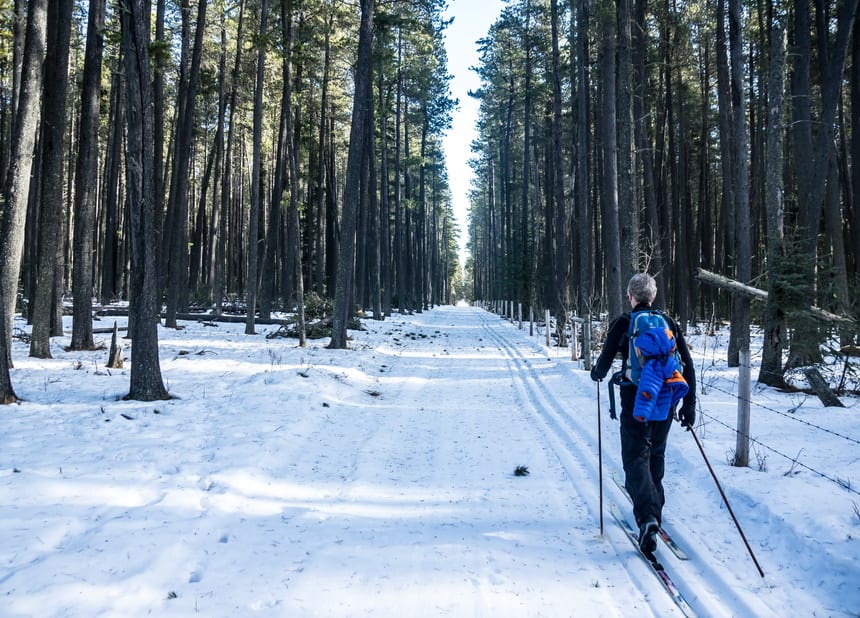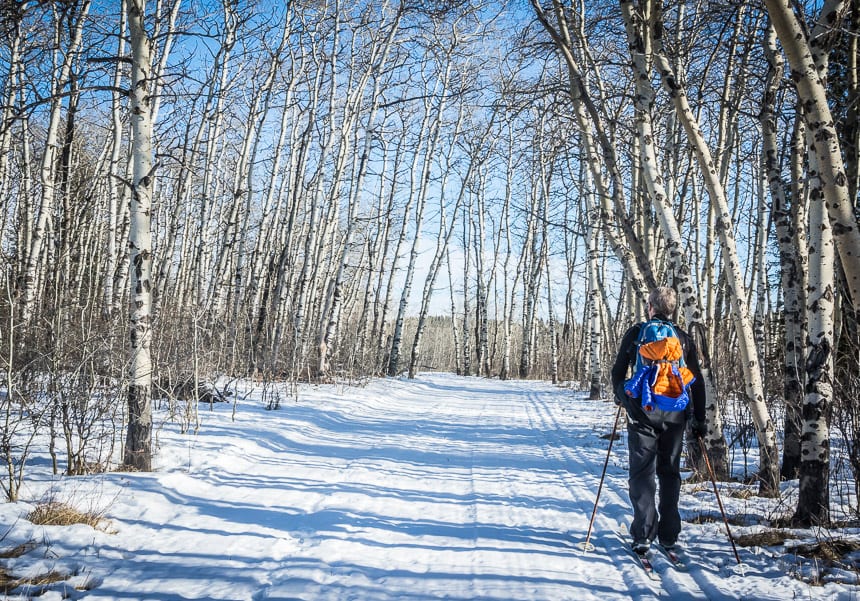 Let the kids loose on the luge
Head to the Learning Centre (just a minute's drive east of the Cypress Hills Visitor Centre) to try out the luge. It's a whole lot of fun for both kids and adults.
Helmets and flying saucers can be found inside the Learning Centre – as well as hot chocolate by donation. You could easily spend an entire afternoon here.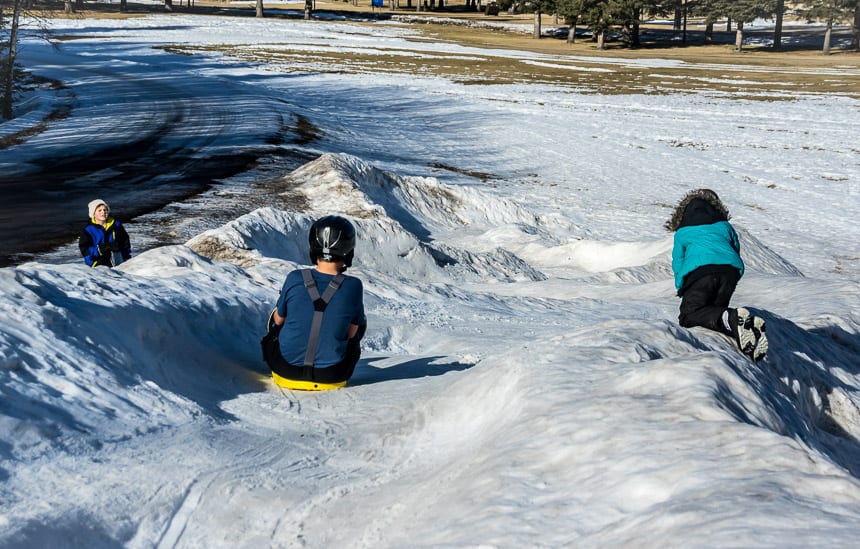 Look for winter wildlife
Mike Ratcliffe explains to me that "in winter you have a higher probability of seeing the bigger animals than in the summer." Look for moose, deer, coyotes and even cougars. You'll see loads of rabbit and squirrel tracks in the snow.
Although we didn't see a cougar we did find some old tracks when we were cross-country skiing along with a fleeting glimpse of a flock of snow buntings.
Where to eat in winter in Cypress Hills
There are two restaurants in Elkwater. All are open when the ski hill is open though I was told that the 12-34 Café and Pub is usually open on Mondays and Tuesdays when the others are not.
The café (next to the gas station) is a good place to go for a coffee and a sandwich though they could stand to speed up their service. At the Elkwater Lodge you'll find the Bugler Restaurant. It's open for breakfast, lunch and dinner.
Where to stay in Cypress Hills in winter
In the winter you have a couple of options of where to stay in Cypress Hills Interprovincial Park. Choose from the Elkwater Lake Lodge and Resort – where you'll have all the comforts of home or opt for one of two backcountry huts.
The huts are located at the top of the plateau and require that you snowshoe or ski into them. You can book up to a year in advance by calling the Visitor Centre at 403-893-3833 or by emailing cypresshills@gov.ab.ca.
For more information on Cypress Hills Provincial Park visit their website.
Further reading on things to do in winter in Alberta
Click on the photo to bookmark to your Pinterest boards.