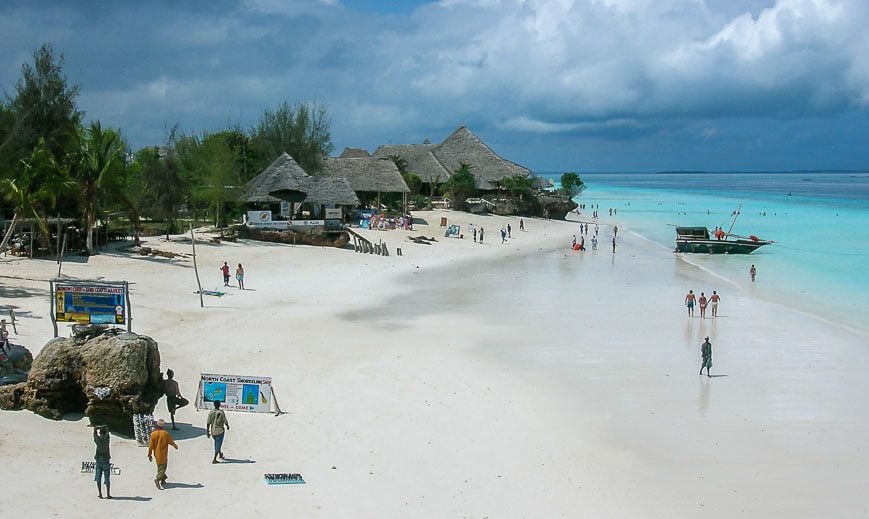 Zanzibar- As Exotic as it Sounds
When you have been riding your bike day in and day out for about two months, it can become a bit tedious. While the countryside in Africa changes, the daily routine doesn't.
Wake up, change into bike shorts and shirt, pack up tent, eat breakfast, bike for several hours, stop and have lunch, bike for several hours, arrive at camp, set up tent, eat dinner, go to sleep.
So when riders on the 2008 Tour d'Afrique were told that we would not be biking through Kenya (due to post-election conflict), I was secretly relieved. This meant that I had two weeks in the middle of Africa to do whatever I wanted.
I decided that I would climb Mt. Kilimanjaro and do a safari. Kilimanjaro was probably the highlight of my time in Africa but unfortunately the safari Gods lined up against my travel partners and I. Our hand was forced and we decided to hop on the next flight to Zanzibar instead!
Zanzibar – as exotic as itsounds
I didn't know a thing about Zanzibar. I just thought the name was awesome so the place must be too!
We had a bit of a bumpy time getting there as the plane aborted take-off due to a sandstorm. After the sandstorm passed and the plane was in the air we were able to see the stunning scenery from above.
Stone Town, the main city in Zanzibar greeted us with a wave of heat and humidity. It was fabulous! We had made no formal arrangements so upon arrival at the tiny airport we talked to a few locals about what to do. We ended up bargaining with a taxi driver to stop at the bank and then take us to the north end of the island.
We left picturesque Stone Town and for about an hour winded our way through the tropical island's bumpy roads. Once outside of Stone Town it was apparent that much of the population of Zanzibar lived in poverty. However, like everywhere else I'd seen in Africa, the people were smiling and gracious.
The taxi driver took us to an amazing hotel right on the coast. It was dark by the time we arrived so we didn't really get a chance to see what sort of place we were staying in. But surprisingly, we were greeted by other members from the Tour D'Afrique!
It was such a welcome sight to see familiar faces in such a foreign place. They all looked well rested. I, on the other hand, was exhausted as it was just that morning that we had finished descending Kilimanjaro.
Paradise in Zanzibar
I felt as if I'd landed in paradise. The grounds of the hotel were beautiful. There were huge tropical trees and sandy paths leading to the main building. Here we enjoyed the warm breezes off the Indian Ocean.
Breakfast with other members of the Tour D'Afrique gave me insight on what there was to do…it turned out that the snorkeling was incredible, the walks interesting and the water perfect for swimming. But unfortunately once outside the hotel, the stark difference between how the locals lived and how the tourists lived hit home.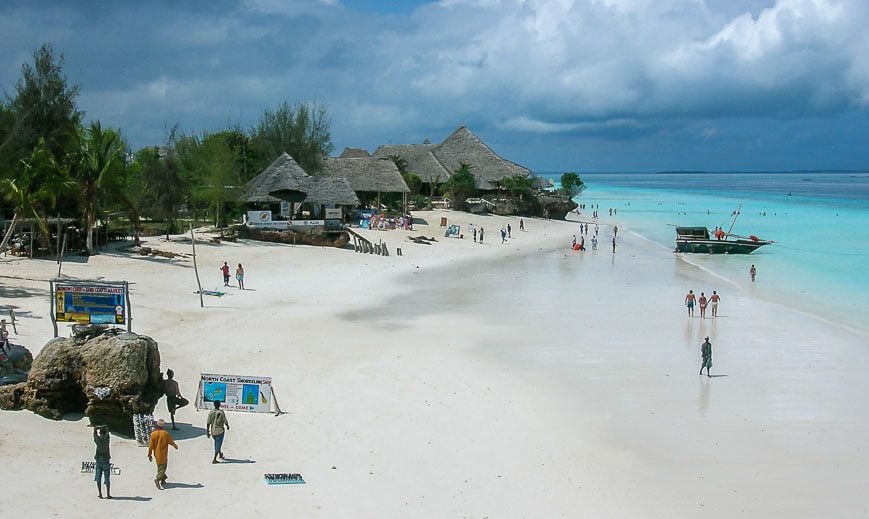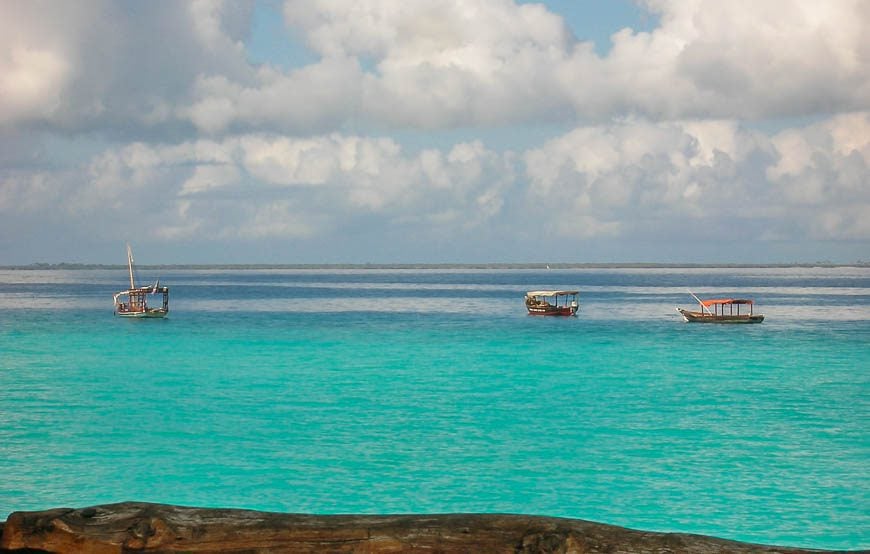 Time to explore Stone Town
After several days of soaking up the sun and lying on the beach Stone Town beckoned. It's a beautiful spot with maze like streets, busy bazaars, mosques and grand Arab houses. I loved exploring so hours were spent poking in shops and seeing the sights. The food was unremarkable but ice cream in the heat was a treat.
Zanzibar is very touristy
Zanzibar was also littered with tourists. You could find most of the tourists congregated around the shops dedicated to Freddie Mercury, the lead singer from the band Queen. (Funny enough, on the Tour D'Afrique our tour leaders would sometimes wake us up with a song by Queen – "I want to ride my bicycle" – pretty fitting?).
The week in Zanzibar flew by and before I knew it, it was time to hop on a plane back to the mainland and continue biking south. After a day back on the saddle, the pristine blue waters and sandy white beaches seemed like a dream. But it wasn't. And if you are in Tanzania and have the time, make the trip to Zanzibar. You won't regret it. Zanzibar is as exotic as it sounds!
Guest blog was kindly written by Kristen McAdam, a 2008 Tour d'Afrique cyclist.
Further reading on things to do in Africa