Over a two week vacation we discovered a lot of interesting places to visit in Morocco, starting and ending in Casablanca. The "real Morocco trip" started in Marrakesh. From there we did a clockwise loop that took us over the Atlas Mountains to the Sahara Desert. Continuing, we drove southwest towards Icht where we could see Algeria off in the distance. Then we turned north and headed to Essaouira on the Atlantic Coast via numerous stops detailed below to complete the loop and finish at the Casablanca Airport.
Here's a look at our two week Morocco trip – in chronological order – and 14 interesting places to visit in Morocco covering the southwestern part of the country. It was a marvelous trip that was organized with the help of Sun-Trails, a local Moroccan company I found online and would recommend. They knew the most interesting places to visit in Morocco as only a local can – and catered to our interests.
Places to visit in Morocco – my personal wish list
There were certain things I absolutely had to do while in Morocco. That list included a multi-day hike in the Anti-Atlas Mountains and an overnight visit to the Sahara Desert but we were open to other suggestions, especially from someone who lived in the country. What you see below is our agreed upon route – with a private driver for most of the trip. I did ask that we get off the beaten path and really dig up interesting places to visit in Morocco that few people have heard about. The Anti-Atlas hike we did was the highlight for us.
The trip cost about $Cdn5000 – and yes we could have done it for less if we'd rented a car and done the route ourselves. But when you're really busy and you just want a holiday, I think a personal driver who intimately knows the country, is the way to go. Especially in Morocco.
Why hire a driver in Morocco
A driver allowed for huge flexibility everyday – stopping where we wanted for lunch – usually with a picnic that Mustafa, our driver, had purchased for pennies in a local market. If we wanted a photo or just to get out and walk, it was always easy to do.
We also never had to get out the map to figure if we were on the right road. And there's no chance we would have had the same experience in the Sahara without Mustafa. Actually there were a huge number of experiences that made the trip much richer because of him, especially as he grew up as a nomad in the Sahara and was a master at telling stories. We ate in markets, learned how the nomads survived in the heat – and heard about the tensions between city life and nomadic life, especially when it came to women.
We had a couple of breaks from Mustafa – and he from us – while on a two day hike in the Anti-Atlas Mountains (a highlight) and for the couple of days we spent in Essouaira.
Location map of places to visit in Morocco
Allow a day for Marrakesh
Exotic images probably come to mind when you think of Marrakesh. Colourful, noisy souks, snake charmers in Djemaa el-Fna, fancy riads and a lot of brilliant colours. Marrakesh is partially that but it's also noisy and polluted. The medina is full of motorbikes – an addition in the last 6-7 years – and not a good one.
Overall it was my least favourite city that we visited in all of Morocco (though we didn't see them all) so I really wouldn't recommend a lot of time here. Allow 2 nights and a full day with a guide so you can see the main sights. Then get out of town. It's also if you're a solo traveler where you're most likely to be hassled.
Read: Things to Do in Marrakesh in 24 Hours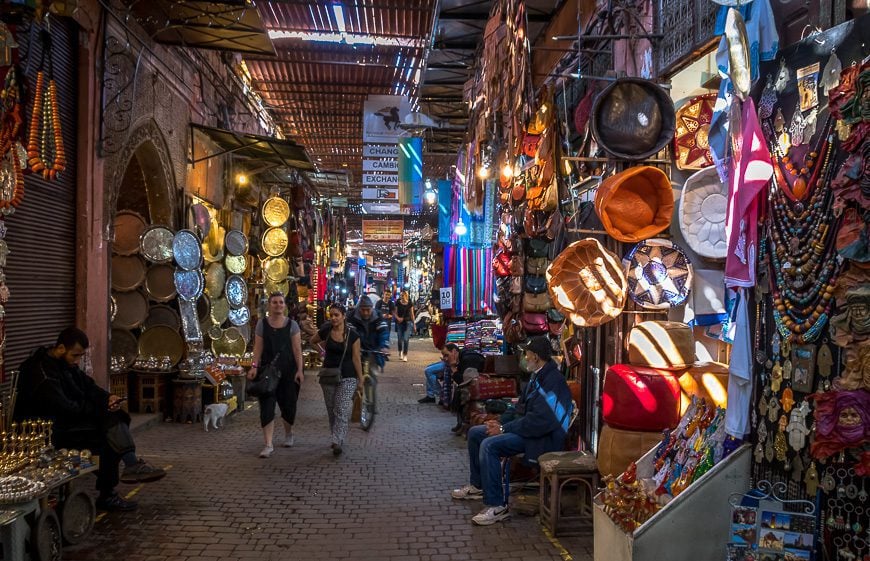 Drive through the Atlas Mountains
The Atlas Mountains, the highest mountain range in North Africa, stretch for almost 1,000 kilometres from the Atlantic Coast northeast to northern Algeria. They are easily accessible from Marrakesh as a day trip, but if you're planning to visit the Sahara or many of the places listed below, you'll see them one way or another.
The Toubkal area of the High Atlas is the most visited area – and is accessible by public transit from Marrakesh. If you're into hiking or rock climbing then you may want to spend an extended time in this part of Morocco. There are local and international trekking companies that run tours here, some several weeks long.
But even just a drive through the Atlas Mountains will give you a sense of their grandeur. The road is good and if you're heading to the Sahara Desert, rest assured you'll get a taste of the Atlas Mountains. The road we drove took us over Tichka Pass at 2260 metres 0r 7,415 feet.
From there we followed an itinerary hitting a raft of interesting places in Morocco (many well off the tourist trail) over a two week time frame.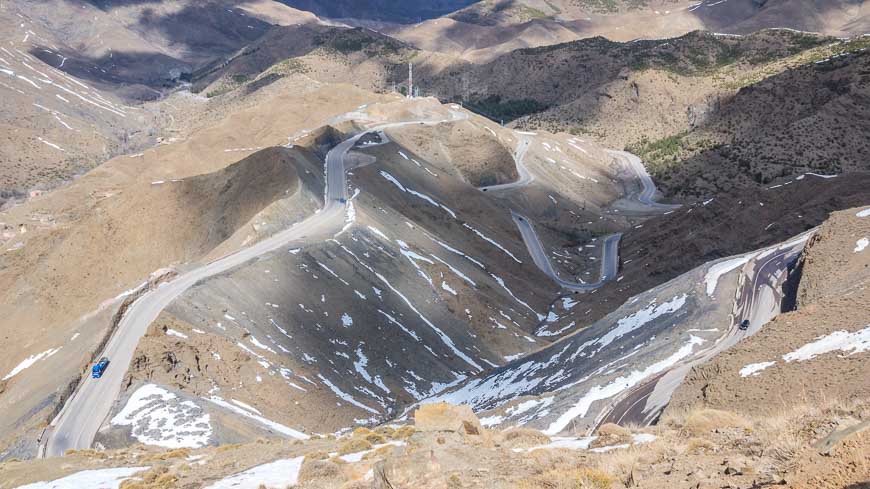 Tour Morocco's Kasbah Telouet
The Kasbah Telouet is on the former camel caravan route to Mali. It served as headquarters for the Glaoui tribe until Morocco gained independence in 1956. Then it was seized by the state and has mostly been left to decay.
Today it's hardly a major tourist stop but if you're driving across the Atlas Mountains to Tamdaght, it's definitely worth a stop. Only about 10% of the structure can be visited, including a climb up onto the roof. What you will see are some magnificent tiled rooms – the site of many a lavish party back in the day.
The view from the top out to the countryside is very beautiful so be sure to explore what you can. There is a very small entrance fee of about a dollar. Allow about 45 minutes.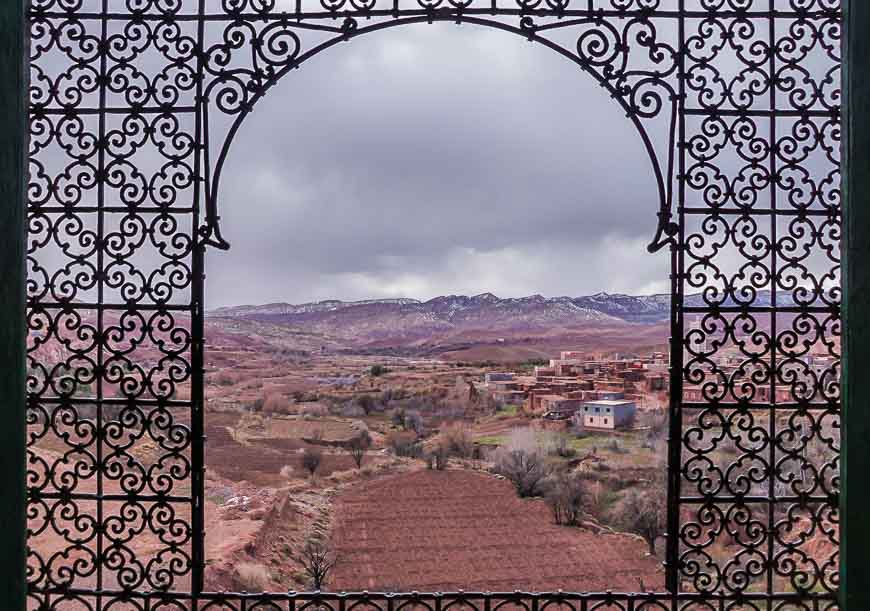 Visit the fortified Kasr of Ait Ben-Haddou – a UNESCO site
Ait Ben-Haddou, near Ouarzazate, is one of the best preserved kasbahs in Morocco's Atlas region. You may have seen it unknowingly in theatres or on TV as its been included in scenes of at least 20 movies including Lawrence of Arabia and more recently in the Game of Thrones.
Ait Ben-Haddou won UNESCO status because it exemplifies "traditional earthen habitat representing the culture of southern Morocco". The community was on a trading route between Marrakesh and ancient Sudan. As such it had to protect itself which it did by building dwellings onto the side of a hill. At the top is a fortress, the last line of defense.
Ait Ben-Haddou sees throngs of tourists and tourist buses so get here early to beat the rush. You have to get past the souvenir shops to get across the river and the main entrance – near more souvenir shops. You don't need a guide – even though many men will offer their services.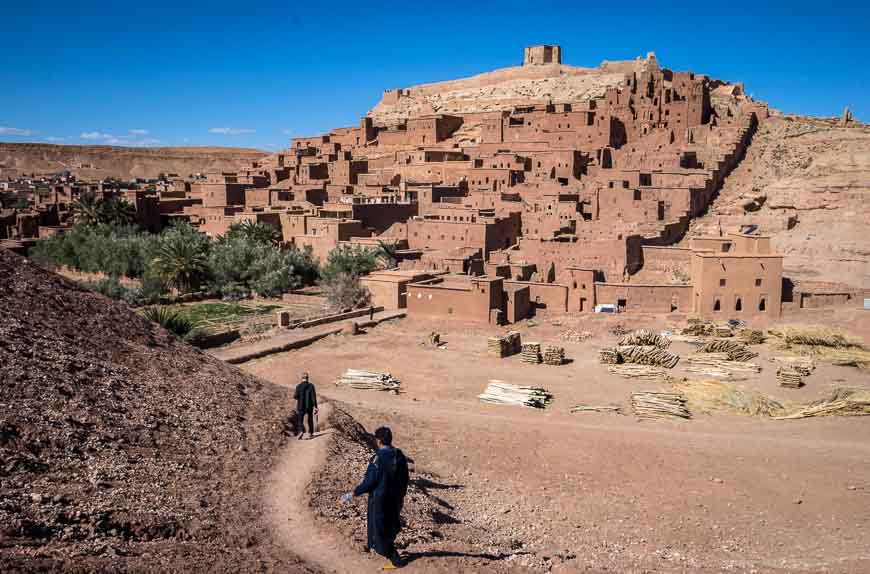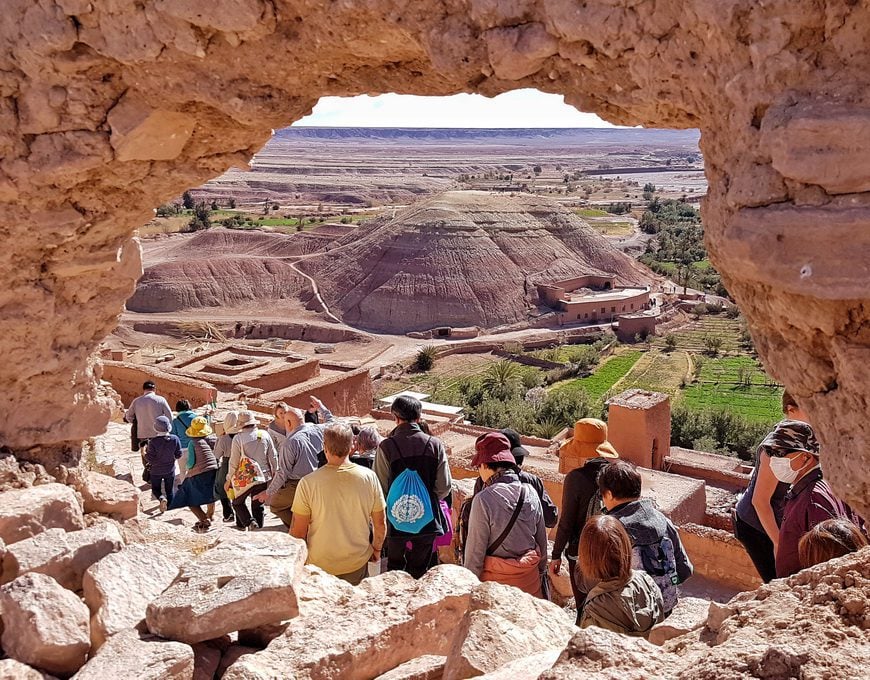 Admire the Drâa Valley in Morocco
The Drâa Valley, home to Morocco's longest river, the 1000 kilometre Drâa River, is a gorgeous oasis, home to kasbahs, Berber villages, lush green plains and endless stretches of palm trees.
The valley starts around Ouarzazate and continues into the Sahara Desert. Mostly we just drove through it, stopping to get photos – and for one lovely hour to hike in the shade of some giant date palms on route to Zagora.
Buy pottery in Tamegroute
While the village of Tamegroute is home to the Nassira library that contains a 10th century gold-engraved Koran, it's the pottery that draws people to stop – and it's for this reason it's one of the places to visit in Morocco.
You can buy pottery in a rainbow of colours. But it's the tell-tale emerald glaze that you see on mosque tiles and on dishes all over Morocco that people seem to be crazy for. Personally it's anything blue for me.
Collecting pottery when I travel is something I love to do, especially if it helps support a community. Here, where we saw people toiling for long hours, whether it be pounding clay or using the pottery wheel like the gentleman below, I cherish the few pieces that made it home intact. I feel like they have a real story to tell.
Spend a night in the Sahara Desert in Morocco – one of the top places to visit in Morocco
A true highlight of any trip to Morocco is a night or two in the Sahara Desert. The Sahara will mesmerize you with its otherworldly beauty and the infinite sand patterns in the dunes. It may surprise you with its lushness after a winter rain. And if you lie on a carpet outside your tent, you just might find magic in the night in the form of shooting stars.
Camel trips are optional at most places you stay in. If that sounds exotic to you, then do it. And be sure to catch either a sunrise or a sunset.
But be aware. There are two main desert camps in the Sahara. One has a quieter atmosphere – and one a party atmosphere. Be sure to choose one that fits the type of traveler you are.
Read: A Trip to the Sahara Desert in Morocco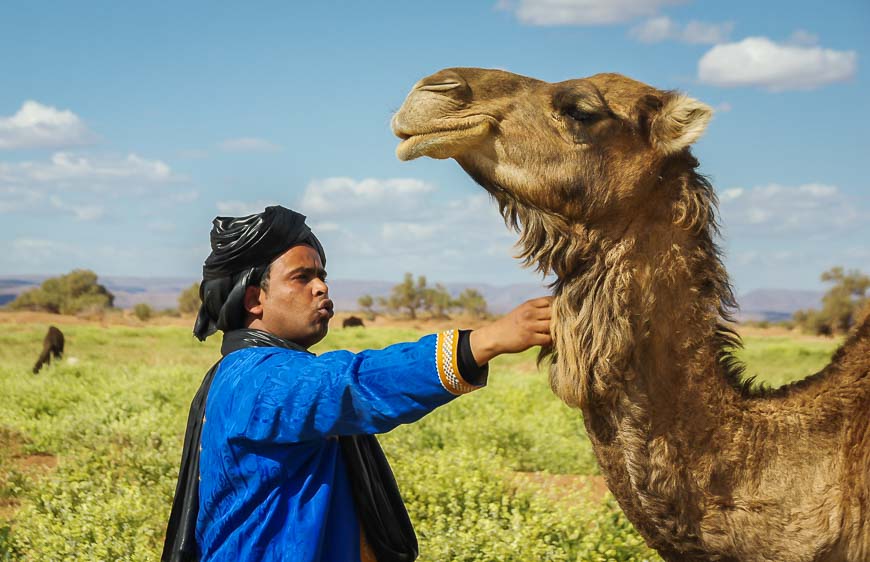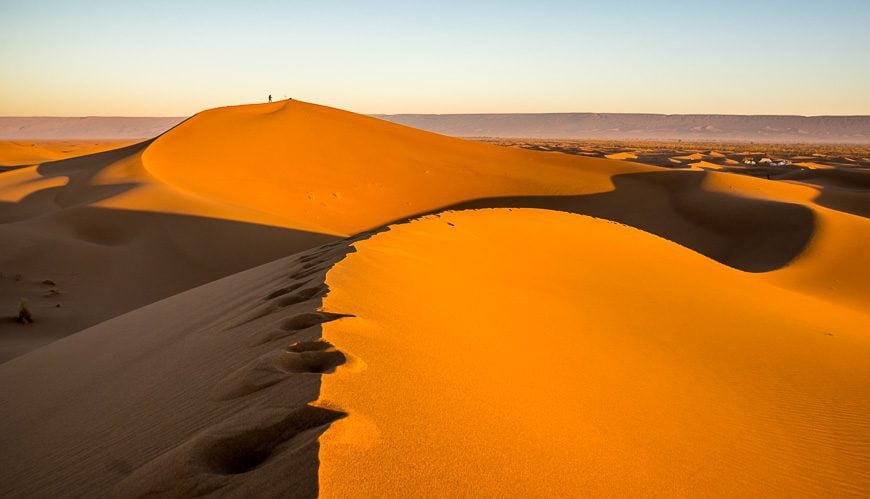 Drive across Morocco's dry Lake Iriki
If you've been to the dunes at Erg Chigaga, then you're very close to dry Lake Iriki. Drive across it on an almost-as-hard-as-tarmac road – stopping to look for fossils in one place, and to admire the Fata Morganas mirage, that is more often than not seen at sea.
The mirage, named after the sorceress Morgan le Fay in the legend of King Arthur, appear when the light is "bent" by contrasting air temperatures. It's a regular occurrence on Lake Iriki.
Nomads are famously hospitable and many well welcome you into their simple tents. It's an entrance into as foreign a world as I've ever been privileged to see. Cross your fingers your driver can organize something or that you get lucky and meet a family that invites you in as it's a true highlight of a trip to Morocco.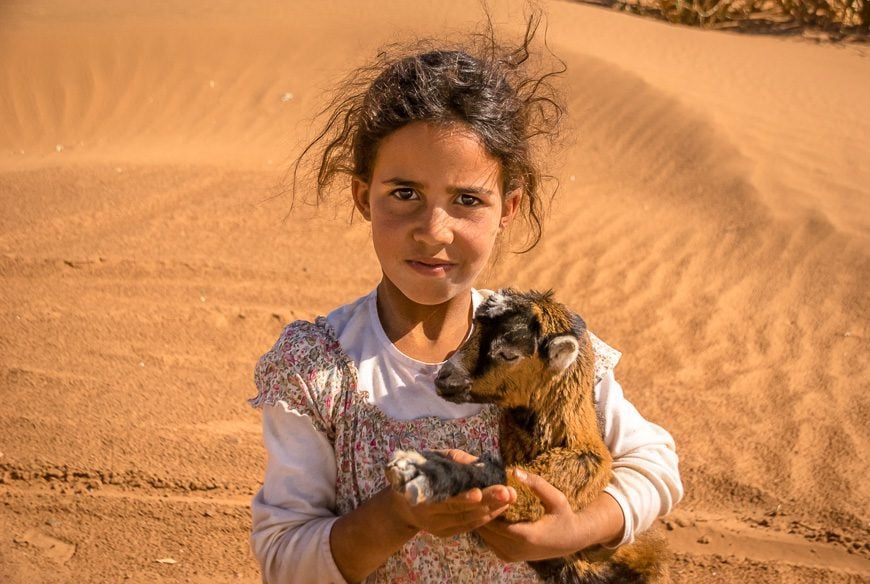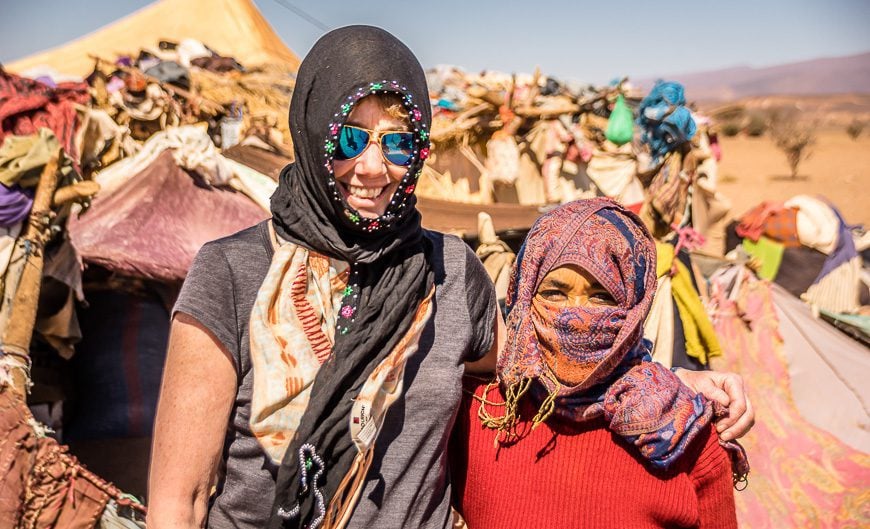 Explore Amtoudi, Morocco
Amtoudi is a small village that sits at one end of a gorge, at the base of a 600 metre cliff. It is well off the beaten track and perhaps that's why I loved it so much.
The village was the end point of our two day Anti-Atlas trek. The final hike into the village through the gorge is absolutely stunning and would make a fine day trip in itself.
There is also the option to climb 600 metres to reach the ancient granary. It is here that locals would store water, stock grains and raise bees – in case of attack. It's worth doing the steep hike. Views are spectacular and the place just oozes history.
Read: A 2 Day Hike in the Anti-Atlas Mountains
Hike or mountain bike in Taroudant, Morocco
We didn't have much time in Taroudant which is a shame as its ideal for hiking and mountain biking. Still we got a chance to explore near our hotel – slithering over and around massive rocks and enjoying the views. The following morning we checked out the painted rocks – just strange – along with the otherworldly landscape.
Visit Souss-Massa National Park in Morocco
We were both ready for a nature break before heading to Essaouira. We opted to change our itinerary from a stop at an ancient apiary to a trip to Souss-Massa National Park. It turned out to be a real joy with a tremendous amount of bird life especially around the lagoon. We basically just walked in along a dirt road as far as we could go – taking a couple of hours to admire the birds and stretch our legs.
The park is supposed to contain some rare wildlife too though we didn't see any of it. If you're lucky you might see the Egyptian mongoose, the common otter or the Eurasian wild boar.
There's a fenced in part of the park which is home to Dawker's gazelle, Arabian oryx and the red-necked ostrich. The rare bald ibis are the biggest attraction but no luck for us.
Spend a few days in Essaouira on the coast
Located on Morocco's windy Atlantic Coast, Essaouira a former Portuguese stronghold, is a popular holiday destination spot. Its got lots going for it from a rich history, excellent restaurants, a laid-back beach culture along with a medina that's far more fun to explore than the one in Marrakesh. It is one of the top places to visit in Morocco – and on many a traveler's wish list.
If you're a windsurfer you must visit Essaouira. And if you're not, just enjoy the beach, perhaps adding in a massage and a few days of relaxation in this pretty Moroccan city.
Read: 5 Great Things to Do in Essaouira, Morocco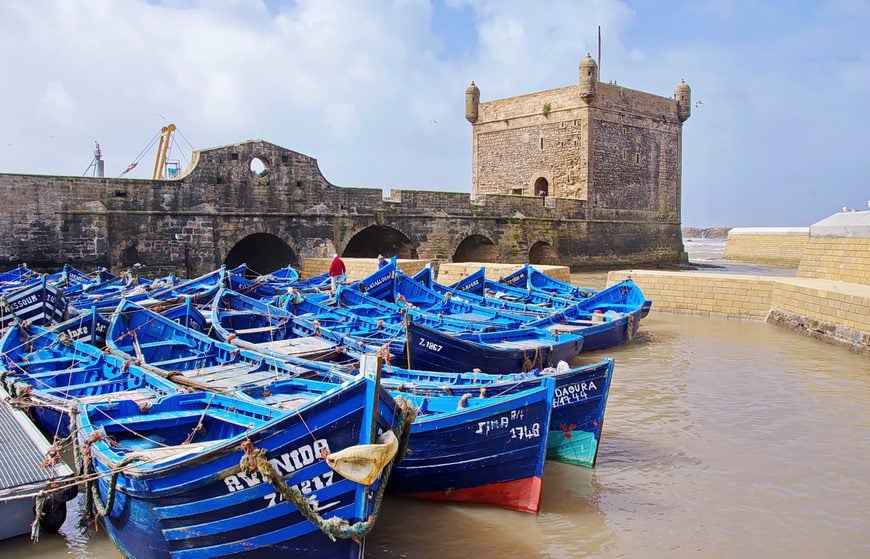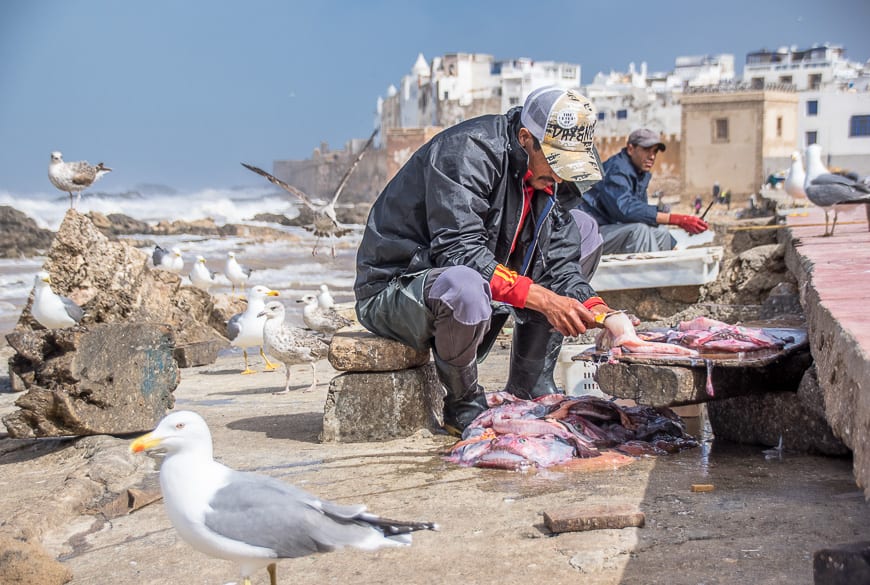 Stop in Oualidia for oysters, beaches and swimming
Oualidia is a relaxed fishing town halfway between Safï and El Jadida north of Essaouira on the Atlantic Coast – one of the off the beaten path places to visit in Morocco. The majority of the town is sandwiched between a peaceful lagoon and the sea. There's a nice walkway above the beach along with what looks like miles and miles of beautiful sandy beach.
The town – called Morocco's "oyster capital" is also good for swimming if you stay in the lagoon. If its adventure you want try windsurfing.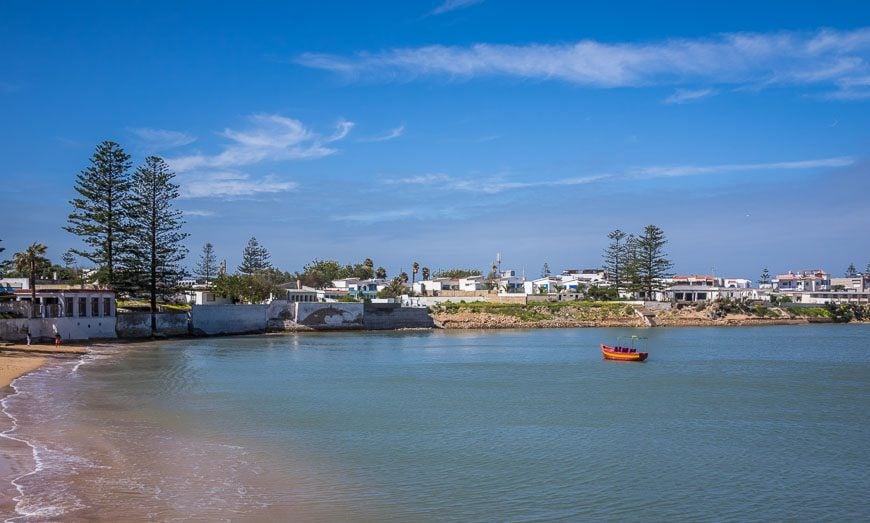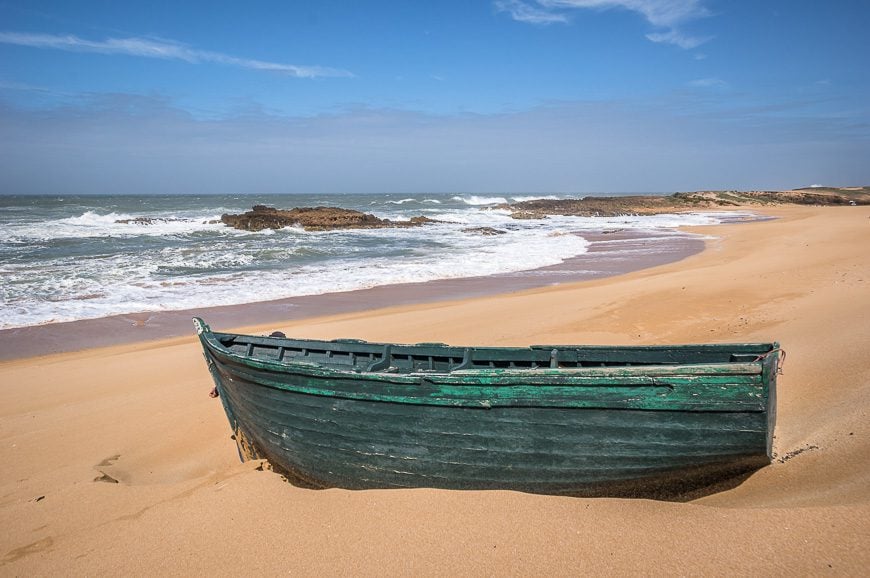 Visit El Jadida – a UNESCO site – one of the interesting places to visit in Morocco
Only an hour away from Casablanca, El Jadida is a former Portuguese stronghold on the south Atlantic coast. The area around it is becoming popular because of beaches. But it's a visit inside the Portuguese Cistern, another UNESCO site that makes this one of the more unusual places to visit in Morocco.
The cistern is a water reservoir – that was used in the 1951 Orson Welles movie Othello. There isn't a lot of light in the reservoir – except for an opening in the ceiling so the place oozes eeriness – and hence the reason it was used in the movie.
The Portuguese fortifications are also what give this part of El Jadida UNESCO status. According to the UNESCO website "the fortification with its bastions and ramparts is an early example of Renaissance military design."
You only need about 45 minutes inside the cistern and perhaps another hour at most to walk the fortifications.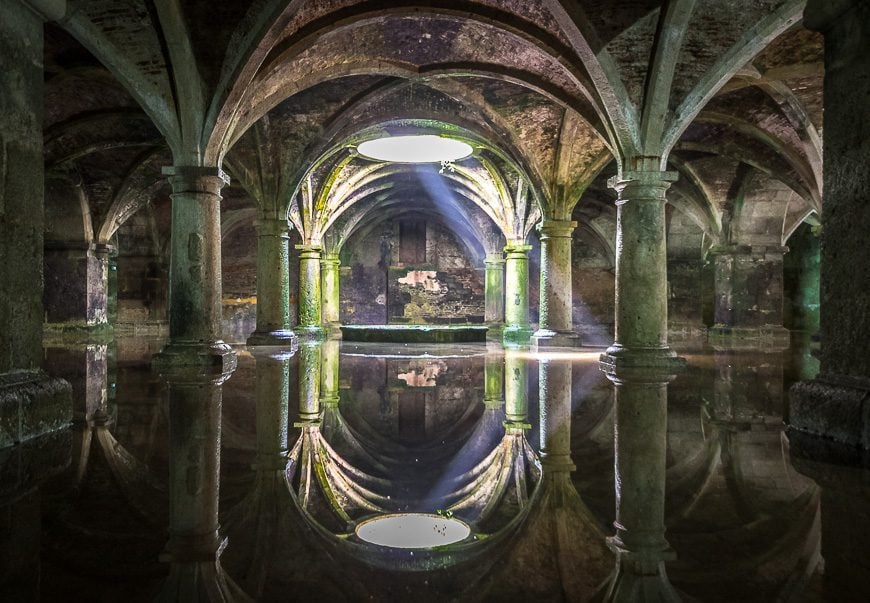 My favourite places to stay in Morocco
All the places I've listed below I stayed in except Amtoudi Adventure – and we did take tea in their house.
Marrakesh
In Marrakesh we stayed in Riad La Parathese. They have a lovely rooftop patio, a great breakfast BUT ask for a room that doesn't back onto the street or the noise will drive you crazy.
Tamdaght, Morocco
In Tamdaght, not far from Ait Benhaddou, I highly recommend Kasbah Ellouze. Try to arrange to bake bread with the old ladies in the morning.
Zagora
In Zagora the Azlai Desert Lodge with its beautiful pool, is absolutely lovely.
Icht, Morocco
In Icht stay in Borj Biramane – with a swimming pool and rooftop terrace. Rooms are simple but still a very nice place in what feels like the middle of nowhere.
Amtoudi – one of the places in Morocco that makes you feel like you've stepped back in time
If you don't mind modest accommodations I'd recommend Amtoudi Adventure. We used Hassan as our guide for two days trekking in the Anti-Atlas Mountains (the highlight of our trip!!) and I can tell you his wife makes the most delicious bread – served with their own honey.
If you want a more upscale experience book Tigmi Boubol in Amtoudi. The village itself feels like you've stepped back about a century.
Tata, Morocco
In Tata I highly recommend a stay at Dar Infiane.
Tafraoute
In Tafraoute you will enjoy a larger than normal room at Elmalara and very good food. Plus there is great hiking from the hotel.
Taroudant
Stay at Dar Zahia just outside of Taroudant. It's a lovely spot with very well-appointed rooms. A great aesthetic throughout the hotel.
Essaouira
Essaouira has loads of great accommodation choices. We stayed in the lovely Riad Perle d'Eau with windows that opened to beautiful views of the sea. And at high tide, the waves pounded the building which was actually really cool but a little scary too. They serve an awesome breakfast with a view on an upper balcony.
Click on the photo to bookmark to your Pinterest boards.