Winter in Jasper is divine. Once the snow arrives, the town is transformed into a true Canadian winter wonderland. Not only is it a quiet place to visit in winter compared to the summer, it's an exceptional base for cold weather-adventures. Anyone who is prepared to bundle up and enjoy the fresh air and outdoors, will love to explore the area.
There's so much to do in Jasper in winter from skiing and boarding to skating, ice walks, winter walks, fat biking, and dark sky viewing, and almost all of it is within a 10 minute to one hour drive of the town.
There is one downside to winter in Jasper – and that's getting there. If you're coming from Edmonton, it's generally no big deal, but if you're coming from the south via the Icefields Parkway, you need a dose of Lady Luck on your side. If there isn't a snow storm in the forecast, the Icefields Parkway is a fantastic – and exceptionally scenic drive to do. But if the weather is bad, you don't want to be caught on the parkway where plows are few and far between and cell service is non-existent.
This post includes some affiliate links. If you make a qualifying purchase through one of these links, I will receive a small percentage of the sale at no extra cost to you. Thank you very much for your support.
Winter in Jasper summary
The crux of enjoying a visit during a Jasper winter is getting there. Consider taking a bus from Calgary, Edmonton, Banff, or Lake Louise if you don't have experience with driving in snow.
Dress for cold weather – though granted it's a dry cold.
If you're flying to Calgary or Edmonton, consider renting skis and snowshoes in town to make your travels easier.
If you're not comfortable exploring Jasper in winter on your own, sign up for one of the many tours offered like the Maligne Canyon Ice Walk.
Most of the prime sites in Jasper are open in winter including Athabasca Falls.
Check trail conditions in Jasper before you head out.
Planning a Jasper winter getaway?
If you're going to Jasper in winter, plan on at least three nights, four if you want a more relaxed pace. You'll be surprised at just how much there is to do.
Travel tips for your winter in Jasper visit
You might be shocked at how much winter wildlife there is. You're almost assured to see elk – but if you're in the backcountry, there is even the remote possibility of meeting a sleepy bear. Use the same precautions as you would in summer. Never feed or approach wildlife. Give them space to move away. Consider taking bear spray with you.
Dress in layers. If you do something active outdoors, you want to be wicking away any moisture from your skin, so you don't freeze when you stop. Merino wool is a great base layer. Follow up with a fleece layer, a down coat and perhaps a wind-proof jacket. Be sure to take hand and toe warmers for the really cold days.
Recommended reading: 15 Winter Hiking Tips to Stay Warm and Safe.
Go downhill skiing at Marmot Basin
If you're a downhill skier or boarder, head for Marmot Basin, just 30 minutes from Jasper. With 91 trails and 7 lifts, you'll find terrain for everyone you're skiing with. This ski resort is particularly well suited to groups with mixed abilities. Except for the Knob Chair, there is an easy, moderate or difficult run to the bottom of each lift, so it's perfect for families and groups to ski the run they want, but then ride up the chair again together.
You can take a Jasper – Marmot shuttle that runs three times a day from various locations and hotels around the Jasper townsite. There are additional options for guests of the Fairmont Jasper Park Lodge.
Visit Athabasca Falls near Jasper in winter
Visit exceptionally beautiful Athabasca Falls in winter and walk the slippery trails – perhaps with icers – admiring the natural ice sculptures while listening for the roar of water behind the falls. Be sure to stay on the trails and never climb over the railings. You'll need 15 – 45 minutes, depending on how much you linger along the way.
Go snowshoeing in the Jasper area
There's lots of choice when it comes to snowshoeing in and around Jasper. You can explore the extensive grounds around the Fairmont Jasper Park Lodge – with trails leading all the way to the Jasper townsite or you can head off on one of the beautiful trails in Jasper National Park.
Valley of the Five Lakes trail
Drive south 2 km from the toll booth on the Icefields Parkway to reach the trailhead for the Valley of the Five Lake. Head out on a 4.6 km loop that loops around five lakes – passing some beautiful big trees along the way. You can also enjoy a red-chair moment.
It won't take you more than 90 minutes to do the loop. If there hasn't been fresh snow, you may even be able to walk it.
Pyramid Lake trails
Drive up to Pyramid Lake and park near the resort. You can pick up a trail map at the resort and then head off on a whole network of looping snowshoe and fat bike trails. One day I started at Pyramid Lake and snowshoed over 20 km, ending up back in Jasper. Some of my favourite sections – with scenic Athabasca River views, were off trails 2b and 2j.
Beaver Lake winter snowshoe or hike
Start at the Jacques Lake trailhead near Medicine Lake. Head off on a wide trail up an old fire road. It's ideal for beginners as it's just 4 km return to Beaver Lake, but you can go on to Summit Lakes, a 10 km return outing. It's still a gentle trail, gaining just 77 metres.
Medicine Lake and Watchtower Canyon
Drive Maligne Canyon Road to Medicine Lake. From the Medicine Lake North Viewpoint, snowshoe along the lakeshore, enjoying some panoramic mountain views. Look for a narrow opening in the trees about a kilometre along the southwest shore of Medicine Lake. Head up Watchtower Canyon probing the stream with your pole so you don't get a soaker. Go up about a kilometre to reach a gorgeous frozen waterfall. Retrace your steps allowing 60 – 90 minutes for the return outing.
Check out the Maligne Canyon Ice Walk
Don't miss a chance to do the Maligne Canyon Ice Walk. It's fun and thrilling for the whole family but before you go be sure that everyone has a pair of microspikes so they don't take a bad fall. A hiking pole comes in handy too – especially for testing water depth because you don't want to get a soaker.
I've done the ice walk on a couple of occasions now. On one trip, there was no standing water but on the most recent trip, there was lots. If there is, exercise caution. Wear gaiters and waterproof bottoms and be sure to carry an extra pair of warm socks and gloves. Alternatively, sign up for a tour with a local Jasper company and let them outfit you with all the gear.
Allow a couple of hours for the Maligne Canyon Ice Walk. Even though the distances are short, there's so much of interest both above the canyon and while in it. Access to the canyon is off Maligne Lake Road. There's lots of signage. From downtown Jasper, it's about a 15-minute drive.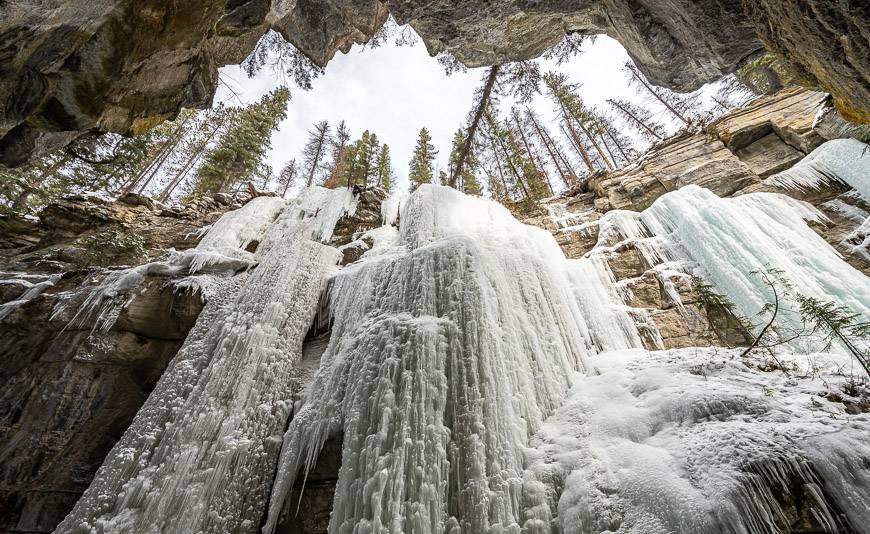 Walk to Pyramid Island
There's a short, very easy 0.8 km return hike to Pyramid Island that is worth doing at any time of the year. Walk across the bridge and then across the island to enjoy stunning views of Pyramid Mountain. There are also places where you can see Mount Kinross, and Cairngorm across the lake. On a winter weekday I had the island to myself – quite a magical experience – and worth the20 minutes it took to explore.
Go fat biking in Jasper
I have done some crazy fat biking over the years including a race across Lac St. Jean in Quebec – which was so hard, it put me off the sport for a few years. But when the snow is packed, and you don't have to work every minute of the ride, then it's actually a super fun way to spend time outside in winter.
You can pick up a fat bike at the activity centre at the Fairmont Jasper Park Lodge and head off from there. We started on snow and ice-covered roads that took us as far as Old Fort Point. From there you can hop on some trails that are absolutely lovely. The really fit who are looking for an epic day can continue to the Pyramid Lake area and enjoy the extensive trail network there.
You can also rent fat bikes at Jasper Source for Sports.
Skate on Lake Mildred
There are a couple of excellent skating rinks in Jasper – one on Lake Mildred on the Fairmont Jasper Park Lodge grounds – and the other across from the Pyramid Lake Resort on Pyramid Lake. It also offers a dazzling mountain view.
The Lake Mildred loop is one kilometre in length. Bonfires are usually at the lake's edge to warm you up but even without the bonfires, I loved the skating here. I found there was a real meditative quality to skating loop after loop with the sky changing colour and the mountains providing and awe-inspiring backdrop.
Skate on Pyramid Lake
Ten minutes north of downtown Jasper is the Pyramid Lake skating rink. Enjoy first-class views of Pyramid Mountain as you carve up the ice or perhaps even play a game of curling. Although the rink is maintained by Pyramid Lake Resort, you don't have to be a guest to use it. The resort also offers skate, fat bike, and snowshoe rentals.
Drive Maligne Lake Road
The scenic, winding, 46-km long (one way) Maligne Lake Road accessed from the Yellowhead Highway takes you all the way to Maligne Lake by way of Medicine Lake. In the summer it can be unbearably slow, but in winter it's a delight to drive – though you should be comfortable driving on snow.
Take your time, keeping an eye out for the plentiful wildlife that frequent the area, particularly elk in winter. When you reach Maligne Lake, you'll probably have it all to yourself – so enjoy the frozen view of the largest natural lake in the Canadian Rocky Mountains.
Allow two hours to do the return drive as it is slow going in winter. There are several options to enjoy a winter hike or snowshoe from Maligne Lake Road including Beaver Lake, Jacques Lake, and Medicine Lake.
Try ice climbing in Jasper – one of the fun things to do in winter in Jasper
Sign up for an ice climbing lesson with Rockaboo. You'll be safely taken through all the steps – from gearing up, to rappelling down a frozen waterfall to climbing said waterfall. You may start out with the shakes but you'll end up with a giant grin!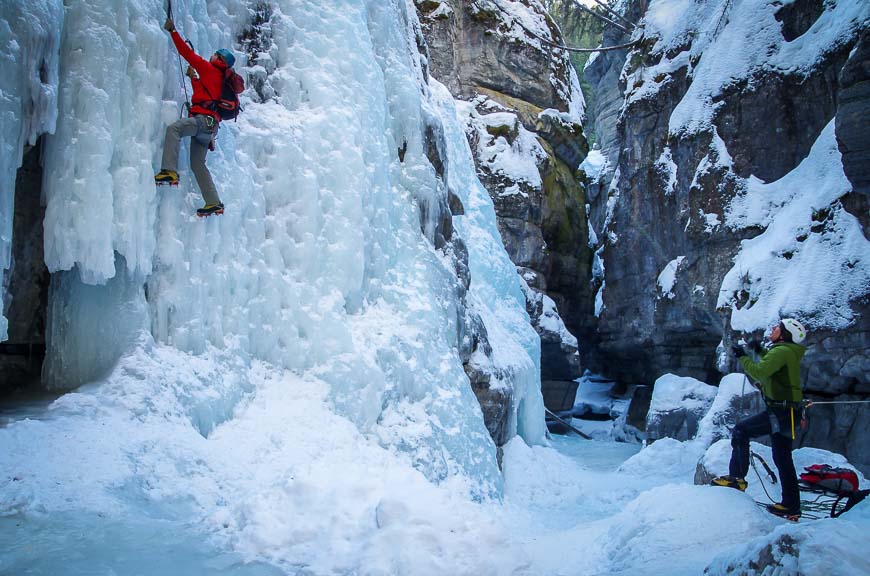 Take a nature tour during a Jasper winter
There's plenty of wildlife to be seen in Jasper in winter if you know where to look. Viator offers a Winter Wildlife Discovery tour. The 3.5 hour tour showcases the beauty and nature you see outside of Jasper, specifically in the Athabasca Valley, Maligne Valley, and Medicine Lake.
Explore downtown Jasper on foot
I love walking the main street in Jasper. Some of it is touristy but there's plenty to love. There are excellent sports stores like Gravity Gear Jasper selling winter gear you might need but my favourite shop – where I load up on cards every time I visit is Jasper Mercantile. It's got a big focus on local and Canadian made gifts and books. Go see for yourself.
Soak in the hot pool at the Fairmont Jasper Park Lodge
Fairmont's large outdoor heated pool is only for guests of the hotel – one reason to book a stay in Jasper in winter. It's open from 8 AM until 10 PM daily. It's hard to beat a soak in the hot tub with a panoramic mountain view.
Go stargazing and visit the Jasper Planetarium
Jasper National Park is one of 17 Dark Sky Preserves in Canada. The Dark Sky Preserve in Jasper is the second largest in the world and the preserve is accessible as its in town. So to say the stargazing is out of this world is a gross understatement.
There are loads of great places to see the stars at night without threat of light pollution, including Maligne Canyon, Lac Beauvert, Athabasca Falls, and Maligne Lake. There is another option too, and that is to visit the Jasper Planetarium and look at the stars through powerful telescopes.
The bottom line – go outside at night away from the downtown core – look up and be amazed. This is one of the top free things to do in Jasper in winter.
Fantastic things to do on the way to Jasper in winter
Abraham Lake Bubbles
If you're driving up to Jasper along the Icefields Parkway, consider making a 20-minute detour at Saskatchewan River Crossing so you can see the fabulous and famous Abraham Lake bubbles. You can usually see them from early January to late February. Allow a good hour at the lake – as the bubbles and ice formations are more interesting than you might imagine. Then retrace your steps and continue to Jasper.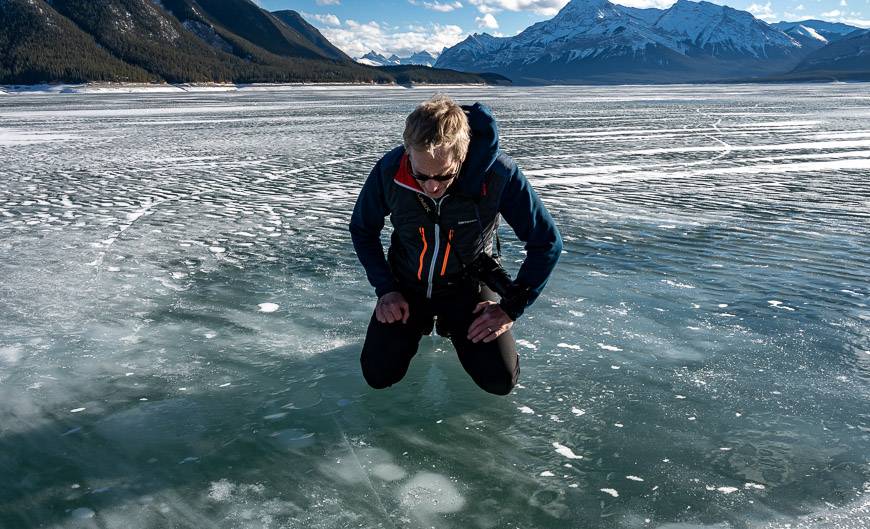 Stop at the Columbia Icefield
Even though nothing is open in winter at the Columbia Icefield, it's still a worthwhile stop as you head to Jasper in winter. Go for a short walk, depending on conditions to the Toe of the Glacier. There's a map and you can check out the trails – and what makes sense given the conditions, when you visit.
Eat well in Jasper in winter
The Bear's Paw Bakery (4 Cedar Avenue) – it opens at 6 AM and The Other Paw on Connaught opens at 7 AM. Lots of fresh baked goods.
Famoso's Neapolitan Pizzeria (607 Patricia Street) Excellent pizza and salad in an unpretentious setting.
Jasper Brewing Company – 624 Connaught Drive for on-site brewed beer in a sports bar setting.
Evil Dave's Grill – 622 Patricia Street for delicious Asian inspired food. Make a reservation.
Terra – located inside the Crimson Hotel on Main Street. It's the newest restaurant in Jasper, opening in June 2022. Great vibe and a huge focus on local and foraging.
The Emerald Lounge at the Fairmont Jasper Park Lodge is great if you want a cozy atmosphere in an informal setting around a giant fireplace. At the very least order drinks and appetizers and enjoy the mountain view.
Where to stay in Jasper in winter
I've stayed in a couple of dodgy hotels in Jasper and I wouldn't recommend the experience. Plan ahead so you don't get caught, especially in summer and winter. The shoulder seasons are less of an issue.
In winter you can't beat the Fairmont Jasper Park Lodge for its location with the Lake Mildred skating rink nearby.
Choose the Maligne Canyon Hostel for an affordable option.
The Crimson Jasper is conveniently located and within walking distance of all the downtown restaurants.
For an out of town choice the Pyramid Lake Resort would be an excellent option, especially with so many snowshoeing trails out its front door.
Whistler's Inn offers a convenient location with nicely renovated rooms – despite the appearance of the somewhat worn lobby.
Location map of things to do in winter in Jasper
Getting to Jasper in winter
Driving can be a real challenge in winter on the roads to Jasper, especially via the Icefields Parkway. Be sure to check road reports before you go.
Recommended reading: How to Survive a Winter Drive: 15 Tips for Safety
If you're planning on a holiday in Jasper and would like to take all the worry out of the drive – there is a company AMPM Limo that will get you to your destination on your schedule for a reasonable price. They can pick you up in either Calgary or Edmonton. They also have a range of vehicles so they can accommodate a larger group, even with skis.
Sundog Transportation and Tours connects Jasper to Lake Louise, Banff and Calgary via a bus. They also offer seven day a week service between Jasper and the West Edmonton Mall and the Edmonton International Airport.
Further reading on winter in the Rockies
Click on the photo to bookmark to your Pinterest boards.