Winter in Jasper is divine. Once the snow arrives, the town is transformed into a true Canadian winter wonderland. Not only is it a quiet place to visit in winter compared to the summer, it's an exceptional base for cold weather-adventures. Anyone who is prepared to bundle up and enjoy the fresh air and outdoors, will love to explore the area. There's so much to do from skiing and boarding to skating, ice walks, winter walks, fat biking and dark sky viewing, and almost all of it is within a 10 minute to one hour drive of the town.
There is one downside to winter in Jasper – and that's getting there. If you're coming from Edmonton, it's generally no big deal, but if you're coming from the south via the Icefields Parkway, you need a dose of Lady Luck on your side. If there isn't a snow storm in the forecast, the Icefields Parkway is a fantastic – and exceptionally scenic drive to do. But if the weather is bad, you don't want to be caught on the parkway where plows are few and far between and cell service is almost non-existent.
I had Lady Luck on my side a few weeks ago – and beautiful, almost spring-like weather. Although Jasper can get very cold from November to March, it also can be much warmer than either Edmonton or Calgary. If you can, book a trip at the last minute to take advantage of good weather – and if you can't, there's always the option of cozying up by a fire – especially if you stay at the Fairmont Jasper Park Lodge where there's a giant fireplace in the Emerald Lounge.
On a side note – if you're driving up to Jasper along the Icefields Parkway, consider making a 20-minute detour at Saskatchewan River Crossing so you can see the fabulous Abraham Lake bubbles. You can usually see them from early January to late February. Allow a good hour at the lake – as the bubbles and ice formations are more interesting than you might imagine. Then retrace your steps and continue to Jasper.
This post includes some affiliate links. If you make a qualifying purchase through one of these links, I will receive a small percentage of the sale at no extra cost to you. Thank you for your support.
The ultimate three-day Jasper winter getaway
If you're going to Jasper in the depths of winter, plan on at least three nights, four if you want a more relaxed pace.
Check into the Fairmont Jasper Park Lodge – your base for the next three days. You can rent most things you need right on their property – like snowshoes, fat bikes, skates, and cross-country skis, which is ideal if you're trying to travel light or you're coming far afar.
Winter in Jasper itinerary – day one
If you're a downhill skier or boarder, head for Marmot Basin, just 30 minutes away. With 91 trails and 7 lifts, you'll find terrain for everyone you're skiing with. This ski resort is particularly well suited to groups with mixed abilities. Except for the Knob Chair, there is an easy, moderate or difficult run to the bottom of each lift, so it's perfect for families and groups to ski the run they want, but then ride up the chair again together.
In non-COVID years you can take a shuttle that runs multiple times a day from the Fairmont Jasper Park Lodge to Marmot Basin.
For anyone who has never been to Jasper National Park, and doesn't think they'll ever be coming back, consider making the 15-minute detour to Athabasca Falls after you've finished skiing or boarding. Once you reach Highway 93, head south for about 24 km and follow the signs. It's worth 30 minutes of your time to wander around the falls as they're exceptionally beautiful in winter.
Winter in Jasper itinerary – day 2
Why not switch it up today and do a mix of snowshoeing or winter walking, depending on snow conditions along with the super fun Maligne Canyon Ice Walk.
Go snowshoeing in the Jasper area
There's lots of choice when it comes to snowshoeing in and around Jasper. You can explore the extensive grounds around the Fairmont Jasper Park Lodge – with trails leading all the way to the Jasper townsite or you can head off on one of the beautiful trails in Jasper National Park. Suggestions include Beaver Lake with access at the far end of Medicine Lake, the extensive trail network around Pyramid Lake, and the Valley of the Five Lakes off the Icefields Parkway.
You could spend the entire day on the Pyramid Lake trails whereas the other trails are best if you're looking for just a few hours on snowshoes.
Check out the Maligne Canyon Ice Walk
Don't miss a chance to do the Maligne Canyon Ice Walk. It's fun and thrilling for the whole family but before you go be sure that everyone has a pair of microspikes so they don't take a bad fall. A hiking pole comes in handy too – especially for testing water depth because you don't want to get a soaker.
I've done the ice walk on a couple of occasions now. On one trip, there was no standing water but on the most recent trip, there was lots. If there is, exercise caution. Wear gaiters and waterproof bottoms and be sure to carry an extra pair of warm socks and gloves. Alternatively, sign up for a tour with a local Jasper company and let them outfit you with all the gear.
Allow a couple of hours for the Maligne Canyon Ice Walk. Even though the distances are short, there's so much of interest both above the canyon and while in it. Access to the canyon is off Maligne Lake Road. There's lots of signage. From both the lodge and Jasper, it's about a 15-minute drive.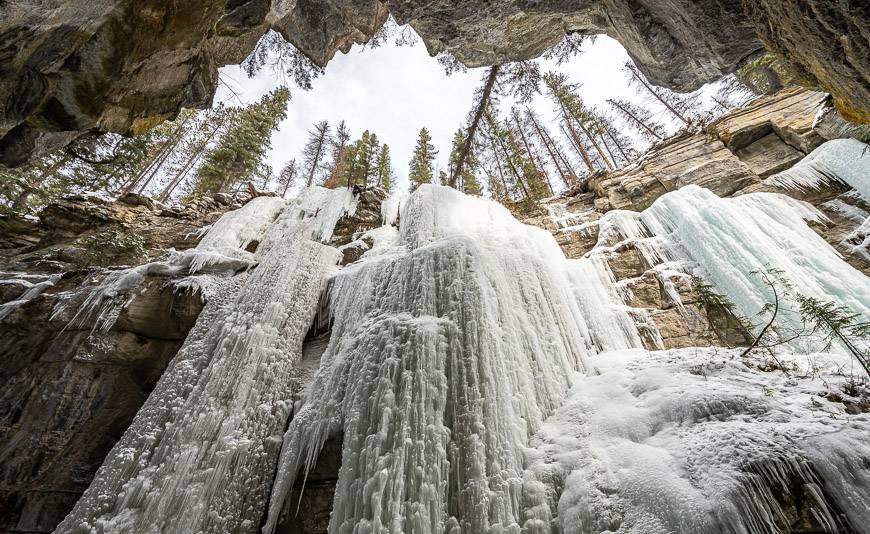 Winter in Jasper itinerary – day 3
Why does time seem to fly that much faster when you're having a good time?
On your last day in Jasper, why not try some fat biking and ice skating on Mildred or Pyramid Lake. And if fat biking isn't your thing, then go cross-country skiing on trails accessed right from the lodge. Finish with a champagne picnic….and a nap before you head out skating.
Go fat biking
I have done some crazy fat biking over the years including a race across Lac St. Jean in Quebec – which was so hard, it put me off the sport for a few years. But when the snow is packed, and you don't have to work every minute of the ride, then it's actually a super fun way to spend time outside in winter.
You can pick up a fat bike at the activity centre and head off from there. We started on snow and ice-covered roads that took us as far as Old Fort Point. From there you can hop on some trails that are absolutely lovely. The really fit who are looking for an epic day can continue to the Pyramid Lake area and enjoy the extensive trail network there.
How about a champagne picnic at Jasper Park Lodge?
I love a good picnic – especially when someone else prepares the food. In Jasper, order your picnic basket 24 hours out and get it delivered either in a wicker basket or a backpack. For me the backpack would be the way to go – because how cool would the combo of snowshoeing, a cozy red blanket, champagne and foodie delights be on sunny, winter day?
My friend opted for the wicker basket – and really, who was I to complain? Not only did we enjoy several glasses of chilled champagne, but a delicious sandwich, salad, fresh bread and cheese, fruit and assorted baked treats. That's why you'll need a nap after.
Lace up your skates
There are a couple of excellent skating rinks in Jasper – one on Mildred Lake on the Fairmont Jasper Park Lodge grounds – and the other across from the Pyramid Lake Resort on Pyramid Lake. It also offers a dazzling mountain view.
The Mildred Lake loop is one kilometre in length. Bonfires are usually at the lake's edge to warm you up but even without the bonfires, I loved the skating here. I found there was a real meditative quality to skating loop after loop with the sky changing colour and the mountains providing and awe-inspiring backdrop.
What to expect at the Fairmont Jasper Park Lodge in winter
A stay at the Fairmont Jasper Park Lodge has been on my wish list for years. While I've eaten here on several occasions, it wasn't until February 2021, that I finally stayed in a cute lake side cabin with a view over frozen Lac Beauvert. If money was no object, I would probably opt for one of the newly renovated Ridgeline Cabins with front and back patios or one of the smaller stand-alone cabins but no matter where you stay, it will be a treat. You have a choice of 446 rooms spread over the 700-acre property.
As you would expect with any Fairmont property, impeccable service starts the minute you walk through the front door. Staff is friendly, personable, and always seem willing to help.
You can enjoy all your meals on the property – whether delivered to your room, in the Emerald Lounge or at Orsa Trattoria. My favourites were the meals in the lounge – because of its welcoming, laidback atmosphere, and delicious food – especially the short ribs.
As you've just read, there's plenty to do in the winter in Jasper when you visit. The only disappointment, through no fault of the lodge was the fact the pool and hot tub were closed thanks to COVID. They did offer in room spa packages – with soothing bath oils and moisturizers – something that anyone in Alberta with its dry climate will appreciate. Next time I go back, I'm sure the hot tub will be open again.
Location map of things to do in winter in Jasper
Travel tips for your winter visit
You might be surprised at much winter wildlife there is. You're almost assured to see elk – but if you're in the backcountry, there is even the remote possibility of meeting a sleepy bear. Use the same precautions as you would in summer. Never feed or approach wildlife. Give them space to move away. Consider taking bear spray with you.
Dress in layers. If you do something active outdoors, you want to be wicking away any moisture from your skin, so you don't freeze when you stop. Merino wool is a great base layer. Follow up with a fleece layer, a down coat and perhaps a wind-proof jacket. Be sure to take hand and toe warmers for the really cold days.
Check out Parks Canada's Jasper National Park website for up to date information on trail conditions.
Getting to Jasper in winter
Driving can be a real challenge in winter on the roads to Jasper, especially via the Icefields Parkway. If you're planning on a holiday and would like to take all the worry out of the drive – there is a company AMPM Limo that will get you to your destination on your schedule for a reasonable price. They can pick you up in either Calgary or Edmonton. They also have a range of vehicles so they can accommodate a larger group, even with skis.
Further reading on winter in the Rockies
A giant thank you to Fairmont Jasper Park Lodge for hosting me. All thoughts, as always are mine alone.
Click on the photo to bookmark to your Pinterest boards.