When you're in the middle of the first cold snap of the year with temperatures plummeting south of -20°C (-4°F) you really start to think about to wear in Canada in winter. Cold weather clothing is a necessity so you can still enjoy getting outside. Stay indoors for the next five months at the expense of both your mental and physical health. Learning to love the winter is the key to surviving it. While we have viruses in our midst, it's going to be especially important to get outside and enjoy the break.
Here's what to wear in Canada in winter so you can actually enjoy days that are -20° C. Your world in winter will open up when you wear the right clothes. You might be surprised at how much there is to do.
This post includes some affiliate links. If you make a qualifying purchase through one of these links, I may receive a small percentage of the sale at no extra cost to you. Thank you for your support.
What to wear in Canada in winter – layering is the way to go
Start with long underwear – either the Capilene or merino wool variety. I love Patagonia's capilene long underwear – and it comes in a couple of weights. The merino wool products made by Icebreaker or Arc'teryx are also excellent.
The other bonus to merino wool is that it doesn't stink – even if you sweat a lot. I prefer the feel of merino wool over Capilene but both of them work well at wicking moisture away from your skin.
For super cold days I use thermal weight long underwear for added warmth.
Add wind-proof, heavy duty long pants, preferably made with Gore-Tex if you're planning to be outside for any length of time. If you're just planning to walk around the city, you can certainly just stick with long underwear and your usual pants.
For cross-country skiing or snowshoeing I'll usually wear heavy long underwear and a shell pant – preferably with a full zip of the leg. This insulated one by Patagonia would also be a great choice. Or try these bottoms that are perfect for anything outdoors.
What to wear above the waist
What works for me on the extra cold days is a synthetic or merino wool long sleeved top – preferably with a zipper at the collar in case I actually get overheated.
Then I add a fleece jacket (a wind-proof can come in handy) and a down vest. On top I will wear either another down sweater (it's more like a short down coat but I like the ones with a hood) and then a waterproof-wind-proof shell. If I'm not moving a lot, I'll go for my really warm down jacket for the outer layer.
Don't lose heat through your head
Next is a neck warmer, scarf or even a buff. These simple items make such a difference in keeping you toasty, especially considering how much heat you lose from your head. Don't forget to add a hat.
If snow is in the forecast – even if you're not skiing I recommend taking ski goggles so you can see that much better. I really like the ones from MessyWeekend.
Keep your hands toasty
I never wear gloves in winter unless it's a spring temperature kind of day. Go for a pair of very warm mitts if you are prone to frozen fingers. I also bring handwarmers with me – and in fact keep several in the car in case our car ever breaks down. They will help keep your hands warm for up to six hours.
You can also buy toe warmers, but they're hard to fit under your toes if you have tight-fitting shoes or boots. Heated socks are also an option – and they have worked well for my husband. My husband has frozen his feet several times so now he wears heated socks powered by batteries. They aren't inexpensive but they sure make a huge difference. I wrote about them here. Amazon also has several options.
What to wear on your feet
I like merino wool socks – and again they don't stink. They come in a variety of weights so pick what works for you.
Fashionable boots aren't always the warmest boots. For the best boots for warmth, try a pair of Salomons – my go to boot for the coldest of days. They even work in the far north though I'd recommend adding a thick insole to further insulate your feet from the cold.
The rewards are great for people who get outdoors. A world waits for you – be it walking in Calgary's Nose Hill Park on a crisp winter day, skating at Lake Louise, cross-country skiing in Banff National Park or doing the icewalk up Johnston Canyon.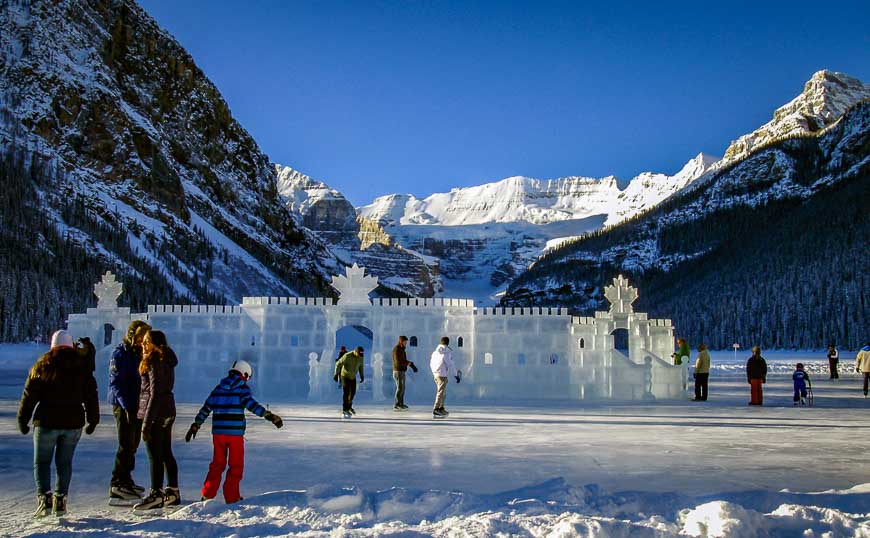 Invest in the clothes. They will last a long time and make the winter enjoyable.
Further reading on things to do in Canada in winter
Click on the photo to bookmark to your Pinterest boards.