If you live in the Montreal – Quebec City corridor then you've likely heard of and perhaps even visited La Mauricie National Park, located equidistant between the two cities. Albert van Dijk, Chief of Conservation Services in the park explains that "it's not as spectacular as other parks but it offers a great experience."
If you compare La Mauricie National Park to the rugged beauty of Canada's mountain parks that might be true but in my books it's a beauty, especially with its location in Canadian Shield country. In speaking with van Dijk, it's apparent he's passionate about the park and the fact that he moved from Holland and has worked in it for 30 years speaks volumes.
La Mauricie National Park winter experience
Van Dijk describes the park as "compact and horseshoe shaped." In its 540 square km you'll find southern Laurentian forests that glow red, yellow and orange come fall, remnants of what would have been glorious white pine forests and approximately 150 sparkling lakes and streams.
Wildlife is plentiful too, especially in the summer. Between 125 and 150 black bears live in the park along with two to three wolf packs, moose and one of the biggest populations of wood turtles in the world.
My winter visit is the second time I've traveled to the national Park. The first, a few summers ago, was a short one where I discovered an array of hiking trails and an incredible amount of excellent canoeing that is well suited to the novice.
I'll let you in on a secret. In winter La Mauricie is an equally awesome destination with loads of outdoor adventures possible, the most magnificent starry skies and the ability to stay overnight in a private, wood-heated oTENTik cabin.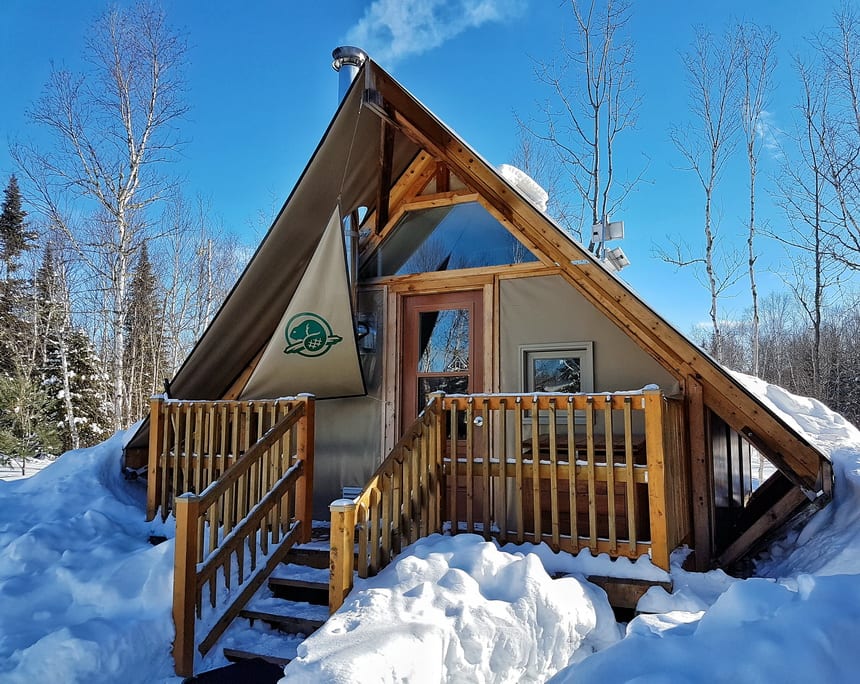 Here's how to have fun in La Mauricie National Park in winter
Try snowshoeing and snowtagging
Go snowshoeing on one of eight trails ranging in length from 3.1 to 17 km round-trip. Trails are well-marked and snowshoes are available for rent from December 10 – March 31 between 10 AM and noon on weekends at the Rivière à la Pêche Service Centre.
Combine snowshoeing with snowtagging. I had to Google the word as I thought it was a game of tag in the snow. It's not.
Parks Canada describes it as "drawing an ephemeral piece of art in the snow." Reserve a lake, preferably after a fresh snowfall. Pick up a template (at the Rivière à la Pêche Service Centre) or design your own.
You'll need a compass or GPS and a rope, at least for some of the drawings. Dress warmly as there are no shelters. Be prepared to hike or snowshoe a minimum of five kilometres just to get back and forth to Solitude Lake, one of the two lakes where snowtagging takes place.
Snowtagging is a lot of fun and it's a terrific way to get a group to work together. You do have to keep your balance and not step off the "artwork" or you'll ruin it. Afterwards admire your handiwork from a height of land. Our mistake was not starting further out on the lake so the finished product was a bit hard to see.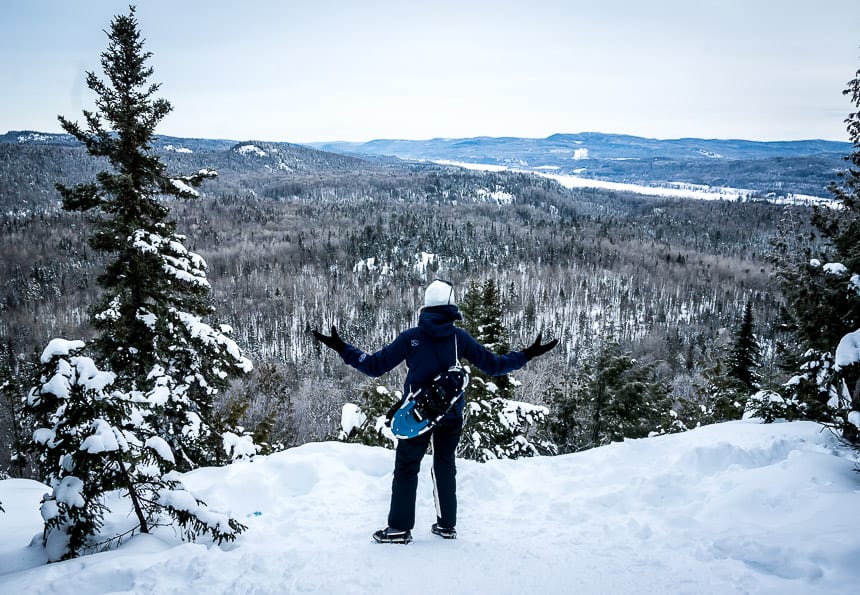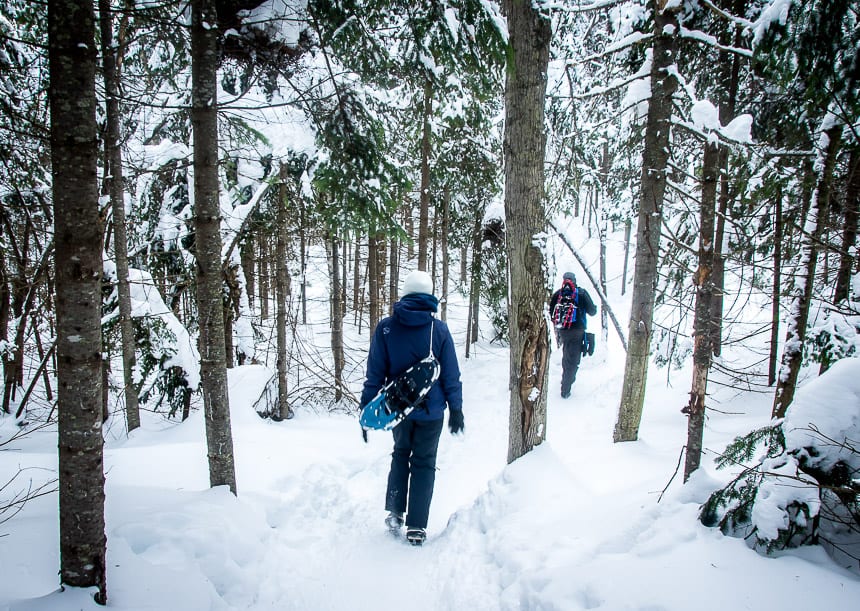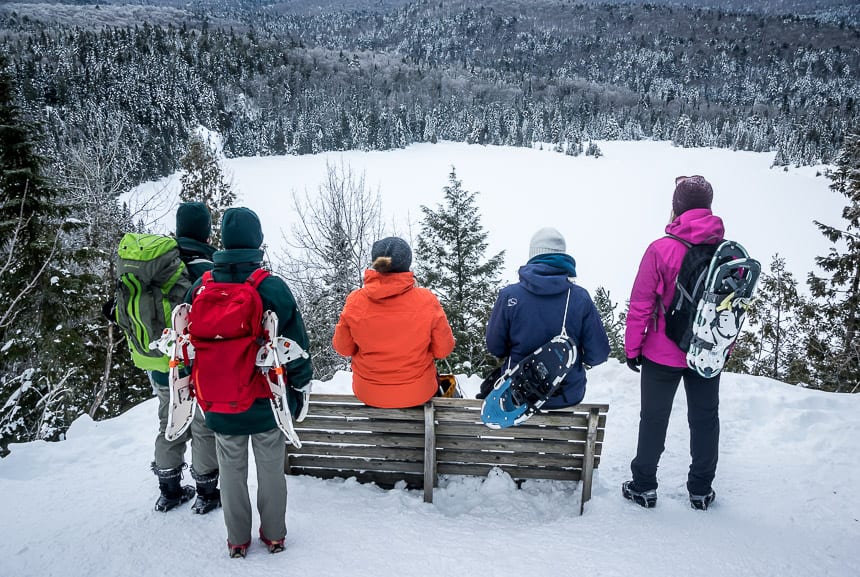 Explore the cross-country ski trails in La Mauricie National Park
Cross-country skiing in La Mauricie National Park is excellent with 80 km of trails to choose from. All are groomed for both skate and classic skiing. Ski on rolling terrain through open woods and alongside lakes and streams. Look for heated shelters approximately every five kilometres.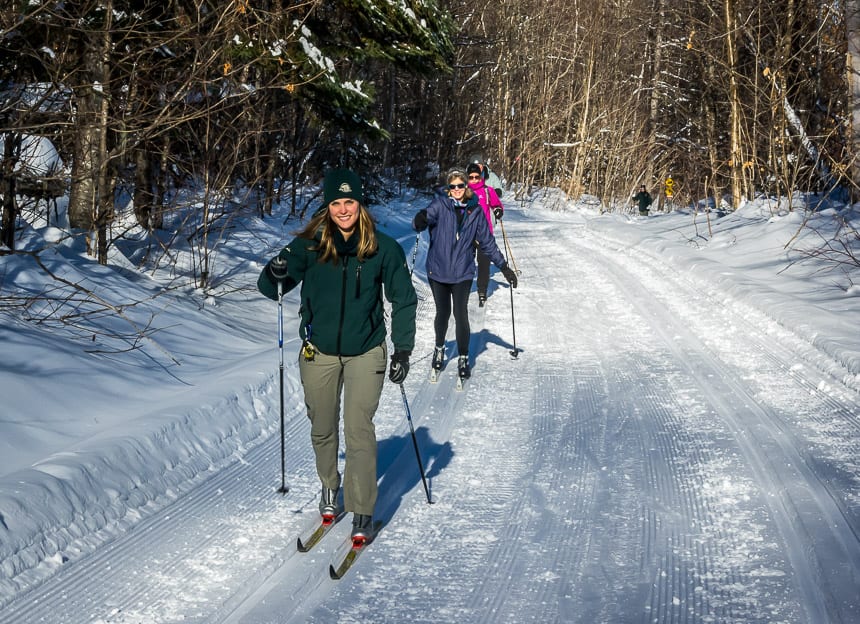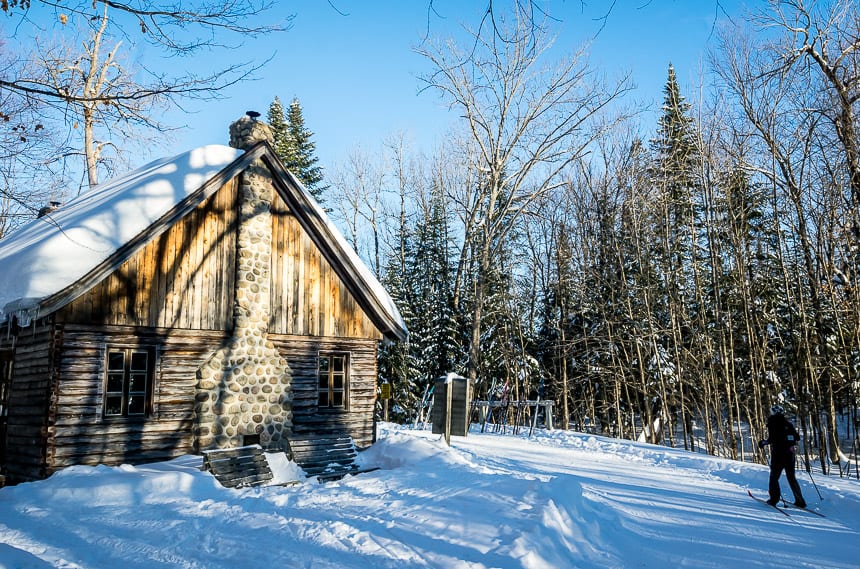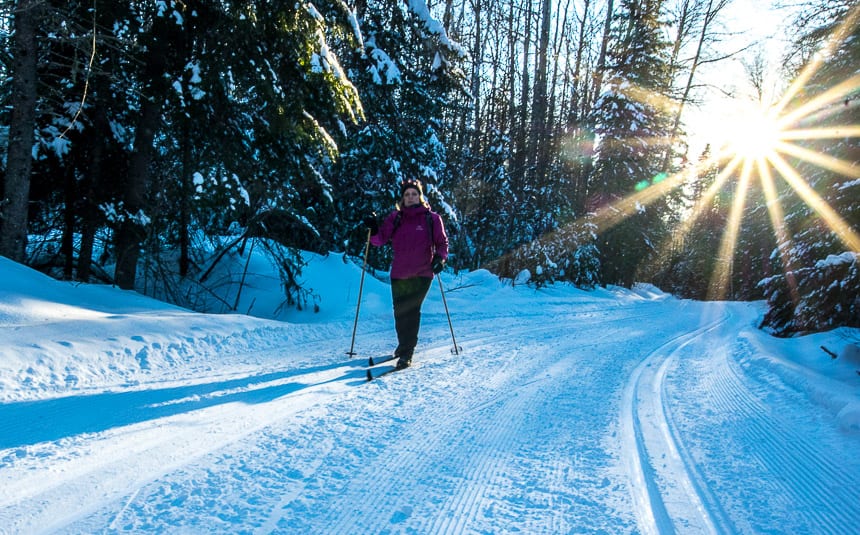 Go fat tire biking in the park
La Mauricie National Park is a good place to try out fat tire biking – especially with deep snow so if you fall off, your landing will be soft. Cue Guy in the second photo.
My buddy Jen and I got ahead of the two guys we were biking with but could hear howls of laughter in the background – from Guy's falls in the snow.
Riding single track up and down hills and around trees is a lot of fun but for newbies it can be tough going and getting up repeatedly from soft crashes, exhausting. I speak from experience, especially after attempting a bike race across Lac St. Jean one winter.
Give yourself an hour to try some of the trails out of the Rivière à la Pêche Service Centre. Don't overdress for this sport or you'll be sweating in no time. You can rent bikes here as well.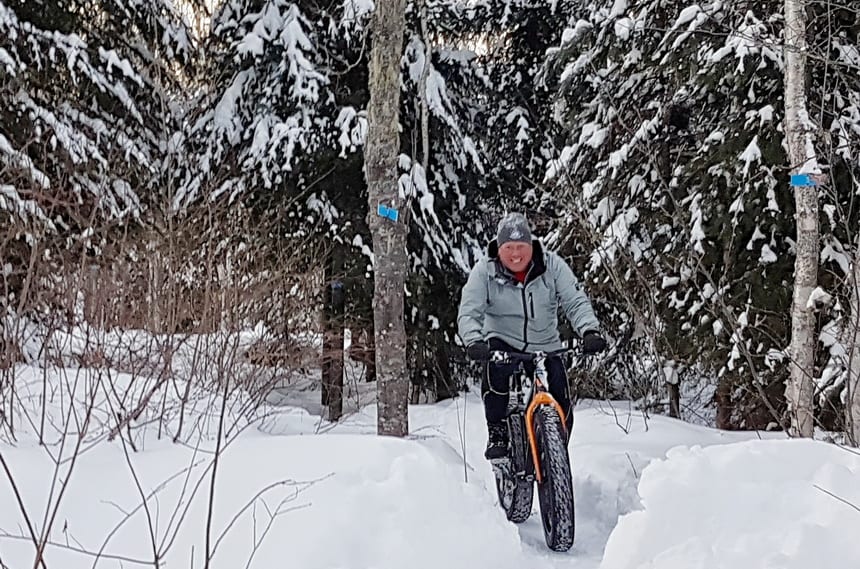 Enjoy the winter oTENTik experience in La Mauricie National Park
In winter you can rent one of thirteen oTENTiks in the Rivière à la Pêche Campground. All offer loads of privacy, an outdoor area for warmer weather that includes a firepit of sorts, Adirondack chairs and a barbecue.
Inside the cabin you'll find a wood-heated stove (be prepared to get up part way through the night if you want to keep the fire burning), mattresses, dishes, cutlery and a table and chairs. The surprise for me was a heated building with flush toilets and hot showers just a short walk away. I'd expected a cold outhouse in the dark.
The set-up is rustic but that's the charm of it all. It's a magical experience to head back to the coziness of your cabin under a sky studded with stars.
To organize an oTENTik rental click here.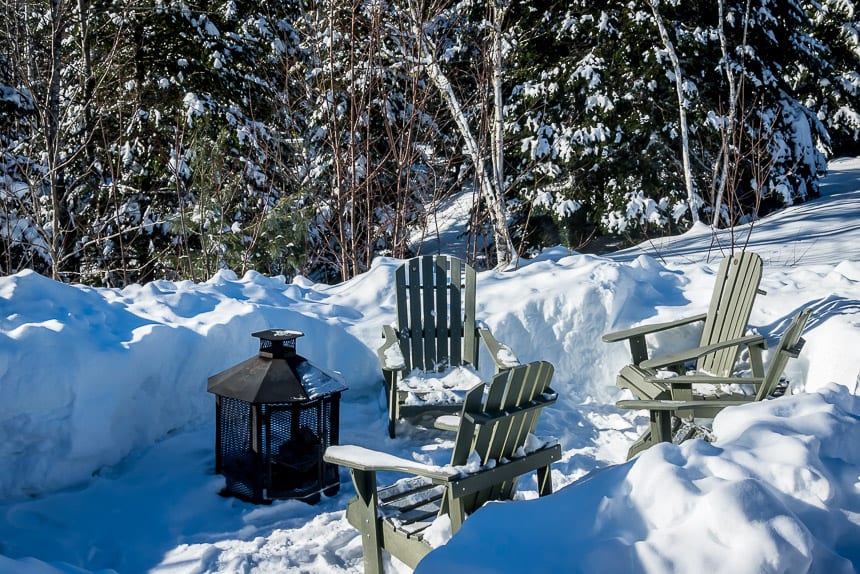 At the end of the day keep your eyes open for Kikki, a regular visitor to the Rivière à la Pêche area.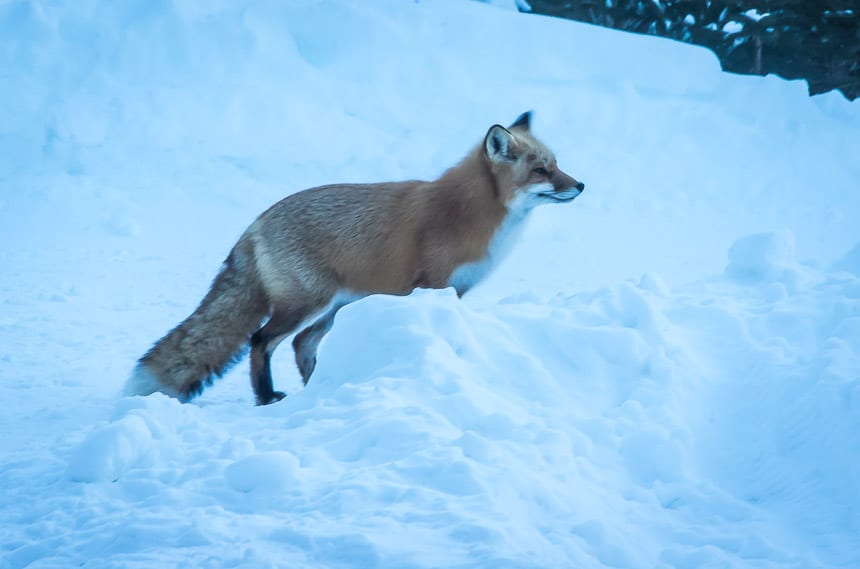 La Mauricie National Park location map
Other places to stay near the park
Check out Pourvoirie du Lac Blanc and all the great things there are to do nearby. Don't miss a swim in their indoor pool.
L'Auberge du Lac-à-l'Eau-Claire overlooking a lake would be another excellent choice.
Further reading on things to do in a Quebec winter
Visit the Parks Canada website for more information on the park here.
Click on the photo to bookmark to your Pinterest board.
A big thank you to Guy and Parks Canada and Karine with Tourism Mauricie for hosting my trip. All opinions, as always are mine alone.