Looking for fun things to do in Montreal in winter? I think I can safely say that I've got you covered. Below I've suggested 10 things to do – from dogsledding to outdoor music festivals to a romantic skate at the top of Mont Royal.
If you're looking for a good time – and you dress for the outdoors, you'll find Montreal delivers in spades. It's one of Canada's great winter cities! Enjoy this selection of fun things to do in Montreal.
This post includes some affiliate links. If you make a qualifying purchase through one of these links, I may receive a small percentage of the sale at no extra cost to you. Thank you very much for your support.
Check out Mont Royal in Montreal
The standout in the Montreal winter fun category is Mont Royal, the hill immediately west of downtown. Once you make it to Mont Royal then you have five options. There is a bus that will take you there in no time from downtown.
Go skating on Beaver Lake (Lac aux Castors)
For a magical experience go skating on Lac aux Castors – Beaver Lake in English. Some of the ice is man-made so whatever the temperature, it's in amazing shape.
At the pavilion you can rent skates and lockers. With music playing in the background, and snow gently falling, this is also a very romantic place to visit at night.
You might also like: The Best Outdoor Skating Rinks in Canada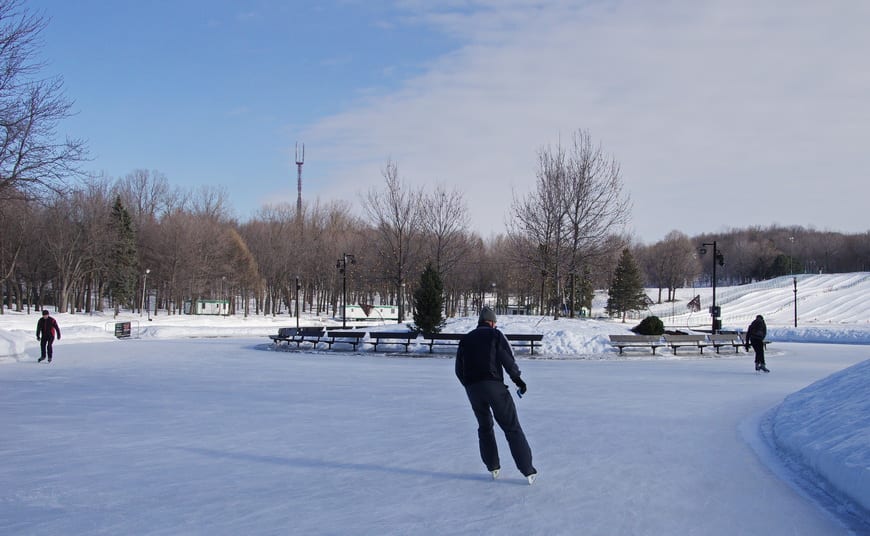 Go tubing at Mont Royal – one of the very fun things to do in Montreal in winter
Just a short walk away from the skating rink is a hill for tubing. I'd never tried it before and what a thrill it turns out to be. Choose a tube based on the colour at the bottom. The one pictured below has a white bottom – which is the best for speed.
Hold on, smile, scream and you'll be down in seconds and ready for more. Guaranteed!
Electric fat tire biking – one of the super fun things to do in Montreal
For something new, how about an electric fat tire bike ride on Mont Royal? I tried this in Waterton Lakes National Park recently.
Although I felt like I was cheating because I didn't have to work very hard, I had one heck of a lot of fun. It was akin to riding a motorbike. You can book this brand new activity online here.
Go snowshoeing and cross-country skiing in Montreal
Mont Royal is also a fantastic place, providing it's a good snow year – for both snowshoeing and cross-country skiing.
There are 33 km of cross country ski trails – and 3 km of marked snowshoe trails. I think cross country skiing is a fun way to get through winter – and Montreal has a lot of winter.
Another 8.3 km of snowshoeing is possible if you want to do it along Olmstead Road. I'm amazed that this is all available so close to downtown Montreal. (All equipment can be rented in the skating pavilion.)
It's also easy and very lovely to walk from the top of Mont Royal down to the city. What a great way to get a dose of nature and solitude.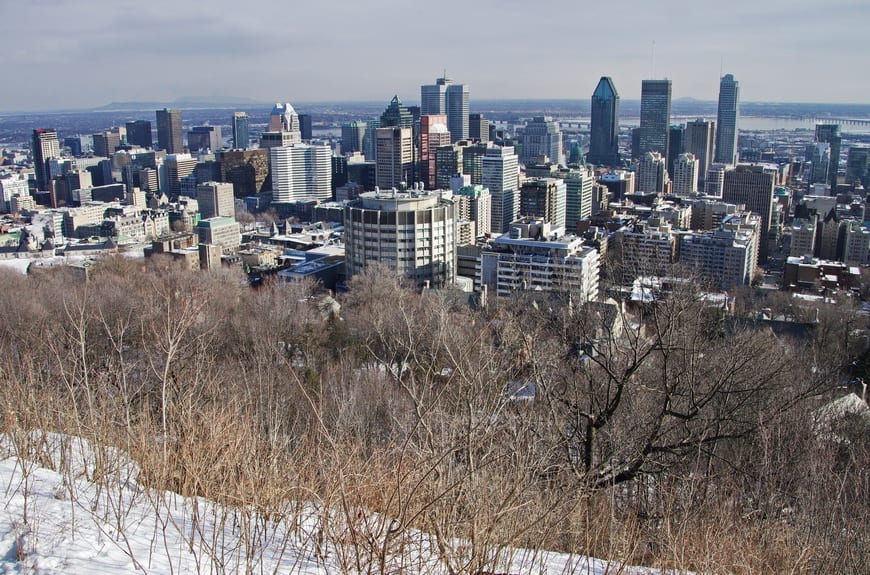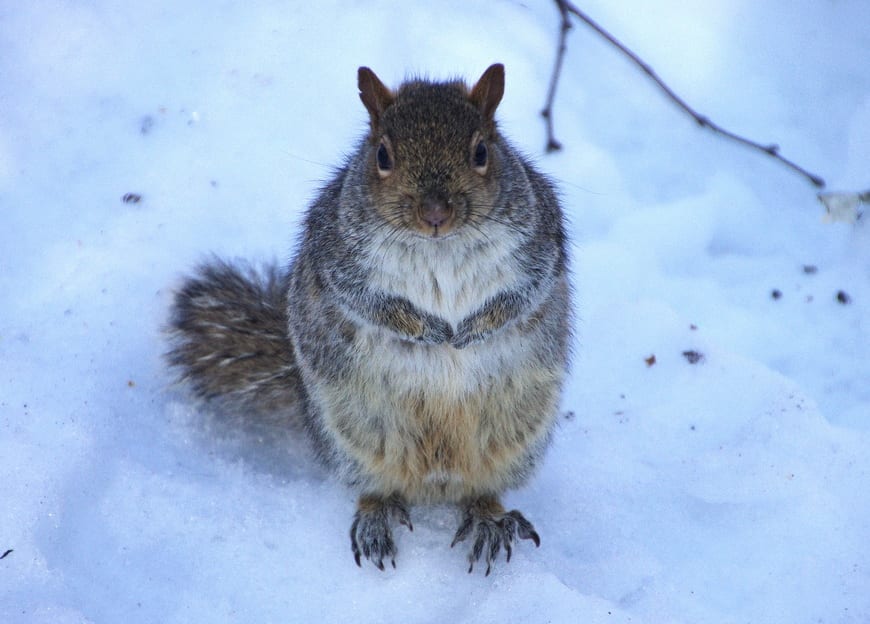 Invite yourself to a game of pick-up hockey in Montreal
If you have skates or can rent them, then there are any number of outdoor rinks scattered around the city that offer opportunities for either skating and/or hockey. Its a great way to meet some locals.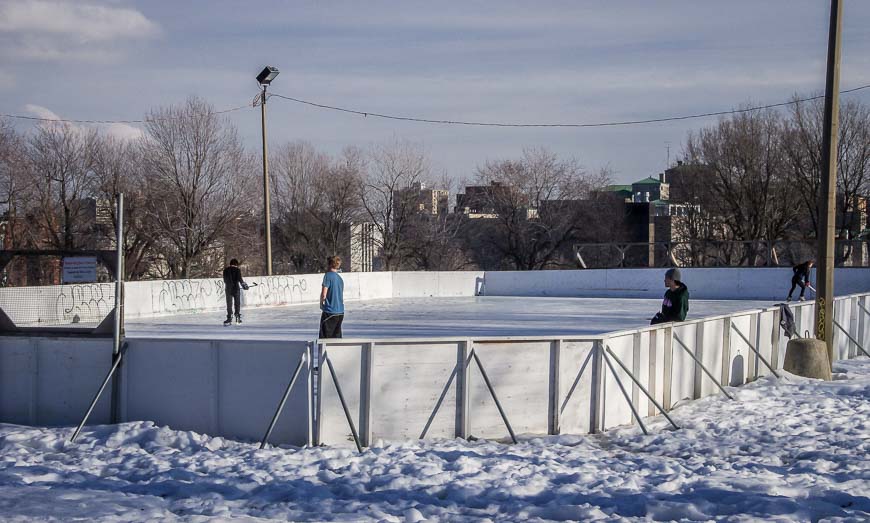 Try dogsledding in Jean Drapeau Park – one of the fun winter things to do in Montreal with your partner
Just one stop away from Old Montreal via a subway ride is Jean Drapeau Park, the site of Expo 67. Now its home to the Biosphere Environmental Museum.
And it's a superb place for snowshoeing along with skating and dogsledding. Yes there is dogsledding right in the city. Go either during the day or at night. It's a great introduction to the sport.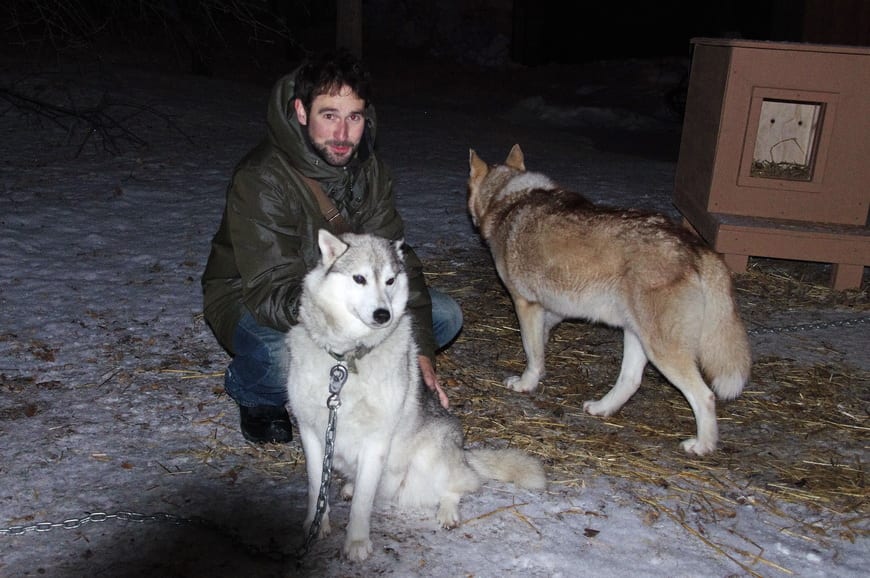 Take a night time snowshoeing tour
On one night in Montreal I did a snowshoe tour with Jonathon Talbot from Ecorecreo.
Normally I'm not the type for tours but this one was a lot of fun – even on a cold winter night in Montreal. Make an exception and do the night tour. It's THE ONLY WAY you can access Levi Tower and have the chance to get a downtown city view that few ever see. And as I'm finding out, you learn a lot of history and facts on these tours that you would otherwise miss.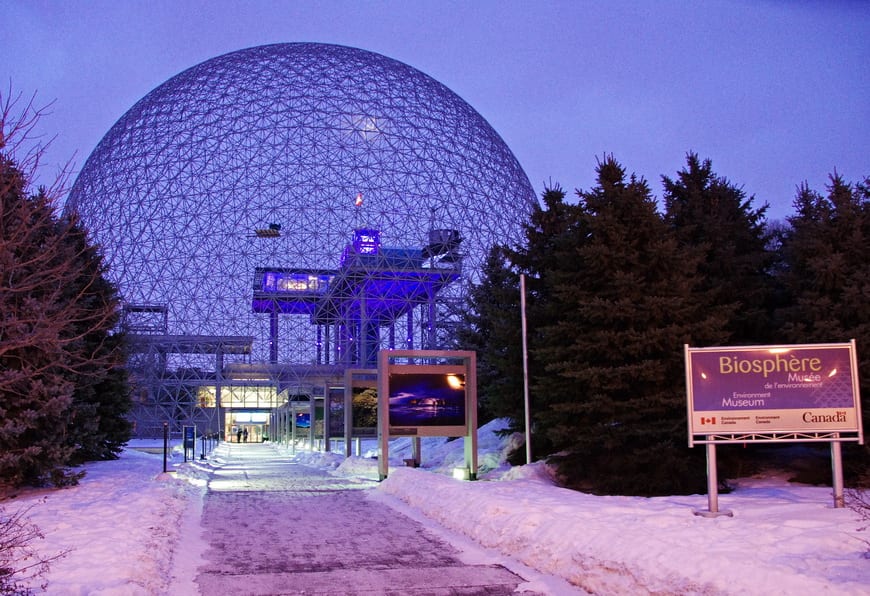 Go ice-fishing in Old Montreal
Another believe it or not winter outing that is quite literally steps from Old Montreal is ice fishing, offered by a company called Fishing Old Montreal. Chalk up another new experience for me. It's one of the fun things to do in winter in Montreal – but mostly if you're into fishing and perhaps drinking.
You must buy a fishing license and get set up with some rods. Then slip slide your way onto the ice and over to your assigned spot. A fellow comes and drills out a new hole and then after baiting your rod and letting the bait sink about 25 feet you sit back and wait. Then wait some more.
If you're lucky like everyone around us you'll catch something. Hugo and I spent 90 minutes checking our three lines and came up empty. I hope you have better luck than we did.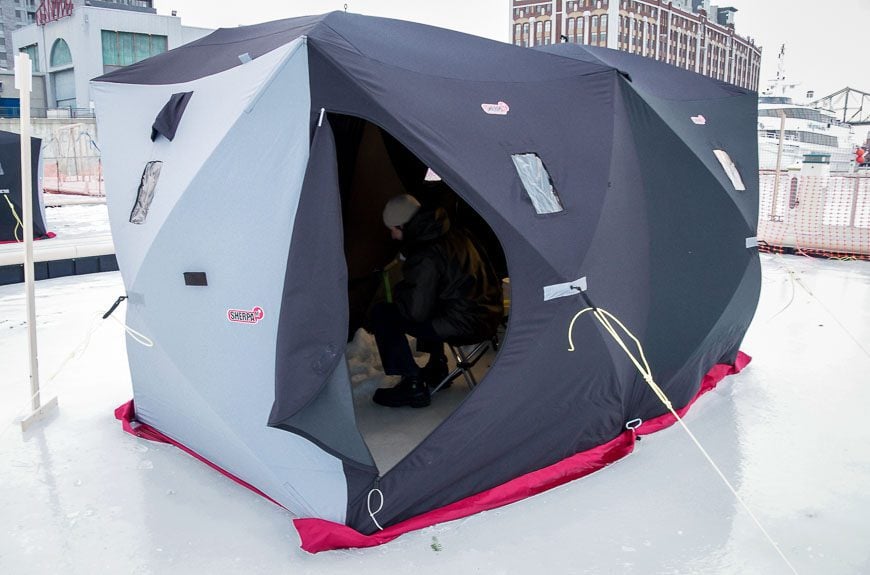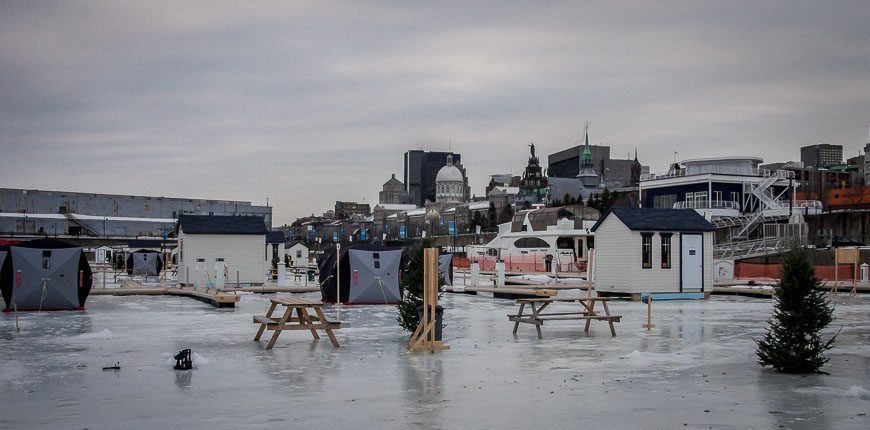 Check out Igloofest in January – one of the fun things to do in Montreal if you love dancing in the cold
Called the coldest outdoor music festival, Igloofest takes place in the Old Port of Montreal from mid to late January. It started in 2007 and has become a Montreal winter tradition, drawing crowds of 65,000 people in 2019, even though temperatures were some of the coldest since the festival began. On one night the temperature plummeted to -31°C with the windchill – and yet 4,000 people came to dance the night away.
Read: A First Timers Guide to Montreal's Igloofest
Approximate location map of fun things to do in Montreal in winter
Where to stay in Montreal
You are spoiled for choice in Montreal when it comes to accommodation options. Remember that the subway system is excellent so it's easy to get around without a car.
For a never fail high end experience book into the Fairmont Queen Elizabeth.
For a chic hotel experience in Old Montreal I have enjoyed Hotel Nelligan.
And if it's a hostel you'd rather stay in check out Auberge HI Montreal Hostel.
More reading about Montreal and Quebec
Click on the photo to bookmark to your Pinterest board.