If you own a mountain bike, chances are you've heard of the riding in British Columbia. It's legendary for good reason. But the fact that there's a lifetime's worth of riding in such a small area makes it hard to plan a shorter trip there. So what's the ultimate three-day crash course, the riding that you just can't miss? We've "sacrificed" a bunch of our own precious personal time testing and riding BC's best trails, and here is our recommended itinerary for anyone looking to make the most of a long weekend in the Sea to Sky corridor.
Whether you're flying, or driving to BC, the most logical place to start is Vancouver. This coastal city is the "sea" part of the "Sea to Sky" equation, and its large airport is easily accessible. Just make sure to carry on your bike helmets.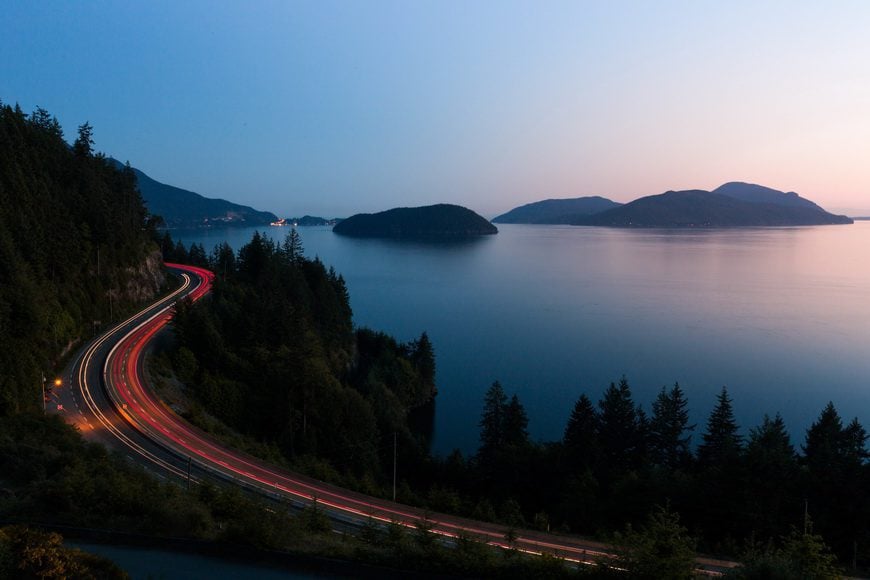 The North Shore of Vancouver for mountain biking
The North Shore of Vancouver is the birthplace of freeride mountain biking as we know it, and legendary stunts are scattered through the rooty woods. However, for most average mountain bikers, the area just north of Vancouver offers a wide variety of rides for all ability levels.
We'd recommend that confident intermediate and higher riders start on Mt. Seymour. You can pedal up, or catch the affordable shuttle from the parking lot, and then ride any number of trails back down.
John Deer is an intermediate rated trail, this is a great spot to get your legs under you, it's mostly fast an flowy with nice corners.
Other popular trails in the area are Severed D, Ned's, and C-Buster. If you're still feeling eager for more riding after a lap, hop back on the shuttle for another – just remember, this is day one, and you're going to want to conserve some energy for the coming days.
Day two. Head to Squamish on the Sea to Sky Highway
You're going to jump on the aptly named Sea to Sky Highway and head to Squamish, located between Vancouver and Whistler.
With an incredibly diverse trail system in Squamish, it's worth spending at the very least a full day here. Squamish has an incredibly diverse trail system, though all trails have one thing in common: lush coastal rainforests with moss, old growth trees, and lots and lots of ferns.
In Squamish you've got a few classic options, depending on your skill level, and what you're looking for.
Half Nelson is probably the most famous trail in the area, and it's a mellow flow trail that just about anyone will have fun on. After a lap there, head back up for a run down Angry Midget or Ditch Pig, two more technical trails with steeper lines and more roots.
Need a break from mountain biking? Hike the Chief – a great workout and first-class views.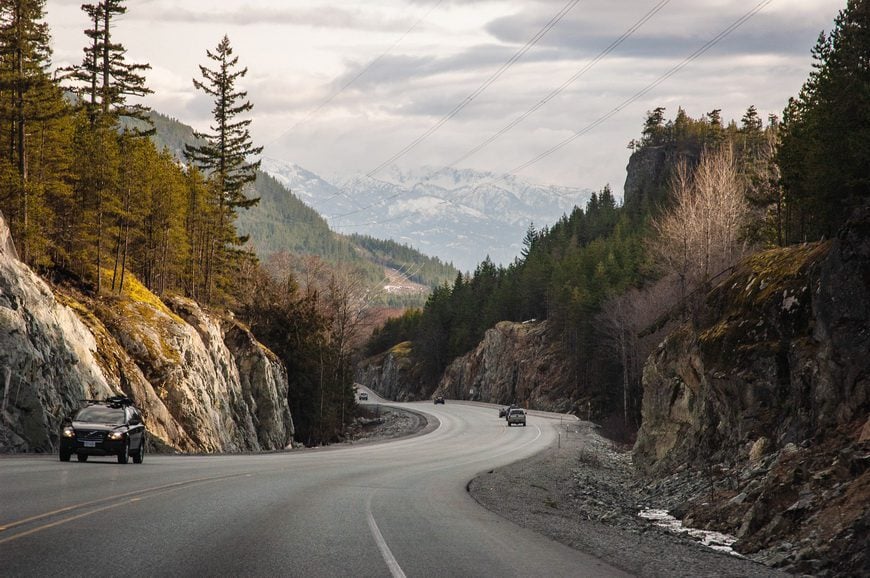 Day 3: Whistler the "Sky" part of Sea to Sky
Whistler is a classic ski hill, and is home to arguably the most famous mountain bike park in the world. Whistler's trails are legendary for good reason.
Here you really have three general options: ride downhill via the chairlifts, use the chairlift to access enduro style riding, or pedal the valley trails.
First things first. If you love downhill riding, rent a downhill bike, buy a lift ticket, and ride the bike park. Everybody who's ever ridden the Whistler Bike Park will blab about how good it is – they might even be annoying about it, but they're right. Warm up on Crank it Up, head over to A Line and Dirt Merchant, get a Dwane Johnson lap, and then go mix it up on some of the park's classic tech. The riding here is so good, you can't go wrong.
Mountain biking Top of the World
However, if you don't feel like donning a full-face helmet and going big, Whistler still has plenty for you. If you still want to ride lifts for the climb, consider buying a one-lap pass and heading up to ride Top Of The World. This trail is best ridden on an enduro bike, and is four miles and 2,400 feet of alpine descending bliss.
The views are indescribable, the trail is perfect, and you've got to do is coast down the semi-technical singletrack. It's legendary for a reason. Top Of The World drops you on top of the bike park proper, for a grand total of nearly 5,000 feet of descending. It's one heck of a way to button up a trip to BC.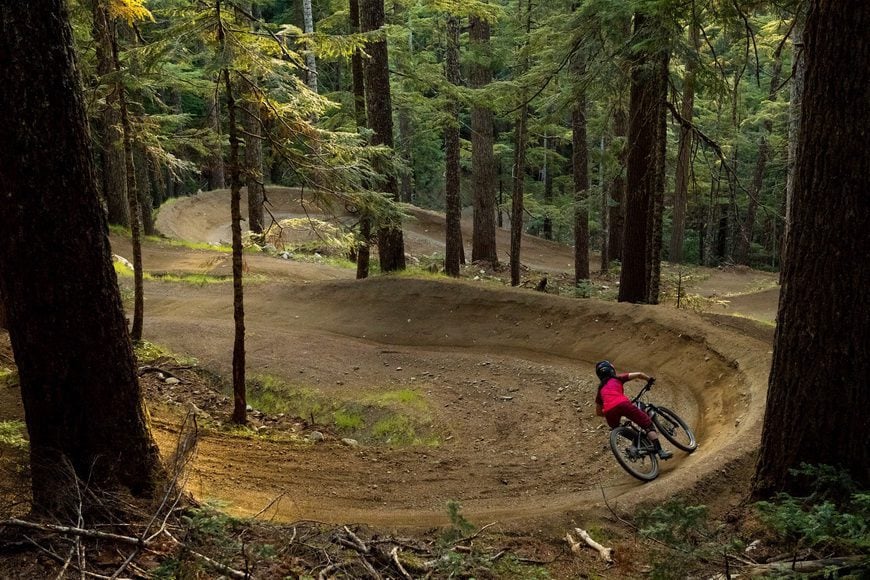 However, if you don't want to ride lifts, period, Whistler also has so many pedal-accessed trails. Head out for some shorter laps on the technical Microclimate and Dark Crystal trails, go a little further and test yourself on the rock slabs of Green Giant, or earn your turns and head to the alpine on Lord Of The Squirrels.
Be prepared though, at a minimum, Lord Of The Squirrels requires a 13 mile loop. The ride climbs up Into The Mystic, above Alpha Lake, and rides as a big loop, descending Lord Of The Squirrels.
This is one of the most beautiful alpine trail networks in the world. It traverses and wide range of ecosystems and offers incredible views of all of Whistler. If you're at all tempted by this ride, go for it. You won't regret it.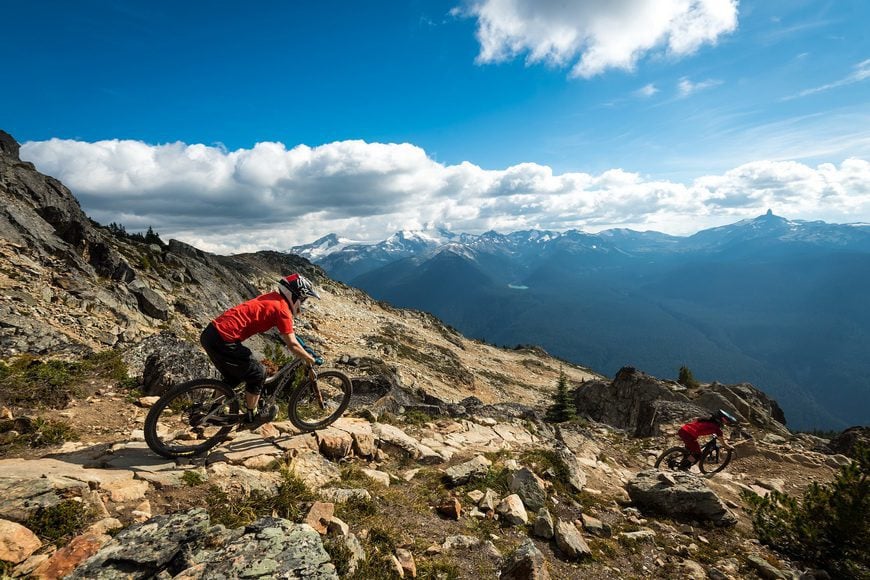 The only downside of three days in the Sea to Sky is the fact that it's just too short. That's okay though; find a long weekend, book your flights, get out there and ride in Vancouver, Squamish, and Whistler, and then in the airport on the way home, figure out the next time you can make it to the area.
Thank you to evo for this guest post.
We are evo – a ski, snowboard, mountain bike, surf, wake, and skate retailer based in Seattle, Washington, USA, with stores located in Seattle, Portland, Denver and Whistler. We also offer trips to remote locations across the globe in search of world-class powder turns, epic waves, and legendary mountain biking through our evoTrip Adventure Travel Trips.
evo explores the collaboration between culture and sport by seamlessly joining art, music, streetwear, skateboarding, snowboarding, skiing, mountain biking and wakeboarding. Our aim is to bring all things relevant to the urban, action sports lifestyle into one creative space. Whether it is on the website, on the phone or in our stores, our aim is to make all who come into contact with evo feel welcome and excited about their experience.